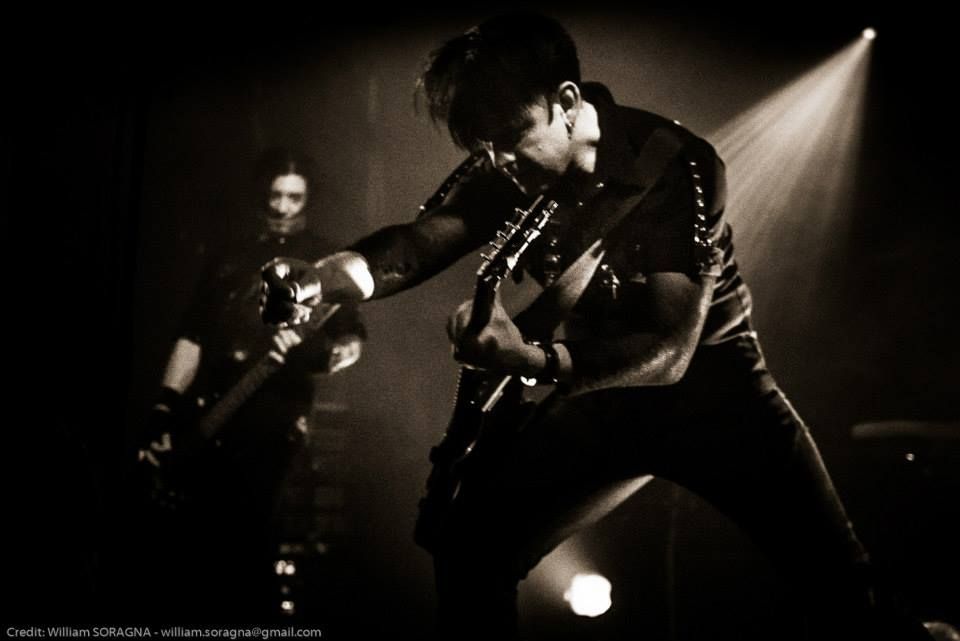 Spill Magazine 
CLAN OF XYMOX W/ THE BELLWETHER SYNDICATE & VOSH
@ VELVET UNDERGROUND, TORONTO
MARCH 4, 2023
Since their formation in The Netherlands back in 1982, Clan of Xymox has been a pinnacle within the gothic rock and dark wave genres with many bands since citing them as a heavy influence. In 2022, Clan of Xymox released a special song entitled "Save Our Souls" highlighting the atrocities of Putin's war on Ukraine with proceeds going to support humanitarian and animal rescue efforts in the area. Kicking off the concert season in Toronto, the band took to the stage at the Velvet Underground for a sold-out show along with The Bellwether Syndicate and Vosh.
The show kicked off with Vosh from Washington, DC featuring vocalist Josephine Olivia. They recently released their latest album Vessel earlier this month and Olivia's brooding vocals were the best way to kick off the night. Standout tracks in their performance include "Pray", and "Perfection".
The Bellwether Syndicate were originally scheduled to tour with Clan of Xymox when the tour had to unfortunately be cut short. Now, the band led by William Faith (a name familiar to many as he also was a member of goth rock band Christian Death and a co-founder of Faith & The Muse) and his Sarah "Scary Lady Sarah" Faith, DJ and club promoter in Chicago, were happy to resume the tour where they left off. Their set got the seal of approval from the Toronto crowd who loved swaying along on the packed dance floor, in particular to the tracks "We All Rise" released last month, the Faith & The Muse track "Sovereign", and their cover of David Bowie's "Scary Monsters (and Super Creeps)".
Clan of Xymox's lead vocalist Ronny Moorings comes off as a soft spoken man whose stage presence commands a crowd and stage. The band of the hour kicked off their set with "Your Kiss" and "Jasmine & Rose" before he gently asked the audience which language we preferred to converse in as he was comfortable speaking in both English and French. He also reminded the crowd to live in the moment and enjoy the music rather than experiencing the show from behind their phones.
If the audience wasn't already excited, playing their hit "Emily" got the packed crowd moving as best they can. Moorings even commented that he wanted everyone to dance and clap along even if space was lacking and we were all more than happy to oblige. Keyboardist Sean Goebel and bassist Mario Usai took centre stage during the song to play their iconic solos.
Clan of Xymox entranced the crowd for over an hour and even played not one but two three-song encores which included "Muscoviet Mosquito", "Hail Mary", and "Lockdown". Their moody and emotionally-driven synth-forward melodies weaved in and around the crowd casting a spell over everyone. It's clear why Clan of Xymox are masters within the goth rock and dark wave genres and how they have been able to captivate and mesmerize audiences for nearly 40 years. Their spell is still  holding.
https://www.reflectionsofdarkness.com
Gothic Hall, Wroclaw, Poland
20th November 2021
Clan of Xymox
CLAN OF XYMOX has a long history of playing in Poland. The first concert was back in 1988 in Warsaw; they keep returning to play either club events or at Castle Party, always attracting a huge and faithful audience. It was not different in 2021 - CLAN OF XYMOX played in Poland four times with the grand finale in Wroclaw. It was not only the last concert this year in Poland but the last one for the band to play this year in general, so it simply must have been spectacular. And it was. Three encores, a walk down the memory lane plus new songs, happy people enjoying the fantastic atmosphere CLAN OF XYMOX are famous for building - I could not wish for a better energy recharge than that.
Music & Performance
Gothic Hall is a venue with a peculiar atmosphere: a former monastery with huge, iron chandeliers hanging from the ceiling, enormous windows, open-brick walls, and a double gallery for the audience build a particular ambience - perfect for gothic rock bands if I'm to be honest. Great lights only enhance the concert vibe; no wonder the music CLAN OF XYMOX are masters at worked so well in that particular place. The band showed up on stage 15 minutes after the scheduled time. Still, they were definitely worth the wait. They kicked off their set with 'Strangers' from the album 'Subsequent Pleasures' from 1983 to smoothly pass on to 'Your Kiss' of 2017 and go back to the one of the most beloved songs ever: 'No Tomorrow' of 2003. Already the first songs gave us the foretaste of what we will be offered through the entire concert. 
The set prepared consisted of both old - one could say COX flagships like 'Louise', 'Jasmine and Rose' or 'Muscoviet Mosquito' that made the audience run totally crazy - but also new songs like 'Spider on the Wall', 'She' or 'Lockdown'. Actually, lockdown and its effects were a pretty reoccurring topic during the concert - in breaks in between the songs, Ronny chatted with the audience - also about the pandemic restrictions that made some shows impossible. Needless to say, the happier we were then that COX played in Poland and in such a grand style. The atmosphere during the entire show was absolutely stunning and exquisite. Beautiful music being the combination of dark wave melancholy, nostalgia and energetic vibes plus the lights and incredible energy given from the stage, plus stood for the very essence the music of COX carries. All of it gave us all we need so much - emotional and energetic recharge. The band was called upon the stage three times - the applause was, by all means, an expression of great affection of the audience towards the artists - some fans travelled a long distance to see them once again, the others - as I've been told - attended every concert since 1988. A truly devoted fan base. After the concert, there was a chance to chat with the band for a while which was a kind gesture towards the fans who definitely missed the contact with their favourite artists. All in all, it was a beautiful night and a perfect close-up of the concert year, definitely for the fans. Fantastic music, venue and the aura of normalcy were like a breath of fresh air and something we all need very much, especially given the restrictions being made stricter every day. Thank you CLAN OF XYMOX; come back soon!Rating
Music: 10
Performance: 9.5
Light: 9.5
Sound: 9.5
Total: 9.5 / 10
Reflections of Darkness : live review: Clan of Xymox - Wroclaw 2020 
written by Karo Kratochwil 
published: 28 January 2020 picture by Karo Kratochwil 
CLAN OF XYMOX surely made us wait a bit before visiting again… but all the waiting was definitely paid off. The Wroclaw show was initially planned to take place in a much smaller venue, but due to the enormous interest in the concert it was relocated to one of the biggest concert halls in Wroclaw. I must say it was a perfectly prepared performance - not only in terms of music and the show itself, but also lights and sound. The crowd gathered in CKA2 could enjoy not only some new songs by the band, but above all a number of well-known classics that actually build up the band's reputation and huge fan base. Dark, melancholic tunes and brilliant guitar sounds created magnificent, a bit nostalgic atmosphere that the audience enjoyed. 
In breaks between particular songs Ronny chatted and joked with the audience and it was clear the audience responded with huge enthusiasm. CLAN OF XYMOX is the band that is enormously appreciated in Poland and the perfection of the show they offered and a truly magical night they created brought some nice memories to many people. Some friends could not attend the show asked me afterwards - are they in good shape? Well, what can I say - like hell they are! Brilliant show! Rating Music : 10 Performance :10 Light: 10 Sound : 10 Total 10/10 
Live Review: Clan of Xymox @ Union Stage — 21/11/19 by Parklife DC 
Ronny Moorings fronts Clan of Xymox at Union Stage on Nov. 21, 2019. (Photo by Mickey McCarter)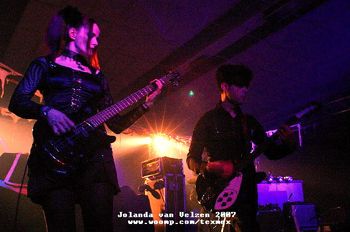 I'm going to say it right out of the gate — Clan of Xymox deserve to be a much bigger act than they are. 
As seen at DC's Union Stage recently, frontman Ronny Moorings and company walk a straight line through buoyant synthpop — a bit more dark and distracted than their contemporaries in New Order and a bit less complicated than The Cure. 
With a sophistication that actually hinges on simplicity, Xymox's music walks beside us like a consoling companion, generally neither seeking to comfort or distress but rather to explore through a very keen interest in dance music. 
To the contemporary listener, the lyrical transparency and focus on dance beats may make Xymox seem like a throwback. But there is an earnestness and innocence to the emotional distance found in the Clan of Xymox songs, and that makes them thoroughly accessible and enjoyable. 
On Nov. 21, Clan of Xymox opened the show with "Stranger" from their debut self-titled album, the primary record with which casual listeners still associate them to this day. The crowded room at Union Stage gathered around the band attentively, and Ronny addressed the audience demurely but directly. Ronny has been the only consistent member of Clan of Xymox since its founding, and he looks every inch the part of a video warrior. Every snapshot of him singing seemed as if it were lifted from a video music performance where he stood moodily in a cabaret lit just so. 
Xymox closed their main set with another selection from that debut album — "A Day," an ode to a sullen search for human connection. The music, pounding and driven, belied the lyrical intent a bit but the overall effect was magnificent. We were locked in a race with ourselves, and Xymox was our guide along the obstacle course. 
Although the first Xymox album carries an outsized (if warranted) reputation to this day, Ronny and Clan of Xymox have continued to record other good music consistently since 1985, tallying perhaps 16 albums up until 2017's Days of Black. Ostensibly, the band remain on the current Days of Black Tour through 2020, but their visit to DC was the first in many moons, so the continued touring schedule has taken them to places they have not been in some time. 
This provided admirers with their first opportunity to hear favorites like "Emily" from In Love We Trust (2009) and "Louise" from Medusa (1986) in the middle of the 14-song set in addition to new songs from Days of Black. ("There are a lot of songs named for women," Ronny mused in the midst of them.) 
The show included three numbers for Days of Black, and what great numbers they are. The unrequited love of "Your Kiss" arrived early in the set, followed by "Leave Me Be," a treatise on going your own way, and "Loneliness," another song of lost love, late in the show. 
As fulfilled as the nearly capacity crowd at Union Stage was by the Xymox formula of darkly romantic longing, a just world would have seen Ronny and his three bandmates selling out a venue as large as the 9:30 Club, which he recalled fondly from the stage at one point (although I suspect he was referring to the old club).  Xymox meanwhile deliver a spirited show, full of light and sound, seemingly only absorbing the energy from the room and amplifying it. Still, the show was more than deserving of a bigger audience! 
Well, Clan of Xymox is not slowing down, and the band continue their trek around the world, although they have departed the United States for now. 
--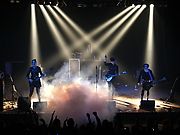 Star Theater, Portland, OR 
11/11/18 
By David Harris - Spectrum CultureCan one go to a Clan of Xymox show and not wear black? 
Portland's Goth community was out in full force this week to support the darkwave legends. Just think about the combined hours spent putting on make-up, affixing skulls in hair and choosing the best suit or dress to match the occasion. Frequent these types of shows here and you will usually see the same people, be it the lead singer in a local Cure cover band or the scary-looking (but actually really nice) dude with the facial tattoos or that other guy who can actually throat-sing. They all may be two years older, and with a different partner, since the last time Xymox came around, but like vampires in search for blood, they will turn up nonetheless. 
After leading in with the instrumental "Days of Black," Xymox got down to business with crowd-favorite "Stranger." With bassist Mario Usai away dealing with a family tragedy, lead singer/guitarist Ronny Moorings handled all the heavy lifting during the 17-song, nearly two-hour set, flanked by two musicians on synths. It took some adjustment to get used to hearing so much sound come from such a naked stage. For a few songs, a guest bassist stepped in. 
Moorings seemed to be in a good mood, cracking jokes and introducing songs during his interstitial banter. Though Moorings pushed a limited-edition vinyl reissue of Twist of Shadows, the only song from that album to make the setlist was" Obsession"—and not until the second encore—leaving a good portion of songs to come from the band's self-titled debut and Days of Black. Still, songs like "A Day" carry a lot of weight, ushering the audience to dance and sing along. 
The crowd was a little rowdier than often seen at a Portland show. A fight between two women broke out right before the stage and security needed to intervene as one combatant dragged the other about by her hair. People pushed to the front and one intoxicated woman collapsed towards the end of the set. Though Moorings could see the chaos taking place right under his nose, he didn't allow it the affect his performance. 
It may be strange to say, but without Usai's live bass, the sound was somewhat clearer this time around. Melancholy songs such as "Louise" felt especially sorrowful while the punchy "Muscovite Mosquito" reinvigorated the crowd as the hour crept closer to 1am. 
For many, the chance to see a 4AD legend such as Moorings up close proved to be super exciting. Enrique Ulgade, who opened under stage name Soriah, had an opportunity to sing with Moorings during "Obsession" and could barely suppress his enthusiasm, begging someone in the audience to film the moment. After finishing the show with "Farewell," Moorings invited everyone to stay for the Goth/industrial dance night that took over the Star Theater thereafter. Though the room did clear out some, many people remained to buy merch and dance until closing time. Just like any good creature of the night should do. 
- 
picture by Photos by Anthony Pidgeon 
Kortrijk, 25.11.17 Soulfieldswave festival 
SPA prepared us perfectly for the outstanding headliners of the festival, Clan of Xymox. 
The band's music feels like a time journey to the old-school gothic music days. Their expression is characterized by the icy, pulsing synth sounds, evocative 
vocals, chilly, mechanical percussions and gloomy, ethereal guitars; the post-punk, gothic rock and new wave music expression. They were undoubtedly inspired by the most popular artists of the genre, from Joy Division to Dead Can Dance. 
Clan of Xymox don't rely on their heritage. However, they include the old hits to the set list for their most devoted fans. Soulfieldswave set list covered the old and the new masterpieces. Their early releases' songs blended perfectly with their last album's numbers. 
They opened the show with Days of Black which was released on the same title album in 2017. During the show, they presented the materials from their 30 year old music legacy. Ronny Moorings appeared on stage looking mysterious and powerful as always; discreet and magnetic at the same time. During the show, we could hear old 
masterpieces like Stranger which immediately rose the temperature. Louise, Emily and Jasmine and Rose warmed the nostalgic hearts of their faithful fans. However, they presented the last album with the wonderful Loneliness, Leave me Be and Your Kiss. They successfully closed the extensive set with A Day and Backdoor. The final gift to the loving audience was a wonderful encore during which they played This World and Bowie's cover Heroes; it was the most powerful and meaningful way to end this incredibly atmospheric and nostalgic set. The band finally closed the night with Venus, the Shocking Blue cover which was released on Kindred Spirits (2012). The frenzy audience was left screaming for more. I've not once been disappointed in the Clan of Xymox live performance. They are amazing musicians who represent a milestone in the Goth rock scene and friendly and lovely people who never failed in giving me the best backstage fun I could wish for after watching a great show. This was a wonderful night which made me impatient and hungry for the next show! 
texts and pics by Veronique RoseNoir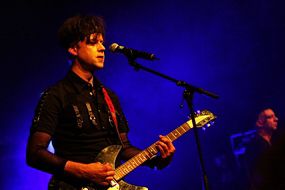 Clan Of Xymox standen als nächste Band auf dem straffen Zeitplan des Sonntags und begeisterten mit Klassikern und jüngerem Material. Eine Nummer wie Louise muss man dem hier anwesenden Publikum beispielsweise wohl kaum noch vorstellen. Gut gelaunt und guter Dinge spielten Clan Of Xymox hier eine Dreiviertelstunde und bleiben dem Festivalbesucher dabei angenehm im Gedächtnis. 
Setlist: Love Got Lost, In love We Trust, Hail Mary, Emily, Muscoviet Mosquito, Louise, Jasmine & Rose, A Day und Venus 
http://alternativmusik.de/festivalberichte/mera-luna-2013-10-11-08-2013-hildesheim/ 
pic : Mera Luna 2013 
6 april 2012 Clan Of Xymox,Rewind Festival, Belgium 
Difficult to play after Chameleons Vox. But Clan Of Xymox is another cult band from the 'dark scene', and has a lot of 'die-hard' fans, including in our magazine's editorial team... Formed in Amsterdam, The Netherlands, in 1981, Clan Of Xymox is one of the pioneers of dark, moody electronic music, or darkwave, especially thanks to their two albums on the legendary 4AD label. Later, the band evolved towards a more electro, beat-driven sound to eventually combine the best of both styles in the two last CD's: "In Love We Trust" (2009) and "Darkest Hour" (2011). 
At the REWIND, the lineup of the band included founder Ronny Moorings (guitar and vocals), Mario Usai (guitar) and Sean (keyboards/computer). Unfortunately, Mojca Zugna, Ronny's beloved, could not be present due to her motherly duties. During the show, the band took the audience on a journey through a dreamworld of dark music, alternating older songs like "Stranger" and "Jasmine and Rose" with more recent songs. From "Darkest Hour", Ronny chose to play "Delete" and "My Chicane", two songs that concede too much to the current cyber-electro craze, in my humble opinion. Fortunately, the band returned to its roots and closed the set with a fantastic cover of Bowie's "Heroes" and, of course, their greatest hit: "A Day". As a whole, Clan Of Xymox were very convincing, with beautifully crafted songs and an excellent sound. 
Check below the short interview of Ronny Moorings (given before the show), followed by the live performance of "A Day", filmed from the rear balcony. 
http://www.peek-a-boo-magazine.be/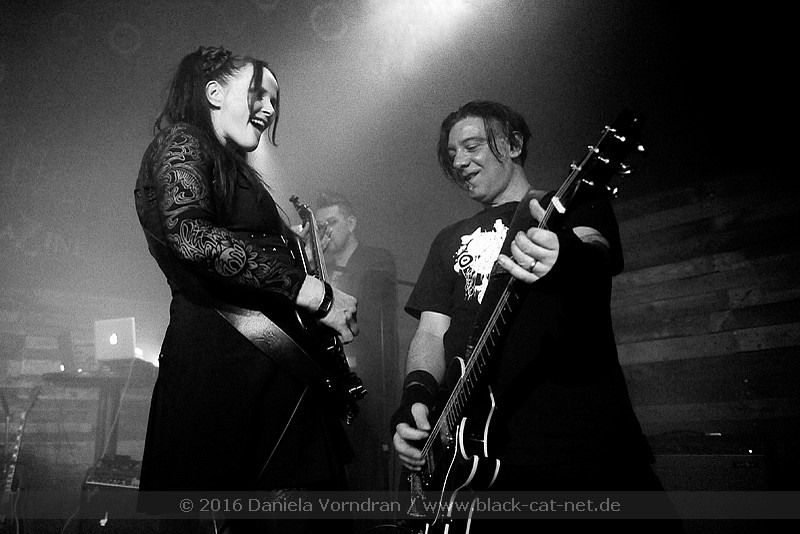 Nocturnal Culture Night 
9/9/2012 
An impressive 26 years have passed since the founding of Clan of Xymox, a period being revisited on the new album and leading to ten modern darkwave classics ready to be instantly introduced into the canon of gloomy music. The track "In Your Arms Again", excerpted from their latest album, "Darkest Hour" was featured in David Ficher's box-office "The Girl with the Dragon Tattoo" alongside the musical creations of Trent Reznor, Brian Ferry, Enya, and so on. 
Performance: Clan of Xymox are a reputed band and no matter the venue, time or set length they never disappoint. The novelty for us was to see that Mojca Zugna has returned to playing live and she is more beautiful and glowing. Ronny Moorings was in a great mood and sang with all his heart to a large crowd, ready to dance and sing along for hours on end. Ronny Moorings, Mojca Zugna, Mario Usai and the latest addition to the band, Sean Göbel who joined in 2011 (keyboards) offered a perfect performance with no flaws whatsoever, sweet, dark, intriguing and powerful. It would be more appropriate to use here Ronny's very words when describing "Darkest Hour": "it is music for the night, is music for life and for death, is music for eternity." back to top 
http://darkwave.ro/ 
Saturday Night: Clan Of Xymox At Numbers 
By Jef With One F Mon., May 9 2011 
It was watching Moorings' boyish face and snappy black outfit that we realized for the first time exactly the impact that Xymox has managed to have over the years. 
Of course, modern goth acts like Birthday Massacre wouldn't exist without their example, but lesser-felt connections stood out as well. My Chemical Romance owes a great deal of their image to Xymox's pathmaking, for example. In fact, we're going to postulate that the entire emo movement is pretty much a history of bands that wanted to be Clan of Xymox and got it wrong. 
The difference is that Xymox's music thunders and rolls. Moorings is comfortable in many vocal registers, whether he explores the tenors of heavens or the baritones of hell. The thick guitars and dancelike movements manage to weave an impenetrable spell the like of which we haven't seen since the Cure's Trilogy concert in Berlin. 
The band did take a chance to remind Houston that they were getting ready to release a new album and return to us on a full-on world tour. They used their last incredible single "Emily" to drive home the point that as songwriters the have lost none of their step. 
For the meantime, though, it is truly enjoyable to catch these one-off performances that Numbers has specialized in lately. It seems to give each of the acts that drop in a chance to loosen up and enjoy the space free of the rituals of the road that make up the modern tour. 
For our money, the highlight of the concert came early with "Hail Mary," a track from 2009's In Love We Trust. The whole experience was a nonstop pleasure-dome tour, but nothing else seems to sum up the marriage between dark introspection and Xymox's ability to raise an audience's arms high in supplication so perfectly. 
As the low, sinister bass notes rolled from the stage back into the darkness it more than anything seem to invigorate the masses into a perfect synthesis of enjoyment and damnation. Even as we reveled in the youthful exuberance that the band still manages to shine from every orifice, you are always and eternally reminded that with childhood comes fear of the dark. 
Nightmares and the best of dreams... that was the credo of Clan of Xymox on Saturday. 
Personal Bias: We're the resident goth music guy. Rocks Off doesn't assign this kind of thing to us, we beg for it. No objectivity sullied this review. 
The Crowd: Varied. Really, really, varied. We saw the usual crowd of gothic scenesters, but also a lot of braided pigtails and bushy beards. An older gay crowd was also out in force, which surprised us because we never knew Xymox held that demographic. Got to say it was a better quality crowd than Peter Murphy, if not necessarily bigger. More real, sincere, and a lot more easygoing. There was a lot of dancing during the sets. 
Overheard In the Crowd: "Yeah, I don't really know anything about this music, but fuck it. You may be crippled tomorrow. Might as well be here first." 
Random Notebook Dump: A melodica! Ronny Moorings and I both half-heartedly play the same crap instrument. 

.. 
shadowplay-festival-2011 
Naast alle Belgische hoogtepunten was er zondagavond uiteindelijk ook nog plaats gevonden voor een Nederlandse topband op de affiche van het Shadowplay Festival. Clan Of Xymox (****) kwam, zag en overwon. Goudeerlijke dark wave, op een professionele en uiterst bevlogen manier gespeeld en enthousiast onthaald door het voltallige publiek. Meer moest dat niet zijn. We kregen de ene voltreffer ('Jasmine and Rose', 'Emily', 'Louise' ...) na de andere parel ('A day', 'There's no tomorrow', 'Back door' ...) en misten eigenlijk enkel de bevallige edoch hoogzwangere (excuses aanvaard) bassiste Mojca. Een concertje om in te kaderen! 
Jan Vael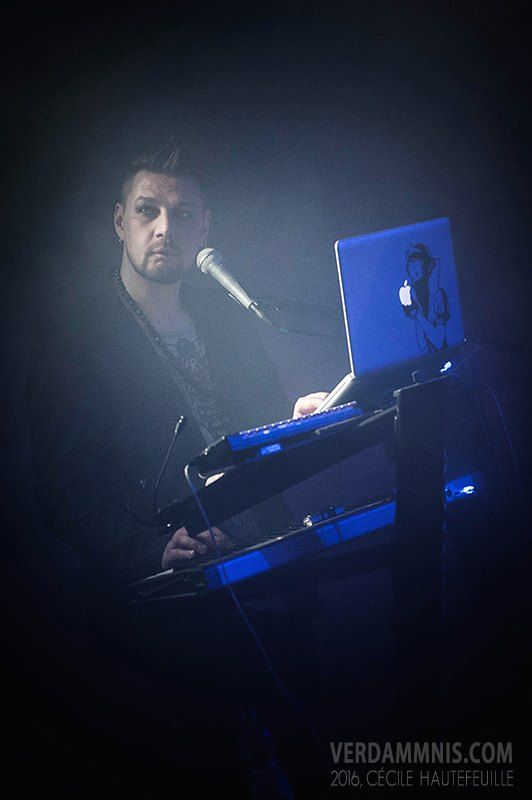 © Cutting Edge -- 27 Jul 2011 
Summer Darkness Aug.2010 
De zaterdag is traditioneel de drukste dag van het Summer Darkness festival. Overal worden concerten en evenementen georganiseerd, en Gothic-liefhebbers doorkruisen in grote getale de Utrechtse binnenstad om maar zo min mogelijk van het programma te missen. Vooral bij Tivoli Oudegracht is het een komen en gaan, en draaien technici en barpersoneel overuren om alles op tijd in gereedheid te krijgen. Want terwijl de leden van Faith And The Muse buiten nog uit staan te hijgen van hun optreden, wordt binnen de zaal alweer in gereedheid gebracht voor Nederlands bekendste gothic-band, Clan of Xymox. 
Clan of Xymox is al meer dan een kwart eeuw een begrip in de Gothic-scene. Hun eerste twee albums verschenen op het prestigieuze 4AD-label, en werden zowel nationaal als internationaal zeer positief ontvangen. Inmiddels ligt hun negende album ('In Love We Trust') in de winkels, en staan ze voor de derde keer op Summer Darkness. En ook deze keer worden de in stemmig zwart gehulde fans niet teleurgesteld. 
Als de band het podium betreedt valt op dat gitarist Mario Usai er dit keer niet bij is. Geen nood, want ook met zijn drieën (naast oprichter Ronny Moorings ook Mojca Zugna op bas en Yvonne De Ray op keyboards) weet COX de klus prima te klaren. Er wordt geopend met het prachtige 'Stranger' van de titelloze debuut-cd (1985), en vervolgens wordt de goedgevulde zaal getrakteerd op een weloverwogen mix van elegante waverock, donkere electropop en stuwende darkwave. Opvalend daarbij is, dat nieuwe nummers als 'Emily' en 'Love Got Lost' moeiteloos kunnen wedijveren met COX-klassiekers uit het verre verleden. 
Het is duidelijk waar Moorings de mosterd vandaan heeft gehaald, want in ieder nummer weerklinkt wel een echo van de bands die hem beïnvloed hebben. Soms liggen deze invloeden er wel heel dik bovenop, zoals bij 'This World' ('People are People' van Depeche Mode) en vooral 'Jasmine and Rose' (hoor ik daar Andrew Eldritch?). Gelukkig zijn deze nummers zo sterk, dat je hem met liefde dit epigonisme vergeeft. 
Na een overbodige cover van David Bowie's 'Heroes' gaat het tempo van de electrobeat een tandje omhoog, en blijkt de zorgvuldige set-opbouw het gewenste effect te sorteren. Met het supertrio 'Farewell', 'Weak in the Knees' en 'No Tomorrow' weet de band de zaal flink aan het dansen te krijgen, en dwingt daarmee een welverdiende toegift af. Deze is uiteraard gereserveerd voor hun grootste hits, 'Louise' en natuurlijk 'A Day', de single waar het in 1985 allemaal mee begon. 
Zo is de cirkel weer rond, en heeft Clan of Xymox bewezen dat zij nog volop meetelt in het Gothic-wereldje. En terwijl de bezoekers tevreden de uitgang opzoeken, staan de bontgekleurde fans van Grendel buiten al te popelen om het estafette-stokje van hen over te nemen. Summer Darkness 2010 ligt op ramkoers! 
Gezien: Clan of Xymox, zaterdag 14 augustus 2010 @ Tivoli Oudegracht 
review by 3 voor12 VPRO 
AMPHI Festival June 2008 
The fact that Clan of Xymox are brilliant band is no news for anybody, so I suppose it won't be a surprise when I say their played marvelous concert. Beautiful lights, fantastic vocals and electrifying guitars running from cold to hot and back plus invigorating, extremely stimulating melodies were like a strike of a lightening. The applause was gigantic and the atmosphere of the whole show - great. The pieces presented were a. o: "Farewell", "Weak in my knees", "Jasmine and Rose", "This World", "Louise" or "There's no tomorrow" - so they were well-known, always-working hits introducing the spirit of magic, power and irresistible energy. 
www.yesternight.pl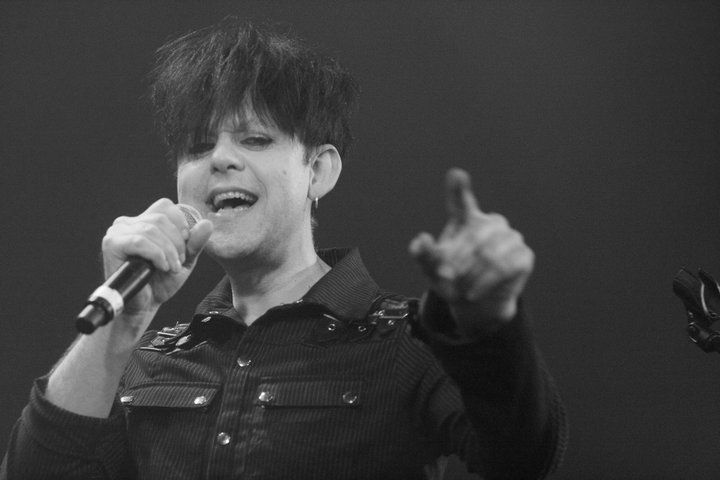 ***** 
Waregem, Expo Hallen, July Gothic Festival 2008 
Clan of Xymox - [Main Stage - JU] 
There are bands, who seem to exist for an eternity and who seem to be timeless. Well, CLAN OF XYMOX surely doesn't exist for an eternity now, but they're one of the veteran bands of the scene, founded in the early 1980s by Ronny Moorings and over the years they became one of the most important representatives of the Dark Wave genre, though their music never stayed inside the boundaries of that genre. Ok, maybe with their earliest work like the self-titled debut and the follow-up 'Medusa' they did, but in their later career, they combined their traditional sound with dance rhythms and techno elements or changed to more Rock orientated songs like on their comeback in 1997. For 2008 this band plans to release a new album, whose name hasn't been revealed yet. CLAN OF XYMOX is Ronny Moorings (vocals, instruments), Mojca Zugna (bass),Yvonne de Ray(keyboard) and Mario Usai(guitar). http://www.clanofxymox.com/ / www.myspace.com/clanofxymox 
Music & Performance 
After the great FIXMER/MCCARTHY gig at the club stage things continued equally great at the main stage. But instead of sharp Electro beats and shouts it was music of a different kind now, CLAN OF XYMOX are rather dark and melancholic but nevertheless they have a soft spot for hooks and great melodies and their songs are hymn-like and danceable enough for those who simply do not want to stop moving. Their gig one week before at the Amphi festival was already excellent and CLAN OF XYMOX's performance at the Gothic Festival proved that Ronny Moorings & Co. are simply in great form. 
In Waregem they met a very appreciative audience, quite willing to get carried away by the luring music. The more recent songs sounded great and were well received but it was of course the classics like 'Louise', 'This World' or the epic 'Jasmine & Rose' which got the best response. CLAN OF XYMOX - it's almost scary how good they are live on stage at the moment! Truly a highlight of the Friday night at the Gothic Festival. 
Rating 
Music: 9 
Performance: 10 
Sound: 9 
Light: 8 
Total: 9.2 
http://www.reflectionsofdarkness.com 
http://yesternight.pl/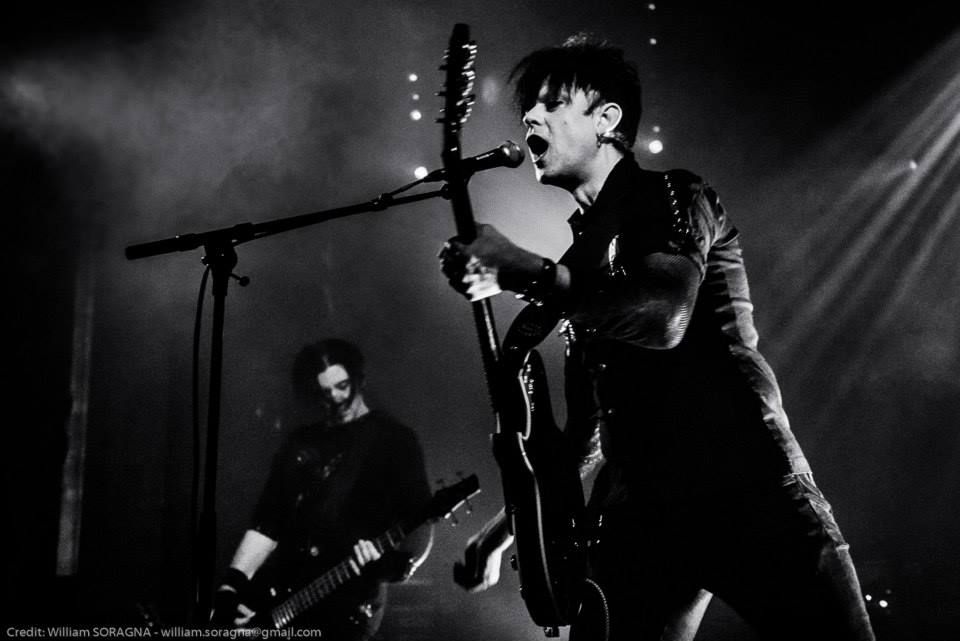 ***** 
LODZ, POLAND 15/03/2008 
The highlight of the event was, of course, the concert of the headliner - Clan of Xymox. Actually it was good they performed at all, because, as we learnt, Ronny was ill and he played after he had taken antifebrile meds. 
Big thanks for performing, and doing it in great style – the show was simply ravishing ! They gave us all what's best and most loved in COX – genial guitars, Ronny's characteristic vocal, Mojca's irresistible charm and allure and unquestioned power of well-known hits: "Jasmine and Rose", "Michelle", "Weak on My Knees", "Day" "This World", "Back Door", "There's No Tomorrow"... those pieces are quality in themselves and their influence gets no weaker: every show of COX fans the flame again and again winning the new and enchanting the old admirers of the band. At least that what my impression was...there were 4 encores!!!! There would've been more if it had been for the audience... stunning combination of nostalgia and dynamism, overpowering melodies, bitter and sweet – the stylish blend getting straight to your heart. Add wonderful lights to it, flooding the stage with their brightness or casting mysterious darkness creating an extraordinary game of color and shadow. 
Ronny, though weak, kept great contact with the fans almost all the time, he chatted, let the people sing and emanated with really fine energy. 
Just by the stage there was an enthused crowd...the sea of hands...the view was extremely splendid, the reception of the band even greater. There are two conclusions after the concert: COX are like a good wine: time does good to them secondly: their status in Poland is unchangeable. Bravo! 
***** 
22. Dark Dance Treffen Lahr - 16.06.07 
22.15 Uhr war es dann endlich soweit. Der Headliner des Abends enterte die Bühne. Lange habe ich auf den Moment gewartet, CLAN OF XYMOX endlich einmal live zu sehen, und endlich war der Moment gekommen. Mittlerweile war der Mainfloor des Universal D.O.G. bis zum letzten Zentimeter gefüllt und die Menge jubelte den Musikern lautstark zu! Während ca. einer Stunde spielten die Jungs einen Kracher nach dem anderen aus ihrer mittlerweile annähernd zwanzigjährigen Karriere. Der Funke war jedoch schon beim ersten Song auf's Publikum übergeflogen, welches tanzend und klatschend seiner Freude Ausdruck gab. Und wen das Konzert nicht von Anfang an packen konnte, wurde spätestens bei der Ballade "Louise" mitgerissen. CLAN OF XYMOX schafften es gekonnt, das Publikum zu fesseln und mit ihrer wunderschönen Musik zu verzaubern. Eingehüllt in sich drehende Lichtkegel und Nebel genossen es die Jungs sichtlich, von der Menge gefeiert zu werden. Für mich eins der besten Konzerte 2007 und die Durststrecke bis zum nächsten Mal wieder auf jeden Fall ziemlich hart! 
full story on : http://www.amboss-mag.de/festivals/f07/darkdance/darkdance22.html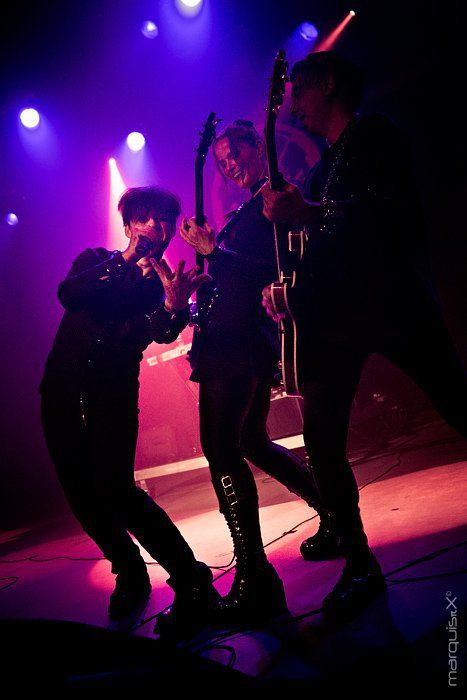 ***** 
WGT June 04 , 2006 
Ronny Moorings gab mit seiner Band CLAN OF XYMOX nun seinen ersten WGT-Auftritt ( Vierte !! note red.) , als mittlerweile gewordener Neo-Leipziger. 2005 wechselten der Niederländer und seine Bassistin Mojca Zugna ihren Hauptwohnsitz von Amsterdam nach Leipzig, wo sie sich auch sichtlich wohlfühlen. Clan Of Xymox waren am Sonntag gegen 21:30 zu Gast auf der AGRA Hauptbühne und boten mit ihrer jüngste Veröffentlichung "Breaking Point" im Gepäck eine absolut geile Performance. In den frühen 80ern in Nijmengen(NL) gegründet, ist die Band (damals unter dem Namen XYMOX) auf den für damalige Zeiten trendigen New Wave Zug aufgesprungen. Ok, genug der vermutlich allseits bekannten Details zur Band, und widmen wir uns ihren Auftritt. Clan Of Xymox zählen ganz bestimmt zur etablierten Riege unserer Szene, und doch war es mir bis dato nicht vergönnt einen ihrer Auftritte live zu erleben - und nun war es endlich soweit! Man musste kein großer Prophet sein, um schon an Hand der Lichteffekte im Showintro ihren Stil, und den derer, die sie geprägt hatten, zu erkennen. Wie zu besten New Wave Zeiten wurde die Bühne in dichten Nebel gehüllt, welcher wiederum durch gezielte Blautöne einzelner Spots laserartig durchschnitten wurde. Ronny Moorings betrat mit Gitarre bewaffnet - dramaturgisch richtig - als letzter die Bühne, und sorgte schon beim ersten Song mit seiner Band für die stilgerechte Umsetzung meiner Erwartungen. Schon von Beginn an hatten mich die atmosphärischen Kräfte in ihren Bann gezogen. Das Wechselspiel elektronischer und ursprünglicher Elemente, ließ in Verbindung mit dem optischen Bühnenambiente keine Fragen mehr in Sachen Qualität offen - einfach genial. Vom Genre Pop, wohin sie von manchen Musikjournalisten zugeordnet wurden, konnte ich nicht viel bemerken. Vielmehr haben mich die extrem clubtauglichen Titel beeindruckt, welche für mich unverkennbar in Richtung Elektro- Wave gingen. Also, das Quintett hat mich wirklich mehr als beeindruckt, und ich bin heute noch froh, dass ich dem Konzert an diesem Abend, und zu dieser Stunde gegenüber anderen Bands den Vorzug gegeben habe. Ohne noch viele Worte aus dem Hut zaubern zu müssen, ich war schlichtweg begeistert. Ronny Moorings & Band haben seit diesem Abend auf jedem Fall in mir einen zusätzlichen Fan ihrer Musik gewonnen. 
(Christof) www.necroweb.de 
Ort: WGT Leipzig agra-Halle 
Datum: 04.06.2006 
Auch CLAN OF XYMOX begannen pünktlich um 21:30. Ähnlich wie bei GARDEN OF DELIGHT wurde auch hier die Bühne erstmal mit ordentlich Nebel geflutet. Nur sorgten hier wesentlich mehr farbige Scheinwerfer für eine deutlich mystischere Stimmung. Am Anfang sah man nur den Umriss einer Gitarre durch den dichten Nebel schimmern, doch als schon die ersten Synthie Klänge die Halle beschallten, betraten die Niederländer die Stage. Es folgte eine energiegeladene Bühnenshow, und die vielen Fans fingen auch sofort an, ekstatisch zu tanzen. Aber auch Nicht-Fans oder besser gesagt Leute, die mit CLAN OF XYMOX bisher noch nicht soviel zu tun hatten (wie ich auch), wurden spätestens ab dem 3 Stück zum Mittanzen oder zumindest zum Mitwippen gezwungen. Mit Songs aus dem erst im April erschienenen Album "Breaking Point" und älteren Stücken wie z.B. "There's no tomorrow", wurde das Publikum so richtig verwöhnt. Ich denke, COX haben zu ihren jetzigen Fans noch eine ganze Menge mehr dazu bekommen. Mich eingeschlossen! 
***** 
Gothronic: Vera/Groningen/The Netherlands 
Clan Of Xymox 
Clan Of Xymox was the headliner for tonight. 21 years after their last show in Vera, they are back and kicking on the stage that was recently (again) declared as the best venue in the Netherlands . CoX makes a professional impression, playing very tight, moving a bit static on the stage. Not that this is a bad thing, it suits their music and image pretty well. A lot of classics are being played, like Jasmine And Rose, Louise, A Day, but also newer songs like Farewell, There's No Tomorrow and songs from the latest album Breaking Point, like Weak in my knees and Calling You Out. With this tight and very gothic performance this very successful fourth edition of Heaven & Hell ended. See you all at Heaven & Hell 5! (Rule-Ant).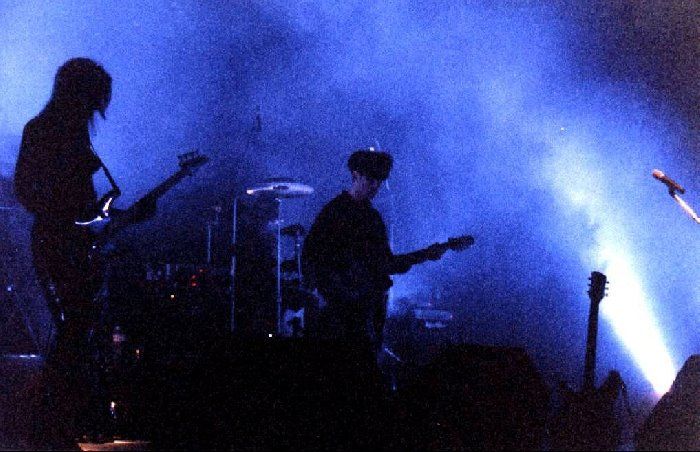 ***** 
30 maart 2005 PATRONAAT , HAARLEM 
CLAN OF XYMOX LIVE 
In hoeverre is een concertreview ooit objectief? Maar ach, Crush en vermeende objectiviteit gaan nou eenmaal niet samen... gelukkig maar! 
Geweldig dus vooral om Clan of Xymox weer eens live te mogen bewonderen en dit concert, vrijdag 25 maart in Patronaat te Haarlem, was om persoonlijke reden nog even wat meer bijzonder, maar ook los daarvan kregen we een gewoon erg goede band te horen en te zien. 
Met There's no tomorrow zat de stemming er meteen al goed in en ja, het is muziek waarop je zelfs met vermoeide voeten niet stil kan blijven staan. 
Naast de opener kwamen ook It's not enough, Into extremes, Cold damp day en het titelnummer van de laatste cd Farewell voorbij. 
Het totale oeuvre beslaat inmiddels twintig jaar, de jaren dat de band onder de naam Xymox aantrad meegeteld. En ja, mastermind Ronny Moorings houdt het strikt gescheiden en kondigt het door hemzelf geschreven nummer Craving aan als zijnde 'Xymox cover'! Meteen ook de enige track uit de Xymox periode die deze avond voorbij kwam. 
Opvallend is de tijdloosheid van het materiaal, of het nou om A day (1985) of Innocent (2001) gaat. 
Leek het deze keer allemaal nog sneller te gaan of was het echt een wat korte set? 
Maar nee, Ronny, Mojca, Agnes en Mario kwamen terug en het feestje ging door met de aan de aanwezige Finnen opgedragen Back door ('Finland is the backdoor of Europe') en meer fraais. Een steeds groter deel van het publiek kwam meer en meer in beweging. 
Op het moment dat het dan echt was afgelopen namen we moe maar zeer voldaan in de bioscoopstoeltjes waarmee de tijdelijke locatie van Patronaat is gedecoreerd, waar wij al gauw werden getrakteerd op een tweede rentree. 'De dj moet de trein halen', sprak Ronny en The bitter sweet werd ingezet. Het genieten kon nog even doorgaan en op de eerste tonen van This world kwamen we toch maar weer uit het gerieflijke pluche omhoog. 
De avond was begonnen met een optreden van Schattenschlag, waarvan we het eerste deel hadden gemist (het was even zoeken naar Patronaat; dank nog aan de 'gidsen' die we tegenkwamen. Cheers!) en met name de laatste drie nummers ons zeer konden bekoren. Daarmee was het voorprogramma iets te snel voorbij, maar lang hebben we daarover niet getreurd..... 
Enig minpunt was de vreselijke jaren 80 meuk die na de optredens werd gedraaid, de een nog fouter dan de ander met als triest dieptepunt Billy Idol's white wedding... maar een zeer geslaagde avond met dank aan een band die met de jaren niets aan enthousiasme en kwaliteit heeft ingeboet. Ja, Clan of Xymox live, dat moet je minstens een keer per jaar meemaken! En ja, ook wat voor over hebben, de non smoking terror van de NS bijvoorbeeld.....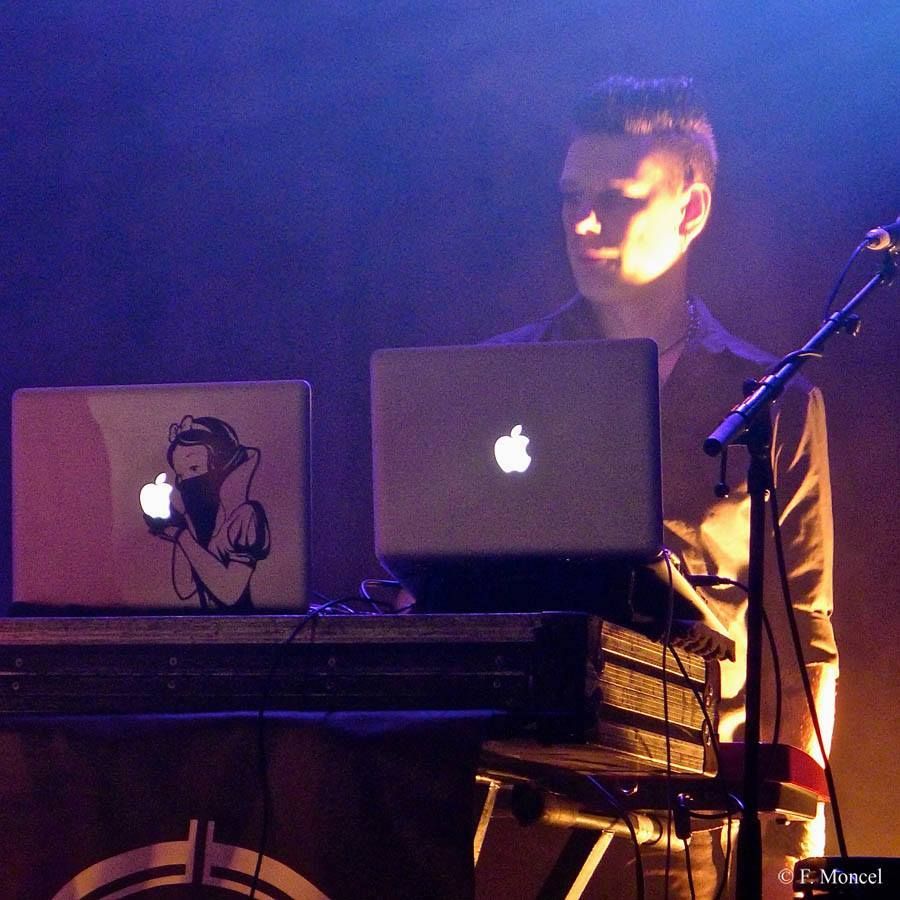 ------ 
Eva van Oosten 
Review + Pics Eva @ Gothtronic 
On this fridaynight Clan of xymox will let us hear the typical xymox sound in the Patronaat, Haarlem. It has been a long while since they last played in their homecountry. This will also be the first time for me to admire them live. 
The night starts with the performance of the support act Schattenschlag. This is the EBM-solo- project of Joachim Sobczak of Siechtum. He describes this project as 'a mixture of independence and tough, danceble and electro/ industrial sounds with psychotic characteristics'. Untill this evening I was completely unknown about this project, so I was ready for a surprise. The stage was decorated with two keyboardplayers and Joachim hopping around. I noticed I was not the only one who didn't knew about this project, as there was only a small group of people dancing to the music. I didn't belong to that small group. Although Schattenschlag has some very cool and danceble tracks in their repertoire, some other songs didn't appeal to me at all. 
After Schattenschlag it was time to get ready for Clan of xymox, this is what we had been waiting for! The stage was ready as a huge cloud of smoke was pumped into the audience and on the stage. Clan of xymox was formed in 1984, so they are on stage for quite some time and that really shows in their performance! They do have a simple show, but in my opinion that is the strength of xymox. In the beginning of the show the song 'Cold damp day' was played, one of my favorites! Furthermore, 'Louise' and the clubhit 'A Day (where are you)' were also played. At first the audience seemed a bit stiff, but as the evening progressed the number of people that were dancing got more and more. I know that I danced my legs off! The performance seemed to be over with a sigh. The audience was very enthousiastic and were calling for an encore when xymox left te stage. The first song of the encore was 'Backdoor', wich they dedicate to the Fins (backdoor of Europe?). 
Just when I thought my evening couldn't get any better the first notes of 'This World' were played! Splendid, although in my opinion this version could have been performed a bit stronger. I leave this evening with a satisfied feeling. I surely will be there whenever they perform in Holland again! 
Review by: Eva 
*****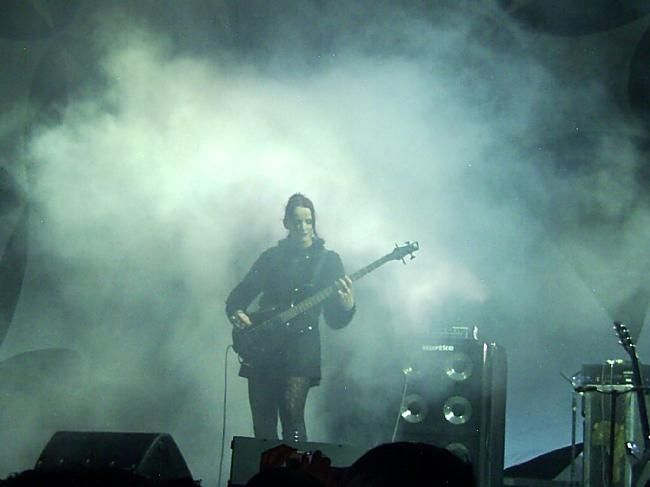 CLAN OF XYMOX EN MEXICO May 2004 
Clan of Xymox en el Hard Rock Live! 
Se acercaba ya la hora, culminaba la antelación; ya desde el jueves anterior eran muy escasos los boletos para asistir al show. Antes de las 21 horas, tiempo establecido para abrir el acceso al público para el show, la fila se extendía por el final (o principio, según se vea) de Campos Eliseos para alcanzar a dar la vuelta sobre Paseo de la Reforma. El atuendo de aquellos formados aseguraba que no se trataba de cualquier otro recital; era una noche de gala y por ello la vestimenta obscura; algunos cabellos de colores que reflejan esa psicosis que llega hasta el pelo; rimel, estoperoles, gabardinas y botas... 
Se trataba de Clan Of Xymox, Cenobita y los mazatlecos Eléctrico Revólver debutando en la capital. 
A las 22 horas y con nada por perder subió al escenario el Eléctrico Revólver. La banda electrónica de Mazatlán, Sinaloa se estrenaba ante el exigente público capitalino, obteniendo una respuesta muy favorable, a pesar de no conocer el material de la banda que fluye entre un synth pop con tendencias dark bien hechas, "La Condena Del Dolor", seguida de "Tus Ojos Muertos" -dedicada especialmente a los grandes de la literatura oscura como Ann Rice y Edgar Allan Poe- fueron el parteaguas de un set bien preparado. El grupo sacó adelante su presentación con dos piezas que hicieron temblar a los más de 800 ahí congregados: "Lágrimas Caen Del Cielo" e "Insomnia", y ya para finalizar su set "Vivir De Dolor", arrebatando los aplausos del respetable. Ojalea el grupo pueda volver a esta ciudad para mostrarse en plenitud. 
Poco después subió al escenario la potente máquina conocida como Cenobita, misma que es encarnada por Claus Bitas. Su set de poco menos de una hora de duracieon arroj? temas como "Prisionero" (abriendo su set al igual que lo hace con el álbum Neo Milenio), continuando con temas como "Dependency", "Confessions", "Earth" y "Cairo", todos del disco mencionado. La potencia de estos exponentes internacionales del cyber hecho en México se combinaba con sutileza. Llamó la atención su interesante lectura del sonado "Fascination Street", de The Cure. Cenobita cerró su actuación con "On Line Trinity", 
dejando la mesa más que puesta para el grupo estelar. 
La expactativa era alta para Clan Of Xymox... alrededor de la medianoche fue que tomaron el escenario Ronny, Mojca, Lilah y Mario para acometer al respetable con "No Tomorrow" y poco después alternar entre viejas favoritas (como "Jasmine & Rose", "A Day", "Louise","Innocent") as? como "Cold Damp Day", "Into Extremes", "It's Not Enough" y "Farewell", tema que titula este disco. 
La respuesta del público no fue sino una tremenda muestra de devoción, misma a la cual Ronny Moorings se mostró siempre agradecido con un público tan especial como el que gozan de poseer en la Ciudad de México. Las atmósferas oscilaban, jugando con los ambientes más etéreos así como colocando debidamente aquello que hizo que la multitud congregada se moviera. Fueron dos los encores que Clan Of Xymox ofreció antes de "Muscovit Musquito", uno de los temas más representativos de la banda. Ya con un público extasiado el grupo ofreció un tema más, reservado sólo para ocasiones especiales: "Stranger", para posteriormente bajar por última vez del escenario. 
El público salió agotado y en sus rostros se reflejaba esa felicidad que sólo cosas como esta logran otorgar; significando así un rotundo éxito en lo que también fue el primer evento organizado en México, D.F. por parte de TheBox. 
Corte de transmisiones hasta... _Mazatlán! 
------ 
La leyenda gótica Clan Of Xymox arribó a Mazatlán cuatro días antes de su presentación. Parecía sumamente extraño ver a estos personajes disfrutando de la playa mazatleca. Sin embargo Mazatlán es especial para Clan Of Xymox, pues esta plaza que parece no ser compatible con el repertorio de un grupo así ya les había abierto sus puertas hacía aproximadamente un año y medio cuando la Casa del Marino fue anfitrión del primer recital del grupo holandés en estas tierras, inaugurando así la era de The Box como organizador de espectáculos de nivel en esta plaza. 
Durante la semana el grupo realizó una entrevista con un diario local además de abrir los micrófonos de RadioBox dos noches antes de su show para cuarenta minutos de plática con Ronny Moorings y Mario Usai para escuchar sus temas a lado de Julio Recinos -vocalista de los locales Eléctrico Revólver-, quien también intervino. En sus entrevistas Ronny recalcó la emoción de finalmente tocar en Live At The Box, pues en su visita anterior el ahora flamante foro de espectáculos aún no estaba concluido. 
Ya el jueves las puertas de Live At The Box abrieron temprano, pues sería un show extenso. Los Eléctrico Revólver tomaron el escenario para deleitar durante media hora a sus seguidores locales, quienes más allá de conocer ya bastante bien sus interpretaciones, no dejaron de animarlos mientras Julio, Luis y Cristian poblaron el escenario llevándose al terminar su set los cálidos aplausos de su público. 
Cenobita continuó como había sido hasta hoy el elenco de la gira. Cabe destacar que es la primera actuación de Claus Bitas en este puerto, donde durante 40 minutos supo mostrar su aguerrido e industrial sonido causando estruendo, luciendo nuevamente muchos temas de su álbum Neo-Milenio. 
Para la medianoche las aproximadamente 400 personas que habitaban ambas plantas de Live At The Box ansiaban volver a ver Xymox. Ronny, Mojca, Lilah y Mario tomaron el escenario y fueron disparando el set que están tocando duante esta gira, favoreciendo a Farewell, su más reciente álbum. Ronny agradeció la calidez del público mazatleco; incluso, al introducir "Cold Damp Day" (día frío y húmedo) hizo con gracia un comentario irónico, traduciendo: "sé que no tienen días como estos muy seguido aquí en Mazatlán". Fueron unos cuatro encores los que dio el grupo para su público, pues literalmente los pedía a gritos hasta que el grupo se despidió finalmente con "Stranger". 
------- 
Tijuana y Clan Of Xymox, 14 años después... 
Para concluir la gira quedaba el show de Tijuana. No sería la primera vez que Clan Of Xymox se presentara en esta frontera. Hacía catorce años dieron un impresionante show en el ahora extinto Iguanas, cuando promovían su exitoso álbum Twist Of Shadows. Ya era tiempo de volver y demostrar su vigencia. 
Encargado de abrir el show estuvo el dúo tijuanense Noise Terror, quien dio una probada de su synth pop bailable y bien elaborado. A pesar de lo corto de su set, fue agradable escuchar a Juan y Gabriel detrás de sus teclados y cajas de ritmo para dar inicio al evento. 
Prosiguió Cenobita, en su primera presentación en esta frontera con su sonido sumamente industrial. El público lo escuchaba con atención e incluso ovacionó algunos de sus temas, más allá de ser la primera vez que estuvieron expuestos a ellos. 
Y en la difícil posición de tocar justo antes del grupo principal llegó The Last Dance, directamente de Los Ángeles. Esta banda durante recientes años ha logrado hacerse de un nombre dentro de la escena obscura estadounidense e incluso trascendiéndola con shows en Europa, México y otras latitudes. Abrieron su participación con "Whisper", de su reciente álbum Whispers In Rage, mismo que proporcionó gran parte del set de TLD con temas como "Nightmares", "Wonderlust", "Terribly When" y otros cuantos. De su material anterior interpretaron "Regret" y "This Tragedy". Su actuación fue muy ovacionada por los 600 (aprox.) asistentes a este show. Para terminar, Rick Joyce (guitarra), Jeff Diehm (voz) y Peter Gorritz (bajo) ofrecieron una interesante re-lectura de un clásico de otra banda angelina: "Dead Man's Party", de Oingo Boingo. Fue realmente exitosa la presentación de The Last Dance en Tijuana, generando comentarios positivos entre algunos asistentes. 
Pasada la medianoche se preparaba ya el plato fuerte, los headliners Clan Of Xymox. El grupo ya ansiaba la presentación en Tijuana por saber que se enfrentarían nuevamente a parte del público que los vio hace catorce años en Iguanas. Tras el inicio con "There's No Tomorrow" (extraído de Farewell, el aclamado reciente álbum de COX), Ronny saludó al respetable, y preguntando trató de averiguar qué tanto público californiano se descolgó hasta Tijuana para verlos en vivo; y al igual que en Mazatlán introdujo "Cold Damp Day" haciendo notar que en nuestro país son pocos los días como tales (ja! la verdad es que tuvieron suerte con el clima que les tocó durante su estancia, especialmente en Mazatlán y Tijuana). El recital prosiguió con temas como "Jasmin & Rose", "Into Extremes", "A Day". Lilah, en los teclados, siguió provocando comentarios entre el público masculino debido a su imponente figura sobre la tarima, al igual que Mojca Zugna y su estatura en el bajo; por su parte Mario Usai lo entregó todo en la guitarra, ha sido durante el transcurso de esta gira que nos enteramos que el italiano originalmente es bajista. Tras cerrar la primera parte de su actuación con "Farewell", el público siguió aplaudiendo y pidiendo más temas; el primer encore el grupo interpretó "Bitter Sweet", "Craving" y "This World". El público en general prosiguió las reglas no escritas de este tipo de eventos y vistió de acuerdo a la ocasión, además de bailar desaforadamente en los espacios donde esto era posible. La euforia continuó de tal manera que prosiguió otro encore con "Backdoor", "Michelle" y el representativo "Muscoviet Musquito"; preparando un final a todo galope con "Stranger". 
Para festejar este show y el cierre de esta magnífica gira, el lounge de El Foro abrió por primera vez sus puertas como Box Underground, sitio anfitrión del after-show party, donde Bola Modelevsky hizo bailar a la concurrencia detrás de los tornamesas. Algunos integranges del grupo y su staff llegaron a hacer alguna aparición por el Underground, a pesar del cansancio acumulado de la noche y toda la gira. De momento nos queda desear que no pase tanto tiempo para volver a ver a Clan Of Xymox en Tijuana. 
*****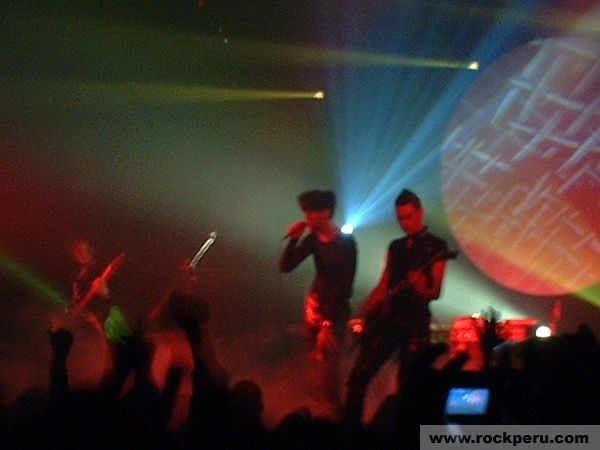 CLAN OF XYMOX EN THE AMBASSADOR, PERU, 08/10/2003. 
Se habían presentado tres días antes en el club Nébula de Miraflores y todo hacía presagiar que la "romperían" en la fecha 
principal y así fue, el show de Clan Of Xymox el reciente sábado 4 de octubre en el centro de eventos Ambassador, fue una de 
las mejores performances que se hayan visto en Lima. El evento logró superar las expectativas de una desbordante legión "oscura" quienes desde The Mission, esperaban un concierto de igual o mejor dimensión. Tanto así, que "vampiros" provenientes principalmente de las urbes más lúgubres de Lima, La Oroya y Trujillo, salieron de sus baticuevas luciendo maquillajes de blanca palidez, atuendos de negro rigor y como era de esperarse, las más alucinantes pelambres que se puedan imaginar. Todo sea por el rito. Ensamble se encargó de abrir el telón con una propuesta synth pop techno minimaloide que para algunos podría ser un estilo anacrónico y en desuso, pero que para otros aún sigue siendo una panacea auditiva, lo importante del resultado, es que la 
banda liderada por Jorge Gonzáles pasó el examen con buena nota y compartir escenario con Clan Of Xymox definitivamente 
le abrirá las puertas a sus intereses de internacionalización. Tras Ensamble, hubo media hora de "plomeo", pero las canciones de PIL y Joy Division como fondo ambiental consiguieron apaciguar en parte, la ansiedad del público. Bastó con un simple juego de luces para que el auditorio rompiera su silenciosa espera: Xymox!...Xymox!...Xymox!, fue la consigna al unísono mientras se daba marcha a un "intro" denso y tormentoso como si se tratara de latigazos provenientes de ultratumba. 
Fue el instante en que apareció un imponente Ronny Morrings lustrosamente encuerado de negro y calzando unas botas de 
plataforma diez, el saludo correspondiente, y el público que se estremece cuando empuñaba su guitarra, mientras tanto, los 
demás integrantes hacían lo propio en sus respectivas posiciones. De ésta manera el ritual había empezado con histeria y no 
se detuvieron por cerca de dos horas y media, aproximadamente. El show empezó con algunos temas de sus últimas producciones y estrenaron por primera vez en vivo para sudamerica el track "Cold Damp Day" incluido en su próximo álbum "Farewell" que ya está por salir a la venta y que será editado por los sellos Metropolis (EEUU) y Pandaimonium (Europa). Una entrega que despertó júbilo y que confirma que la banda mantendrá por buen tiempo su tendencia 
electrogótica. "A Day", "Muscoviet Musquito", "Jasmine & Rose", "Obsession", "There is no Tomorrow", "In The City" entre otras, fueron algunas de las emblemáticas canciones del repertorio y que pertenecen a sus más importantes producciones como 
"Hidden Faces", "Creatures" y "Notes From the Underground", éste último, considerado por la crítica como el mejor álbum de 
la banda holandesa. Por momentos, los sonidos electrónicos invitaban a la danza, mientras que en otros pasajes del concierto, los simples rasgueos de guitarra ejecutados por Ronny Moorings y Paul Wittlesea eran sostenidos por Denisse Dijkstra, quien se 
encargaba de crear una estupenda atmósfera de teclados. Por su parte Mojca, no sólo realizaba estruendosas capas graves de 
bajo, sino que inherentemente fue una fuente de seducción constante por su gélida anatomía y pelirroja belleza "banshee". 
Morrings solía agradecer al público con un masticado "muchoas grraacias" hasta el final de la primera etapa del show. 
Después volverían a salir y despedirse por segunda vez y nadie podía asimilar la sensación de que el show había terminado. 
Entonces, los coros incesantes volvieron a correr cual reguero de pólvora como al inicio: "Xymox!...Xymox!...Xymox!" y como para no creerlo, ¡volvieron!, tocaron tres temas más y ésta vez fue el final bordeando la medianoche. Morrings agradecido con el público peruano se animó a ser menos frígido agradeciendo a la productora Namur y se despidió del público con un sincero "te quierrro". La gira sudamericana que empezó en Lima-Perú, continuará en Sudamérica, la siguiente plaza será Santiago de Chile y culminará en Buenos 
Aires-Argentina. 
ESCRIBE: RENZO SANCHEZ (comunicador_peru@hotmail.com) 
FOTOS: G. SUALAR (naicondacta@hotmail.com) 
***** 
Clan Of Xymox & Reptyle Live 
23.05.2003 Bielefeld - PC69 
- Trotz der Tatsache, daß das nächste Clan Of Xymox-Album "Farewell" erst im Herbst diesenJahres erscheinen wird, wagte sich die seit vielen Jahren aktive Band um Frontmann Ronny Moorings auf eine sieben Gigs umfassende Deutschland-Sommertour. Ich besuchte die Show im Bielefelder PC69, bei der die Goth-Rocker Reptyle als Opener fungierten. 
Als ich um 20.20 Uhr vor dem PC 69 Eintraf, war es ein leichtes, noch einen freien Parkplatz auf dem nicht gerade geräumigen Parkstreifen vor der Tür zu bekommen. Ich ging also davon aus, daß der Einlaß gerade erst begonnen 
hätte und noch ausreichend Zeit sei, um nichts zu verpassen, was sich jedoch, je näher ich mich dem Eingang näherte, als Trugschluß erweisen sollte. Von drinnen war bereits deutlich Live-Musik zu hören. 
Um 20.25 Uhr betrat ich jedenfalls den erstaunlicherweiser schon angenehm die ungewöhnlich frühe Anfangszeit und den unglaublich pünktlichen Beginn stehenden Zuhörer spendeten, ließ darauf schließen, daß die Band ein 
gelungenes Heimspiel abgeliefert hatte. Der Umbau ging recht flott vonstatten und schon bald betraten Frontmann 
Ronny Moorings, Keyboarderin Denise Dijkstra, Gitarrist Paul und die besonders hübsch anzusehende Mojca am Bass die Bühne und eröffneten ihre Show mit dem flotten Titelstück der aktuellen EP "There´s No Tomorrow". Die Fans waren nun 
auch bis an die vordere Bühnenkante gerückt und vereinzelt konnte man erste im Takt mitwippende Beine und 
Körper beobachten. Mit "Doubts" und dem kultigen "Jasmine & Rose" ging es dann zurück ins Jahr 1999 der 
Clan Of Xymox-Geschichte. Das Publikum spendete dankbar Applaus, Ronny beschränkte sich jeweils auf 
knappe Ansagen und ein schlichtes Dankschön nach den Titeln. Als nächstes stimmten Clan Of Xymox mit "Liberty" und "The Bitter Sweet" die aktuelle "Notes From The Underground" Phase an. Ronny Moorings konzertrierte sich oftmals nur auf den Gesang, griff jedoch bei diversen Titeln im Set auch immer wieder selbst zur Gitarre, um einen 
großen Teil der Gitarrensoli einzuspielen, während Gitarrist Paul zusammen mit Mojca den "organischen" Teil der Songgerüste bestritt, während Denise sich um die elektronischen Elemente der Clan Of Xymox-Songs kümmerte. Ab und an wechselte auch Paul von der Gitarre an eines der Keyboards, so zum Beispiel bei dem noch vorwiegend elektronisch 
geprägten Klassiker "A Day", der erstaunlicherweise sogar noch bessere Publikumsresonanzen erhielt, als der folgende Überhit "Louise", den ich sowieso erst als Zugabe erwartet hätte. "I Want You Know", "This World" und "Innocent" beendeten auch schon den regulären Teil des bis dahin doch eher kurzen Sets. Doch weder Publikum noch Band ließen sich lumpen und so kam es, wie es sich für ein anständiges Konzert eben auch gehört, daß zwei Zugabenblöcke gespielt wurden. Diese bestanden aus "Number One", "Out Of The Rain" und "Back Door" sowie "Craving", "Creature" und als Abschluß dem raren Uralt-Track "Muscoviet 
Musquito". Nicht nur mir schien irgendetwas an dem Auftritt gefehlt zu haben. So lobenswert eine vernünftige und ohrentaugliche Konzertlautstärke auch sein mag, aber ein paar wenige Dezibel mehr hätten das ganze Konzert 
vielleicht noch um einiges intensiver erscheinen lassen und mal davon abgesehen, daß Clan Of Xymox eher zum anhören und anschauen geeignet sind, als zum restlosen Ausrasten vor der Bühne, hätte ein klein wenig mehr Pepp hier und da sicher nicht geschadet. Auch vermißte ich zahlreiche meiner persönlichen Favouriten wie "Crucified", "Consolation", das geniale "The Same Dream" oder den Hit "Stranger" in der Setliste. Doch selbst nach Punktabzug durch all diese 
kleinen aber feinen "Mankos" war der Auftritt letztlich wieder einmal gelungen und das Konzert die Reise nach Bielefeld wie auch den Eintritt von 15 Euro wert, zumal man im Anschluß an das Konzert noch bis in die frühen Morgenstunden die 
"Going Underground"-Party mitnehmen konnte. DJ Peter O. machte seinen Job in den ersten Stunden jedenfalls hervorragend und brachte schnell Stimmung mit einem vielseitigen Programm in das PC69. 
05.06.2003 Marco Schwiers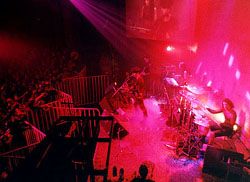 ***** 
Kaleidoscope issue 12 autumn 2002 
Clan Of Xymox Headlining Gotham at Camden Palace, London, UK Sunday, May 26th 2002. 
Clan Of Xymox were back again and were as reliable as always, the sort of strong and well organized performance we've come to expect from this Dutch outfit. And their set was a good mix of tracks too. 
Newer ones included " Bitter Sweet" and "Innocent" , while "Out Of The Rain , "This World" and "Doubts" dusted off the bands impressive back catalogue. Oh, and old favourites 'A Day", Loise and "Jasmine and Rose" were thrown in f9or good measure. Once again we were treated to a band combining strong yet tight guitars with great keyboards , and nobody does it better than Xymox. Quite Superb! 
Clan Of Xymox , Co Headlining Wave Gothic Treffen at Auensee , Leipzig , Germany 2002 , Saturday 18th of May. 
Clan Of Xymox - a band we are fairly familiar with in the UK ( the present line up being a 5 piece)-were up to their usual high standards-the only problem being that they were limited to an hour set. The first half of the set was predominantly newer material ( the last 2 albums) while the older classics were rolled out at points during the second half. Tracks included Jasmine and Rose , A Day,Loise etc.They had the venue packed with a highly enthusiastic crowd who they didn't disapoint. 
***** 
Eurorock , Neerpelt, Belgium, Headlining friday the 3rd of August 2001 
The Amsterdam based band Clan Of Xymox brought a concert that everybody could enjoy. These are professional artists and you can see that in their performances. Very soon they brought Jasmine & Rose and the one song they keep playing, A Day. I never saw a bad concert of this band and also this time it was great. 
Peter-Jan, Bart, Giovanni 
*****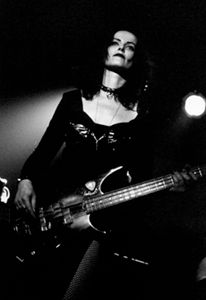 Gotham article ORKUS 
Samstag der 10-3-2001 
März sollte ein denkwürdiger Tag für die holländische Gothic Szene werden: das erste GothAM (GOTHic AmsterdaM) Festival öffnete seine Pforten. Inspiriert von Mojca Zugna und Ronny Moorings (beide Clan Of Xymox) fand im Paradiso (einer ausgedienten Kirche) ein Event aus Livemusik, Djs (aus dem Slimelight, Stahlwerk, Korsakoff und Cyberia), Shops, Modenschauen und Live-Piercing statt. Ronny dazu: Amsterdam sollte einfach wieder auf die musikalische Cyber-Gothic-Dark Wave-EBM- Industriele Landkarte. Fast jede Tour von interessanten Bands fährt an Amsterdam vorbei, und das, obwohl die Szene permanent wächst. GothAM soll dabei nicht nur eine Plattform für bekannte Acts sein, sondern auch und gerade den Nachwuchs fördern. Und dem Anspruch konnte GothAM mehr als nur gerecht werden. Mehr als 1200 Leute liessen das Paradiso aus den Nähten platzen, und die Sprachvielfalt im Publikum sprach mehr für ein europeisches denn ein Amsterdamer Festival. CRENDEL aus Amsterdam eröffneten das Festival auf der kleinen Bühne im zweiten Stock und sorgten mit ihrer gelungen Show und ihren harten Industrial/Dark Electro Sounds gleich für die ersten Tanzstunden. Wenn sich alle niederländischen Newcomer dermassen überzeugend zu präsentieren wissen, liegt hier die Zukunft des europäischen Gothics. Nach einer kurzen Pause betraten SOPHYA aus Israel (auch wenn sie nunmehr wohl in Amsterdam leben) die Bühne. Wirkte die Band anfangs noch etwas nervšs, legten sie dies schnell ab, und spþtestens als Sþngerin Sonia beim zweiten Titel die Bühne betrat, staunten die knapp 400 Personen im kleinen Saal nicht schlecht, mit welcher Souverþnitþt das Quartett das Publikum fesselte. Klingt ihr Debut - Album hier und da noch ein wenig nach den frühen Faith and the Muse konnten sich SOPHYA mit diesem Set als eigenständige Band behaupten. Übergangslos ging es ein Stockwerk tiefer - im grossen Saal - gleich mit VNV NATION weiter. Ohne Zweifel konnte sich das Duo als *kings of electro* behaupten, wenn auch die Animationsversuche des Sþngers Ronin das Publikum zum extatischen Rave zu bewegen, manchmal etwas deplatziert schienen. Doch wen stšrtâs, wenn neben allen erwarteten und erhofften Hits auch noch eine brilliante Lichtshow geliefert wird. Viel Zeit blieb nicht, um nach dem letzten VNV NATION Song wieder nach oben zu eilen, und den Rest der Show von ANGELS & ANGONY mitzubekommen. ANGELS & AGONY verknüpfen Electrobeats mit Gitarren, was sie auch gut umzusetzen wussten. Ihre BŸhnenprþsenz wirkte aber ein wenig kŸnstlich und es gelang ihnen leider nicht, den Funken aufâs Publikum Ÿberspringen zu lassen. Hier aber von Ausfall zu reden, entsprþche dann auch nicht den Tatsachen. Also wieder nach unten - zwischendurch kurz durch die Shoppingmeile schlendern und dann schließlich und endlich der erste Main-Act des Abends: CLAN OF XYMOX - die bei ihrem Heimspiel auch gleich an den Keyboards (Dennise) und der Gitarre (Paul) zwei neue Mitgliedern vorstellen konnten. Wer CLAN OF XYMOX jemals live gesehen hat, weiss um die Fasziniation, die die Band zu verbreiten vermag. Sie boten ein mehr als gelungenes Set aus alten und neuen Hits, bei dem es an nichts fehlen sollte. Ein rundum sorglos Paket. Das die Band trotz der Doppelbelastung als Co-Headliner und Festivalorganisator dabei auch noch elegante Sicherheit ausstrahlte spricht für ihre Professionalität. Das Ansinnen auf schnellstem Wege wieder nach oben zu huschen und PERFIDIOUS WORDS zu begutachten, wurde leider durch lautes ãHallo, du auch hier? unterbrochen, und als die spontane (und viel zu langatmige) Begrüssungssession beendet war, verliess die Band leider gerade die Bühne. Den zufriedenen Gesichtern des Publikums nach zu urteilen, muss die Show aber gut gewesen sein. Also gleich wieder runter. Was so leicht gesagt ist, war übrigens angesichts des permanenten Menschenstroms auf den Treppen gar nicht so leicht. Nun war es an der Zeit für DAS ICH, die das Festival abschliessen sollten (bevor bis knapp 5.30h sich die DJs inâs Zeug legten). Wer bei diesem Gig stillstehen bleiben konnte, musste taub und blind gewesen sein. Mit ihrem futuristischen Bühnenoutfit und -aufbau faszinierten sie ab der ersten Sekunde. Ihre harten elektronischen Sounds, nur übertroffen von der Presenz des Sängers Stefan, hallten wie der Zorn Gottes durch den brechend gefüllten Raum. Hiess es vorhin noch *kings of electro* waren hier die Cäsaren am Werk. Was immer Zugabeä auf holländisch heisst, das Publikum hörte nicht auf, es zu rufen. Ein gnadenlos guter Abend - was sogar die holländischen Medien so sahen, und in Bild und Wort das Gothic-Revival in Holland verkünden. 
****** 
@ The Masquerade - Atlanta, Ga Oct. 1999 
CLAN OF XYMOX With The Last Dance Bend The Flowers for Luci @ The Masquerade - Atlanta, Ga Oct. 1999 
~reviewed by Blu 
A few days after SoM hit town, for nearly 1/3 the price, lucky fans in Atlanta got to see four great goth/rock bands who, incidentally, played all their instruments live. Brought to you in part by C'est La Mort Management, this tour survived a rocky start with a lot of hard work and perseverance and went on to become one of the most talked about and complimented US tours this year. I heard about The Xymox tour long before it got to Atlanta so I was primed and ready for a good show. The crowd was actually quite bigger than I expected. Not doubting Xymox's pull, but rather, acknowledging the lack of local support for live shows as of late, I was pleasantly surprised to see so many people out - so many new and unfamiliar faces too. Atlanta's own The Flowers for Luci opened the night with their special blend of goth rock caressing the crowd with their melancholy melodies. Slow and deep, the vocals were highlighted by counter melodies on the keyboards, accented by the guitar and bass and drove along by powerful drumming. These boys have been making the rounds on the East Coast lately so be on the look out for them in a club near you. Another local band that played that night and had the privilege of getting the slot right before Xymox was Bend. Bend is a mix of metal and goth rock with a smattering of electronica/industrial thrown in just to keep it interesting. Always a powerhouse of sound and energy, this band never fails to get the crowd moving. The talent of vocalist Scott Dodd always amazes me live. Sometimes I think he doesn't need a microphone at all with the intense singing he does. Always energizing and exciting to watch live, Bend seemed especially charged for this show and the crowd seemed to agree. The Last Dance, hailing from California, was a sentimental favorite having played here some years before at one of our long since departed clubs - No Exit at Sol. Several people in the audience that night had been present at their first concert here and cheered when asked and were rewarded with a free CD from vocalist Jeff Diehm. The music they played that night was a wonderful mix of dreamy ethereal overtones and upbeat goth rock. Jeff danced as he sang to the audience covering the entire stage - always in movement, always greeting people with a smile. My eyes though, finally settled on the awesome talent that is Rick Joynce. I've seen a million people play guitars - some good, some not so great, but this was different. I'm not sure if was the mood, the lights, or the steady fan that blew his hair is soft waves too and fro, but there was something mesmerizing about the WAY he played - not just what he was playing (which believe me, was spectacular enough). He was in a world unto itself, fused with the guitar and creating such a beautiful counter-melody to the singing that it was almost a second voice in a duet. I found it hard to tear my eyes away from his fingers plucking at those silvery strings. Later on, I'd read his bio on their web page and find out that I wasn't just a delusional fan that night - his guitar playing has been mentioned in the past by many people as something on an almost spiritual level. The Last Dance opened their set with "Regret" which is a sexy, slithering song with an undulating beat. They also covered "Spirit" by Dead Can Dance which was a unique but excellent departure from the original. One of their most popular songs (written by Rick), and by far the crowd favorite, was "Do You Believe In Angels" with its grace, mysticism and musical charm. The door price alone would have been worth it just to see this band. The crowd hardly moved between sets, keeping vigilant watch over their places close to the stage in anticipation of seeing The Clan of Xymox. Finally, through a dim fade of blue and red lights, a keyboard is heard and the introduction is played. Colin Gibbons, (who's actually their manager), filled in on keyboards that night in quite an impressive way! Not long after, the crowd caught sight of the tall, lanky silhouette of Ronny behind the darkened lights and let out a cheer. They opened their set with "This World" and "Jasmine & Rose." And although the music was 100% and Ronny's voice just as deep and velvety smooth as always, his actions seemed a bit hesitant as if he was sizing up the crowd and absorbing the atmosphere before committing himself to the show. Perhaps it was the new band line up and uneasiness about the cohesiveness between the new musicians that contributed to the "careful" vibe I was getting from the stage. Whatever the reason, after rousing the crowd with "A Day" and "Louise," opening tensions seemed to ease a bit and the band settled into their surroundings covering more of the stage in less restrained movements. As I watched them perform "Creature," "Cry in the Wind," and "Back Door" I realized it was the contrasting qualities of strength and fragility in Ronny's delivery that makes his songs so richly textured and appealing. All at once you have this powerful masculine voice singing these very fragile, emotional human sentiments. The ability for one to be strong and yet so open about the trials and pain of life is captivating. Even in the eye of technical problems, the band persevered just as they had throughout this tour. In the middle of "Out of the Rain" Ronny's guitar went out and suddenly, as one crowd goer said, it was "Xymox unplugged!" They stopped of course and looked with questioning eyes towards the sound box in the back. After a few moments delay and some test runs on the guitar, they started the song again, undaunted and full of energy. They ended their set with "Taste of Medicine" and "Going Round" while the crowd started requesting their favorites by shouting out "Michelle" ." Infact, they got quite competitive in the crowd about what their favorite Xymox song was - there was several excited shouting matches going on while everyone else clapped for an encore. To our dreamy-eyed, grateful delight, the band re-emerged from the darkness to play "Obsession," "Mosquito" and "Michelle." For a fraction of what the show was worth, we got to see true musicianship, legends to be and even a shy smile on the lips of Ronny at the end of the night as confirmation of a job well done. One day when we're old and retired, we'll be talking about "the time I saw The Clan of Xymox" to eager baby bats. Its history in the making folks - hope you were taking notes. 
*****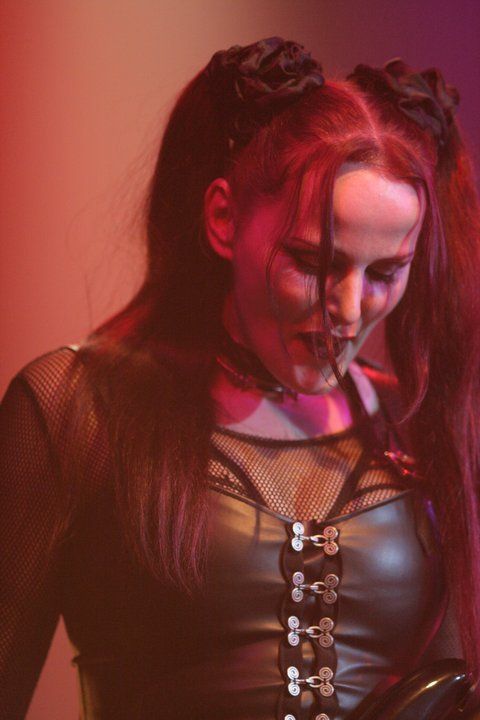 Twisters,Richmond Virginia 
lan of Xymox. The name conjures images of far-off worlds, and instills in one a sense of wonder. Thus I entered the hallowed walls of Twisters, in Richmond, Virginia, eagerly awaiting my chance to witness a classic Gothic synthpop act. I arrived early, the tourbus was parked outside, the band running through a soundcheck behind the carefully guarded doors of the club. I had time to think about the possible tracklist... what songs would they play? Doors opened around 10:30pm, the band's instruments were on the small Twister's stage in conservative fashion; my eyes played across the layout, fixating on the fabric wall-hanging behind the percussion platform. It depicted the Xymox logo, the letters of the band's name cleverly placed at cardinal points around a geometric compass-like diagram. I hoped duplicates would be present at the merchandise table. Alas, there were none for sale. In fact, the only products available were the recent album and short-sleeved t-shirts (I prefer long-sleeved.) A disappointment... one of the very few during the evening. Clan of Xymox took the stage at midnight. Stage presence was excellent, and all eyes were fixed on frontman Ronny Moorings. The playlist varied from very early Clan of Xymox material (even a lone demo was present) to "Twist of Shadows" era Xymox and finally material from the latest album, "Creatures." There were a few technical difficulties during the show, but the band was confident enough to laugh at the mishaps... the beautiful wall-hanging behind them kept drooping, and Mr. Moorings microphone became detatched from its base on more than one occasion. But, duct tape saved the evening. At one point, Mr. Moorings made a comment about the venue, stating that, "This place is falling apart!" A member of the audience replied, "Welcome to Richmond." Comic relief indeed. The band left the stage twice, returning to wild clapping and whistling for two encores. They expressed their appreciation to the audience in modest manner. The show ended around 1:45am. I think I can say, without fear of repudiation that a great time was had by all. It was an excellent show, and hopefully Clan of Xymox will grace us with their presence again sometime very soon. 
pictures on : darkvelvet 
***** 
Underworld, London-28 August 1999 
Clan of Xymox / Mantra / Waterglass "Melancholy and heartache - an oasis of glory" I must confess to failing (in part) in my duties as gig reviewer at this event. I went with my girlfriend and five mates and bumped into several people I knew. So for the first hour or so it was something of a large-scale social event with the music simply providing an audio backdrop. That was, of course, only until Clan of Xymox were due on stage - then it was straight down to the dancefloor. So, early on I wasn't paying as much attention as I should have to the two support bands. Which often isn't such a bad thing, but in this case both goth support acts were good. I believe both Waterglass and Mantra are playing in the near future in London and if I go I'll make more of an effort to pay attention!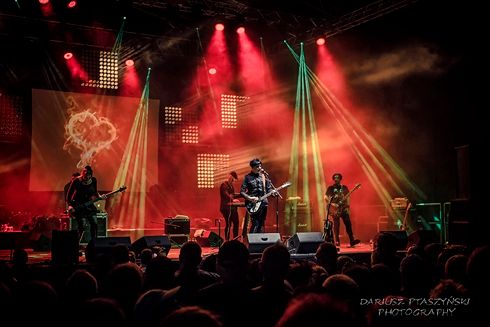 ***** 
Clan of Xymox Clan of Xymox are a fantastic band. I've been a fan ever since their self-titled first professional album on the cult 4AD label in 1985. Their magical blend of guitars (electric and acoustic) and lush synth sounds combined in songs of melancholy and heartache was the epitome of 4AD in the mid 80s. Their second album Medusa (released the following year) played up the electronics more than its predecessor, and the third instalment, the 1989 Twist of Shadows, was the first album not on 4AD and the first to go under the truncated name of just 'Xymox'. There then followed what can only be described as the wilderness years. The band, led by singer/songwriter Ronny Moorings, lost their sense of direction and released a number of increasingly commercial US club-inspired albums that bore little or no resemblence to the first two masterpieces. Then, in 1997, rumours of a new album under the original name of Clan of Xymox came true with the release of Hidden Faces (on the Tess label in Europe). It was a superb return to form that showed the band could progress without having to rely on their past. It was exactly how one would have hoped the band to sound after so many years of waywardness. Hidden Faces is really the only true fourth Clan of Xymox album, and when the band played here at the Underworld almost exactly a year ago this was acknowledged by the band themselves - whose set consisted purely of tracks from the first three albums and Hidden Faces - completely ignoring the intervening eight years. For me, such a huge Xymox fan, who hadn't seen the band live for 12 years their last gig was approached with trepedation. But not so this one as I now knew all would be well. A new album, Creatures, was released a few months ago and as I hadn't actually picked up a copy as yet, this would be the first opportunity to hear some of those new songs. Beginning with a couple of tracks from Hidden Faces, the seemingly ageless Ronny Moorings and the new Xymox line up then launched into a stunning version of their pumping, synth-triggering classic 12" A Day (which also features on the first album). Interestingly, this time, there was nothing from the good third album. But there was plenty to keep those (like a couple of my friends) who hadn't heard any Xymox for almost ten years happy. Back Door, Louise, and Michelle all from Medusa put in great appearances. And despite the many intervening years the synths sounded just the same, the guitars were very close, samples and noises were identical and the arrangements were faithful to the original compositions. I saw Clan of Xymox a few times in the mid 1980s and I can wholeheartedly say that they are just as good now as they were then. Sure, some of the backing vocals are missed as is the distinctive voice of the female bassist who gave us some memorable songs in the past but all bands must move on. The great thing about Xymox is that they saw the error of their ways with their early 90s releases and set about correcting their path with Hidden Faces. And they did it perfectly. The songs from the latest album, Creatures, show a marked difference from Hidden Faces, being much more 'gothic' and doomy. Moorings' vocals at times couldn't help but make one think of Andrew Eldrich and the songs themselves sounded great - I must pick up a copy of that album soon. The brief two-song encore included a glorious rendition of Moscoveit Mosquito and finished with the afore-mentioned Michelle. As there weren't so many old songs as when they played last August the nostalgia trip was as strong this time. Everyone likes a band to play some of their 'old classics' but hankering after the past too much is not healthy. The great thing about Clan of Xymox is that the material they are releasing now is as passionate, emotional and stimulating as it ever was, and their live performances provide an oasis of glory that everyone with a passing interest should take full advantage of. I only hope we don't have to wait another 12 years before they gig in England again. But now, having had my senses overloaded once more, I won't be able to wait that long - I'll travel to Europe to check them out if necessary. 
Rob Dyer 
***** 
Zeche Bochum 08 oktober 1998 
Der Clan versprach eine History-Tour und eine Menge Material der ersten Platten - die Platten, 
die sie unter 'Xymox' veröffentlicht hatten - zumindest die letzten beiden Metamorphosis und Headclouds, beide Zok-Records - , 
sollten so schnell wie möglich wieder vergessen werden, die 
neuen Sachen sollten an die alten anschließen. Nur aus diesem Grunde bin ich hingegangen, 
weil ich die 'Clan of Xymox' und die 'Medusa' wirklich 
sehr mag und mit der 'Phoenix', die ich mit dummerweise gekauft hatte, ohne vorher reinzuhören, 
gar nicht mehr so viel anfangen kann. Und die 
danach hab ich mir erst gar nicht mehr angehört...;-) 
Das Konzert war angekündigt für 20:00 h. Um etwa 20 nach acht begann dann die Vorgruppe 'Testify', 
fünf Knaben in Tarnanzügen, die wild auf Gitarren herumschreddelten und auf Trommeln einschlugen und sehr 
viel besser als Vorgruppe für die Girls under Glass am heutigen Tage geeignet 
gewesen wären. Das Publikum sah das wohl ähnlich. War eine wirklich undankbare Aufgabe. 
Einer der zwei Gitarristen sagte, sie seien Überraschungs- gäste und ein Besucher neben mir meinte: 
'Na, die Überraschung ist euch wirklich gelungen'! Die Musik kann ich nur als Heavy 
einordnen, mit Xymox nicht die geringste Übereinstimmung. Hat mich zum Teil ein wenig an Rammstein erinnert, 
nur heftiger. Dirk Neveling, DJ, meinte dann, sie seien ja auch Follower der Schule von 'Fair Sex'. 
Die Texte waren, soweit man das Geschrei des Sängers verstehen konnte, 
englisch... Mit dem richtigen Headliner wäre es sicher nicht schlecht gewesen, aber hier fand ich 
die Zusammenstellung doch nicht ganz so gelungen. 
Die Band hatte auch ein Einsehen und hörte um 20 vor 9 wieder auf - ohne daß jemand noch um 
eine Zugabe gebeten hätte. 
Clan of Xymox begannen um 21:45 h. Die Zeche war gut gefüllt, oben, unten, die Treppen, 
für diejenigen, die die Halle kennen. Ich habe nachträglich 
erfahren, daß das Konzert ausverkauft war, es war also wirklich voll ;-). Ronny, der Sänger, freute sich, 
nach 6 Jahren mal wieder hier zu sein. Das 
'mal wieder' bezog sich aber sicherlich nur auf ihn selbst, die anderen Clan-Mitglieder sind wohl vor sechs 
Jahren noch nicht dabei gewesen. Der Clan besteht heute neben Ronny aus vier weiteren Leuten: 
einem Gitarristen, einem Drummer, einer Keyboarderin und einer Bassistin, die mit Vornamen 
Mojca heißt und die neue Freundin von Ronny ist. Die anderen Namen weiß ich leider nicht... 
Pieter und Anke, die anfangs mit Sänger Ronny Moorings den Clan of Xymox bildeten, 
verließen 1991 die Band, Pieter hat wohl einige Maxis unter dem Namen 'Cyberia' 
veröffentlicht und ein Solo-album mit dem Namen 'Sleeps with the fishes'bei 4AD herausgebrach 
*****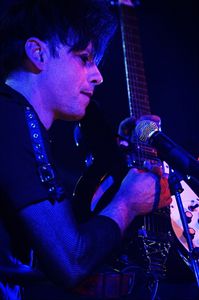 Zeche Carl, Essen, 15.04.1998 
Ich wunderte mich zwar, als ich obiges las, weil das letzte Konzert in Bochum doch noch gar nicht 
so lange her war und sie in der Zeche Carl zuletzt 
am 6. Dezember waren, aber was soll's. Das letzte Konzert hatte mir ausnehmend gut gefallen 
, zwischenzeitlich hatte ich ja auch die neue CD 'Hidden 
Faces' häufiger gehört und mich auch noch mal den anderen Clan of Xymox-Platten gewidmet (wichtig!! 
Die Xymox-Platten hab ich weiterhin 
ausgelassen ;-) ) und so hätte ich also nichts mehr dagegen gehabt, wenn das Konzert ein anderes geworden 
wäre als das in Bochum, ruhig mit etwas mehr von den neuen Titeln.. 
Einlaß war um 20:00 h, die Vorgruppe Diary of Dreams begann - wie angegeben - um 21:00 h und wir 
stellten mal wieder fest, daß der Sound der 
Zeche Carl einfach zu laut ist. Immer. Egal ob Disco - vor allem bei der Gothic-Industrial- Disco am ersten Samstag im Monat 
- oder Konzert: es ist zu laut! Also: Ohrstöpsel nicht vergessen!!! 
Die Band selbst bestand aus zwei Gitarristen, einem Keyboarder, einem Sänger und einem Drumcomputer. 
Sie machte netten Gothic-Rock, die Stimme des Sängers erinnerte an eine Mischung aus Girls under Glass 
und Merry Thoughts, die Stücke selbst waren sich alle sehr ähnlich und 
irgendwie meinte man, sie alle schon mal gehört zu haben, bei irgendjemand anderem.. 
ich weiß nicht, ich könnte jetzt schreiben, sie erinnerten mich 
an Blessing in Disguise, dann könnte ich aber auch schreiben, sie erinnerten mich an Home of the Hitman, 
die mich nämlich auch schon an erstere erinnert haben, zumal der Sänger der letzteren auch lange, blonde Haare hat ;-) 
Die etwas heftigeren Songs könnte man auch mit Secret Discovery 
vergleichen... Kurz zusammengefaßt, nett, gleich, und irgendwie nichts Besonderes, sondern Musik, 
wie sie eben von 10 anderen Bands auch schon 
gemacht worden ist. Ist vielleicht ein bißchen ungerecht, weil sich songs von Bands, die man gar nicht kennt, 
häufig sehr ähnlich anhören für den Nicht-Fan. Fragt man einen 'Eingehörten', sieht dieser das sicher anders. 
Zumindest kann ich aber sagen, daß Diary of Dreams sehr viel besser zu 
Clan of Xymox paßten als Testify in Bochum!!! Und das ist doch auch schon mal was ;-) 
Nach etwa 50 Minuten Konzert waren Diary of Dreams um 
21:50 h fertig, nach der Umbaupause begannen Clan of Xymox um 22:20 h mit ihrem Set. 
Nach einem Intro ohne Leute nur mit viel Nebel ging's dann los mit Stranger. Diesmal sind die Songs sogar 
in der richtigen Reihenfolge, ich hatte 
zwar keinen Block mit in der Halle, aber ich hatte einen im Auto ;-))) Die Zeche war gut gefüllt, 
ich kann schlecht schätzen, 400 Leute waren es 
sicherlich, aber ich glaube nicht, daß sie ausverkauft war. Lag vielleicht auch an dem Fußballspiel, 
wer weiß? Zumindest hatten sie vorn im Cafe eine 
riesige Leinwand aufgebaut, die selbiges übertrug. Nach Stranger kam dann Cry in the wind, 
gefolgt von Moscovite Musquito und den beiden neuen 
Stücken This world und Out of the rain, die sich nahtlos anschlossen, obwohl gut 10 Jahre jünger. 
Weil aus dem Publikum sowieso ständig jemand 
'Louise' schrie und Ronnie sich vielleicht gedacht hat: Bring ich es hinter mich, dann hört wenigstens 
das Geschrei auf' kam dann entsprechend Louise von der 'Medusa'. Dann noch ein älteres, nämlich Craving, 
gefolgt von einem der neuen Stücke: The story ends. Zum Schluß des regulären 
Sets spielte der Clan noch zwei alte Stücke, Backdoor und A day. Nach einer Stunde war Schicht, 
was doch etwas erstaunte. Die Fans auch. 'Wie, das 
war's schon???' 
Das erste Zugabenset bestand aus Michelle und Going round, letzters in neuer Version. 
Kamen beide sehr gut an. Das nächste Zugabenset bestand 
aus Agonized by love, und zwar akustisch nur mit Ronnie und seiner Gitarre! Absolut klasse! 'I think they 
finished smoking by now' sagte er danach und die Band kam zurück. Weiter ging's mit dem neuen 
Sing a song und dem ebenfalls neuen Hypocrit, bei dem Bassistin Mojca singt. 
Meine Begleitung schaute etwas arg entsetzt ;-) Da sie aber nett anzusehen ist, hat sie dennoch eine Menge 
Applaus eingeheimst... Die Band verschwand, die Leute nicht - na ja, ein paar haben 
aufgegeben, aber die Hälfte war sicherlich noch da - und der Clan kam nochmal. Ronnie sagte 
irgendwas von 'Isn't there some Gothic Party you 
should go to?'und dann spielten sie Obsession und ein Lied, dessen Titel mir nicht einfallen will: 
'When will you come to me?'. Sie verschwanden 
erneut. Die Zeche machte kein Licht und auch kein CD-Player ertönte, für den deutschen 
Fan, der an sich sehr gut erzogen ist, das ultimative 
Schlußzeichen und daher auch Schluß- signal für die Forderung von Zugaben. 
Aber wie gesagt, nicht hier, daher auch nicht Schluß. Es waren noch 
etwa ein Drittel der Leute da und das Warten lohnte sich: der Clan kam nochmal. 
Ronnie meinte 'How can we relax down there with you guys making 
such terrible noise???' ;-))), spielte Blind Hearts, ging wieder und wurde nochmal hochgeholt. 
'This is the last song and I hope the CD-Player is 
installed by then'. Ronnie meinte, sie hätten keine songs mehr zu spielen und überhaupt würden sie noch 
eins spielen, was auf uns passen würde: 
Going round! Echt nett. Insgesamt dauerte das Ganze bis 00:10 h. Sie spielten also 10 reguläre songs und 9 Zugaben, 
das reguläre Konzert dauerte 
genau 1 Stunde, der Zugabenteil nochmal 50 Minuten ;-))) Was fehlendes Licht und ein nicht einsatzbereiter 
CD-Player doch so alles bewirken können ;-))) 
Ich fand's nett, auch wenn das Set in etwa dem in Bochum entsprach. War halt eine Zeitreise, 
was auch neben mir einige Leute meinten. Einer meinte 
nach 'Going round': och, war das im Original auch von denen?? Ich dachte immer, 
das sei von Depeche Mode oder so ' ;-)))