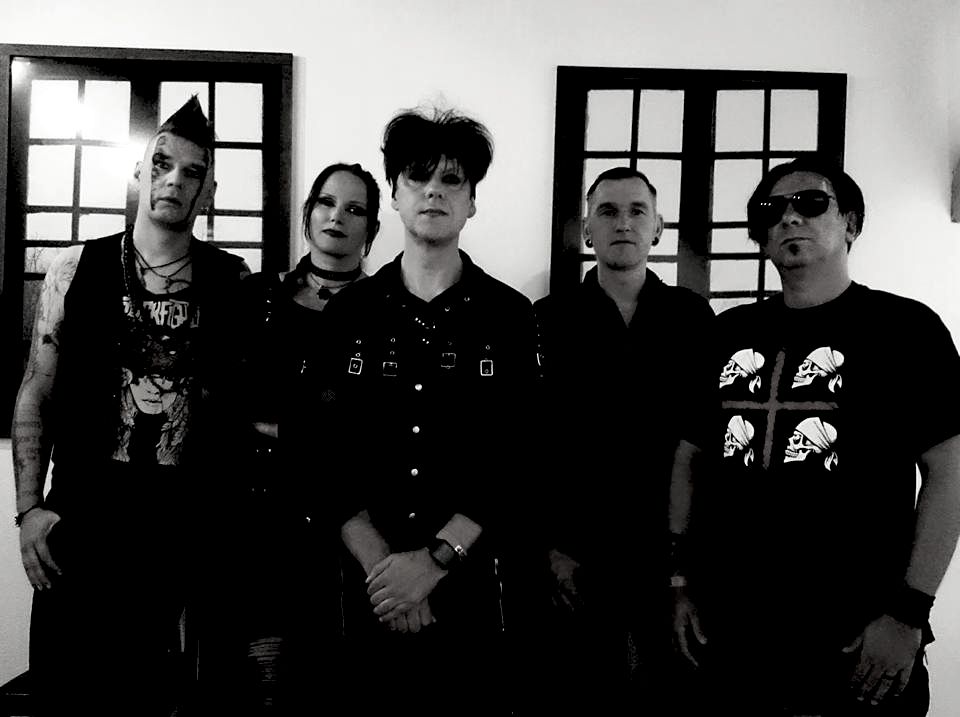 Sean , Mojca , Ronny , Daniel & Mario 
SHORT BIOGRAPHY 
Since their formation in their native Holland (1982) their music has been constantly changing, always challenging and often quite breathtaking. Considered by BBC's John Peel as Dark Wave pioneers . Some of us have always been of the opinion that XYMOX are something special. A band fired by electronic music but determined, always, to make something that is very much their own. They are unique. Clan of Xymox, during the years released many hit and cult albums since their signing with 4AD (UK) . Later signed to Universal Music (USA) and now toTrisol (EU) & Metropolis Records (USA).  
A steady flow of critically acclaimed albums were released , all timeless, deeply emotional Dark Wave records. The band has released 18 studio albums, 2 DVD's, a Remix and Live album , "Best Of " and even a cover album named " Kindred Spirits"(2012), giving ode to Ronny's past influences.
In 2017 the 5 star album " Days Of Black" was released of which most said that CLAN OF XYMOX have reached a new, perhaps even their highest peak , or ...? Followed up with "Spider On The Wall" (2020 ) 3 singles with videos were released and reached all number 1 in the DAC charts.  
As 2020 saw the world shut down, and Clan of Xymox unable to tour, Ronny Moorings began crafting new material, influenced by the pandemic. Limbo is a master stroke of modern dark wave, expanding the signature Clan of Xymox sound to create a captivating take on this moment in our history. All single titles released reached number 1 in the DAC single and album charts. 
These albums are an artistic triumph for the band. Dark & intimate, while masterfully exploring signature dark  wave sound that has made the act adored around the world.  
In 2022 Ronny wrote a song called " Save Our Souls " to put attention to Putins war on the Ukraine . All proceeds are donated to agencies against human and animal suffering.  
The band tours constantly successfully around the globe from Arena's to the regular live  clubs. So now they are here for you to see live in action , meet again or to get to know them.  
Ronny Moorings writes, records and produces all music and lyrics for his songs. 
Clan Of Xymox LIVE are :  
Ronny Moorings : vox, guitar  , Mojca Zugna : bass.  Mario Usai : guitar / bass.  Sean Goebel : Keys , backing vox.  Daniel Hoffmann : FX & Sequencer.  
FOH Sound Engineer : Sebastian Ludwig
Extensive Biography
Since their formation in their native Holland (1982 ) their music has been constantly changing, always challenging and often quite breathtaking . Considered by BBC's John Peel as Dark Wave pioneers . Some of us have always been of the opinion that XYMOX are something special. A band fired by electronic music but determined, always, to make something that is very much their own. They are unique.  
First there was Clan of Xymox, formed in Amsterdam but signed to leading English independent label 4-AD, home at one time or another to Bauhaus,the Cocteau Twins, Dead Can Dance and Pixies among others.  
Subsequent Pleasures was the very first official release of  Xymox in 1983. Recorded at his 4 track home studio Ronny Moorings released it as an ltd 500 copies only and sold out in 3 weeks time. 
This paved the way to get signed to 4 AD with additional demo recordings of future works. 
CLAN OF XYMOX
1985 saw the release of the band's self-titled debut album. Recorded at Edinburgh's famed Palladium Studios and co- produced with 4-AD supremo Ivo, it was a record full of tumbling electro beats, throbbing sequencers and moody vocals. 
 
1987 saw the band provide a track for " Lonely is An Eyesore", a fascinating compilation album highlighting the diversity of talent on the 4-AD roster. Ronny's "Muscoviet Musquito", sandwiched between Dif Juz and Dead Can Dance, showed a more confident side to the band. Album number two was a very different beast.  
MEDUSA 
1987's "Medusa" was mostly a dark record, in places a chilling exercise in atmospherics and modern pop dynamics. Aided by the impressive 12 inch single "A Million Things" and " Blind Hearts" the band really started to create a buzz. Clan Of Xymox were now not only inhabiting the arthouse but filling dance floors in the more discerning clubs.  
TWIST OF SHADOWS
October 1988 saw the band and 4-AD part company. Encouraged by label boss Ivo and managed by Raymond Coffer they signed to Wing, a left of centre subsidiary of media monolith PolyGram. The band shortened their name to Xymox and gave the world 1989's "Twist of Shadows" album, their debut for Wing. It was in many ways a bold record and it showed that being signed to a major concern wasn't going to stifle a natural sense of musical adventure. Supported by three excellent 12 inch releases "Obsession", "Imagination" and "Blind Hearts" - this was an album that confirmed the diversity of their appeal as again they clicked in both dance and alternative circles. For years Xymox had enjoyed cult status across Europe but were now beginning to cause a stir in America. "Twist of Shadows" had sold in excess of 300,000 copies. 
 PHOENIX
The bands fourth album "Phoenix" released worldwide in 1991 was their last album on the disbanded label Wing, a division of PolyGram. It had ecstatic reviews but sold not as much as their predecessor despite of their loyal U.S. fan base. (Most likely the push of Wing failed whilst PolyGram reshuffled all their labels that year.)The band embarked on sell out tours around the world and featured in college alternative and mainstream Billboard charts. The sub label Wing seized to exist after that..  
METAMORPHOSIS & HEADCLOUDS

"Metamorphosis" and "Headclouds" are the latest two albums, released on Zok Records UK, an independent label, solely working for Xymox. Here, in addition to their trademark choral sounds and hypnotic electro rhythms, are albums taking a whole range of styles and influences, taking Xymox into the '90s dance era, it's the work of a band who are never afraid to take chances.In the UK they nearly entered the top 40 charts with the "Reaching Out" single and was played on heavy rotation in the UK.  
RE RELEASE SUBSEQUENT PLEASURES
In 1994 Xymox re released their first (from 1983, only 500 original printed copies exist) limited available mini album "Subsequent Pleasures" on D. D. Records and without the band's consent Zok Records released a " Remix " album which contains only radio edits of the albums "Metamorphosis " and "Headclouds" compiled together. This was the end of the mutual relationship and  label.  
CD ROM GAME MUSIC
In 1996 Ronny Moorings contributed music for a CD-ROM games project named "Total Mayhem" and a year later the music for the game "Revenant", released worldwide by Domark.. 
 HIDDEN FACES 
In 1997 Ronny Moorings ended the Xymox era, restarted Clan of Xymox and the band signed to a brand new USA and German based Independent label Tess Records.  
The album "Hidden Faces" (1997)  of Clan of Xymox relates to their 4-AD years with a modern feel to it. Various tracks sound heavy, layered with guitars, pounding rhythms, anguished & dark brooding vocals and dreamlike keyboard pads. "Hidden Faces" was Produced by Dave M. Allen (Sisters of Mercy, The Cure) and John A. Rivers (Dead Can Dance) This album marked the reformation of Clan Of Xymox and it's attitude towards it's own written history, convincing everyone once again of their qualities both on recordings and live performances.  
In 1997 and 1998 Clan of Xymox were touring their album Hidden Faces and played also their favourite songs from the 4-AD era of which the reactions and reviews have been ecstatic. They played already in the USA, South America and most countries of Europe, headlining festivals with high lights such as the Gothic Wave Festival in Leipzig and the Zillo Festival, performing in front of 25.000 people and keep on intrigue and bedazzling people all over the world with their live show.
Also the Two singles "Out of the Rain" and "This World" were ranking in the top 10 of the German Independent charts (DAC) and numerous Indie charts all over the world are now considered club classics.  
CREATURES
1999 saw the release of their darkest album ever, named "Creatures", again beautifully mixed by John A. Rivers and Ronny Moorings , on their new North American label Metropolis Records and Pandaimonium Records in Germany / Europe. The song "Jasmine & Rose" is now a club classic !
Clan of Xymox backed up the album "Creatures" with an extensive world tour in 1999, they started in the United States with COX headlining on the prestigious sold out Convergence Festival in New Orleans, continued to tour the USA and returned a few months later again.   
The " Creatures " album had rave reviews and numerous articles in prestigious music magazines around the globe with several hight positions in the alternative charts, peaking at DAC number 4 for several weeks. In the Orkus issue of May in Germany the band was hailed as, Band, Act and Tour of the Month in May, and with the album "Creatures" being Album of the Month, a review placing it number 1 of their charts and number 2 in the Soundcheck of Sonic Seducer / Zillo.  
4 AD RE RELEASES
Also that year 4- AD re released in the USA domestically the first self titled album "Clan of Xymox" with extra bonus track " Muscoviet Mosquito), plus the album "Medusa" including 3 bonus tracks (the "Scum" Single).
TOURING SOUTH AMERICA 
In the year 2000 Clan of Xymox concentrated also on a tour and promotion in Europe, East Europe the USA/Canada and Latin America and continued to play a great number of Festivals during the summer in Europe with a personal highlight for the band being the former Olympic Stadium Palacio d' Deportes in Mexico City where 20.000 people attended their concert.
LIVE   
In August 2000 Ronny Moorings mixed the final Live Recordings of the South and Central American Shows, finishing the single "Liberty" and Mojca keeping pace with her beautiful artwork. Both were released in October with the double album simply named "LIVE" whilst Clan Of Xymox kept on touring Europe! Again both releases and tour got ecstatic reviews.  
September 2001 saw the Clan live at big festivals such as Mera Luna, Zillo and Eurorock 
NOTES FROM THE UNDERGROUND
" Notes From The Underground " (2001 ) , acclaimed by critics as their best work ever. The album ranked already No 1 in the USA 's Musicfolio chart as the best album of 2001 and reached No 2 in the well known DAC charts plus numerous chart positions around the globe. A self-exploring trip through the sinuous ways leading you to a talented melancholic soul. Sideline Magazine said  "This album is to be seen as a milestone in the band's discography towards which their previous efforts all converge , or emerge from.."
REMIXES FROM THE UNDERGROUND 
In 2002 a new tour started plus a release of a very first Remix Album of the band, all tracks of "Notes From The Underground " remixed by renowned artists like Front 242 or Assemblage 23 etc, called REMIXES FROM THE UNDERGROUND" and included was also the very first video disc of COX.  
FAREWELL 
A few months later the single " There's No Tomorrow" was released with various remixes on it and soon 2003 saw the release of their latest album" Farewell", till date a critically acclaimed record. It topped the DAC charts with a number 1 position, number 2 on the World DJ charts, was voted number 1 in Zillo Magazine soundcheck , basically topping in many alternative charts around the world.
Fans and critics are equally ecstatic about "Farewell", claiming at the time it's COX best album to date.
Also for the very first time in the dark musical history of Peru, Clan Of Xymox gave a concert in Lima, where they never had a gothic / electro band performing in Peru before. Hundreds of fans were waiting for the Clan to arrive at the airport and caused chaos for the airport security! Other Latin American countries were included on this tour like Chile & Argentina were COX already played before.
Between 2002 & 2003 saw Clan Of Xymox touring many countries in Europe, playing festivals, a return to Mexico, in short playing many shows for thousands of people. In 2004 a new live member joined the band on guitar, Mario Usai. ( known from playing the bass with the band Sophya *signed on the Xymox Control Label
In September 2004 the Best Of Clan Of Xymox album was released , featuring new recordings of older 4 AD material and some new mixes of more recent material as well, the 14 track album features 2 tracks per released Clan Of Xymox album..charting number 1 at the DAC and several other top 10 positions in several other charts....The tracks were chosen by their loyal fans on line.  
BREAKING POINT 
January 2006 the EP" Weak In My Knees", included are remixes of Azoic, Destroid ,Grendel and Siva Six plus a video. followed by the release of the album " Breaking Point" which got again all praise and glory , entered high on all charts possible and imaginable , COX embarked on a further tour, this time operating from Germany, where the album Breaking Point got finished. " All of us can cherish the emotional beauty of Ronny Mournings' dreams, nightmares, desires, sorrows presented in small stories in the shape of inspired compositions " Der Rozzengarten wrote.
HEROES
2007 Saw the release of the single Heroes and On A Mission, a kind of taster/teaser for the forthcoming album Clan Of Xymox.  
DVD VISIBLE
March 21st 2008 saw the first double DVD ( Visible, limited edition )release of Clan Of Xymox ever. The DVD is full of clips, live material , a Live special at Mera Luna, backstage scenes, an interview with Ronny Moorings, impressions of personal footage during the foreign tours It reached number 1 sales charts, backed up by an extensive tour in 2008 including many festivals.  Early 2009 Clan Of Xymox switched labels, going to Trisol Records in Europe but stays on Metropolis in the USA and Gravitator in Russia. July 2009 the single "Emily", a fortaste for the new album, was released and reached nb 1 in DUC & DAC  
IN LOVE WE TRUST 
"In Love We Trust"came out worldwide August the 18th 2009 and reached No 1 in the DUC & DAC No.4 to name a few. Interviews, articles and rave 5 star reviews appeared in magazines, songs appear(ed) on global playlists and new songs were added into the tour of 2009 plus of course the all time classics. " The trademark heavy bass, mixture of electronics and that trademark guitar riff appear solidly on most pieces and make each one easily recognisable as Clan of Xymox, yet each having it's own style and twist, keeping the album and overall solid collection from this band interesting" says Gothic Paradise in a review."In Love We Trust" is now already considered another great classic release of the band.  
DARKEST HOUR 
Clan Of Xymox continued their live shows in 2010. At May 20, 2011, on Ronny Moorings' birthday, the 13th studio album "Darkest Hour" was released. Iit reached no. 3 in the DAC charts in Germany, and was top 10 for the entire duration. The album shows again that there is no end to the creative output of Ronny Moorings. A video made by Ronny of the song "Delete" coincided the release of the album.  

Ronny Moorings' passion for huge, sensual melodies, mystical sound experiments and seductive dance rhythms is as unbroken as it ever was. Melancholy, energy and determination rule "Darkest Hour", a record whose tracks "My Reality" or the hypnotic club hit "Delete" & "My Chicane" work on any dancefloor, but that also delivers gripping entertainment and world-class Goth hymns with "Dream Of Fools" or the breathtaking "Wake Up My Darling". Crowned, as usual, with Ronny's unmistakable vocals instilling the necessary dark passion into his Dark Wave elegies.  
MEDIA 
In that year the track " Delete" was aired on the German National TV music station iM1 a few times.  
End December 2011 (USA) and early 2012 in Europe The track "In Your Arms Again" from the lastest album " Darkest Hour" was included in the David Fincher's film "The Girl With The Dragon Tattoo" starring Daniel Craig & Rooney Mara, a remake of the book by Stieg Larsson. If that is not all, we saw in the same year also a LIVE AT THE CASTLE PARTY release. This live album was recorded entirly in Bolkow, Poland. (2010). This is double album (DVD and audio CD) including an interview with the band.  
SPECIAL EDITION  BOX
In March a special Ltd Vinyl Box-set was released. ( Creatures, Hidden Faces, Notes From The Underground plus Bonus EP)  
2012 October" Kindred Spirits" release by Clan Of Xymox:  
KINDRED SPIRITS
"Kindred Spirits" assembles eleven cover versions, entirely played, sung and recorded by Ronny Moorings. And what a selection it is: "Blue Monday" by New Order, "Question Of Time" by Depeche Mode, "Decades" by Joy Division, "A Forest" by The Cure or "Alice" by The Sisters Of Mercy may be songs one would have expected on Ronny Mooring's perennial playlist anyway; the manner in which he reawakens these tracks to a new Clan Of Xymox  life, however, astounds and enthuses more than was deemed possible. Warm, organic, somewhere between wavy Electro and fog-clouded Goth Rock… these honorary tributes show a completely new side of Clan of Xymox – and revive immortal classics as a pleasant side effect. More surprising is a song like Radiohead's "Creep" that even after the first listen sounds like a well-known Clan Of  Xymox track and was most skillfully interpreted. Pieces from David Bowie ("Heroes", of course), Shocking Blue, Department S, Nine Inch Nails  as well as Siouxsie And The Banshees (sung by Mojca Zugna) complete an extraordinary release brimful with emotion and nostalgia.  

2013. Clan Of Xymox continues playing live shows in clubs and festivals with Mojca back in the ranks.  
MATTERS OF MIND BODY AND SOUL
2014 saw the release on Valentines Day named :" Matters Of Mind, Body And Soul", which explores its signature, melancholic sound, as evidenced by standout tracks such as "I Close My Eyes" and "I'll Let You Go."
Clan Of Xymox pull out all the stops and deliver energy, ideas and creativity as if they were about to release their debut album – and not their 15th studio work. "She is Falling in Love" shines with lost melodies and vibrant electronics as if Ronny Moorings made a song with Depeche Mode, "Kiss and Tell" shyly kisses the Wave era on the cheek before daring a fatal love affair with classic Goth dreaming.
"Matters of Mind, Body and Soul" melts contrasts like these into a coherent, harmonious, passionate album that would have become one of the genre's biggest milestones 20 years ago. Yet, thanks to Ronny Moorings ingenious craft, even today this album manages to reach a goal that has long become unreachable for other contestants of this art form: To deliver a timeless, deeply emotional Gothic record.  
A worldwide tour followed in 2014 including Australia as well.  
FURTHER FILM MUSIC 
Also in September 2014 , 3 tracks of Clan Of Xymox's first Debut album were taken for a USA released movie " The Guest". A soundtrack album will also be released. Among the other artists like Sisters Of Mercy, Love and Rockets & Front 242. The Guest (2014) is an American psychological thriller film, directed and edited by Adam Wingard, and written by Simon Barrett. The film stars Dan Stevens, Maika Monroe, Brendan Meyer and Lance Reddick.  

2015 was the year of touring , touring and touring well into 2016.  
DAYS OF BLACK
Released on April 7, 2017, the sixteenth work of Clan of Xymox " Days Of Black" confirms once again its special place in the genre that it chose to operate in – Cryptic Rock best described it as a concoction of the exoticness and iciness of Gothic, the catchiness of New Wave, and the exactness of Electronic/Synthpop music. 
"Days of Black" looms dramatically with the ambient and a bit spoken omen of the title track – an apt album opener. The sparse soundscape bleeds slowly into the ensuing "Loneliness," whose cyclical guitar ad-lib and where Vocalist Ronny Moorings' distinctive, cold voice reins over the married steady drumbeats and bass pulses; with a cool sense of urgency. The persistent guitar lines are unstoppable, connecting the song's sadness to the ensuing paranoia and mistrusting sentiments of the ensuing "Vixen in Disguise." Then there is the slight Industrial Noise of "Leave Me Be," combining Synthpop piano balladry and the eternal drudgery of machinery.  
Reflections Of Darkness says : Clan Of Xymox have done what many similar bands fail consistently to do. They've upped their game, shaken things around, plunged back into the darkness and come up with something sounding fresh, original, and dare I say exciting. And at this stage in the band's life, that's quite an achievement.  
In the stylistically diverse soundscape of the world today, the classic sound of Gothic music is arguably underrepresented. Firmly rooted and strongly holding their ground, Moorings 's Clan Of Xymox continue to serve as one of the genre's primary forerunners, unfailingly delivering the goods that make the entire movement vibrant and vital like it was during its '80s heyday.  
With just a glaze of the guitar; a soak of the synth; and Moorings' distinctive icy, semi-deadpan, voice; among other interesting details, the initiated should be able to realize that Gothic and Xymox are seamlessly interwoven like Egyptian cotton. Cryptic Rock said, Days of Black is another gift of Clan of Xymox not only to their fans but also to enthusiasts of the genre itself, wrapped in that same priceless fabric that has always adorned the band's music.  
2018 saw a whole year of touring on the basis of the " Days Of Black " promotion. 2019 continues to be a touring year for the band.  
Also "This Is Not Berlin"  a 2019 Mexican drama film directed by Hari Sama  used tracks of Clan Of Xymox for its scenes.
SHE / LOVERS / ALL I EVER KNOW EP'S 

2020 February 14th the single " She" was released and reached number 1 on the DAC charts. It stayed 8 weeks non stop in the top 3 . Clan Of Xymox had to break off their sold out tour in the USA and the rest of the world due to the Covid Crisis and a few months later the mids of it, the second single " Lovers " was released and stayed for 7 weeks non stop on the number 1 slot in the DAC charts. Both singles had a video made by Zoe Kavanaugh which have already almost a million views. The third single " All I Ever Know " was accompanied with a video made by Ronny Moorings this time .
SPIDER ON THE WALL
The new album " Spider On The Wall " reached number 3 in the DAC charts. The same titled E.P. reached number 1 in the DAC charts November 2020. Cryptic Rock says :  Spider on the Wall proves that the enduring Clan of Xymox has never lost its edge, dark beauty, and gloomy glamor. ReGEN Magazine says : " the album proves to be an echo chamber for the noir romance that emerges from Xymox's signature style. Ethereal vocals wrapped in reverb haunt over the gothic bass lines and synth loops in a cascade of musical craftsmanship that's as weathered as cemetery marble"
LIMBO 
During the lockdown and Corona Pandemic Ronny wrote a whole album dedicated this. The album " Limbo" came out in 2021 and spawned 4 number 1 hit singles on the DAC charts . Remixes made by bands like She Past Away, Ash Code , Hante , Hord, John Fryer etc . Made the whole experience even more intense.   
Postpunk.com wrote : ''With Limbo, Clan Of Xymox remains at the top of their songwriting game, certainly one of the most poignant and timely albums to come out of the Covid era. The album opens with the explosive, plaintive "Brave New World", with Ronny Moorings' signature voice in fine form.''  
SAVE OUR SOULS DIGI RELEASE 

In 2022 Ronny wrote a song called " Save Our Souls " to put attention to Putins war on the Ukraine . All proceeds are donated to agencies against human and animal suffering.  
And the band plays on ... 
Ronny Moorings is the founder and life long member of Clan Of Xymox
.
The live band and crew members are to this date : Ronny Moorings, Mojca Zugna, Mario Usai , Sean Goebel & Daniel Hoffmann 
Ronny Moorings writes, records and produces all music and words for his songs.