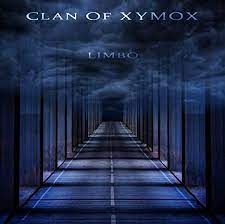 CD Review Limbo 
Written by Stephen Kennedy
 
Artist: Clan Of Xymox Title: Limbo Genre: Darkwave Release Date: 23rd July 2021

Something happens. Something terrible and global. So, you write some music about it and that music becomes an album which reflects the terrible and global something that has happened. But then imagine also that you've been writing music for quite a considerable time and suddenly something terrible and global happens that is such a perfect match to your vision and a perfect fit to what you've been banging on about for decades that it's spooky and prophetic at the very least. 

When CLAN OF XYMOX released 'A Day' back in 1985, it sounded terrifyingly sci-fi, a dystopian soundtrack to a Blade Runner remake, or a rain-soaked neon nightmare of paranoia and dark claustrophobia. Now they've written an album, where a career full of preoccupations and premonitions fall not into some narrative of the imagination, but absolutely real-time reflections of the horrors and realities we have all faced this last 18 months. This isn't dystopian, or the soundtrack to some movie. This is here and now, stark, terrifying, and of course, open-ended and with more questions than answers about ourselves, our governments and our approach to life in general.

Everything, from the song titles, to the dank, cloying layers of weary observation, reeks of dread. 'Limbo' is not a multi-faceted album, and it's not going to offer up glimpses of hope, or flashes of warmth and human strength - plenty of others have illustrated that aspect of life during The Plague, and they're certainly hugely important aspects of the whole. But CLAN OF XYMOX play to their strengths here, which is to do what they've always done - deliver layers of dense, minor-chord electronica, with an ever-present undercurrent of restrained panic. And all glued together with the unmistakeable calmly-pained, robotic vocals of Ronny Moorings, a man who could probably make children cry at a birthday party. 

Fear, uncertainty, loneliness in the face of the inescapable, it's a cheery start, the almost breezy sweep of opening song 'Brave New World' disguising the dry observations and creeping sense of the inevitable. 'Big Brother' worms its way down alleyways and deserted streets, seeking out, infecting, 'The Great Reset' throwing out a disarmingly memorable chorus, which would be upbeat were it not for the subject matter. The title track is similarly light of tone at first, but it's far from it, and it's that juggling of the shades CLAN OF XYMOX have perfected over the years, that they bring to an absolute peak here. 

Step in to a nightmare of frustration on 'No Way Out' or feel the utter exhaustion of 'The Great Depression' (slightly let down by some ropey percussion, which is a real pity). And 'How Long' (also blighted by some inexplicably jarring 80's drum fills) propels things towards the unfinished future, signing off with a flourish, leaving a bitter taste of uncertainty and abandonment that's a highly effective and reflective end to such a divisive moment in our history.

Of all the ways to have creatively survived these troubling times, there can be no right or wrong way of expressing it. Ignore, be positive, be angry, be scared… we all look in different directions to best share our experiences or our opinions. What CLAN OF XYMOX have done on 'Limbo' is to starkly present theirs, and it feels chillingly honest, and unapologetically blunt in its analysis, and dissemination of dread and paranoia. Listen to it. Then go for a walk in the sunshine. But then go back and listen to it again…
--
http://www.dieseele.net/2021/07/album-review-clan-of-xymox-limbo-trisol.html
Exactly a year after "Spider On The Wall", legendary darkwave / goth band Clan Of Xymox returns with the new album "Limbo". As 2020 saw the world shut down, and Clan Of Xymox unable to tour, the band began crafting new material, influenced by the pandemic. On the album "Limbo" the band expands its signature sound to create a captivating take on this moment in our history. The album was officially released on July 23rd 2021, digitally and on CD.
 First single "Brave New World", named after the dystopian social science fiction novel by English author Aldous Huxley written in 1931, is a rhythmic guitar riff driven track with a worried melancholy vocal by Ronny Moorings. It is followed by it's b-side "Lockdown" a bleaker electronic track. Both portraying a bleak and dystopian setting. The second single "Big Brother" continues the conceptual work, yet again inspired by what's going on in the world the last year, and all that has changed due to the Covid-19 pandemic. With Ronny expressing his concerns on state control, the restrictions and the vaccination process, here he continues in dark electronic mood with dashes of classic Xymox songwriting. The next song "The Great Reset" was also on the "Big Brother" EP and here they give us yet again another classic of their darkwave synth driven songs with touches of guitar but here with a more optimistic tone. Things get more atmospheric on "Forgotten", while on the title track "Limbo", Clan Of Xymox deliver a classic wave track by their standards, with the arpeggio picking guitar and synths balancing nicely
 In the second half of the album, the tracks continue in the same vein, as "No Way Out" and the more upbeat "In Control" with its more electro backbone, topped with atmospheric synths, melodic keys and Ronny's melancholy vocals. In darker mood we have "The Great Depression" and "The One Percent" that are drenched in reverb. The next track, "Dystopia", has a different feel and mood with its more poppy and swinging rhythm, making a nice shift of style. While on the closing track "How Long?" Ronny expresses his frustration asking the critical question we all have. How long will this pandemic continue altering our live, and when will we be able to get back to normality?
 In all, Clan Of Xymox have delivered another album, continuing their long and remarkable legacy. As mentioned in the beginning, Ronny, unable to tour with the band around the world, found the time to write new material during the lockdown and reflected all of what was going on in real-time in his songs. Making this an album very current to the world situation
--
https://post-punk.com/clan-of-xymox-release-new-album-limbo-and-announce-na-tour-dates/
Clan of Xymox returneth! Following our podcast interview with frontman Ronny Moorings earlier this year, the band have released their new album out today through Metropolis Records, entitled Limbo. a record that arrives exactly one year after their previous release Spider On The Wall.
Limbo is a masterstroke of modern goth rock, expanding the signature Clan of Xymox sound to create a captivating take on this moment in our history. As with most musicians with time on their hands after lockdown, Clan of Xymox began crafting new material – but unlike many bands who simply used the time to work on irons in the fire, Xymox turned quarantine into a brilliant concept album about the pandemic itself.
With Limbo, Clan Of Xymox remains at the top of their songwriting game, certainly one of the most poignant and timely albums to come out of the Covid era. The album opens with the explosive, plaintive "Brave New World", with Ronny Moorings' signature voice in fine form. It's followed by "Lockdown", a fast-paced, unsettling track peppered with eerie synth accents lamenting the madness incurred with social distance. The paranoid "Big Brother" makes a scathing nod to camera culture.
"The Great Reset" and the emotionally-charged Forgotten get more introspective, hauntingly musing over societal changes and injustices. The pace picks back up with Limbo, a goth-heavy narrative questioning this paralyzing state of mind. "No Way Out" churns through the labyrinth of the mind at a quicker rate, a panic attack doubling as a club banger. "In Control" taps into a more classic Clan of Xymox sound with big hooks, echoing classics like A Day. This energy is yanked into a minor chord in The Great Depression, a track about a struggling collective with a gorgeously ghostly hook. "The One Percent" is a scathing critique of top-tier fat cats and unforgiving governments. "Dystopia" opens with a sinister riff off of the classic Rock and Roll Part II,  a nightmarish vision bringing to mind the destroyed yellow brick road of Return to Oz.  The album finishes with a higher energy question on all our minds – "How Long?"
This is some of the best work Clan of Xymox has ever produced. From start to finish, Limbo is both highly catchy and deep.
-----
https://www.dm-entertainment.de/reviews/763200_clan-of-xymox-limbo
"Ein Monument unserer Zeit"
 
Das Jahr 2020 war das Jahr, in dem die (künstlerische) Welt still stand und unsere heiß geliebten Bands von der Bühne verschwanden bzw. auf selbige nicht durften. Was bleibt einem als Musikschaffende anderes übrig, als sich im Übungsraum zu verziehen und die angestaute Energie in ein Album zu bannen.
 
Das taten ja nicht wenige Bands, aber Clan of Xymox setzte mit ihrem Album ein Zeichen, indem das ganze Album den gesellschaftlichen Entwicklungen in der Pandemie gewidmet wurde — ein wahrhaftiges Zeitdokument. Mal ganz davon abgesehen — COX gründeten sich 1981 —, das Werk "Limbo" bezeugt außerdem 40 Jahre Musik im Dienste des Dark Wave und Goth Rock made in The Netherlands. Über ihre Bandgeschichte ließe sich also schon aufgrund der langen Verweildauer in der Schwarzen Szene viel erzählen.
 
Das neue Werk lebt von vielerlei Anspielungen an, wie auch der Albumtitel vermuten lässt: Mit jeder neuen Runde liegt die Stange tiefer, wird es schwieriger drunter durch zu kommen, ohne sich mächtig zu verbiegen. Stellt man diese Aussagen in den heutigen gesellschaftlichen Kontext, ist die Kernaussage des Albums klar. Weitere Anspielungen sind natürlich die beiden Dystopien "Brave New World" von Aldous Huxley und die Gestalt des "Big Brother" aus dem Roman "1984" von George Orwell. 
 
Hören wir also in "Limbo" rein. Der erste Song "Brave New World" setzt die insgesamt ruhige Stimmung dieses Albums um.
Der Titel "Big Brother" ist schöner dunkler Darkwave im gemäßigtem Tempo mit einem bildgewaltigem Video, wobei jedes Video dieses Zyklus nicht arm an Anspielungen und Symbolen ist. 
Durch die Bilder löst sich die Textmessage aus dem aktuellen Pandemiegeschehen und stellt sie in einem größeren Zusammenhang. Die Frage ist, wie wollen wir leben bzw. wird die Menschheit überhaupt überleben, wenn wir so weitermachen.
 
"Limbo" ist ein kritisches und rebellisches Album verpackt in schönste Wave Gitarrenläufe und Melodien, die die Ernsthaftigkeit und das Bedrückende der Texte in weiche Harmonien verpackt. So ist die Message wohl besser verdaulich. 
 -----
https://www.side-line.com/clan-of-xymox-limbo-album-trisol-metropolis-records/
Background/Info: One year after the last album (cf. "Spider On The Wall") Clan Of Xymox already strikes back with a new opus. Because of the pandemic the band driven by Ronny Moorings wasn't able to tour so they made a new album instead.
Content: "Limbo" moves on where previous releases stopped. I should say an easy recognizable Gothic sound refined with Wave-Pop elements. The past years saw the work of Clan Of Xymox touched by catchy elements. There's a perfect balance between guitar and electronics with the charismatic vocals of the band's frontman on top.
+ + + : "Limbo" doesn't bring anything new, but according to me this work moves a step further as the previous album. The songs are more melodic, revealing several potential hits. "No Way Out" and "Lockdown" both are appropriate titles for the dark age we're living in; quite curiously the times are getting darker while Clan Of Xymox is becoming more catchy. But they also hold on to their good-old dark approach. "In Control" and "The Great Depression" are a few other attention grabbers. The main strength of this work is the perfect balance between all elements, influences and instruments. "Limbo" creates a perfect sonic bridge between the band's early sound and approach on one side and a more catchy production on the other side.
– – – : Quite curiously the previously released singles from this album aren't my personal favorites.
Conclusion: Lockdown seems to have been a very inspiring muse to this great album.
Best songs: "No Way Out", "Lockdown", "In Control", "The Great Depression", "How Long?", "Brave New World".
---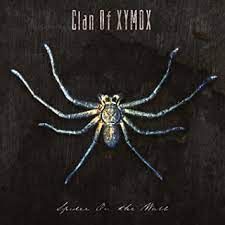 Spider On The Wall 
Crypt Teaze USA https://www.crypt-teaze.com 
With a lifespan reaching across four decades (and traipsing into a fifth), the Dutch group Clan of Xymox have purveyed their brand of electronic-tinged gothic rock for generations of creatures of the night. Even with Ronny Moorings as the only remaining original member of the band, the band has kept a tight recording and touring schedule, especially inside of the last five years. With their latest album Spider on the Wall, Moorings and his co-conspirators have crafted a post-punk powerhouse of a record, the band's sixteenth studio LP to date. If nothing else, the band is actively proving that so-called "goth" music isn't dead, and with the band's established staying power, it's clearly not going anywhere anytime soon. 
"She" starts in with a synthpop backbone, supported by clean-tone guitars and Moorings' droning mid-range vocals. It is an upbeat, danceable track, despite its subject being a nameless "She" being alone, left cast aside by the world at large. The chime-happy "Lovers" is a bit more overtly goth, evoking memories of classics like Switchblade Symphony, while also leaving the guitars behind for layers upon layers of scintillating synth work. In the chorus, the alternating ascending and descending synth flourishes add a bit of levity to this weighty love song, a shimmery tone to the black heart it paints in the mind. "Into the Unknown" goes back to the four on the floor approach for its goth two-step-worthy rhythm, with neither the guitars nor the synths trying to overtake one another. Each chimes in as they need to in order to accentuate and break up the repetition in the main riff. 
"All I Ever Know" might be my personal favorite from the album, a dark synthpop dream decorated with a dash of trancey, lose yourself in the music vibes. The kicks are pronounced but not jarring, the lead lines present, but not dominant. Everything is in its place, and it makes for a better composition, as a result. The bass line on "I Don't Like Myself" is another standout bit of songwriting, with the drumming upping the hi-hat output to eighth notes, rather than quarters like we've seen so far. It's a chill sort of feeling, a wandering in darkness kind of track, rather than actively relishing in it like some of the others. The title track starts in with toms and a choral sequence, though it ends up being a bit lighter on air, while carrying something deep-seated in its chest. The guitar solo feels a bit extra, like one too many chains or studs, and while that sounds like it isn't possible, it is, though it doesn't take much away from the final result. 
The fuzzy electronics and descending bass line drive forward "When We Were Young." It is an old-school anthem, a song dedicated to reliving the glory days, and lamenting having to grow old and grow up. It doesn't dog on the newer generation, as some older goths try to do, but it minds its own business in digging through old business, and inherently, there's not much wrong with that. On the next song, "Black Mirror," the bass guitar line instantly reminds me of Sisters of Mercy or earlier Siouxsie and the Banshees, planting its feet firmly into post-punk soil. It's ominous and brooding, with guitars waiting their turn until the chorus of "black mirror, black screen." If the previous song was about days gone by, this one is about present day, damning modern technology, right down to naming the song after one of the most frightening high-tech speculative series in the game right now. "My New Lows" sees a return to the rock backbone we started off on, with a smattering of synthpop flavor in there just to bring things to a higher plane of existence. We end on "See You On The Other Side," which, fittingly, feels like an end credits song to a contemporary thriller film. It's the kind of song you would anticipate hearing as the scroll begins, reminding the listener that the personal will always be there, even if they physically and practically are not. 
Do Clan of Xymox have a playbook? Absolutely. Do they follow it to the letter? Well, they're this deep into their career, so if so, they're clearly doing something right, but the music can speak for itself, as far as that goes. I can understand the resistance to the so-called "goth revival," but my counter would be that in order for something to be revived, it would have to be dead and gone first, and Clan of Xymox are far from it. They celebrate death and the darkness among us, and appear to plan on doing so for some time. They have time on the clock, but they aren't going to be too harsh about it. 
Brooklynvegan.com 
Dutch darkwave pioneers Clan of Xymox are back with their first album in three years, Spider on the Wall. Ronny Moorings still has a great ear for this kind of electro-noir, bringing moody romance to pulsing tracks like "Lovers," "Into the Unknown" and "When We Were Young," while racing tracks like "She" and "All I Ever Know" scream for a fog-machine-enshrouded dancefloor lit with lasers. He still knows how to write big hooks and soaring choruses, too. Spider on the Wall sounds like it could've come out in 1984, and that's a good thing. If you're a fan of goth disco classics like "Muscovite Mosquito," "A Day," and "Evelyn," Clan of Xymox deliver the goods here. 
July 29, 2020 · by Goth Me Out · in Album Review, Dark wave / Ambient, Music. Clan Of Xymox,Spider On The Wall,Metropolis Records 
Release date: July 24, 2020 
Three years since the release of their last album and after whetted our appetite at the beginning of the year with two singles, the Dutch band Clan Of Xymox is now releasing its 16th album: Spider On The Wall. 
The album starts with tracks we are already familiar with. Indeed She and Lovers were released earlier this year and they give us a good overview of the path this album is taking. On the one hand we have tracks that explore lively and bewitching rhythms with the perfect amount of dark touch such as She and My New Lows. Similarly Into the Unknown gives us a catchy electro track with striking rhythms and All I Ever Know, the third single of this album released at the beginning of July, put forward its cold electro. 
On the other hand we also have melancholic and slower tracks such as Lovers which starts with the anxious voice of a woman questioning love in French. I Don't Like Myself and Spider On The Wall, the eponym track of this album, are in the same vein, both deep and calm. Black Mirror and its haunting chorus is more traditional, whereas When We Were Young explores a heavier atmosphere made of soft industrial, accompanied by the voice of Ronny Moorings which is here stronger and more assertive. Finally, See You On The Other Side brings a perfect conclusion to this album. 
It's already been three decades that Clan Of Xymox is offering us their melancholic and dark electro-gothic music. We can definitely point out the longevity, consistency and quality of the albums their released through the years and Spider On The Wall is no exception. They have this strange ability to create completely new material that will make you feel nostalgic. This album is made up of all the elements that make up the identity of Clan of Xymox and for sure we are not disappointed. 
CLAN OF XYMOX - SPIDER ON THE WALL 
Mediemkonverter.de 
Clan of Xymox - Spider... 
Mit "Spider on the Wall" lassen uns die Niederländer von Clan Of Xymox unter der Führung von Ronny Moorings erneut eine düstere Reise in die Tiefen der leidvollen Seele beginnen. Dass sie längst ihren Stil gefunden haben, ist unverkennbar und so liefern sie auf dem neuen Longplayer gewohnt dunkel-melancholische Töne und erdrückende Texte, die schmerzvoll in den Spiegel des Schicksals blicken lassen. 
"She", so kurz und knapp ist der Titel, doch was sich hinter ihm verbirgt, ist das eigene Ersticken an seinem Dasein, das Gefühl, nicht normal zu sein, seinen Sinn verloren zu haben. Und so heißt es da: "She feels so lost without someone. She feels alone like without a soul." Und dieses vertonte Alleinsein, gehüllt in dumpfen, elektronischen Synth-Sound, wiegt schwer und wird durch eindringliche, dramatische Refrains verstärkt. Die Schwere wird fortgeführt in dem Titel "Lovers", dessen Video das tragische Ende eines gleichgeschlechtlichen Paares zeigt, dessen starke Liebe auf eine harte Probe gestellt wurde. Der Song beginnt mit einem fast bedrohlich wirkenden Dialog der Liebenden, zeigt ihre Höhen und führt doch in den tiefen Abgrund, was sich auch in der dahingleitenden Melodie schicksalhaft wiederfindet. Stimme und Sound verschwimmen fast in dem sich anschließenden "Into the Unknown", dessen psychedelischer Sound das Hoffnungslose unterstützt: "There´s no reason for me to stay." Da ist nichts mehr, was hält. Dass die neuen Songs durchaus aber auch Club-tauglich sind, das beweist mitunter "All I Ever Know". Was verbirgst du tief in dir? E-Gitarre und Drums geben schließlich den Ton in "I Don`t Like Myself" an, ehe in dem Song zur gleichnamigen Single, "Spider on the Wall", die ganze düster-bedrohliche Schwermütigkeit zurückkehrt. Schräg trägt der Sound die Tragik. Wie mag das sein, symbolisch die Spinne an der Wand zu sein – so präsent und doch kurz vor dem Ende? Einen melancholischen Rückblick liefert "When We Were Young". Doch auch die Erinnerung an den Tanz unterm Mondlicht kann das Herz zerreißen. Dumpf, dunkel und bedrohlich kann es sich dir, wie eine düstere Traum-Blase längst vergangener und nie wiederkehrender Zeiten, einverleiben. Und wenn du zurückgeblickt hast und schaust nun in den Spiegel? Was siehst du? Hörst du deinen Schrei? "Black Mirror" beantwortet diese Frage mit einem Hauch Wahnsinn. Wie der Irrsinn, der deinen Kopf umwirbelt, dringen die Synth-Ströme von links und rechts auf dein Gehör ein. "This is the way we live." So leben wir. Die Erkenntnis wiegt schwer. Zügig und als würde der Song selbst mit dem Finger auf dich zeigen, präsentiert sich darauf "My New Lows". Und so sehr man es auch versucht, die Sonne wird über einem immer wieder zusammenbrechen. Und wenn die Reise zu Ende geht, dann ist es Zeit für "See You on the Other Side". Ein schwaches Stimmengewirr leitet hinüber, getragen auf den Wellen des Waves. Und wie ein Wind, der verlangt, will der Sound sich der Stimme bemächtigen und es bleibt einfach nur noch der Wunsch, sich im Gesang von Ronny Moorings zu finden und darin seinen Kummer zu baden. 
Mit "Spider on the Wall" haben Clan of Xymox erneut ein Album geschaffen, das die eigenen Abgründe erkennen und akzeptieren lässt und jedem, der sich in der Melancholie des Daseins verlieren möchte, seien die neuen Titel ans Herz gelegt. 
Clan of Xymox – Spider On the Wall (CD-Kritik)Darkmusicworld.de 
5. August 2020 von Julia Schuster 
Clan of XymoxSie haben noch immer nicht genug – auch nach mehr als drei Jahrzehnten legen Clan of Xymox noch einen drauf und produzieren ein neues Studioalbum, wenn ich mich nicht verzählt habe, dürfe es Nummer 16 sein. Eine beeindruckende Zahl, wenn man bedenkt, dass es viele Bands gibt, die zwar ähnlich viele Jahre auf dem Buckel haben, aber dennoch nicht von eine zweistellige Albumanzahl berichten können. Auch wenn nicht alle vergangenen Werke von Erfolg gekrönt waren, haben sich Clan of Xymox immer wieder zu ihren Wurzeln besonnen und zeigen nun mit Spider on the Wall, dass sie noch lange nicht zum alten Eisen gehören. 
Der Langspieler umfasst zehn Songs, die alle durch treibende Synthie-Sounds aufwarten können. Entweder scheinen die Klänge in der Luft zu schweben, wie im vorab veröffent- lichten Song "Lovers", oder sie dominieren markant wie im treibenden Track "All I Ever Know". Hier wird der Gesang gekonnt zurückgehalten und in den Hintergrund gedrängt. Seine einzige Aufgabe scheint es zu sein, die Melodie an einzelnen Stellen zu unterstützen und Highlights zu setzen. Normalerweise kennt man das andersherum, dass der Gesang getragen und verstärkt wird, hier wird das bekannte umgedreht und so zum einzigartigen Stilmittel. Als solches kann man das gesamte Album bezeichnen, ein großes Stilmittel, welches gekonnt durch die verschiedensten Stimmungen führt. Immer ein bisschen hinter vorgehaltener Hand, als ob dem Hörer nicht alles offenbart wird. Immer ein bisschen geheimnisvoll, den Spannungsbogen in unermessliche streckend und auf vollkommene Art und Weise unvollkommen. Man erwartet nach jeder Zeile, nach jeder Strophe eine musikalische Explosion einen klanggewaltigen Höhepunkt und den allumfassenden Refrain. Aber genau das bekommt man nicht. Die Klänge verwickeln sich in einnehmende Harmonien, die gar nicht recht zu trennen sind, sondern ein großes Gesamtkunstwerk ergeben, dass man nicht in die gewohnten Muster stecken kann. Clan of Xymox waren schon immer für ihre fließenden Melodien und die einnehmende Instrumentierung bekannt, aber mit Spider on the Wall haben sie dem Ganzen noch einmal die Krone aufgesetzt und ihr Können bewiesen. Mit einem eher ruhig anmutenden Langspieler dennoch soviel unterschwelligen Druck nach vorne zu erzeugen, ist eine große Leistung, die ihres gleichen sucht. Die Tracks einzeln betrachtet sind jeweils schon eine Schau, aber hört man das Album in einem Rutsch durch, wagt man eine Art Konzept zu erkennen. Eine Klimax die sich durch die zehn Songs zieht und von komplexer Melancholie bis zur unwirklichen Extase führt. Geschickt eingesetzte Effekte setzten an den richtigen Stellen die gewünschten Highlights, ohne aber die Songs zu überlagern oder gar überladen zu wirken. Das Zusammenspiel, die Abmischung und jeweilige Gewichtung und Priorisierung ist in den Songs hervorragend gelungen und kann vom ersten bis zum letzten Klang auf voller Linie überzeugen. Der Abschluss den "See You On The Other Side" bildet, ist auf jeden Fall nochmal erwähnenswert. Die Klänge scheinen von einer Leichtigkeit, dass sie direkt nach dem Hören verfliegen, aber von immer wiederkehrenden Melodien eingeholt werden. Die sich immer wieder überlagernden Klänge und Textpassagen sorgen für einen echohaften Effekt, der den Hörer mit dem Gefühl der Trance zurücklässt. Einen besseren Song hätte es zum Beenden dieses Langspielers nicht gegeben. 
Fazit: Die Musik von Clan of Xymox kann man mit einem Wimmelbild vergleichen. Auf den ersten Blick unruhig und wild zusammengewürfelt, erkennt man bei genauerem Hinsehen doch eine Art stimmiges Konzept und jedes Mal ein faszinierendes Detail mehr. Dieses Können haben sie mit Spider on the Wall erneut zelebriert und meiner Meinung nach auf die Spitze getrieben. Selten haben einfache Klänge so komplex gewirkt und komplexe Abfolgen soviel Leichtigkeit versprüht. Wieder mal ist Clan of Xymox etwas ganz Großes gelungen. 
CD Review: Clan of Xymox - Spider on the Wall 
Written by Eva Lhum 
Published: 15 August 2020 
Album Review 
After almost 40 years of constant productivity, CLAN OF XYMOX and their mastermind Ronny Moorings hardly need any introduction anymore. Originally from the Netherlands, they definitely had a huge influence on the gothic subculture with their characteristic mix of Dark Rock music and electronic elements. 24 July now saw the release of their sixteenth studio album 'Spider On The Wall'. With this album Ronny Moorings, who does all himself from the writing process to the final mixing, explores a range of aspects of live like love, loss and starting anew. Already the opener 'She' is greeting us immediately with the classic CLAN OF XYMOX sound. The accompanying video actually captures quite well how this song feels to me. Despite the lyrics being rather sombre, the song reminds me of long and happy hours dancing in goth clubs and simply loosing myself in the music. 
There are songs which are more on the dreamy and romantic side like 'Lovers' or 'All I Never Know'. The latter is basically a homage to the many years spent with his wife Mojca Zugna accompanied by a compilation of old video memories. On the other side there are songs with driving rhythms like 'Into The Unknown' or 'Black Mirror' which was inspired by the eponymous series and has an unusually catchy chorus. Then again there is the title track 'Spider on the Wall' which feels wonderfully dark and ominous with lyrics creating strong images. And furthermore 'My New Lows' which chorus is one of my favourites thanks to the high and atmospheric vocals alternating with the guitar lines like in a dialogue. 
With 'Spider on the Wall' CLAN OF XYMOX remain very true to their own style. While not exactly mind-blowingly innovative, instead it is a beautifully and excellently made album for all Dark Wave fans which offers an intriguing spectrum of different moods and atmospheres. Of course, like so many other bands, CLAN OF XYMOX had been hit hard by the pandemic. They had to cancel in the midst of their US tour to get back home in time before the lockdown and needed to postpone many concerts originally planned to present the new album. Fortunately, on 23 October we can finally see them live again in Germany, in a pandemic-prove context in a circus tent in Gelsenkirchen. I am definitely looking forward very much to experience the new songs live! 
Clan of Xymox 
Album: Spider On the Wall 
Category: Goth / Rock / Darkwave 
Label: Metropolis Records / Trisol Music Group GmbH 
Release Date: 2020-07-24 
ReGen Magazine 
  
Clan of Xymox has been a musical entity under one name or another since 1981, with Ronny Moorings continuing to stay the course and steer over new dark waves. With Spider On the Wall marking the band's sixteenth record, it might seem like a fresh take on Clan of Xymox's distinctive sound would be a tenebrous task; however, the album proves to be an echo chamber for the noir romance that emerges from Xymox's signature style. Ethereal vocals wrapped in reverb haunt over the gothic bass lines and synth loops in a cascade of musical craftsmanship that's as weathered as cemetery marble. The opening track, "She" might be one of the best songs of the last decade, an Autumn-hearted track that feels immediately familiar and comfortable. It's destined to become a post-punk anthem and embodies the spirit of the record, although the remainder of the album doesn't bother to remain in this singular modality. Songs like "Spider On the Wall" sound like they could have been recorded 30 years ago, "When We Were Young" dives into a slower industrial sound, while a song like "All I Ever Know" is a technically proficient heavy electronic song that would be perfectly accommodated alongside many popular synthpop artists. The diversity of the record is what makes it great, but also problematic. Taken as a whole, the shifts are still bound by a singular string, that being the signature Clan of Xymox sound most easily embodied by Moorings' vocals, but the shifts in musical style around that central pillar might be too disruptive for listeners not familiar with the Xymox sound. At times, the record can feel like an assembly of a la carte singles, but anyone familiar with the Xymox discography will likely feel taken on a journey as the record weaves and curves through soundscapes past and present. This journey can almost end up feeling like a Clan of Xymox love letter to itself, which isn't a bad thing by any means. The record is a must buy for Clan of Xymox fans, but casual listeners or new listeners might be better off sampling the record and finding their favorite tracks. Ultimately, all the songs are crafted with the utmost skill and deftness, but they don't exactly chart new territory… and that's okay because Spider On the Wall is prime Clan of Xymox. 
 Brian H. McLelland (BMcLelland) 
JULY 24, 2020 CLAN OF XYMOX – SPIDER ON THE WALL (ALBUM REVIEW) 
aLfie vera mella cryptic rock, CrypticRock 
One of the longest-running purveyors of what may be described as Gothic New Wave/Synthpop music, Clan of Xymox are back with Spider on the Wall, their 16th album.Released on Friday, July 24, 2020, via Metropolis Records, Spider on the Wall picks up where its predecessor has left off. However, while 2017's Days of Black was more diverse and experimental, the new record is definitely a welcome return to old form.It opens with the trademark icy, synth pulses of "She"; it will fit well onto a playlist that includes Camouflage's "The Great Commandment," New Order's "60 miles an hour," and Men Without Hats' "Head Above Water." Still in the same Post-Punk veins, "Lovers" is, however, darker and more ominous. "Into the Unknown" and "All I Ever Know" then take the listener farther back to the heyday glassy and steely sound of Clan of Xymox, exuding echoes of "Obsession" and "Imagination."The more melodic "I Don't Like Myself" and the title-track are further dives into darker and gloomier realms, in league with the classic phase of contemporaries such as The Danse Society (Heaven Is Waiting), Depeche Mode (Black Celebration), and Celebrate the Nun (Meanwhile).With "When Were Young" and "Black Mirror," Clan of Xymox then spices up the set with bits of Industrial groove; think of a mix of The Sisters of Mercy ("Marian"), late-'90s Depeche Mode ("It's No Good"), and latest Gary Numan ("My Name Is Ruin").The second-to-the-last track, "My New Lows" is a homage to the pioneers of Synthpop, as it glows sonic glitters of The Normal ("Warm Leatherette"), Yellow Magic Orchestra ("La Femme Chinoise"), and even Kraftwerk ("Das Model"). Finally, Clan of Xymox finishes Spider on the Wall with the upbeat, funereal swim of "See You on the Other Side."Music enthusiasts should thank the Internet for enabling the dissemination of information so much faster. Only a few clicks and one could already find updates about one's favorite bands–something that was remotely thinkable thirty years ago. This has also re-energized many artists, making them more inspired to write new music and connect with their fans more directly.Formed in 1981, in Amsterdam, the Netherlands, Clan of Xymox – currently consisting of Ronny Moorings (vocals, guitar, keyboard), Mojca Zugna (bass), Mario Usai (guitar), and Sean Göbel (keyboards/synthesizer) – is among those that benefited from this technological development, which translated to a reinvigorated productivity, alongside bands like The Alarm (Hurricane of Change). The Pretenders (Hate for Sale), and The Psychedelic Furs (Made of Rain). Spider on the Wall proves that the enduring Clan of Xymox has never lost its edge, dark beauty, and gloomy glamor. That is why Cryptic Rock gives the new album 4 out of 5 stars.Background/Info: Clan Of Xymox that's now more than three decades of involvement and an impressive discography as legacy. Three years after the last studio-album "Days Of Black", Ronny Moorings is back with a new opus featuring ten songs. The album was preceded by the singles "She" and "Lovers" revealing –or confirming the poppy new-wave style of this gothic ambassador. 
Content: Clan Of Xymox still has this good-old 80s sound and spirit, but the work evolved throughout the years. The previous album clearly explored some catchy gothic fields and "Spider on the Wall" takes a similar path. The songs always have something dark, but still featuring catchy arrangements. The guitar parts are often reminding me of The Cure while the electronic treatments inject this little extra resulting in melodic choruses. But other passages of the album are holding on the magic of the past days featuring melancholic songs. 
Sideline: You can always have interesting debates about a band like Clan Of Xymox; some will say their best work has been released a long time ago, but I'm convinced this band just moved on; holding on to some basic elements of their early creation while adding new elements on top. That's evolution and "Spider On The Wall" perfectly symbolizes this spirit. It's a sonic bridge between the past and the present and a logical next step after the previous full length. I like this fusion from 80s music together with catchy arrangements. The familiar songs "She" and "Lovers" both opening the album remain the finest parts of this new work. But I also have to mention "All I Ever Know"; this song has something magic in the way it sounds dark and yet it makes you feel good. The last attention grabber I want to mention is "Black Mirror" for its melancholic touch. Best songs: "All I Ever Know", "She", "Lovers", "Black Mirror", "I Don't Like Myself".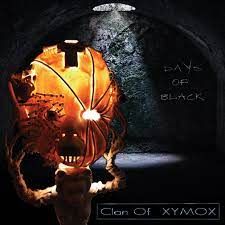 Days Of Black 
Clan of Xymox 
Category: Darkwave / Goth 
Album: Days of Black 
Blurb: Clan of Xymox dishes out a fine helping of somber gothic goodness for the band's sixteenth studio album. 
  
Throughout the last 35 years, Clan of Xymox has proven a favorite mainstay of the goth/darkwave music scene. Though there have been some lineup changes and even a stint as simply Xymox, original founding member Ronny Moorings continues to forge ahead and has been the principal songwriter of the band for the last 20 years. Clan of Xymox's latest album, Days of Black lives up to its namesake – a dark, melancholy album that tugs at the heartstrings with themes of loss, lament, and longing over melodic, moody guitar riffs and timeless synths. 
The album opens with "Days of Black," an atmospheric instrumental that sets the tone for the album. The gentle melody evokes a sentimental feeling and gives listeners a taste of falling in love, or at least the bittersweet memory of it. "Loneliness" proves to be one of the catchiest and most memorable songs on the album as the upbeat drums paired with clean, crisp guitars juxtapose nicely with the pleading vocals and sad lyrics that reveal a love gone sour. "Vixen in Disguise" continues with the mid-tempo beat with cleaner guitar and synth melodies reminiscent of The Cure, while "Leave Me Be" takes a turn for the slow and sludgy. The vocals are set back further in the mix, creating a shoegaze sound. The distorted and heavy synths continue on "The Rain Will Wash Away" as the mood continually grows darker with each song. The once clear guitars presented on the earlier part of the album are all but forgotten with the post-punk tinged "Loud and Clear," which gives a rocking respite from the slower, synth driven songs. The album draws to a close with another instrumental track, "La La Land," a more whimsical piece that leaves the listener feeling a little lighter and less somber after experiencing the emotional ups and downs of the entire album. 
Days of Black tells a story of the aftermath of lost love and ought to be absorbed sequentially and in its entirety. The somber tone does not make this a sunny summer day album, but listening carefully reveals melodic nuances and breaks from the melancholy that nearly drive one to thinking, "Just get on Tinder, dude!" In general, the album adheres to Clan of Xymox's classic '80s/'90s darkwave sound, which provides familiarity and comfort, but also lacks a bit of a modern edge and experimentation. Overall, Days of Black proves emotional and entertaining, especially for those days when one finds themselves thinking of an old flame or feeling in need of a little cathartic adventure. 
Clan Of Xymox "Days Of Black" 
(Trisol/Soulfood) 
Unverkennbar! Drei Jahre nach dem letzten Longplayer "Matters Of Mind, Body & Soul" erfreut Ronny Moorings seine Fans mit einem neuen Werk angefüllt mit Songs, die in dieser Form nur aus seiner Feder stammen können. "Days Of Black" ist dabei so etwas wie eine Art Best-Of Album voll neuer Stücke. Sehnsüchtig, treibend, unruhig, tanzbar oder aber nachdenklich und in sich ruhend. Die frischen Kompositionen weisen all jene Post-Punk-, Dark-Wave- und Gothic-Elemente auf, die Mooring schon seit Jahrzehnten zum charakteristischen COX-Sound zusammenfügt. Von Beginn an wird man als Hörer von Titeln wie "Loneliness" emotional gefangen genommen oder fühlt sich zum Tanzen animiert dank repetitiver Parts wie in "Leave Me Be". Mit "I Couldn't Save You" ist zwar auch eine etwas schwache, da sehr wehleidig vorgetragene, Ballade dabei, dafür entschädigen jedoch klassische Goth-Nummern wie "Loud And Clear" vollauf. Ein Album, das Lust auf noch viele Jahre Clan Of Xymox macht. 
Peter Heymann 
Rezension aus Sonic Seducer, Ausgabe 04/2017. 
DARK MUSIC WORLD -Clan Of Xymox – Days of Black (CD-Review) 
7. Mai 2017 von Julia Schuster 
Seit mehr als drei Jahrzehnten gehören Clan Of Xymox, die 1984 aus der niederländischen Hausbesetzerszene hervorging und in den 80er Jahren zu den bedeutendsten Vertretern im Dark-Wave-Umfeld zählte, zu einer der einflussreichsten Gothic-Bands Europas. In Gründungszeiten wurde der Klang von Bands wie den Einstürzenden Neubauten, The Cure oder den Sisters of Mercy beeinflusst. In den 90er Jahren verschwand, die damals nur XYMOX genannte Band, kurzzeitig von der Bildfläche. Die Alben "Phoenix", "Metamor- phosis" und "Headclouds", die in dieser Zeit erschienen, konnten nicht mehr an alte Erfolge anknüpfen. Grund hierfür war die starke Dance- und Poplastigkeit der produzierten Songs. Erst 1997 konnte man mit dem Album "Hidden Faces" und einer Rückbesinnung zum Dark Wave zurück auf die Erfolgsspur wechseln. Mit dem 2001 erschienenen Album "Notes from the Underground" meldeten sich Clan of Xymox endgültig zurück. Für viele Kritiker ist dieses Album das bisher beste der Niederländer. In den folgenden Jahren erschienen weitere Alben im nun klassischen Clan of Xymox Stil, darunter auch ein Best Of, oder auch eines, welches nur Coverversionen enthielt. Nach all den Jahren ihres kreativen Schaffens ist die Band um den Wahl-Leipziger und Goth-Pionier Ronny Moorings noch immer enorm vielschichtig und vereinen bis heute klassische Dark-Rock Elemente mit tanzbaren elektronischen Klängen. Das letzte Werk "Matters of Mind, Body & Soul" erschien 2014. 
2017 war es nun endlich soweit: Clan Of Xymox veröffentlichten am 31. März 2017 ihr neues Studioalbum unter dem Titel "Days of Black" via Trisol. Der erste Song des 12 Tracks umfassenden Albums ist namensgebend für eben jenes. Zu Beginn hört man leise Wasser tropfen und schwere Türen quietschen, was eine leicht unbehagliche Stimmung hervorruft. Schwere uns melancholische Klänge verleihen dem Stück eine Düsternis, sodass es perfekt in jeden Horrorfilm passen würde. Das nach zwei Minuten einsetzende Flüstern verstärkt diesen Effekt noch. Mit "Loneliness" nimmt das Album langsam etwas Fahrt auf und ein flacher Grundbeat zieht sich durch das gesamte Stück. Das Keyboard bestimmt die Rhythmuswechsel und ist taktgebend für den Gesang. Erst gegen Ende des Stücks verändert sich der Beat durch schnelle Wechsel und sorgt so für mehr Dynamik. In "Vixen in Disguise" macht den besonderen Reiz die Antizyklität zwischen Gesang und Instrumenten aus, die sich taktmäßig oft widersprechen. Zugegeben, daran muss man sich gewöhnen, aber dann hat das Stück eine besondere Wirkung. Das Tempo wird im folgenden Track "Leave Me Be" nochmals erhöht. Die Instrumente sind klangvoll und dynamisch im Vordergrund, während der Gesang eher hintergründig mitklingt. Vertraute Synthpopklänge findet man erst in "The Rain Will Wash Away" wieder. Elektrische Klänge und verzerrter Gesang geben dem Stück einen ganz eigenen Charakter und heben es von den bisherigen Songs ab. Ein dramatischer, sich steigernder Beat lädt in "Set You Free" erst zum Tanzen ein, bis es einen mit verhaltener Stimmung zurück lässt. Diese wird in "I Couldn't Save You" aufgefangen, wo dynamisch fließender Gesang durch das Stück führt. Der Schwerpunkt liegt hier eindeutig auf dem sehr emotionalen Text. Das genaue Gegenteil findet man im folgende Song "What Goes Around" wieder. Hier liegt der Schwerpunkt wieder auf den Instrumenten, besonders auf dem treibenden Klang des Keyboards. "I Need to Be Alone" lässt den Hörer wieder etwas aufhören und entzieht sich mit einem schnelleren Grundbeat und langsam steigerndem Gesang der Melancholie. Das funktioniert – ziemlich gut sogar – allerdings sehr gewöhnungs- bedürftig. "Loud & Clear" ist genau das, was es verspricht. Eine starke, vordergründige Gitarre, die von kräftigen Beats begleitet wird. In "Your Kiss" wird es wieder elektronisch, der Gesang wirkt achtlos über den schnellen Beat gelegt, der kaum merkbar seinen Rhythmus wechselt. Das ist keines Falls negativ gemeint, denn auch wenn es achtlos wirkt, übt es wieder einen besonderen Reiz aus. Abgeschlossen wird das Album durch "La La Land". Unruhig und bedrohlich wirkende Klänge steigern sich langsam von melancholisch zu unheilvoll. Im Hintergrund hört man Kinderstimmen, die leise "La La" singen. Damit lässt Ronny Moorings seine Hörer ziemlich geflasht zurück. 
Fazit: Die Songs einzeln zu betrachten fällt unfassbar schwer. Das Album ist ein in sich stimmiges Gesamtwerk, das perfekt funktioniert. Man merkt die lange Erfahrung von Moorings und den Mut auch mal gegen den Strom zu schwimmen, zum Beispiel den Gesang nicht auf den Punkt auf den Beat zu legen. "Days of Black" ist kein Album, das man eben zwischen Tür und Angel hört und sich dann eine Meinung dazu bildet. Erst nach mehrmaligem Hören funktionieren viele Klänge, kommen richtig im Ohr an und ergeben Sinn. Ein Album, das sich langsam entfaltet und sich dann festsetzt. Der Titel ist sehr weiße gewählt, beim Hören erschien mir unweigerlich das Bild von trüben Herbsttagen, an denen man viel Zeit zum Sinnieren hat, was in unserer Welt alles schief geht! Moorings schafft es diese trübe Stimmung einzufangen und zu vermitteln, ohne aber zu bedrücken oder in Melancholie zu verfallen. Seine Songs wirken wie ein sanftes Aufrütteln und der Aufbruch in eine bessere Zeit. Definitiv nicht jedermanns Sache, aber definitiv ein Werk das eine, wenn nicht sogar zwei Chancen verdient hat. 
Reflection Of Darkness 
Artist: Clan Of Xymox 
Title: Days Of Black 
Genre: Gothic / Darkwave 
Release Date: 31st March 2017 
Label: Trisol Music Group 
Album Review 
Dutch band CLAN OF XYMOX have been doing what they do since the heady days of the early eighties, steadily releasing albums, touring, and performing at festivals, and maintaining a loyal fan-base as their distinct style of dark, dance-tinged electro goth-rock remains consistent and both decade and genre-straddling. Recent albums have been solid, yet unremarkable, and the band did seem to be heading into the shrugging-off territory of "here we go again" with each new release. But what to do, after so many years? Keep plugging away, carried forward on a sluggish tide of nostalgia, or write something that makes you noticed again? Thankfully 'Days Of Black' does the latter. 
Opening with the sound of footsteps, dripping water and a creaking door, the title track is a sinister, creeping, cellar-dank way in to the dark, twisting dance of 'Loneliness', a song so bleak it should come slapped in health warnings. It's wonderful stuff. There's an urgent, infectious beat underpinning 'Vixen In Disguise' and 'Leave Me Be' is taut and tense, nightmare-paced and black as it gets. There is a more experimental feel to many of the songs on 'Days Of Black' and this serves it well as a whole - hear the whispered vocals and skittish electronica of the almost industrial sounding 'The Rain Will Wash Away', a pulsing, terrifying centre piece, or on the busy, dreamy drift of 'What Goes Around'. There's also that classic CLAN OF XYMOX sound in evidence on 'Set You Free' and 'I Could Not Save You' - melodic, almost prettily melancholic, Ronnie Moorings' unmistakeable vocals holding everything tightly together. 
There's something of a misfire on 'I Need To Be Alone', its basic rock dynamics and a pace that somehow feels forced making it the elephant in the room. Having said that, as a stand-alone track it's not too shabby, and 'Loud And Clear' that follows is unfortunately the biggest offender here. It's clunky, harsh and could easily have been cut. Things are saved valiantly by the gloriously beautiful 'Your Kiss', easily one of the best CLAN OF XYMOX songs of the last decade. 'La La Land' closes the album, a shimmering, ice-cold, dreamy shuffle into the dark sky, complete with children's voices wishing us all a good night. It's deeply unsettling. With 'Days Of Black', then, CLAN OF XYMOX have done what many similar bands fail consistently to do. They've upped their game, shaken things around, plunged back into the darkness and come up with something sounding fresh, original, and dare I say exciting. And at this stage in the band's life, that's quite an achievement. 
B Subjective .de 
Titel: Clan Of Xymox: Days Of Black (2017) 
Genre: Gothic Rock 
Verlag: Trisol Music Group (Soulfood) 
Erscheinungsdatum: 31.03.2017 
5 stars Bewertung 
Ein Genre über Jahrzehnte aufrecht zu erhalten, sich selbst treu zu bleiben und dabei stets neue Musik zu liefern gelingt nicht vielen. Doch Clan Of Xymox schaffen genau dies im Jahr 2017 scheinbar spielend. Denn Frontmann Ronny Moorings lebt sein Genre und das Herzblut, mit dem die Musiker ihre Arbeit verrichten, erweckte mit dem Album "Days Of Black" ein Werk voll New Wave und Gothicelementen ohne eingestaubt oder überholt zu klingen. 
Bereits bei den ersten Tönen des Openers "Days Of Black" steigt die Erwartungshaltung des Hörers. Atmosphärische Synties lassen den Geist sofort in die Clan Of Xymox Klangwelten einsteigen. Schwer und dabei doch so leicht, melancholisch und mysteriös; alles in knapp drei Minuten verpackt, schafft es die Band den Hörer sofort zu fesseln. 
Und einmal gefangen, gibt es kein Zurück. Ein intensives Album entfaltet sich mit Post-Punk Impressionen in "Loneliness" und "Vixen In Disguise", welche die Stimmung des Openers federnd weitertragen. Düster und schleppend lädt gleich darauf die New-Wave-Hymne "Leave Me Be" zum langsamen Grufttanz ein. Da gehen die dunklen Herzen auf. 
Im Kontrast folgen überraschende Sequenzer bei "The Rain Will Wash Away". Ohne die Grundstimmung des Albums und der Band zu verlieren pulsieren die elektronischen Beats und werden mit ungewohnt verzerrter Stimme untermalt. Mühelos drehen Clan Of Xymox danach wieder die Kurve zu den für sie typischen Dark-Wave-Songs. Tiefgründig und hypnotisch mit einer Leichtigkeit die in vielen Jahren des Musikmachens herangereift sind. Die Erfahrung der Musiker spielt eine nicht unwichtige Rolle bei diesem grandiosen Werk. Locker ziehen Clan Of Xymox Schleifen durch Post-Punk, New Wave und Gothic mit all seinen Facetten, ohne sich dabei zu verzetteln. Die Musik klingt alt und gleichzeitig modern, die Band peppt gewohnte 80er / 90er Wavesounds mit kleinen Akzenten auf und lässt sie somit zeitgemäß klingen. Dies zaubert eine dezente und wichtige Abwechslung in das Album, denn auch wenn sich die Stimme von Frontmann Ronny Moorings wei ein Puzzleteil in das Gesamtbild einfügt, klingt sie auf Dauer doch etwas eintönig. 
Der Hörer schwebt auf einer dunklen Wolke sehnsüchtiger Emotionen und verliert den Halt genauso wenig wie die Band ihren Fokus verliert. Jede Silbe und jeder instrumentale Ton klingt echt und ehrlich. Clan Of Xymox liefern mit "Days Of Black" ein Werk mit ausschließlich starken Songs. Es zeigt, dass eine Band auch nach 30 Jahren ihr Feuer und ihre Leidenschaft bewahren, überraschen und neue Generationen weiterhin beeinflussen kann. 
by Fantotal 
Dark days call for dark music. It doesn't bear thinking, then, about what we would do without people like Ronny Moorings. People who have been the very soul of a scene for many years, who roam the earth with open eyes and ears and who clad everything out there that is distressing, unsettling and deeply worrisome into dark and therefore salubrious music. With his band CLAN OF XYMOX, Dutch icon Moorings is doing exactly that since 1984. This, in 2017, is more welcome, more important and more wholesome than ever before. 
Dark days, as may well be repeated, call for dark music. Ronny Moorings is aware of that. He even kept treasured an especially intense facet of his oeuvre for harsh times like these. For days of black when even optimists say their glass is half empty. "Days of Black", then, is the apt title this untiring Dark Wave priest from Nijmegen chose for his latest offering. As if by an invisible hand, its weightless, melancholic, sombrely pulsating odes lead us into an altogether different world. 
Needless to say, a figure like Ronny Moorings is nobody's fool. Needless to say, nobody has to explain to one of the most influential, most important and most popular Dark Wave bands ever to emerge from the eighties how to evoke atmosphere. Still, to return with an opus like "Days of Black" after 33 years in business, after countless albums, EP's, singles and immortal tours around the globe is nothing less than an outcry. This record unites monotonous rigour with floating lightness, marries juvenile "Sturm und Drang" with the expertise of the experienced artist. Thus, before the opening track with its vigorous drums, its shimmering Post Punk guitars and its menacing synth foundation is over the verdict is here: Yet again, CLAN OF XYMOX have reached a new, perhaps even their highest peak. 
In times in which an entire armada of newcomers unearths Dark Wave romanticism, Post Punk depression and early Goth melancholy, CLAN OF XYMOX are everything but a long forgotten relic desperately trying to prove where it all came from by a cliche laden pastiche of their own past. Instead, they prove to be a balanced, matured and aesthetically perfect unit that never halted and that today is able to connect three decades of music history in the most atmospheric, gripping and arousing way possible. Each and every song possesses a momentum instantly hypnotising everything within reach - a sure sign of this extraordinary band's supremacy and a rare fluke translating the unbeaten aura of the eighties into our black times. 
Let the contemporary feuilleton laud all these Post Punk epigones: Right here, in the DNA of CLAN OF XYMOX, lies the very core of this music. Even more: it is very much alive as well! Dark days call for dark music. CLAN OF XYMOX still serve it on a baffling level. And in doing so, they yet again erect another monument.? 
The seminal Dutch band, Clan of Xymox is one of the pioneers in the Gothic New Wave/Synthpop scene. Their music and visual image have remained practically consistent since it released its first singles in the mid-'80s, now classics such as "A Day," "Stranger," "Blind Hearts," "Obsession," and "Imagination." The clear aural vision of Clan of Xymox has been standing the test of constant musical revolution for thirty-five years now, alongside fellow enduring purveyors of Gothic music like The Danse Society ("Heaven Is Waiting"), The Mission ("Severina"), and Gene Loves Jezebel ("Worth Waiting For"). 
Formed in 1981, in Amsterdam, Netherlands, Clan of Xymox is also prolific, releasing sixteen studio albums to date, from the definitive '80s triumvirate of the 1985 self-titled debut, 1986's Medusa, and 1989's Twist of Shadows; five equally alluring oeuvres in the '90s; and four in each of the decades that followed, including the forthcoming Days of Black. 
Released on April 7, 2017, the sixteenth work of Clan of Xymox confirms once again its special place in the genre that it chose to operate in – best described as a concoction of the exoticness and iciness of Gothic, the catchiness of New Wave, and the exactness of Electronic/Synthpop music. Days of Black looms dramatically with the ambient and a bit spoken omen of the title track – an apt album opener. The sparse soundscape bleeds slowly into the ensuing "Loneliness," whose cyclical guitar ad-lib and where Vocalist Ron Moorings' distinctive, cold voice reins over the married steady drumbeats and bass pulses; its cool sense of urgency emits faint echoes of New Order's Get Ready. The persistent guitar lines are unstoppable, connecting the song's sadness to the ensuing paranoia and mistrusting sentiments of the ensuing "Vixen in Disguise." Then there is the slight Industrial Noise of "Leave Me Be," combining Synthpop piano balladry and the eternal drudgery of machinery. 
With the slow grind of "The Rain Will Wash Away," Clan of Xymox then foray into what may be described as Synthpop's share of funk and cinematic trip into one's horror-themed dreams – hypnotic, trance-like, captivating. The cello-led "Set You Free" is a further dive into classic, cryptic Gothic territory – a homage to Clan of Xymox's early mellow masterpieces. "I Couldn't Save You" is a reminder of how influential the Dutch band has been, for the self-inflicting melodic pain and vocal emotions expressed in this track are heard often from many contemporary Gothic-styled Pop and Metal bands like Evanescence ("Bring Me to Life"), Paramore ("Decode"), 30 Seconds to Mars ("From Yesterday"), and Nightwish ("Élan"). Then there is the silent, joyful Depeche Mode sensibilities of the midtempo "What Goes Around." 
Following is "I Need to Be Alone" and "Loud and Clear," which are certainly the album's Gothic Rock stompers…engaging, provoking, and intimidating; exuding a low-register vocal styling and grating guitar strums that will remind the initiated of the likes of Southern Death Cult ("Fatman"), Specimen ("Returning from a Journey"), The Sisters of Mercy ("Lucretia, My Reflection"), and Children on Stun ("Sidelined"). The penultimate "Your Kiss" has that relaxing, psychedelic vibes that, interestingly, also reverberates hints of Folk Metal in the league of Cruachan ("Death of a Gael"), Subway to Sally ("Henkerbraut"), and Skyclad ("The Parliament of Fools"). Finally, "La La Land" aptly ends the album; with its dreamlike layers and textures of atmospheric sounds, it returns the listener to the beginning, from his seemingly floating, trance state into aural dimensions. You can come down and open your eyes now. The black days are over. Another spin is in your hands. You have just become again a member of the clan. 
In the stylistically diverse soundscape of the world today, the classic sound of Gothic music is arguably underrepresented. Firmly rooted and strongly holding their ground, Moorings (vocals, guitar, keyboards) and the rest of the current Clan of Xymox – Mojca Zugna (bass), Mario Usai (guitar), and Sean Göbel (keyboards, synthesizer) – continue to serve as one of the genre's primary forerunners, unfailingly delivering the goods that make the entire movement vibrant and vital like it was during its '80s heyday. 
With just a glaze of the guitar; a soak of the synth; and Moors' distinctive icy, semi-deadpan, mostly monotonal voice; among other interesting details, the initiated should be able to realize that Gothic and Xymox are seamlessly interwoven like Egyptian cotton. That said, Days of Black is another gift of Clan of Xymox not only to their fans but also to enthusiasts of the genre itself, wrapped in that same priceless fabric that has always adorned the band's music. 
RELIVETHEMUSIC.NET ALBUM REVIEW – CLAN OF XYMOX – DAYS OF BLACK (2017) 
March 31, 2017 · by laurenfrichards · in Reviews. · 
Days of Black starts as if it has been stripped from a music video, with the main protagonist entering an unoccupied building at the dead of night, for the only sounds are footsteps and an opening, a unoiled door without the background noise of the day. It is an extended interlude, manifesting up as a mixture of industrial (for its usage of sampling), darkwave, minimal and electronica. The sampled voice ('Just when I thought I was out…they pull me back in') is on repeat, illustrating the thought processes of the protagonist, speaking about how the building somehow lures them back inside. The voice heard, is the character of Michael Corleone from The Godfather Part III (1990), talking about the dangerous lifestyle that comes with the mafia, warning that once you're in, there is no way out. The building implied has the same effect on the protagonist. Loneliness, the only track of the album, thus far, to have an official music video – which premiered on the day of the album's release – morphs into traditional post-punk, dark pop and coldwave, manifesting the sounds of British peers IAMX, to deliver the distorted, tragic realities of depression and the sufferers' desperateness to try and connect with the world around them. 
Vixen in Disguise goes down a darker instrumental root, introducing the first generation gothic rock, post-punk, new wave and dark pop to create a mysterious dark dance track. In many ways, VID embodies the trad Goth sound exhibited in the late '70s, early '80s, replicating the Middle Eastern tones of The Sisters of Mercy and Bauhaus. Leave Me Be travels through the intricacies of gothic rock, darkwave, country rock and industrial rock; embracing the configured notes of The Mission, Fields of Nephilim, The Danse Society and Whispers in the Shadows. The track is energetic, sensual, yet mournful and lyrically dusky. 
The Rain Will Wash Away formulates in darkwave, psytrance, and industrial dance and not just musically, but for the lyrical direction of Ronny Moorings; combining the distorted brogue of the industrial genre but with the brooding darkness of Goth rock. Set You Free converts into a dark synth wave/electro rock fusion, with neoclassical, post-punk and third generation gothic rock. There are symbolizations of Bauhaus, Depeche Code, Gary Numan, The Cure and David Bowie. 
I Couldn't Save You follows on with the gothic rock inflections and carries heavily the influence of later Gary Numan and, Robert Smith, and David Bowie, for its usage of post-punk, Southern gothic and there are moments where funeral-doom metal and neofolk are used. Bowie and Robert Smith are routed through Moorings' voice; melancholic, gentle and forlorn. What Goes Around molds synthwave, neoclassical darkwave, gothic rock, dark pop and folk rock. This is the second track to manifest sounds notable from IAMX, distinctively the manipulated guitar strings and keyboard synths to give an eerie, Middle Eastern/Arabic feel. 
I Need to Be Alone returns to the traditional gothic rock blueprint, border lining on post-punk, mixed fluidly with country rock and darkwave, having significant inspiration from early Dead Can Dance, Siouxsie and the Banshees and The Sisters of Mercy. Loud and Clear turns into a creation of gothic and death rock with the reintroduction of gothic metal and this time hard rock in the composition of the electric guitars. After the 2:00 minute mark, industrial dance and dark pop emerge in addition, like they have formed up as an extra layer on top of the original foundations of the initial direction of the track. 
Your Kiss abandons the rock genres to refocus on the electronic side of the band; heavily diving into psytrance, retro wave, minimal, industrial dance and electronica, treading lightly on the founding days of Gary Numan once more, not just in music but in vocals. I, in accumulation, also hear Olli Wisdom – vocalist of death/goth rock The Specimen – during his psytrance era as Space Tribe (1994 – 2011), and Ghosting, a German gothic rock/goa trance band as well in the mix. La La Land the last track of the album furthers the exploration of psytrance, progressive trance, and ethereal wave in a complete lack of vocals other than for another use of sampling, this time of a young child. It signifies the end of the album as if it was a storybook. The child wishing everyone goodbye and goodnight, and returning back to La-la land. The sampling is from a British children's television show. (Red. it is actually the daughter's voice of Ronny & Mojca ) 
-- 
AMBOSS-MAG.de 
"Days Of Black" 
(Dark Wave) 
Wertung: Empfehlung 
31.03.2017 
CLAN OF XYMOX, auf diese Band aus den Niederlanden kann man sich immer verlassen. Schon Ende der 80er als man noch nur XYMOX hieß, haben sie die Szene mit sehr harmonischen Goth-Rock / Dark-Wave Klängen verwöhnt und noch heute, einige Jahrzehnte später, ist dieses Können präsent. Ronny Moorings weiß was er tut und womit er seine Anhänger glücklich machen kann. 
Mit dem Stück "Loneliness" ist gleich zu Beginn des Album spürbar das CLAN OF XYMOX auch nach so vielen Jahren im Geschäft wissen wie sie ihre Fans glücklich machen. Tolle von den Gitarren getragene Rhythmen und Melodien, atmosphärische Synthies und Ronnys markanter Gesang lassen typischen 90er Jahre Dark Wave Flair verspüren. Sehr düster ist das schleppende "Leave Me Be"; "The Rain Will Wash Away" dagegen überrascht sehr positiv durch auffällige Sequenzer und wirkt durch den verzerrten Sprechgesang fast schon wie ein Industrial Stück. Der Hauptanteil ist aber ganz typischer CLAN OF XYMOX Goth Rock oder Wave Rock. "Set You Free" ist so ein Stück das hätte auch vor 20 Jahren entstanden sein können, denn diese Rhythmik verbunden mit dem melancholischen Gesang und den flirrenden Synthies erinnert mich stark an das großartige Album "Medusa". Auch "What Goes Around" ist so ein Stück das grandiose Emotionen enthält und somit ebenfalls ein unbedingter Anspieltipp ist. 
Auf CLAN OF XYMOX ist Verlass, soviel steht fest. Dieses Album ist definitiv richtig stark und wird jeden Freund dieser Band glücklich machen! (michi) 
Side-Line Reviews 
17 May 2017 · 
REVIEW 
clan of xymox – Days Of Black (CD Album – Trisol Music Group) 
Genre/Influences: Gothic, wave-pop. 
Background/Info: Clan Of Xymox has now been active for more than 30 years. The gothic pride of The Netherlands is striking back with this new opus featuring 12 tracks composed by Ronny Moorings. 
Content: It always is a real pleasure discovering new work from Clan Of Xymox. Even if you know in advance what the band will bring, I often get positively surprised, but "Days Of Black" went further than all expectations. 
"Days Of Black" is one of the most 'poppiest' albums from the band. The guitar reminds me once more of The Cure while the electronic treatments create and reinforce the wave-pop approach of the work. The album reflects power and melodies, dark themes and reverie plus charismatic vocals. 
+ + + : "Days Of Black" is without a shadow of doubt, one of my favorite Clan Of Xymox releases in history. It for sure is not comparable to their earlier stuff, but that's just what I like. Ronny Moorings remains faithful to his roots and new-wave basis, but he progressively evolved towards more melodic and harmonious songs. This album maybe means to Clan Of Xymox what "The Head On The Door" (1985) meant to The Cure. I'm not really comparing both bands and their albums, but it's all about the evolution in sound all over the years. There's a perfect balance between the different elements running on this work, which finally resulted in a succession of great songs. "Your Kiss" is according to me one of the most essential cuts and potential hits. 
- - - : I'm not that fond of the intro- and outro-like songs, but you don't hear me complaining. I don't have any real negative points, but I can imagine some of the 'darkest' souls will maybe not get wild with this poppy direction. 
Conclusion: When after more than 30 years involvement featuring numerous hits and essential albums, and you can say that a band has just released one of their best full length albums ever, I can only express my respect! "Days Of Black" is a masterpiece! 
Best songs: "Your Kiss", "Loneliness", "Leave Me Be", "Set You Free", "I Need To Be Alone". 
Rate: (9).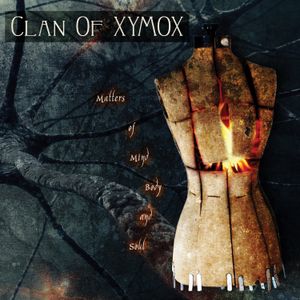 Matters Of Mind Body and Soul 
Sideline 
http://www.side-line.com/reviews 
Content: After the special 'covers'-album "Kindred Spirits" (2012) Clan Of Xymox strikes back with a new studio-album featuring 12 songs. It's always exciting to discover new work from such an influential- and leading formation, which remains at the top even after 30 years of commitment. 
"Matters Of Mind, Body And Soul" sounds divine, like composed by the hand of God. I don't want to elevate Ronny Moorings to the level of living God, but the artist again took me by surprise. The album takes off with a wonderful and well-crafted 'intro'-song from nearly 7 minutes. It sounds dark and flavored with a touch of Eastern mysticism, but it's first of all the prelude to a genius work. 
The songs reflect to typical dark-wave influence of Clan Of Xymox. The harmony between guitar and electronics reaches a real high artistic exposure. The compositions are filled with a sweet melancholic style, reinforced by melodic electro treatments and the passionate vocals of Moorings. Clan Of Xymox takes us back to the essence of new-wave, which is mainly dominated by sound-darkness and dark-poetry. Clan of Xymox clearly invites the listener on a sweet voyage throughout the realms of sadness. It's a sound format surrounded by shadows from the past. The songs remain rather quiet and inhibited. Ronny Moorings reveals a very intimate part of his creativity, which has been transposed into delicacy. This new work sounds a bit comparable to the refinement of Echo And The Bunnymen, but also to the poppy electro-style of Depeche Mode 
The songs sound like the symbiosis between contradictory elements. Melancholia has never been that evasive. "Matters Of Mind, Body And Soul" is a fascinating trip on, which you'll experience different cool songs. "She Is Falling In Love" and especially "Hand In Glove" remind me of Depeche Mode 
in a kind of gothic approach. The 2nd half of the album is dominated by a succession of great cold-wave songs. I here especially want to mention Love's On Diet" and "Chinese Whispers." The songs have been sung by a real passionate singer who injects an extra emotional load to the composition. 
Conclusion: Clan Of Xymox has released an impressive number of albums and countless memorable songs, but this new work definitely belongs to the few best albums they've ever made. You don't really get the impression that this band is already active for 3 decades. This is just the beginning… 
Popshifter 
Matters Of Mind, Body And Soul is the first Clan of Xymox studio album in several years, since 2012′s cover album Kindred Spirits. Because of this, and their sudden and short recent return to L.A., there has been some tradgoth excitement about this release. The result is safe but not boring: on the one hand, this album sounds like their music has always sounded; on the other, it's new and varied. 
It was (as they emphatically state) deliberately released on Valentine's Day. There are definitely romantic themes to the album, and it has the somber Romantic feeling of old school darkwave, but it actually is upbeat a lot of the time, or at least as upbeat as goth can get. On the whole, it's synth driven with an industrial sound, similar to the late '80s – early '90s Xymox and their work from the early 2000s. 
There are several types of songs on the album; industrial style tracks with memorable synth riffs and a lighter tone, such as "Your Own Way"; slower, more somber versions of this same style with some sludge elements, such as "Months Ago"; and instrumental tracks which focus on sound effects and a build up of sound, such as "Once in a Blue Moon." Most of them are long: five minutes or over. This gives the songs scope to build and develop, which all of them do, with theme changes and layering. 
It's tempting to liken some songs to other bands' work. "Close My Eyes" has a Peter Hook style bass riff, and as the press release mentions, "She's Falling in Love" does indeed sound like the darkest work of Depeche Mode. The only musically weaker spot for me was "Chinese Whispers," a layered instrumental with sudden theme changes. The second half consists of several minutes of voice effects, which is where it lost me. 
The lyrics are poetic and deal with ideas of love lost and trying to rekindle romance or desire. "She's Falling in Love" is a cynical description of watching someone else fall for a femme fatale. Almost overextended metaphors feature as well, in "Loves on Die" to describe unsatisfied desire, and in "The Climate Changed," which could be about literal climate change or general emotional desolation. "Months Ago" and "Kiss and Tell" use shell metaphors to express being emotionally closed off, which is mirrored in the album art. The way the album looks is gentle and in tones of gold and black, with symbolic pictures of butterflies and shells. 
Matters Of Mind, Body And Soul was put together with a lot of thought and care and works well as a whole, expressing a sense of melancholy romance in a modern, industrialized environment. As Valentine's gifts go, this was a good one: a declaration of love to music and to darkwave. 
review by : Hanna 
See more at: http://popshifter.com/ 
Cryptic Rock 
Cryptic Rock Review 
Legendary Dutch dark-wave band Clan of Xymox have released their fifteenth studio album titled Matters of Mind, Body and Soul.  Lead by founding member Ronny Moorings, the band is one of the original dark-wave/gothic bands from the 1980′s receiving the most praise for 1989 album Twist of Shadows.   Remaining consistently full of dark sounds and moods Clan of Xymox continues to put out new and original material, where other bands around for over three decades usually release best-of or live albums.  Now two years since their last album of cover songs titled Kindred Spirits, Moorings is back to bringing fans new tunes. 
As always, since the early 1990′s when Pieter Nooten and Anke Wolbert departed from the band, Ronny Moorings writes, records, and produces all music and lyrics of Clan of Xymox. The other live band members consist of Mojca Zugna, Mario Usai, and latest addition Sean Göbel. Without any trouble Moorings proves that dark-wave has not lost its relevance or charisma and it is all about how to present it. 
The album opens with the six minute intro of "Once in a Blue Moon", which is a dramatic instrumental assuring with interesting effects. Directly following the song "She is Falling in Love" begins with an exciting sound which one could compare to Depeche Mode. "I Close My Eyes" enthralls with wonderful keyboards and the suffering vocals of Moorings, while "Loves on Diet" transfers you directly into the 1980′s, carried by typical keyboard and electronica loops. 
Moving along through the twelve track album, "Kiss And Tell" is laced with depressing vocals and lyrics about love, keeping your attention through it's dark mood. The song "Chinese Whisper" closes out the album and again like the opening shows up with only some spoken word, no vocals at all, and appears more like a very dark movie soundtrack. 
In general, Matters of Mind, Body and Soul sounds like the true Clan of Xymox styling which made their music famous worldwide, flowing nicely from beginning to end. Without being influenced by trends, Moorings crafts a synth album with plenty of textures with embellishments and keyboards, paying tribute to Clan of Xymox's 80′s and 90′s material. The album would perhaps be a genre milestone if released during that era. Gothic and dark-wave fans should definitely check out Matters of Mind, Body and Soul, and dedicated Clan of Xymox fans will simply love the moody soundscape. This is the type of album you can put on after a stressful day at work and simply unwind with tranquil dark tones. 
Review written by Sascha Becker 
Reviews from the Cave 
By Chris Cave 
Clan Of Xymox has always stayed true to their roots with their records. This being record number fifteen that Clan Of Xymox has released. Each record that I can remember listening to has always had It's dose of uniqueness that really does the band some well they've never really changed their style to fit anyone's trend, or even get big quickly when they very well could have, and some bands with their age would have probably done so by now. Especially being a band that has been around since the early eighties. The band has seen some changes with bands around them, publicity, and almost everything in the music industry and they've probably noticed their genre which is Gothic Rock not getting as much attention as it previously has since the whole gothic idea has died, but on a good note the band is still striving to release music for the fan base that they still have which is big, but probably not as big as it once was in the past. I have to give the bands some credit on "Matters Of The Mind, Body And Soul" it kept my attention the whole way even though I'm totally through my whole Gothic stage. A few songs that stand out on this album would have to be, "Once In A Blue Moon", "I Close My Eyes", "Loves On Diet", "Kiss And Tell", and "Chinese Whisper". 
"Once In A Blue Moon", starter track and purely instrumental; which does the opening some good at giving it a bit of a dramatic feeling through the six minutes you'll be listening to the song. There happens to be some very interesting effects used on this track to sort of set the mood of the album, which was pretty interesting to be honest, and very unexpected at first listen. 
"I Close My Eyes", another six minute track that will surely get your attention as soon as the song begins. The synth on this record really makes me wonder how many years of practice the keyboardist has. The vocals on this song sound like they're trying to set the vibe of love, but it doesn't exactly get there, but it's very close. The lyrics are written as they would be in a Gothic Rock band with a different tone of voice, a more depressing one if you ask me, but, it still manages to work out for Clan Of Xymox's sound. This song is a song I'd probably send to a girl to show my feelings or something of that sort. Song really fits a lovey mood though. I'll give it that much. 
"Loves On Diet", at first I was kind of questioning what this song would hold with the title being kind of funky. Guess it's supposed to be funny somehow? Other than the title the song, it really lifts up to something that I can see being played in a movie, an older movie that has some Gothic actors (Yes, these exist). There's a few movie like that out there already maybe Clan Of Xymox was featured and I didn't know. Hopefully a movie producer finds out about "Loves On Diet" and features it on a track, that would be cool. 
"Kiss and Tell", we're getting closer to the close of this album, and so far I'm in the midsts of liking it since it really isn't my cup of tea anymore, but the album has managed to keep my attention through eleven tracks so far, so it's all good. "Kiss And Tell" features another of what sounds like depressing vocal style singing about love, or something about kissing and telling which is a big no, no. You could get in big trouble if you kissed and told. The song though, on a serious note has a very good instrumental background to it to make it stand out on this record, which, I'm sure a lot of people who listen to the song will notice. 
"Chinese Whispers", the close to the album, and well the vocals don't show up at all, but there are some speaking parts, which, I think were clipped from somewhere or the vocalist was saying it and they added voice over effects to set the mood of the outro a bit better. Which it did, don't get me wrong. The song is very relaxing in a mindset of it being mostly synth. The ending is sort of unexpected, but who doesn't love surprises? 
Breakdown: 
Cleans: The vocals are mainly clean vocals, with the same style, with a few minor changes. The vocals seem to have a depressing mood, which, is sort of cool at some points. The lyrics and the vocal tone definitely do something for the songs, as well as mixing together with the instrumental play. When it comes down to the lyrics I'd have to say they're very well written and the vocalist has a style that can get the emotion out of every word without a problem. 
Instruments: The instrumental play is very diverse, which, is something that I'm very fond of when listening to Clan Of Xymox's music. I have to say the synth really stood out to me on the record, for the main reason of it being a bit different than what I'm used to listening to in my musical tastes. For the most part I'd have to say that Clan Of Xymox would be very interesting to see live with their instrumental presence, which, I hope is as interesting as they are on their albums. 
Metal DE 
In gewohnter Manier bieten CLAN OF XYMOX ihren Anhängern auch auf ihrem aktuellen Album "Matters Of Mind, Body and Soul" wieder wunderbar entspannten und elektronisch untermalten Dark Wave, der auch immer wieder Wert auf feine Melodien legt. 
Angefangen beim atmosphärischen Opener "Once In A Blue Moon", über das verträumte "I Close My Eyes" bis hin zum etwas flotteren "Your Own Way" liefert Mastermind Ronny Moorings erneut eine Scheibe ab, an der die Fans nicht viel auszusetzen haben dürften. Die zwölf Songs und das gesamte Album strahlen unheimlich viel Ruhe aus, das Tempo bleibt überwiegend im sehr dezenten Bereich und die Vocals von Ronny Moorings sorgen zusätzlich für einen angenehmen Ruhepuls. 
Für einen entspannten Abend bei Kerzenlicht ist "Matters of Mind, Body and Soul" somit mehr als nur die perfekte Hintergrundmusik, um dem alltäglichen Lärm & Stress etwas zu entfliehen. 
Sonic Seducer 
http://www.sonic-seducer.de/ 
Clan Of Xymox 
"Matters Of Mind, Body And Soul" 
(Trisol/Soulfood) 
Eingestimmt durch ein überlanges, atmosphärisches Intro, das die dunkle Grundstimmung des Albums perfekt widerspiegelt, folgt eine Dark Wave-Perle der nächsten. Glasklare Sounds bilden punktgenau die Glanzpunkte der ansonsten von breit angelegten Flächenklängen dominierten Titel. Was das Tempo angeht, bleiben die Stücke entweder im unteren Bereich oder die Beats tragen die Kompositionen unaufdringlich voran. Auch Ronny selbst verzichtet darauf, gesanglich dick aufzutragen. Insgesamt bekommt das Album so einen sehr entspannten Charakter und immer wieder ertappt man sich dabei, mit geschlossenen Augen den ruhigen Fluss der Musik zu genießen. Seinem Stil bleibt der Niederländer mit dieser Scheibe nahtlos treu. Im Vergleich zum Vorgänger sind es die Feinheiten, die "Matters..." eine Spur unbeschwerter und luftiger gestalten. Der für COX-Alben typische verträumte Schleier lüftet sich somit auch dieses Mal nicht. 
Peter Heymann 
Music Artery 
Music Artery 
http://musicartery.com/cdreviews/CoX.php 
I'm very pleased to be in a situation again to review a Clan of Xymox release. The last one was Farewell, which I reviewed for Starvox.net. While they are still a part of Metropolis Records releases, I did notice a link on Projekt for this digital release. The more the merrier, right? 
This band certainly deserve a lot of exposure, they certainly paid their dues long ago. I have found that the better Gothic/Industrial DJ's out there will always have something from Clan of Xymox included in their sets. 
Matters of Mind, Body, and Soul is intelligently Gothic and dark in composition; yet often a cut above in electronic experimentation. Each track offers something special, and the album flow is above par. While they are still within their element and formula, I would say they are nowhere near being in a rut or formulaic. 
"She's Falling In Love" became an "earworm", stuck in my head after the very first listen, and I have a thing for the third track, "The Climate Changed", as here we fall far away from Clan of Xymox formula and experience a deeper message and somber mood. "The healing heart below the freezing point" lends one to feel this is a song more about time in its dynamic motion rather than anything political as the concept of climate change might suggest. 
"Hector", is a little gem of a track that stands out during album play, on closer inspection, it's another instrumental; so yet another step away from the formula. The keyboard style reminds me of the pure analog moments in 70s pop/rock, such as found with The Who or Pink Floyd. 
If I am DJing and "I Close My Eyes" gets requested, this is the type of song I would feel obligated to play. It's pure "darkwave". I love this stuff, and you should, too! 
Two things you can say about Clan of Xymox is that they are good at creating synth hooks and that they build layer upon layer in a song. Both of these traits are displayed here. When you are far into a release and a track shows up that's been carefully structured and sculpted, you know the production was track-by-track, and nothing even close to "fluff" or filler was placed on this CD. 
"Your Own Way" has hooks and synth lines spinning like a double-helix, cemented in time by a good, steady beat. "Love's On Diet" again brings up the subject of "love", and it's always a grand (or dare I say 'epic') occasion to them. Another purely CoX sounding track, and they are all on FIRE! 
"I'll Let You Go" steps it back a notch; yet is no less engaging or entertaining. The flip side of love, the bittersweet, expressed with precision and good taste. Towards the end, there's a surprising bridge, mostly acoustic and mournful, that draws you closer. 
"Months Ago": ah, I love a band that can tell a good story; and here they paint the story with sound in a grand way. "Kiss and Tell" reminds me of "Japanese Whispers" era Cure; but this track is all CoX. "Chinese Whispers", ironically enough, sounds nothing like The Cure or like the aforementioned track. This track is a cinematically-themed exit from their work and truly has whispery moments. A fitting end to another CoX concept. 
Don't delay and download this release wherever you may find it! 
~Alexavier S. Strangerz 
Amazon.com 
This may be my favorite clan of Xymox album, definitely since their return! It is so consistant and really flows the whole way through. It is a melancholic masterpiece that tears at the heart, with songs of love and loss. The Baritone vocal style only surfaces hear and there in favor of Ronny Moorings signature emotive crooning that he has done so well since the early 4AD days. I'd go as far as to say this is the best I've ever heard him sing! 
The album opens with a brilliant instrumental track that flows seemlessly into track number 2, the beautiful She's Falling in Love. This opening is one of the albums strengths. I was growing tired of the usual first track being a single that stood out from the albums instead of setting the tone. 
The tempo is subdued but fits perfect with the lyrical content. The album is melodic, romantic, atmospheric, airy, at times intense and beautiful. The instrumentation is a perfect balance of electronic and natural sounding instruments. There isn't a lot of guitar, but it doesn't matter, the way these songs are put together I didn't even really notice until I thought about it. 
I'll leave the track by track breakdown to someone else. I just wanted to convey the overall sound of the LP. This is 12 tracks instead of the usual 10 and there is not a single throw away. Yup, it is a straight through listen with many moments of brilliance. 
If Farewell was their dance album, this is on the other side of the spectrum. I appreciate both Medusa and Farewell for what they are, consistant. Matters of Mind,Body, and Soul has this consistancy, maybe even themed. Ronny was saying its a perfect Valentines present, this album has much more honest love put into it. Matters of Mind, "Heart" and Soul might be a more fitting title, but the heart resides in the Body so there you go ;). 
This is the one I've been waiting for since i heard wake up darling, home sweet home, morning glow, sea of doubt etc., thinking if only a whole album had this feel, well here it is! A masterpiece that gets better with each listen. The album closes gentley with another instrumental track... Ahhhh, well done Ronny!! Well done! 
By B. Molen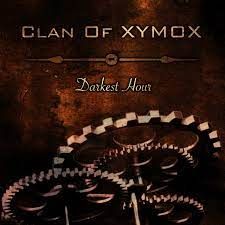 Darkest Hour 
Hard Wired Magazine 
Hard Wired 
There can be few bands who are as reliable & yet always surprising as Clan Of Xymox & there can't be many bands who are only now releasing their best material yet after having been around for so many years but that's what Ronny Moorings & co have done here as this is a quite superb album that has everything you'd expect from The Clan & more. Its strength lies in the fact that, while it continues the established Xymox sound with Ronny Moorings' vocals being as distinctive & as plaintive as ever, it's not afraid to take chances, witness the analogue synthpop stylings that grace the opening 'My Reality' or the almost industrial hard edge of 'My Chicane'. For all that, though, this is a Clan Of Xymox album through & through with 'Delete' quickly establishing itself as a future classic through its combination of lush, rich textures & superb dark melodics as does 'She Did Not Answer' which, aided by its dynamic sequences, excellent synth lines & danceable rhythms being contrasted by the downbeat lyrics, cannot fail to grab your attention the second you hear it. There are, of course, a good number of darker tracks here, among them 'Deep Down I Died' where the dark melodics are offset by more abstract effects that could have been the soundtrack to a dark fairy tale, at least until the lyrics bring it back to reality & which is then followed by 'In Your Arms Again' which almost seems to be a direct continuation, the two certainly compliment each other. Whether this was deliberate or not is unclear but if it was an accident then it was a very fortunate one! As the album nears its end 'The Darkest Hour' makes its mark with a carpet of sumptuous floating melodics & atmospheric elements that border on the cosmic with an inherent richness that is embellished by the orchestral elements that appear later, leaving the upliftingly glorious closer that is 'Wake Up My Darling' to round things out in a hearteningly authentic fashion; so much so that it's not stretching the imagination to much to imagine The Beatles coming up with something similar were they still recording today. It certainly is a fitting end to this quite superb album which sees The Clan Of Xymox at their very best. 
by Carl Jenkinson 
Graveconcerns e zine 
As a LONGtime fan of Clan of Xymox...a new release by this band always excites me. 
"Tears ago" is where I would like to start...oh yes...thank you...this has an old Clan of Xymox sound and also still sounds fresh at the same time. 
"Delete" is an electro gem that the djs must be already spinning on goth/synth night. Check out their hot video below! 
Other standouts from the album- "Deep down I died" (a darkwave music scape'sque song), "She Did not Answer" - gatecrasher dark wave-NICE...think..."Imagination". "Dream of Fools" is the slow B-side of "Muscovet Musquito". 
Overall it's a strong album and a bit of a departure for Clan of Xymox at the same time as they branch into a heavier danceable dark wave sound and Vampire theme songs that are spookily crafted. Shelve this album next to: Clan of Xymox (because you have all of their albums too) 
Clan of Xymox will be around forever spinning greatness. 
by Jules Cohen 
Gothic Paradise 
Some groups just never seem to slow down no matter how long they've been going and this is definitely one of them. It seems not too long ago we were listening to "Emily" for the first time and now we have this latest album with another 10 tracks of dark electro-goth sounds, with a definite emphasis on the electro side for this one while still remaining dark, heavy and brooding. The packaging doesn't seem to matter much anymore in the digital age, but it does come with a 5 page booklet featuring the lyrics to the different tracks. 
The album kicks off with an excellent piece, a definite favorite from this disc in the form of "My Reality". The brooding, pulsating heavy electronics dominate this and most of the album while the dance-friendly beat keep the pieces moving along nicely and a few selections should be club hits across the globe. "Delete" is another good selection along these lines with all the heavy, deeply emotional drama-filled lyrics and solid vocals that we've come to so easily recognize from Ronny Moorings. This piece does re-emphasize some of the various cliche elements that come out from time to time in the lyrics as "bleep, bleep, bleep" or in other tracks talking about "the birds and the bees" and other seemingly silly phrases. It's something we've grown used to in past works, so it doesn't stand out too much as an annoyance and just becomes part of the work. 
There are a number of definite favorites from this album that I think are worth highlighting including the two previously mentioned pieces. As the album moves along we come to an even darker sound on "Dream of Fools" with a somewhat mid-tempo, brooding piece with more of a goth flavor bringing out some classic guitar riffs to accent the heavy electronics. Later on, another dance-friendly piece really captured my attention in the form of "She Did Not Answer". This piece has a dark electro-pop foundation with the driving beats and layers of electronic loops to form the backdrop to Ronny's angst-filled vocals for a definite gem like many classic electro-based gothic rock tracks of the past. This leaves us with a couple more gems as the album wraps up with "Tears Ago" and "Wake Up My Darling". Both are great examples of solid gothic rock mixed with moving undulating layers of synths and moving dance beats. 
Coma Music Magazine 
Review by Eva Brem 
Clan of Xymox is regarded one of the most influential darkwave bands ever. Formed in 1981 by Ronny Moorings, the band quickly gained recognition and was invited to support Dead Can Dance soon after. After twenty years they have become a legend and are famed for their unique melodies and quite a special ability to create dark and melancholic atmosphere. One could say that when it comes to Clan of Xymox darkness is embedded in every single accord. 
Darkest Hour does not disappoint. Quite the opposite – it reminds me of Clan of Xymox at their best. Those of you who are familiar with Medusa, their great album from 1986, will not be surprised to find the same aura here. Although, generally speaking, melodies on Darkest Hour are slower, there is the same feeling of restlessness and tragedy in the air. I have seen them live many times but I remember one time in Å�ódź, Poland, where they gave a stunning performance and their song "Back Door" had me all in tears. I have the same feeling when listening to Darkest Hour. In other words – if you are not into music that is melancholic, reflexive and slightly depressing, you will hate this album! 
Most tracks are what you would expect from Clan of Xymox – cold, depressing melodies and synthesizers combined with Ronny's dark vocal. There is, however, space for experiment too. I was pleasantly surprised by the track "Deep Down I Died" with its striking post-medieval melody and simplicity (remember, less is more!). It resembles Sopor Aeternus, yet it is unique and striking. When it comes to Darkest Hour, everything is in place – melodies complimented by vocal and lyrics create a dark wave masterpiece. 
One more time Clan of Xymox have proven that they are one of very few bands that can write music, can sing and can write clever and moving lyrics too. Contrary to what some of you may think, such a combination is not common these days…. 
Chapeau bas! 
Peekaboo Magazine 
The darkest hour" has become the 13th album in the 30 years of Clan Of Xymox. It sounds incredible and it seems like this band still have more than enough artistic skill to produce an album to watch out for. 
The funniest thing (and probably their secret) is that every album tends to be different, even if "dark" and "melancholic" are the keywords in them all. The newest child from Ronny features ten tracks and will be released on his birthday, 20thMay. 
Highlights such as "She did not answer" (reminiscent of the synthpop-grandeur that "Twist Of Shadows" is) and "Tears ago" are the kind of tracks where Clan Of Xymox proves again, that they are masters in danceable songs with an ultimate melancholic feel. "Delete" and "My chicane" are similar to the industrial-goth tracks we could hear on their previous album "In love we trust". A Xymox record wouldn't be complete without an instrumental gem and this time the title track "The darkest hour" gets this honour. 
There will certainly be people around who'll state that once again this album is not a "Medusa", but those same people have missed two decades of Xymox history. Still, we have another album to fill our summer with great wave songs and even if it might not be the best Xymox album ever, we recommend it from the heart and without any doubt Xymox fans can't wait to hear the newest tracks from the king of melancholy. 
Ondarock ( Italian review) 
A due anni di distanza dal precedente "In Love We Trust" (e a più di venticinque dall'omonimo esordio su 4AD) il gruppo di Ronny Moorings, unico membro della formazione originale, giunge con "Darkest Hour" alla sua tredicesima prova in studio. 
Nel corso di tre decenni la band olandese, che ha tra i suoi numi tutelari tanto i Cure quanto i New Order, ha flirtato a più riprese con le sonorità dance, alternando a questa tendenza repentini ritorni al sound originario, senza per questo tradire, nel complesso, il feeling delle prime composizioni. 
Il nuovo lavoro si apre con due brani d'impatto, nei quali l'usuale crossover attuato dal gruppo arriva a includere elementi di industrial rock dall'andamento meccanico (l'opener "My Reality") e marziale (la successiva "Delete", quest'ultima con rimandi all'electro-goth teutonico, declinato però in maniera più elegante). Segue "My Chicane", pezzo dalle basi quasi Ebm e decisamente dancefloor oriented, nel quale la commistione fra le sonorità wave e quelle prettamente elettroniche non risulta perfettamente riuscita. 
Cambiano le prospettive con la successiva "Dream Of Fools", con l'iniziale giro di basso che scandisce il lento incedere del brano, meno aggressivo dei precedenti e sicuramente più "old school": i synth e le chitarre si occupano di tratteggiare una malinconica melodia gotica per quello che è forse l'episodio migliore dell'album. 
In altri brani, come "Deep Down I Died", "In Your Arms" e la strumentale title track, l'elettronica svolge una funzione più descrittiva, andando a realizzare ambienti sonori che impreziosiscono gli innesti darkwave; una sinergia che ricorda il loro capolavoro del 1986, "Medusa". 
Per "She Did Not Answer" vale lo stesso discorso di "My Chicane", con la differenza che in questo caso ci si avvicina troppo al future pop di inizio duemila; la successiva "Tears Ago" è invece un altro momento molto ispirato di "Darkest Hour", nonché un ottimo esempio di wave sintetica dove il ruolo delle chitarre è comunque funzionale al brano e non passa mai in secondo piano. 
La conclusiva "Wake Up My Darling" è il pezzo più sperimentale dell'album, anche a livello vocale, e si muove tra l'elettronica degli anni 90 e i synth del decennio precedente. 
Nel complesso si tratta di un disco che, nonostante le numerose concessioni al dancefloor, può essere apprezzato anche dagli amanti delle sonorità più oscure: l'attitudine crepuscolare tipica del gruppo e l'inconfondibile voce di Moorings, abbinata a un songwriting esperto, riescono infatti a rendere coerente un lavoro che per molti aspetti rappresenta invece la volontà di spaziare in ambiti, talvolta, piuttosto distanti fra di loro. 
by Didier Becu 
ReGen Magazine 
Clan of Xymox 
Category: Alternative / Electro / Gothic 
Album: Darkest Hour 
  
The opening track on the latest Clan of Xymox release is not promising. "My Reality" has a pleasant though static basic melody, but it's buried under blips and beeps and an intermittent hard fuzz blast. Even the usually strong vocals sound strained. 
Luckily, the rest of Darkest Hour finds the gothic/electronic favorites fully in their element. Aside from the plodding "In Your Arms Again," the album's other songs are sure to please the group's fans. The second track, "Delete" is a highly danceable, hard-edged piece of electronica. Ronny Moorings delivers memorable lyrics like "Kill all yesterdays" and "I want to delete the secrets that I keep" in a deep, mesmerizing monotone. The slower "Dream of Fools" uses a pulsing synth to create a hypnotic sound. This slow, steady melody manages not to get repetitive, due to well placed shifts in tone. "She Did Not Answer" has a heavy groove with a solid chorus that could get a crowd singing along, "She didn't want me/She didn't care." 
The band also offers a few surprises. "My Chicane" has a heavier industrial beat under the trademark synth, yet doesn't sacrifice rhythm. The haunting, atmospheric "Deep Down I Died" mixes slow synths and strings with a softer, mournful vocal. The biggest surprise is "Tears Ago," which mixes a new wave-style melody with Clan of Xymox's trademark deep vocals and a dark-edged rhythm in the background to imbue the lighter sound with a sense of gravity. Darkest Hour shows a band continuing to evolve, and despite a couple missteps, they're on a good path. 
Reflections Of Darkness by Ray Dunkle 
Album Review 
Over the 30 years of its existence, CLAN OF XYMOX always had the misfortune to be 
compared either with other bands or with its own past. The fact that they've played a 
down-to-earth Darkwave, at times humorous in its lyrics or the music approach of the themes 
seemed to go away unnoticed. I wouldn't be surprised if these patterns and quarrels follow them 
in the 'Darkest Hour', their latest CD. If one is so eager to find resemblances he'll find them for 
sure; as usual from THE CURE to the LONDON AFTER MIDNIGHT. After listening to the CD 
many times, the overall feeling I had is that the band is settling its accounts with its own past 
and all those references. 
The very characteristic aspect of this CD is a rather melancholic Goth journey to the past. In 
the opening song 'My Reality' from the sound samples the band moves into a form of music 
based on synths that will bring you back to early 80's. The "hit" of the album comes next and it 
is without a doubt 'Delete', with an intro which stands as a humorous reflection on 'Muscoviet 
Mosquito', and with a very catchy refrain. Some others songs that were very distinctive were 
'Deep Down I Died' (and here it goes the reference to LONDON AFTER MIDNIGHT's 'Demon') 
and 'Darkest Hour' (another music reference to CURRENT 93). Both of these songs have a 
superb Goth feeling attached to them and Mooring's voice fills them with emotion. CLAN OF 
XYMOX' Darkwave music is Darkwave for real people and not for ethereal mourning caricatures 
usually found in second rate paintings and novels. And the analogies are given here to describe 
a feeling for those who haven't heard the album yet, not to say that CLAN OF XYMOX has 
developed a copy-paste attitude to these songs and bands. 
To cut my long speech short, this down-to-earth attitude of the band which prevents them from 
the usual exaggerations of the genre is dominant here, both musically and lyrically. And the 
quarrels among the fans will continue; which is their best album or their best period. CLAN OF 
XYMOX has proven that they don't live either in their previous albums or in other bands. I think 
that this album is a step forward for the band. They look back to their past with affection but they 
move to the future. 
CD Review: Clan of Xymox - Darkest Hour 
Written by Ray Dunkle 
Wednesday, 01 June 2011 15:50 
RTSMaouttuisannilcg:d :9 :9 9/ 10 
Sideline Magazine 
After years of straight-on gothic rock with a twinge of synths, "Darkest Hour" find Clan Of Xymox doing something unexpected – grabbing the history by the horns and returning to their old mostly-electronic roots. 
From the onset of "My Reality", one is clear Ronny Moorings is strongly steering his enclave away from his smoky faux-Eldritch baritone and guitar-laden goth for the first time since "Creatures". Instead, we have back Mooring's wavering distressed warble of old, and when paired with its dreary retro buzzes and Numanesque synths, it feels as if he's trying to summon day those formative synth-shoegaze days. Their oddly plucky, "Delete", with its upbeat repetitive chorus and blistering buzzing synth, continues this motif and feels as if Ladytron was on their minds at the time. Still, when Xymox favors atmosphere over dance beats, the soporific end of this neo-retro formula can be rather brilliant. Broad strokes of their dreary guitar can be found in "Wake Up My Darling", where grave baritone pianos and a percolating blip bring out the old ennui that made this a classic act. Slower and even more savory, Mooring's distressed croon amongst pipe organs, a steady drum march and a rigid arpeggio in "In Your Arms Again"reminds one of days with their Cure influence was rife back when both acts were in their early brooding heights. Perhaps Moorings has caught on to the retro wave of modern acts all vying to cash in on his older sound, and certainly there is a faction who won't listen to anything after 1986's "Medusa". 
While this return to study their roots doesn't quite coalesce into a solid album, it's refreshing to see an established act at least try something new after 30 years in the business. 
(VM:7/8)VM. 
Nachtaktiv 
CD Review: Clan Of Xymox – Darkest Hour 
2011-06-18 00:56 von Andreas Saulig 
Clan Of Xymox – Darkest Hour 
Label: Trisol 
Format: Audio-CD 
Genre: Electro, Darkwave 
VÖ-Datum: 20.05.2011 
www.myspace.com/clanofxymox 
Die Wurzeln von Clan Of Xymox liegen ganz klar in den 80ern. Die Band hat mit "Darkest Hour" ihr mittlerweile 13. Album veröffentlicht. Nachdem sie auf der letzten CD etwas sehr rockig daher kamen, 
setzen sie nun wieder stärker auf dunkle elektronische Klänge. Gleich das erste Stück "My Reality" 
entführt in eine dunkle Welt. Der Text beschreibt einen einsamen Strand bei Nacht. Clan Of Xymox 
setzen auf rein elektronische Klanguntermalung. Der zweite Track "Delete" stellt sich als echter 
Clubkracher heraus. Ein treibender Beat und Synthieklänge treiben den Song ordentlich voran. Das 
gleich folgende Stück "My Chicane" ist ebenfalls clubtauglich und kann mit seinem Breakbeat 
begeistern. Während die ersten Stücke sehr tanzbar waren, wartet der Song "Dream Of Fools" mit eher 
leisen Keyboardklängen auf. Ein entspannter Beat und die Vocals tragen ebenfalls zu der Atmosphäre 
des Stückes bei. Ganz ohne Beat kommt der Song "Deep Down I Died" daher. Nachdem er von 
sphärischen Sounds eingeleitet wird mischen sich im Mittelteil Klänge wie von kleinen Glocken dazu, 
die eine gespenstische Stimmung erzeugen. Der siebente Song scheint zunächst auch wieder so ruhig zu 
sein. Im Verlauf des Tracks zerreißen aber verzerrte Beats die atmosphärischen Klänge. Der Song ist mit 
siebeneinhalb Minuten auch das längste Stück der CD. Im Verlauf des Songs kommen ein elektronischer 
Beat und Synthieklänge sowie Gesangspassagen hinzu. Der Sound erinnert an 80er Jahre Tracks. Nach diesen recht ruhigen Stücken ist "She Did Not Answer" wieder ein sehr flotter und tanzbarer Song. Auch 
bei "Tears Ago" lassen Clan Of Xymox die 80er wieder aufleben. Die new-wavemaßigen Gitarren, das 
Schlagzeug und der Gesang klingen wie aus vergangenen Tagen. Der Titelsong der CD "The Darkest 
Hour" ist wiederum ein recht experimentelles Stück. Der Song wird bestimmt durch eine dunkle 
Atmosphäre, die durch Synthiesounds und ganz zurückhaltenden, langsamen Rhythmus erzeugt wird. 
Zum Abschluss präsentieren Clan Of Xymox noch einen vom Tempo her langsamen Song, der aber 
durch flächige Synthesizersounds und Gitarrenklänge durchaus Spannung erzeugt. Mit ihrer neuen CD 
haben Clan Of Xymox versucht die Brücke zwischen den 80ern und modernen Sounds zu schlagen. 
"Darkest Hour" ist ein buntes Sammelsurium, dass von New Wave über tanzbare elektronische Klänge 
bis hin zu fast schon experimentellen Sounds alles bietet. 
Anspieltipps: 
Delete 
In Your Arms Again 
Tears Ago 
Pressemeldung auf Deutsch 
Wie würde der klassische Dark Wave der Achtziger heute klingen? Welchen Weg würden die frühen Kultbands des legendären 4AD-Labels mit den Möglichkeiten der modernen Welt einschlagen? Antwort auf diese Fragen liefern die Urgesteine Clan Of Xymox mit ihrem schicksalhaften 13. Studioalbum "Darkest Hour" - einer beeindruckenden Reise durch das Gestern, Heute und Morgen düsterer Goth/Dark Wave-Klänge. 
Nachdem Clan Of Xymox im Sommer 2009 mit dem Goth Rock-orientierten "In Love We Trust" zu begeistern wussten, fällt die Rückkehr der Dark Wave-Pioniere deutlich elektronischer aus. Ohne die nebligen Gitarren zu vernachlässigen, die immer noch ihre unverkennbar melancholischen Spuren in die Luft zeichnen, besteht die Grundsubstanz auf "Darkest Hour" aus einer faszinierenden Komposition geheimnisvoller Electro-Klänge und einnehmender Dark Wave-Schwermut und schafft mühelos den schwierigen Bogen zwischen modernen Klangansprüchen und dem Aufrechterhalten einer Grundatmosphäre, mit der Xymox 1985 aus ihrem selbstbetitelten Debüt im Nu einen Genreklassiker machten. 
Die Leidenschaft des Ronny Moorings für große, gefühlvolle Melodiebögen, mystische Klangspielereien und verführerisch tanzbare Rhythmen ist auch dieses Mal ungebrochen. Melancholie und düstere Songs voller Kraft und Entschlossenheit bestimmen "Darkest Hour" - ein Album, das mit Stücken wie dem Opener "My Reality" oder dem hypnotischen Clubhit "Delete" hervorragend auf jeder Tanzfläche funktioniert und mit der großen Hymne "Dream Of Fools" oder dem bewegenden Ausklang "Wake Up My Darling" auch abseits der Tanztempel packende Unterhaltung von Gothic-Weltformat bietet. Gekrönt wird auch das 13. Studioalbum natürlich von Ronnys unverkennbarem Gesang, der den Dark Wave-Hymnen die nötige dunkle Leidenschaft einhaucht. 
Stolze 30 Jahre sind seit der Bandgründung von Clan Of Xymox ins Land gegangen - eine Zeitspanne, die auf diesem Album im Zeitraffer durchlaufen wird und zu zehn modernen Dark Wave-Klassikern führt, die umgehend in den Kanon düsterer Musikgeschichte aufgenommen werden. "Darkest Hour" ist Musik für die Nacht, ist Musik für das Leben und den Tod, ist Musik für die Ewigkeit. 
Press Statement 
In its long and storied history, Clan Of Xymox has consistently been adored for its ability to create a signature, melancholic sound while at the same time be constantly evolving. This holds true with Darkest Hour, the brilliant new album for 2011. From the danceable "She Did Not Answer" and "Delete," the haunting "Deep Down I Died," and the atmospheric "In Your Arms Again," Darkest Hour stands as a highlight in the already impressive COX catalog. 
-- 
2 
Ronny Moorings' passion for huge, sensual melodies, mystical sound experiments and seductive dance rhythms is as unbroken as it ever was. Melancholy, energy and determination rule "Darkest Hour", a record whose tracks "My Reality" or the hypnotic club hit "Delete" will work on any dancefloor, but that also delivers gripping entertainment and world-class Goth hymns with "Dream Of Fools" or the breathtaking "Wake Up My Darling". Crowned, as usual, with Ronny's unmistakable vocals instilling the necessary dark passion into his Dark Wave elegies. 
An impressive 30 years have passed since the founding of CLAN OF XYMOX – a period being revisited on the new album and leading to ten modern Dark Wave classics ready to be instantly introduced into the canon of gloomy music. To be released on Ronny Moorings' birthday, "Darkest Hour" is music for the night, is music for life and for death, is music for eternity.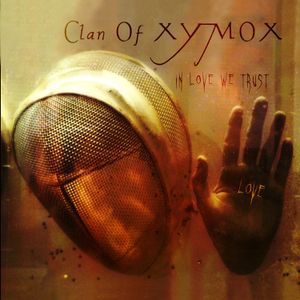 In Love We Trust 
Gothic Paradise 
In Love We Trust - Review 
The band has had a little break since their last powerful album and they're back with another excellent single and this latest album. 
The album is packaged nicely with a 10 page booklet featuring pictures of current band members, some nice artwork and lyrics for each of the tracks. The ten excellent pieces form the music on this disc that will prove to be another classic in a long line of great works from this band. 
As with previous works, the first track "Emily" is also the previously released single which featured two alternate remixes as well as an excellent b-side track titled "Chemistry". With four tracks, and the remixes it's a nice collector's or DJ item to add to any collection. Continuing with Ronny's long running love affairs with various women over the years (Evelyn, Louise, Michelle and so on), we now get the latest with "Emily". This is an excellent track sporting a solid bassline and moving beat providing the underlying foundation for Ronny's deep vocals and moody lyrics. These deep emotions run strong throughout the rest of the album from one piece to the next. The trademark heavy bass, mixture of electronics and that trademark guitar riff appear solidly on most pieces and make each one easily recognizable as Clan of Xymox, yet each having it's own style and twist, keeping the album and overall solid collection from this band interesting. 
Besides the very solid opening piece, there are a few tracks that stand out slightly from the rest as favorites, even though every selection is a true masterpiece and a great addition for this band. "Judas" appears with that very dark gothic sound that is pronounced by the solid bass taking the lead for the song while synths and other instruments provide the solid backdrop, all there to buoy up the dark vocals. I think it's fitting that the title track also stand out as a favorite as it hearkens back to the solid roots of their gothic rock sound. This one has a solid rock foundation, plenty of guitar and the percussion comes out a bit more with that rock style. After a few more pieces we come to a true pleasure in the form of "Home Sweet Home". This piece just jumped out at me on this album as it slowly builds up from a soft intro into a stellar new wave piece that will have long-time fans swooning with it's classic styles. The lyrics and vocals are captivating and touching and the music, again with the strong bass, all come together for a perfect mix for another true classic from this group. 
As with other albums the range of music is diverse and shoud really reach a large audience. We're still presented with a nice ballad in the form of "Sea of Doubt" and the last couple of pieces on the album are pure, hard-hitting electro-pop tracks that the fans of their synthpop days will enjoy. Overall it's another stellar Clan of Xymox album, need anymore be said? 
Rating: 5/5 
Reflections Of Darkness 
Written by Katrin Renner    
Friday, 21 August 2009 
By releasing the single `Emily´ taken from the new album `In Love We Trust´, CLAN OF XYMOX caused quite a stir when the band performed this Dark Wave anthem at live concerts or it was played in the dark clubs. Thus, a further piece was added to that meanwhile 25-years-old puzzle of success. `Emily´ is also the first track on `In Love We Trust´ and the best introduction to prepare the listeners for the all in all 10 songs. Obviously, the recent single is very catchy and danceable, but it also displays a certain kind of darkness; and these characteristics form the New Wave-like synth theme you can hear on `Emily´. The second piece `Hail Mary´ could be something like a logical sequel of the previous song, as the motto "Old school Dark Wave and electronic gimmicks meet a hypnotic chorus" works perfectly again. 
Having a look at `Desdemona´, the introducing keyboard playing is as simple as full of genius: Once listened, you will be able to hum along. After a nearly mystic beginning that is alternated by a playful synth part, Ronny Moorings´ dark and at this time monotonous vocals follow up, but then a forceful guitar turns `Desdemona´ into a great Rock song. In my opinion, the fourth track `Judas´ is the most variegated one on the album: A pulsating and feverish keyboard line accompanies the song and Moorings´ singing becomes more and more passionate and intense. In proportion to the vocals´ growing, the soundscape is being extended. Soon, drums and basses complete it and result in an up-tempo piece that could be the next CLAN OF XYMOX club hit. 
It's absolutely fascinating how the meanwhile legendary formation is able to create such dark and beautiful anthems without copying itself or others. Besides many up-tempo tracks, you will also find stunning gems such as the deeply sad ballad `Sea of Doubt´. Radiating a lot of 80´s Pop nostalgia, the mid-tempo song `Home Sweet Home´ is a further highlight. Contrary to that old school material, the distorted Drum'n'bass-like lines on `Love Got Lost´ sound very modern, but they are still typical CLAN OF XYMOX pieces. Though all the tracks seem to be musically pretty simple and catchy, they are everything but boring bubble gum stuff. The modern sound of the last piece `On a Mission´ is the great final of an exciting long-player I have already listened to many times. Thus, `In Love We Trust´ is one of my most favourite releases this year and you shouldn't miss it too. 
Monsters and Critics.de 
Drei Jahre haben die Holländer auf ein Fulltime-Album warten lassen. Aber immerhin haben sie uns die Wartezeit ja mit Schmankerln wie Single, EP und Doppel-DVD versüßt. Und nun ist es endlich soweit. Das neue Album heißt "In Love We Trust" und ich freue mich schon richtig dieses schicke Digipack zu öffnen und die CD in den Player einzulegen. 
Während es sich der erste Song der Scheibe "Emily" in meinen Ohren gemütlich macht, blättere ich durch das Booklet, welches wunderschön gestaltet ist. Viele Bilder und die Texte zum Mitsingen. "Emily" wurde Anfang dieses Jahres als Single ausgekoppelt und ist schon bekannt. Der Track macht aber auch nach Wochen noch Spaß. Ebenso Freude bereiten auch "Hail Mary" und "Desdemona", die ohrwurmverdächtiger nicht sein können. Düsterkeit und Schwermut vermischen sich mit verspielten Sounds aus Keyboard und Gitarre, welchen sich der melancholische Gesang Ronnys wunderbar anpasst. Tiefe Traurigkeit paart sich mit Eingängigkeit. Auch "Judas" kommt im gleichen Stil daher, ohne jedoch übersättigend aufkommen zu wirken. Mit Titelsong "In Love We Trust" scheint sich das Ganze noch einmal gehörig zu steigern, obwohl man anfangs schon meinte, einen genialen Sound zu vernehmen. "In Love We Trust" erobert sofort mein Gehör und entpuppt sich als absoluter Lieblingssong. Aber lauschen wir mal weiter. Ich bin gespannt, ob sich die Stimmung hält oder gar noch mehr anhebt? Geht das denn? Wir werden es hören ... 
Den geneigten Hörer umschmeichelt nach diesem Ohrenschmaus ein sehr ruhiger, ja schon überaus nachdenklicher Song, welcher nur so vor Atmosphäre und Klangvolumen strotzt und zum "vor sich hinträumen" anregt. Ich lege meine Beine hoch und genieße also diese 5 Minuten und 5 Sekunden bis zum letzten Ton.  Ähnlich sphärisch folgt "Morning Glow", welcher einen jedoch nach ca. 40 Sekunden feinfühlig aus dem Traum entzieht. Melancholie und Schwermut bleiben bestehen. Jedoch wird hier wieder an Eingängigkeit zugelegt und der Takt gibt den Ton an. Ein wunderschönes drückendes und herzzerreißendes Stück! Selbigen Schema folgt auch "Home Sweet Home", jedoch wird hier wieder noch ein gewisses Etwas obendrauf gepackt. Ich weiß nicht, wie es die fünf Holländer hinbekommen, aber die Scheibe wird von Song zu Song immer schöner! Gänsehaut macht sich breit! Mit "Love Got Lost" und "On A Mission" liegen nun auch noch zwei richtig gute Tanzflächenfüller vor. Es wird deutlich härter, eingängiger und elektrischer. Auf dass man sie in den Clubs hoch und runter spielen mag! 
Unterm Strich bedeutet das alles nur Pluspunkte! "In Love We Trust" gefällt wie bereits erwähnt immer mehr und immer mehr und ich höre mir das gute Stück gleich noch einmal an! Ein abwechslungsreiches Stück Clan Of XYMOX, welches bei keinem Fan fehlen sollte! Hier kommt keine Eintönigkeit auf und man kann gar nicht genug davon bekommen. Ganz große Klasse! 
All Music Guide 
Mixing together the atmospherics of their early years, the clever dance hooks of their Phoenix era, and the goth-club, synth sounds of their later work, In Love We Trust is Clan of Xymox in top form, delivering what's arguably their best album in 20 years. As such, it's a great excuse for all their 4AD-era fans to check back in. Melancholic lyrics are buried in washes of mournful synths, and forlorn women once again drive the songwriting as titles like "Emily" and "Desdemona" bring to mind classic Xymox songs like "Michelle" and "Evelyn." The expansive "Judas" could have fallen off their debut, while the layered "Morning Glow" is a dreamy as anything off Medusa, although the New Order-like bassline is a new touch. So is the deepening of leader Ronny Moorings' voice -- at times, making him sound very much like Sisters of Mercy's Andrew Eldritch -- but the delivery is familiar with hushed verses giving way to choruses filled with desire. These are all the moods and textures longtime fans seek, and with no filler to complain about, the album is an easy recommendation to any fan of the darkwave genre. ~ David Jeffries, All Music Guide 
Elektrauma.de 
Es hat sich bereits abgezeichnet: Die Vorabsingle "Emily" versprach schon einiges. Ihre Soundcocktail aus düsteren Dark-Wave-Gitarren-Melodien und fast schon futurepoppigen Elektrosounds griff bei diesem Song schon so perfekt ineinander, wie man es die letzten Jahre eigentlich gar nicht mehr vom Clan gehört hatte. Nun ist mit "In Love We Trust" auch der Beweis erbracht, dass dieser Song kein Strohfeuer ist. Ganz im Gegenteil: Nach mittlerweile 25 Jahren im Musikbiz wirken Sänger Ronny Moorings und seine Mitstreiter noch frischer und ausgeruhter als sonst. Und sie wirken auch kompromissloser: Denn oftmals stellen sich eben beide Ingredienzien Elektronik und Gitarren gleichberechtigt auf und buhlen sozusagen um die Gunst der Hörer. Dabei sind die Stücke nicht in irgendeiner Art breiig oder unausgegoren. Es ist eher so, dass jeder Song nur so klingen kann, dass eben keiner der Songs zuviel oder zuwenig von den verschiedenen musikalischen Elementen. Tatsächlich hat jeder Song Hitpotenzial, aber von all den tollen Stücken gibt es dann doch einige wirklich herausragende Stücke. Das sind neben der Vorabsingle auch noch das superingängige "Hail Mary " und der Abschluss "On A Mission", der – entgegen vieler anderer Platten – noch mal richtig zum Tanz auffordert. Unter dem Strich ist Clan Of Xymox wieder einmal ein großer Überraschungsmoment gelungen. "In Love We Trust" wird sich schnell in die Herzen der Schwarzgewandeten spielen. 
(verfasst von Nuuc) 
Sparklingphoto.de 
Großartig vorstellen muss man Clan of Xymox nun wirklich nicht. Denn die Band aus Nimwegen gehört seit 25 Jahren zu den Galeonsfiguren des "Dark Wave/Goth Rock". In einer beispielhaften Karriere werden sie nicht nur von den Fans auf der ganzen Welt gefeiert, auch Kritiker und ähnlich gelagerte Bands schätzen das Oeuvre der Ausnahmeband. Ihr dreizehntes Album (wenn das mal kein Glück bringt) "In Love We Trust" ist seit dem 28.08. auf dem Markt. 
Das Album beginnt direkt mit einem Knaller: "Emily" besticht durch knarzige Elektronik, wummernde Bässe und einen catchy Hook zum Mitsingen. Die charakteristische Stimme Ronny Moorings, der scheinbar Songs mit Frauennamen mag ("Michelle", "Louise", "Jasmine and Rose") drückt auch diesem hier wieder seinen eigenen Stempel auf, der einen Song von Clan of Xymox unverkennbar macht. Wie schon bei den beiden letzten Alben kann man die Hinwendung zum Future Pop nicht verleugnen. Das Schöne aber ist, dass hier im Gegensatz zu den meisten "VNV Nation"-Epigonen viel Wert auf Komposition gelegt wird. Eine Stärke, die Ronny Moorings immer noch besitzt. "Hail Mary" (Schon wieder eine Frau!) schlägt in dieselbe Kerbe, hier sind aber vor allem auch die typischen "Wavegitarren" im Soundgewand verpackt. Noch mehr hört man dieses Stilmittel aber im Folgetrack "Desdemona" (eine Frau) heraus, garniert mit C64 Sit-Sounds, düsteren Harmonien und typischem COX-Gesang. Mit "Judas" (ein Mann) findet die Ausnahmeband fast zurück in Zeiten von "Agonized by Love", so leidet und singt Mijnneer Moorings fast pathetisch seine Agonie heraus und das ist wie immer absolut hörenswert. Den Titeltrack des neuen Albums "In Love We Trust" scheint man so oder so ähnlich schon einmal von COX gehört zu haben. Anyway, das ist einfach der typische Dark-Wave Goth-Sound der vier Niederländischen Schwarzröcke. Schön ist dennoch die Tatsache, dass sich der Track schließlich im Refrain sehr schön öffnet und man sich in der Sounddecke einfach wohl fühlt. Bevor man völlig außer Puste gerät wird es nun ruhiger und gemächlicher, "Sea of Doubt" schwelgt quasi in Strings und Melancholie, und hier sind wir zu hause. Ein absoluter Favorit ist "Morning Glow", fast eine weitere Ballade. Hier steht vor allem die tolle Komposition im Vordergrund, man braucht halt keine überladene Produktion, wenn man ein solch starkes Pferd im Stall hat. Fast meint man, einen Klassiker aus den 80ern zu hören. Und ein Klassiker wird dieser Track sicherlich bald in der treuen Fanbase von COX werden, versprochen! Perfekter geht's nicht. Fast scheint man den Schmerz und das Heimweh in "Home Sweet Home" heraus zu hören, genauso wie ein Guitar-Lick á la "A Forest" von "The Cure". Aber solche Reminiszenzen sind weniger störend, ist der Song einfach hinreißend "simpel" und poppig geworden. Insgesamt hat man den Eindruck, dass die Band versucht hat, die pompösen, fast überproduzierten Tracks an den Anfang des Longplayers zu legen, um ab der zweiten Hälfte minimaler und transparenter zu werden. "On A Mission" schließt wieder den Reigen, meint man hier doch gar einige typische"Agonoize"-Sounds zu vernehmen. Übelnehmen kann man Clan of Xymox das nicht, denn "In Love We Trust" ist ein typisch-untypisches COX Album geworden. Und das ist gut so! 
Electrowelt.com 
After 25 years of activity in the underground scene Clan of Xymox came back in 2009 with their new stunning 
album which combines the early melancholic 4AD sound of the band with the glimmering synthesizer sounds of the 90s 
and the power of classic darkwave.That's what I love in this band,they maintain their music not in one genre but 
they combine new/dark wave,the dark gothic vocals/music but some electro sounds,too...the proof..is ''In love we trust'' ,a really nice album which reminds us of their past.. 
Past and Present combined in this album make the perfect music-brief for Clan of Xymox all these years 
and a very good reason for what kept them relevant and popular all these years. 
So,''home sweet home'' will let you stoned as it is a beatiful balad-like song with a fantastic soft sound.. 
In the same place I place ''In love we trust'' which will remind you the sorrowful voice of Roony,as for it's music... 
just dark and continuus..with a very pale touch of a synthesizer.The yearnings of ''sea of doubt'' and the melancholy 
of ''morning glow'' will also remind you of old favorites and give you the hope that Roony shouts for in the songs, 
as the years pass and sun shines and rises....''Love got lost'' will give a very taste of the elegiacal melody of Xymox and of 
a classic Roony-like vocals... 
And we come to '' Judas '' a great song,..I really like the very unique sound of the song...very strange one..listen to it... 
as well as ''Desdemona'' which differs ''Judas'' but is also similar to it! Both are very dark in different ways and with their quite unique sounds. 
And yes ''Hail Mary'' is a fantastic piece of music!! Excellent in all concepts nothing to add!! 
''On A Mission'' which was released previously on the 'Heroes' EP and is slightly altered and improved here is also good enough for this album!! 
Very popular with older fans of C.o.X. 
And of course,last and in many ways the best and most popular one in this album,''Emily'' 
....One of the most perfect,most inspired songs of Clan of Xymox ever,with the classic ''female-name title''..I love it's music,and bow to the magic of Ronny's voice..It would enchant everybody,,a piece of respect to Clan of Xymox is ''Emily'' 
Listen to it and you shall feel unsatisfied until you have listened to it hundred times... 
Necroweb.de 
Ihrem ungebrochenen Willen, sich stets weiterzuentwickeln und zu verändern, ist es den Holländern Clan Of Xymox wohl zu verdanken, dass uns mit ihrer aktuellen Veröffentlichung "In Love We Trust" ein Album präsentiert wird, welches sich an ihre bisherige erfolgreiche Diskographie durchaus anschließt. 
Der Opener "Emily", welcher verständlicherweise auch als Singleauskopplung diente, erinnert an The Crüxshadows, die mit "Sophia" auf ähnliche Art und Weise gleichnamige weibliche Wesen besungen haben. Kühl wirkende Keyboards, Synthie Sound und eine gute Portion an rockigen Elementen garantieren diesen Hit. 
In gleicher Ohrwurmqualität folgt "Hail Mary". Tanzbare, melancholische Strophen wechseln sich mit klassischem Dark Wave Refrain ab und gestalten sich somit clubtauglich. 
Und da aller guten Dinge drei sind, reiht sich in den starken Beginn des Albums auch "Desdemona" ein. Elektronische 'Spielereien' setzen Akzente, während sphärische Keyboardmelodien das gesamte Lied begleiten. Der teilweise elegisch klingende Gesang von Ronny Moorings bringt nötige und tanzbare Dunkelheit in das Stück. 
Mit "Judas" dürfte anschließend das traditionelle Grufti Herz höher schlagen, erinnert der Titel nicht zuletzt an alte The Cure Hits. Wabende Melodien und eine sich steigernde Synthieklanglandschaft runden dieses melodiöse Lied ab. 
Nachdem der Titelsong "In Love We Trust" eingängig und tempolastiger ist, wirkt "Sea Of Doubt" in Gesang und Melodie sehr bedrückend. Dunkel und traurig wird hier der Textinhalt an den Hörer gebracht. Ein großartiges Stück Melancholie. 
"Morning Glow" reißt einen dann wieder aus dieser Traurigkeit heraus und bringt - auch mit folgendem "Home Sweet Home" - Fröhlichkeit und Tempo zurück in das Ohr. Auf in die Clubs, denn dazu muss getanzt werden! 
Wird mit "Love Got Lost" nun eine Antwort auf den Titeltrack gegeben? Man weiß es nicht. Was man aber weiß ist, dass dieses Lied vor Eingängigkeit nur so strotzt und sich die Rhythmen im Hirn festsetzen werden. 
Den Abschluss des Albums bildet "On A Mission". Mit diesem elektronischen Leckerbissen entlassen die vier Holländer den Hörer, der sich noch des Öfteren an dem Album ergötzen und sich auf der anstehenden Tour der Band davon überzeugen kann, dass Clan Of Xymox nicht nur gute Studiomusiker sind, sondern auch ihre Livequalität vermutlich zu überzeugen weiß. Man kann gespannt sein. 
Selbst die längeren Songs vergehen wie im Flug und man möchte die Repeattaste immer und immer wieder drücken. Auch wenn das Album teilweise sehr elegisch gehalten ist, so wird eine lethargische Stimmung doch verhindert und das Album macht mit allen zehn Songs und sehr guter Produktion Spaß. Clan Of Xymox beweisen auch nach knapp 25-jähriger Bandgeschichte, dass sie ein Händchen für melodiöse Rocksongs und gefühlvolle Balladen haben, welche sie an die moderne Neuzeit gut zu assimilieren wissen. So entstand wohl ein Album voller Frische. Ein erfolgreicher Fang für das Label Trisol und ein uneingeschränkter Kauftipp von mir! 
Anspieltipps: Emily, Judas, In Love We Trust, Sea Of Doubt 
amazon.com David Cordez 
You can pretty much anticipate the release of a new Xymox album like the changing of the seasons. Here I was just thinking that it was about time for a new Xymox album to come out and behold... here it is! Yet another traditional purchase made on blind faith and as always the Clan does not disappoint. Ronny's passionate droning vocals and electro-goth synth keeping the alternative movement going in the 21st century without sounding archaic or dated nor should we come to expect anything less from the brilliant Clan from Amsterdam, with elegant cover art provided courtesy of the ever talented Mojca. 
In Love We Trust begins with the obsession of "Emily" and is evocative of Xymox's elemental ecstasy and the Emily single EP makes an excellent companion piece with brilliant remixes (Emily, my Emily, my Emily...) and continues with the hymns of "Hail Mary," the deception of "Desdemona" and the betrayal of "Judas." You can hear Ronny's bitter sorrow on "In Love We Trust" to the downbeat yearnings of "Sea of Doubt" and the melancholy of "Morning Glow" will leave you longing for more. The ballad-like "Home Sweet Home" follows about a disembodied soul transitioning to the elegiacal melody of "Love Got Lost" and concludes with "On A Mission" which was released previously on the Heroes EP and is slightly altered and improved here. There's really no need for comparisons to their previous works because each consecutive release in their repertoire is just consistently good especially coming off their last album, 2006's brilliant Breaking Point, but "a rose by any other name would smell as sweet." 
The Clan keep forging ahead making the music they want to make and we just keep loving them for it. Past and present collide with a resplendent timelessness and It's hard to believe this band has kept going for 25 years and they never get old with a longevity and sustenance that consecrates their music like fine aged wine. In Love We Trust should more than satisfy your wanton Xymox thirst until their next imminent release. In the meantime, pour yourself a glass, put your playlist on REPEAT and enjoy. 
Sideline 
Clan Of Xymox signed to a new label and the best way to start this collaboration was probably to release one of the best albums in years! The "Emily"-maxi was a strong appetizer and now comes the album, which is a real accomplishment. With all the respect for this legendary band, but according to me the band of Ronny Moorings was stagnating for too long. The releases remained pleasant, but with less highlights. "In Love We Trust" sounds like a rather optimistic title for a gothic formation and even if Clan Of Xymox didn't reinvent their sound they released a fully pleasant album. Opening with "Emily" is probably the best way to catch the attention of all their fans. This song is a rather traditional song in the style of the band although the carrying and melodious side spiced with some electronic bleeps on top is simply marvelous. The little Sisters Of Mercy touch in the guitar parts isn't exactly new, but here again seems to indicate a kind of back to the roots. I'm not saying that this album moves back to the early years of the band, but the melodious touch is for sure a familiar element. The main force emerging from this album has to be found in the kind of carrying gothic-pop sound. I'm not affirming that the sound of Clan Of Xymox has become 'happy sounding', but the strong melodies are adding a ore pronounced poppy side that can makes you happy. Well, that's what music is for isn't it? A few moody songs with the remarkable "Sea Of Doubt" are just like preparing an astonishing apotheosis. The last part of this album is simply great. With songs like "Home Sweet Home", "Love Got Lost" and "On A Mission" the band here has written some of their best songs in years. The mix of typical new wave guitars and melodious pop choruses are outstanding. The melodies are appealing and will take the listener by surprise. I'm not ashamed to say that I here rediscovered the 'best' part of Clan Of Xymox 
Artnoir.ch 
Written by: Luke J.B. Rafka 
25 Jahre – Eine Dekade ohne Ende! 
Wie lang drei Jahre sein können, beweisen nun Clan of Xymox, eine Band aus Nimwegen, die 1984 aus der niederländischen Hausbesetzerszene hervorging und seit den 1980er Jahren zu den bedeutendsten Vertretern im DarkWave-Umfeld zählt. Drei Jahre ist es nun schon her, dass ein Longplayer von CoX das Licht der Welt entdeckte. 
Eine Band, die den klassischen Weg zum Erfolg niemals in Vergessenheit geraten lässt. Proben, proben und nochmals proben und dabei den eigenen Style kreieren. Das machen CoX bereits seit 25 Jahren. Eine Dekade ohne Ende! Und das ist auch gut so! Gibt es heutzutage doch viel zu wenige dieser Bands, die Ihren Style über die Jahre erfolgreich durchbringen. Erinnern wir uns doch einmal mehr gut und gerne an die Klassiker wie "Louise", "This World" oder "Michelle", die bestechend den Style der Holländer wiedergeben. 
Nunmehr schreiben wir das Jahr 2009 und die Musiker aus dem Land der Tulpen und Windmühlen kredenzen uns eine weitere Longplayer-VÖ in Form von In Love We Trust, die mit Klassikern nur so bestückt ist. 
Mit "Emily" startet gleich ein neuer, möglicher Kultsong. Die Synthparts sind wieder einmal typisch für CoX und ihrem ausgeprägten Wave. Der Gesang von Ronny Moorings trifft den Kern des Ganzen. 
Auch der zweite Track "Hail Mary" besticht mit Synthparts im Duett mit Ronnys Vocals. Der Refrain des Stückes prägt sich in jede Ohrmuschel und verfolgt einen bis tief in die Nacht und noch viel weiter. Die leicht angezerrten Gitarrenriffs bringen den Sound, auf den sich ein altes, verkapptes Waveherz freut. Der Sound, der schon lange in Vergessenheit geraten ist. Songs, die nicht nur gut geschrieben, sondern auch mit einer Präzision auf einem Tonträger verewigt wurden. Das ist das wahre Songwriting, wie es immer sein sollte. 
Eine Kultnummer nach der anderen. 
Und weiter geht es mit dem dritten Song "Desdemona" in ebenso gleich atmigem Style. Ob in diesem Song allerdings über die Gattin von Othello, dem Mond des Planeten Uranus, dem Asteroiden oder der Stadt in Texas besungen wird, solltet Ihr Euch selbst ausmalen. Wer diese Band kennt, weiss wovon Ronny da singt. 
Nicht, dass es langweilig werden würde, aber CoX haben das Zeug einen Top Hit nach dem anderen zu produzieren und kaum jemand gebührt dem die Ehre, die sie verdient hätten. Liegt es vielleicht daran, dass diese Band bzw. deren Label nicht solche Promowellen fährt, wie es andere machen? Schaut Euch doch mal die Magazine an, findet Ihr 2-3 seitige Anzeigen, Berichte über diesen Act? Eher selten oder? 
Mit "Judas", dem vierten Stück des Albums wird eine Thematik angesprochen, die seines Gleichen sucht. Und auch dieser Song spricht in einer – typisch für CoX-Songs – wavigen Sprache, wie sie uns einst einige Künstler Ende der 1970er/Anfang 1980er lieferten. Überhaupt würde ich mal sagen, dass diese Holländer die Stärke haben und die Zeit mit sich tragen, um sie ohne weiteres mit solchen Kultstars wie David Bowie, Iggy Pop oder gar Billy Idol in einen Topf zu werfen. Die heutigen On-Top-Acts wie Diary of Dreams oder Deine Lakaien – um nur einige zu nennen – die in den letzten Jahren das Zepter in diesem Genre übernommen hatten, sind nun wieder enthront. CoX sind die wahren Götter des modernen Waves. 
Das zeigt auch der folgende Titeltrack "In Love We Trust". Die klassischen Waveelemente des Basses. Die etwas angedröhnte Stimme des Sängers und überhaupt des ganzen Promboriums. Wer sie einmal live gesehen hat, weiss wovon ich spreche… bei diesem Song kann man es nur erahnen. 
"Sea Of Doubt" geht dann schon eher in die Richtung der guten, alten Songs von Cure. Hier von Akupfern zu reden wäre fatal, ebenso lang wie die Briten kredenzen uns die Holländer Musik vom Feinsten. Ruhig, melancholisch und ein wenig kränklich kommt es daher. Einfach wunderbar getragen vom typischen Wavecharakter. 
Im nächsten Stück stehen die Gitarren im Vordergrund der Musik. "Morning Glow" ist ein Wavesong, wie er im Buche stehen könnte, mit absoluten Orhwumcharakter… mir geht der Refrain "…in the morning glow…" einfach nicht mehr aus dem Kopf – mit den Gitarrenparts, die ich schon so lange vermisst habe. Ich bin mir sicher, dass ein jedes Waveherz der alten Schule auch hier Gefallen finden wird. 
"Home sweet Home", zum Beispiel erinnert mich vom ersten Sound an, ein wenig an eine Mischung aus David Bowie, jugendlichen VNV-Nation mit einer Prise Iggy Pop. Die Stimme klingt fast wie die Bowies oder gar Iggy Pops. Rauh, beruhigend und doch klagend melancholisch. Wem im Jahre 2007 noch nicht klar wurde, warum CoX "Heroes" von David Bowie coverten, weiss es spätestens jetzt… 
Dass CoX allerdings mit der Zeit gehen, wie es auch immer wieder oben genannte Künstler taten, merkt man am ganzen Album. Der eifrige Zuhörer hört doch ganz klar die moderne Welt des Electros heraus, allerdings sehr seicht und nicht wie es bei den altbekannten Electroacts der Fall ist. 
"Love Got Lost" scheint einer der härteren Songs von CoX zu sein, wenn man wirklich von hart reden kann. Der Gesang ist weiterhin in Melancholie getränkt, der Rhythmus ebenso und die Synths plänkeln der Neuzeit entgegen. Einfach wunderbar zum Hören. 
Der letzte Track ist dann der absolute Tanzflächenfüller für alle Wave und Electrofreunde zugleich. "On A Mission" besticht mit typisch tanzbaren Synthklängen und nicht wenigen, schönen Effekten. Hiermit beweisen CoX die Tragfähigkeit ihres Könnens. 
Fazit: 
Ein hervorragend produziertes Album, wie es schon lange keine original Waveband mehr geschaffen hat. Absolut empfehlenswert! Mit neuen kultverdächtigen Klassikern wie "Emily", "Home Sweet Home" und "Hail Mary". 
Einfach wunderbar getragen von wenig Promotion und nicht – wie heutzutage üblich – die von Macht besessenen, geldscheffelnden Labels veröffentlicht… 
Es macht einfach Spass sich bei dieser Mukke fallen zu lassen und den Klängen zu lauschen. Weiter so – Hut ab für diese Leistung! 
Euer Luke 
Medienkonverter 
Die niederländischen Dark Wave-Heroes Clan of Xymox sind zurück. Drei Jahre nach dem Album "Breaking Point" und pünktlich zum 25-jährigen Bandjubiläum legt die Gruppe um den Wahl-Leipziger Ronny Moorings ihr neues Album vor. Letzterer ist wahrhaftig ein Phänomen, denn nur wenigen Musikern der Szene gelingt es, über eine solch lange Zeit konstant hochwertige Veröffentlichungen zu produzieren – vielleicht auch deswegen, weil sich Clan of Xymox in alle den Jahren trotz zunehmend moderner, elektronischer Einflüsse einfach sich selbst treu geblieben sind, keinen Hang und Zwang zu Experimenten verspürten und sich für ihr Songmaterial stets die Zeit genommen haben, die sie brauchten. So bleibt die Liste an Clan of Xymox/Xymox-Werken auch nach einem Vierteljahrhundert immer noch schön überschaubar, dafür aber voller Highlights, die fast schon einer kleinen Zeitreise durch den (Clan of) Xymox-Kosmos gleichen. 
Rund um das Thema Liebe, stets pendelnd zwischen aufkeimender Hoffnung und tiefer Verzweiflung, hat Ronny Moorings zehn bewegende Stücke geschrieben, die unverkennbar Clan of Xymox sind und dabei gleichzeitig einen kleinen Schritt weiter gehen als die bisherigen Veröffentlichungen. Ohne zu Lasten des COX-typischen Gitarren- und Bassspiels zu gehen, wurden hier und da ein wenig die Beats aufgemöbelt, die melodischen, markanten Synthieflächen und Ronny Moorings unverkennbare Stimme gehen allerdings in altbekannter Manier ins Ohr. Mit seinem angenehm moderaten Tempo und einer perfekten Balance zwischen düsterem, elegischen Wave und moderner Elektronik ist der Opener- und Single-Track "Emily" ein Klassiker-Anwärter, perfekt gefolgt vom etwas langsameren, verzweifelt-schönen "Hail Mary". In schönster Gothicrock-Manier, hymnisch, eingängig und kraftvoll, lassen "Desdemona" und "Judas" anschließend an wunderbare alte Schwarzromantikzeiten zurückdenken – eigentlich die wahren Album-Helden, wenn man Tanzflächenkompatibilität nicht zwangsläufig mit electronic beats gleichsetzen muss. Ähnlich spektakulär und von immenser gefühlter "Morning Glow", während der Titeltrack "In love we trust" mit viel erdiger Sisters-Attitüde und dezentem elektronischen "Unterbau" aufwartet. 
Mit "Sea of doubt" steuert das Album nun erstmals in sehr ruhiges Fahrwasser und entfaltet in dieser atmosphärischen, voller Melancholie und Trauer getränkten Synthie-Ballade seine volle Schönheit. Ein wenig aus dem Raster heraus fällt nach "Morning Glow" der Titel "Home Sweet Home", der fast schon – trotz der außergewöhnlich tief angesetzten Stimme von Ronny Moorings – aufgeweckte Fröhlichkeit und Erwartungsfreude versprüht. Mit "Love got lost" ist dem positiven Gefühl aber schon wieder ein Ende gesetzt, schlagen Clan of Xymox hier erneut düstere, future poppige-Töne an – tempomäßig zwar verhalten, aber mit vergleichsweise druckvollem Beat. Zusammen mit dem fast schon Dark Techno-ähnlich "aufgebrezelten" Abschlusstitel "On a Mission" dürften diese Stücke den größten Kontrast zu den übrigen Albumstücken und bei langjährigen Fans vielleicht auch einen kleinen Stein des Anstoßens bilden. Hoffen wir mal, dass dieser Albumabschluss nicht die musikalische Marschrichtung für den Nachfolger angibt. Die darf nur allzugerne in Richtung "Desdemona" und "Morning Glow" gehen, denn das ist wirklich sehnsuchtsvoller Electronic Gothic Rock at it's best! 
Natürlich erscheint das Album in der Erstauflage auch wieder als optischer Genuss, nämlich als opulent aufgemachter Digipack mit durchgestyltem Booklet, welches die musikalischen Kostbarkeiten wundervoll ergänzt. Ein traumhaftes Highlight für den Herbst, den Winter und viele weitere Jahreszeiten, denn satt hören kann man sich an "In love we trust" so schnell nicht. Clan of Xymox ist mit diesem Album, wie schon bei "Farewell", "Notes from the Underground" und natürlich "Medusa", erneut ein Meilenstein in der eigenen Erfolgsgeschichte gelungen. 
Darkentries 
Een vertrouwde naam, deze clan Of Xymox, die voor dit nieuw album de Pandaimonium stal verliet en uitweek naar het Trisol label. Enige tijd geleden verscheen daar trouwens al de veelbelovende voorbode, de sterke singel "Emily". Blijkbaar heeft de overstap naar het nieuwe label de groep rond Ronny Moorings deugd gedaan. Want waar de vorige releases net ietsje te geforceerd leken, met een te prominente rol voor de elektronica, ademt deze "In Love We Trust, weer die authentiek Clan of Xymox sfeer en valt de groep niet op één zwak moment te betrappen. Sterk. En Meteen ook het sterkste Clan Of Xymox album in meer dan 10 jaar als je dan toch om mijn mening verlegen zit. 
Nochtans is er muzikaal niet echt veel nieuws onder de zon, een elektronische ruggengraat waar overheen gitaren melancholische dark wave kieperen gespeend van sterk melodieën en Moorings melancholische zang. Op "In Love We trust" valt het allemaal weer netjes in het verlengde van de meesterwerken "Clan of Xymox" en "Medusa", ook al zijn we dan al twintig jaar verder. De singel "Emily' is sterk zonder meer, maar ook de slepende dark wave ballad "Sea Of Doubt" is meesterlijk, of nog het ingetogen, sfeervolle "Home Sweet Home"… Ach over elk nummers valt vooral veel positiefs te zeggen en ondanks de uitgesproken sfeer van het album blijft alles nog mooi dansbaar op de koop toe. Het enige nummer dat enigszins een beetje uit de toon valt is "On A Mission" omwille van het elektronische (dansvloer)karakter, doch één nummer in deze stijl op het album maakt het allemaal zeer verteerbaar voor een oude Clan Of Xymox fan als ondergetekende. Dit is de dark wave die Clan of Xymox moet maken, eigentijds maar verpakt in mooie, sfeervolle dromen van weemoed, hoop en vooral onwerkelijke schoonheid. Proficiat Ronny Moorings en getrouwen. Ik vreesde even dat Clan of Xymox het had verleerd maar deze "In Love We Trust" maakt alles meer dan goed. Vergeet niet, lezer, dat de eerste oplage in een luxueuze digipak komt en er is geen enkel argument waarom u deze eerste editie niet zou kopen. Het album van deze zomer! 
24/08/2009, Kurt Ingels 
Scarred for Life 
Wenn man sich zu weit aus dem Fenster lehnt, kann es mitunter passieren, dass man einen schmerzhaften Sturz erleidet. Sehr weit aus dem Fenster lehnt man sich im Promozettel zum neuen CLAN OF XYMOX-Album "In Love We Trust", in dem allen Ernstes behauptet wird, dass man diese Platte in einem Atemzug mit unsterblichen Klassikeren wie THE CURE's "Disintegration" oder "First And Last And Always" von THE SISTERS OF MERCY nennen wird. Mit einer solchen Aussage kann man sich doch eigentlich nur ganz böse auf den Hintern setzen, oder? 
Nun, ob ein Album ein Klassiker wird, lässt sich nur schwer voraussagen, das muss und wird der "test of time" zeigen, wie man im Englischen so schön sagt. Die Niederländer CLAN OF XYMOX können sich aber zumindest damit rühmen, in ihrer fast 25-jährigen Karriere den einen oder anderen Klassiker-Song geschrieben zu haben und auch einem Album wie "Medusa" (1986) kann man durchaus das begehrte Prädikat verleihen. 
Nichtsdestotrotz ging ich skeptisch an "In Love We Trust" heran - und wurde buchstäblich aus den Socken gehauen. CLAN OF XYMOX gelingt das seltene Kunststück, traditionelle Dark Wave-Klänge mit zeitgemäßen Synthie-/ Futurepop-Sounds zu vermengen und in zehn Songs zu gießen, die nicht nur restlos überzeugen, sondern berühren, fesseln und begeistern. Zum Sterben schön und elegisch kommen akustische Diamanten wie das atmosphärische "Sea Of Doubt" und das zu Tränen rührende "Morning Glow" daher, während lebendige Songs wie der Ohrwurm und Clubhit "Emily", das nicht weniger begeisternde "Hail Mary" und das recht elektronische "On A Mission" zum Tanzen einladen. 
Jeder der zehn Songs ist ein kleines Kunstwerk und lebt von einer eigenen Atmosphäre; die Schnur, die diese Perlen zu einer wunderschönen Kette verbindet, ist die leicht sonore, dunkle Stimme von Frontmann RONNY MOORINGS. Zur Frage, ob "In Love We Trust" wirklich das Zeug zum Klassiker hat, kann und will ich mich an dieser Stelle nicht festlegen. Ein richtig tolles Album ist es aber auf alle Fälle und es beweist, dass CLAN OF XYMOX nicht ohne Grund den Status Kultband innehaben. 
Andy 
Rockportaal 
Recensie geschreven door: Beautevil 
Clan Of Xymox is (sinds hun eerste release in 1985) een beetje de Nederlandse The Cure. Met die vergelijking zal niet iedereen tevreden zijn, maar het zegt voor de neutrale Rockportaal lezer wel goed waar deze (van oorsprong) Nederlandse band muzikaal te vinden is. Wave muziek die lekker swingt, maar tekstueel niet altijd even vrolijk is. De kunst van Clan Of Xymox is echter dat zij een meer constante lijn hebben gevolgd dan The Cure die meer van het pieken en dalen is. Bovendien heeft COX de laatste jaren steeds meer het geluid verfijnd met synth invloeden waarmee het een eigentijds geluid bleef houden. Dat zeggende klinkt "In Love We Trust" toch weer als een stapje terug in de tijd. Gebleven is de synthesizer, maar productioneel klinkt het meer jaren tachtig dan de platen hiervoor. Soms klinkt de productie zelfs een beetje dof. Muzikaal gezien biedt deze plaat ook geen verrassingen, maar dat is geen slecht teken. Ronny Moorings weet namelijk goede, meestal dansbare, nummers te schrijven. Luister maar bijvoorbeeld naar opener (en single) 'Emily', 'Hail Mary' en 'In Love We Trust'. Lekker wegzakken in alle ellende kan echter ook, want de ballad 'Sea Of Doubt' bevat alle kenmerken om meezingend het hart te luchten. Voor de volgers van COX levert "In Love We Trust" een comfortabel bed die al zo lang bekend is, voor mensen die nog nooit van deze band gehoord hebben is deze plaat een goede kennismaking. 
Oblivion 
Clan of Xymox sind seit fünfundzwanzig Jahren unbestritten eine Institution in der Gothic-Szene. Auch wenn die Konzerte nicht immer vor Energie strotzen, auf CD war auf den Wahl-Leipziger Ronny Moorings und seine jeweiligen Mitstreiter stets Verlass. So wird dann auch "In Love We Trust" niemanden enttäuschen, denn die Kombination aus flirrenden Gitarren, treibendem Bass, unterkühlter und sparsam eingesetzter Elektronik sowie der durchgängigen Tanzbarkeit ist das unveränderliche Markenzeichen der Band und bleibt einfach unerreicht und einzigartig. Die zehn Songs auf "In Love We Trust" warten erneut mit eingängigen Melodien auf, eingebettet in ein spannungsgeladenes und versiertes Songwriting, wie man es sonst höchstens noch von den Australiern Ikon kennt. Höhepunkte des Albums sind dabei das grossartige Titelstück "In Love We Trust", das getragenere, und an alte Wave- und 4AD-Zeiten erinnernde "Sea Of Doubt", im übrigen mit für Clan of Xymox ungewöhnlichem Gesang, sowie das treibende "Love Got Lost". Clan of Xymox haben es als eine der wenigen Bands im Goth-Genre geschafft zu überleben und ihre 80er Jahre Wurzeln in die Gegenwart zu retten. Dafür alleine und für nach wie vor brillante Alben wie "In Love We Trust" gebührt Ronny Moorings Respekt.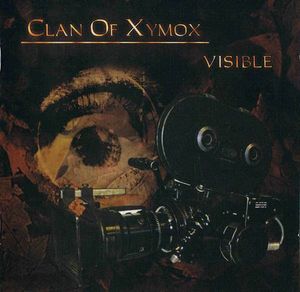 Orkus 
Review "Visible" DVD Orkus 
So knapp der Titel Visible auch anmutet-das, was dahintersteckt, ist es beileibe nicht. Gleich zwei digitale Scheiben haben Clan Of Xymox mit haufenweise Material vollgestopft. Dabei sieht man Ronny Moorings, Mojca Zugna und Band meist auf der Bühne agieren,besteht ein Großteil der Videos doch aus Live -Aufnahmen. Die fallen recht unterschiedlich aus, schließlich wirkt ein Gig im dunklen Club mit einzelnen Lichteffekten ganz anders als eine Show auf der riesigen Open Air-Bühne des M'era Luna oder Zillo-Festivals. Beides sicher reizvoll, wobei eine ziemlich gute Auswahl getroffen wurde. Gleiches lässt sich zur Wahl der Songs sagen. Von absoluten Klassikern a la This World und Louise bis zu frischen Stücken wie We Never Learn oder Heroes ist einiges vertreten. 
Zum letzteren Bowie-Cover gibt es denn auch einen Clip in Schwarzweiß, der zwar nicht mit spektakulärer Technik aufwartet, aber dafür mit viel Persönlichkeit und Ideen. Generell strahlen die beide DVDs eine gewisse Indieattitüde aus, wurde doch die Mehrzahl der Aufnahmen ohne professionelle Kamerateams gestaltet und am Ende von Fronter Moorings selbst bearbeitet und zusammengestellt. Das macht die Sache für Fans besonders interessant,Visible überzeugt einfach mit einer Menge Authentizität. Abgerundet werden Clips und Live-Videos noch durch etliche Backstageimpressionen und gar ein kurzes Interview. Letzteres hätte ein wenig umfangreicher oder irgendwie spannender ausfallen dürfen. Aber man sollte es wohl eher als kleinen Bonus sehen, immerhin bietet das Material schon wirklich viel Clan Of Xymox. 
–– 
Review "Visible" DVD Re-flection 
Geschrieben von Ingo Möller    
Mittwoch, 02. April 2008 
Ronny Moorings hat sich sehr viel Zeit genommen, um das gesamte Material für die erste Clan Of Xymox DVD der langjährigen Bandgeschichte zusammen zu stellen. 
Nun liegt das Ergebnis mit Namen "Visible" als Doppel-DVD in einem gewöhnlichen Doppel-CD Slipcase vor. 
"Visible" führt dem Fan der Band auf der ersten DVD insgesamt zehn Clan Of Xymox Videos vor Augen, die über einen Zeitraum von mehr als neun Jahren gesammt und nunmehr erstmalig komplett veröffentlicht worden sind. 
Aufgrund des limitierten Budgets, das für Videoproduktionen im Indiependentbereich zur Verfügung standen und stehen, muss man die Kriterien für die Bewertung der optischen Umsetzungen der Clan Of Xymox Songs relativieren. Die Bildqualitäten diverser Videos sind recht mäßig und man hat sich oftmals vermehrt Live-Einblendungen bedient. Und auch wenn die anderen Sequenzen der Videos mitunter recht steif und amateurhaft wirken, so wissen sie dennoch zu gefallen. Es ist einfach herrlich, diese unverbrauchte Naivität zu konsumieren und nicht mit 100% durch produzierter Kost auf Durchschnitts-MTV-Niveau abgespeist zu werden. 
Neben den Videos gibt es dann auf dem ersten Silberling noch einige Live-Mitschnitte von früheren Zillo-Festival (Gott hab es seelig) Auftritten der Wave-Gothic Band zu bestaunen. Nicht nur das Geschehen auf der Bühne wurde ordentlich eingefangen, auch das Betrachten der Leute von vor zehn Jahren lässt einen doch des Öfteren schmunzeln. Und dann ist es doch immer wieder erschreckend, wie schnell die Zeit vergeht. 
Die zweite DVD ist dann vom Material her deutlich frischer, denn es gibt den Clan Of Xymox Auftritt vom M'era Luna 2006 auf die Augen und die Ohren. Hier ist die Qualität dann auch schon deutlich besser und man sieht den Wandel der Zeit bei den Aufnahmen auf angenehme Art und Weise, denn für diese Aufnahmen zeigte sich das Team von Crazy Clip TV verantwortlich. 
Neben einem langen und interessanten Interview mit Mastermind und Bandkopf Ronny Moorings gibt es dann abschließend noch zwei weitere Clips von den Songs "Consolation" und "We Never Learn". 
Alles in allem eine gute DVD mit einem deutlichen Hang zu Live-Aufnahmen - schade ist dabei ansich nur, dass es kein komplettes Fulltime Konzert als DVD Version zu genießen gibt. Aber auch diese DVD-Mitschnitte sind ja besser als nichts - und wer weiß, vielleicht kommt eine zweite Clan Of Xymox DVD Veröffentlichung schneller, als man denkt.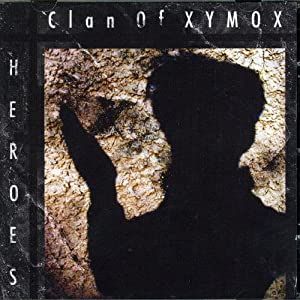 Heroes ( EP) review Orkus 
Orkus 
Mit seiner frischen Single erweist Ronnz Moorings seinem Idol David Bowie die Ehre und covert einen von dessen gröBten Hits, Heroes. Nicht sofort offenbart sich dem Hörer diese Verbindung, beginnt die neue Clan Of Xymox-EP doch mit einer Slow Induatrial Version des Klassikers, die schon deutlich vom Orginal abeicht.Keine schlechte Idee, zumal in alter Xymox -Manier nicht an Schwermut gespart wurde und somit mal ein wirklich interessantes Cover herausgekommen ist. Dagegenrecht nach am Orginal ist die zweite, spätere Pop-Variante, die den so berühmten Song wohlakzentuiert ins neue Millenium transportiert und auch jüngeren leuten die Einzigartigkeit des Stückes näherbringt. 
Als Intermezzo zwischen der aktuellen Platte Breaking Point und der für dieses Jahr erwarteten DVD befinden sich noch Be My Friend vom genannten Album sowie mit On A Mission ( in zwei Fassungen) ein völlig neuer Track auf der CD.Letzterer fällt wohl am ehesten unter die Katagorie ,,Dancefloor" und weist-wie die restlichen Stücke, mit Ausnahme der Industrial Version-die typischen Xymox-Komponenten von modernen Electro Sounds in Verknüpfung mit Gitarren auf. So bleiben am Ende fünf Tracks, die durchaus als nett zusammengestellte Maxi durchgehen können und gerade durch die Bowie-Cover einen gewissen Reiz bezitzen. Denn auch wenn der Clan -Meister Moorings bereits für etliche Outputs bekannt ist, stehen Fremdinterpretationen eher selten auf seinem Programm. 
Silvio Wolff , Orkus 06, 2007 
gothtronic 
Clan of Xymox is after the succesful most recent album Breaking Point back with a suprising MCD to shorten the wait on the upcoming for the fall of 2007 planned first Clan of Xymox DVD. This MCD is surprising because Ronny and co. cover a David Bowie classic, 'Heroes' in a very tasteful way. This they do with two versions, a modest and melancholic teinted 'industrial version', which really connects to the dark side of the typical Clan of Xymox style and a somewhat lighter and catchy wave-pop version. This MCD furthermore has a very good and also quite danceable song with 'On A Mission', in two versions of which the second is a bit more interesting compared to the first one. This song can be categorixed into the recent electro oriented tradition of songs such as ''There's No Tomorrow' and 'Weak In My Knees'. Finally there is a single version on this disc of the popular song 'Be My Friend', from the Breaking Point album. Clan of Xymox has not only managed to release a nice appetizer with this MCD, but also again one of a musicwise pretty high standard. Very accomplished. 
Music Non Stop 
With "Heroes" Clan Of Xymox take on one of the classics in music history and gives it back to the fans, new and with their own unique twist. The industrial version of the song is slow, almost melancholic in typical Clan Of Xymox style while the pop version of the original song is more of a homage to Ronny Mooring's time without the Clan. "On A Mission" is a Brand New track, done in the best tradition of club hits such as "There's No Tomorrow" or "Weak In My Knees" : great modern Electro / Guitar sounds for the Dancefloor scene. Finally "Be My Friend" ( one of the most successful songs from the "Breaking Point" album ) is included here in a new mix. 
Breaking Point 
Metalstorm 
Reviewed by DerRozzengarten 
The long-awaited new attempt of the legends of the dark wave scene after the really strong "Farewell" (2003) is finally reality and all of us can cherish the emotional beauty of Ronny Mournings' dreams, nightmares, desires, sorrows presented in small stories in the shape of inspired compositions. The name of it "Breaking Point" and I think that this specific album is really a "breaking point" for the band simply because it has that flawless feeling "Medusa" (1986) used to evoke to the listener, the feeling that everything that is present is present only for good and nothing more. 
Ronny Mourings and Clan Of Xymox seem to offer one of their strongest releases of the last 16 years, along with "Creatures" and "Farewell". The whole album is well-conceived, well-executed, filled with a beautiful and fragile surrounding atmosphere and, above all, the aesthetic that Clan Of Xymox always had, this very special and unique feeling that is present in their compositions throughout the years. The guitar work is one of the best Clan Of Xymox ever had, gothic-rock oriented just like on "Creatures" with the one brilliant guitar idea coming right after the other or having a more accompanying slightly present role, adding another beautiful and floating sense to the compositions. 
Clan Of Xymox seem to experiment with electronics more than ever before and all I can say is that the electronic touch of the album is quite successful, lending to it a more "mechanical" sense evoked through the "cold" and "lifeless" aesthetic of the electronic music. The synthesizers are used in a genius way and except for the electro-apparoch they lend to the album in some of its compositions they are always present through the whole duration of the album without forgetting to adorn it with a wailing and touching melancholic atmosphere. The drum machine is used in the most appropriate way, lending groove and pulse to the compositions, in the most ideal way, just like it has to be, and I guess none of you would expect Clan Of Xymox to have problems with the use of the drum machine in the year 2006 since they have been using it for the last 25 years! I think it's needless and pointless to talk about Mourings' vocal interpretation and lyrics, but I'll give it a try. For one more time Ronny offers a fabulous and flawless interpretation, whether he sings with his deep and "cold" accent or sounds more emotional and heart-rending, evoking emotions of solitude, utter melancholy and a feeling as if hope has perished, giving a really special meaning to the poetic and heart-felt lyrics. And this twisted crying female almost-monologue on "Pandora's Box" just leaves you so… empty… 
The variety of the album is of course something really positive. You will find the more danceable electro-driven compositions that have the power to become dance-floor favorites, the more gothic rock-oriented ones with the upbeat and groovy feeling and the fragile and serene ones that will definitely make sorrow blossom in the core of the listener's soul. The album flows as one and there's no need for pointless high-light pick ups, the only thing you have to do is press the play button and drown because Clan Of Xymox albums should be embraced as whole experiences and not single parts. 
Well, Clan f Xymox is a legendary act of the dark scene and "Breaking Point" is a really mature album, another one, filled with intensity, deep emotions and an atmosphere adorned with roses… 
http://www.metalstorm.ee/reviews/more_review.php?id=1788 
Chaindlk 
Every album Xymox release is always a challenge. They released their "Best Of" album that contains their greatest hits which made their fans thinking they were breaking up. A new studio cd proves Ronny, who is the main leader of the band is creative, unique, and know what direction to lead the band. A good reason why the band has been very successful all these long years that been passing us by. The cd opens up with the single "Weak In My Knees", a cutting edge club track that will draw you to the dance floor. "Calling You Out" and "Be My Friend" is a goth-rock killer with guitar. My favorite track also include "She's Dangerous", "Eternally", a mid-tempo track that talks about a relationship that already ended, but the ex-girlfriend came back looking for her ex-boyfriend trying to resolve things, which there's nothing to talk about because both went their separate ways years ago. The instrumental "Pandora Box" sounds like an ambient piece. Clan Of Xymox have the intention on bewildering us with their progressive music. "The Breaking Point" sets a new boundary for the band. If you have "Medusa", "Creatures", and "Notes From The Underground", this is what their new album sound inbetween. 
Review by: Donovan Tate 
Gothic Paradise 
Two years after the release of their exceptional Best Of release, we're now presented with the latest great work from this renowned band in the form of Breaking Point. It's hard to imagine how a band with such an extensive history can continue to "mature" their sound, but it seems they manage to do so in subtle ways that only long-time fans will really be able to notice. Overall they still capitalize on the same solid elements they've used over all of these years. Ronny Moorings uses his deep, angst-ridden vocals as a foundation and anchor for the music that has it's own groundwork laid down through solid synths and various guitar layers. 
To begin the album is the precursor single "Weak in my Knees" sporting the most recognizable elements from this band in their club- friendly, goth-rock sound. This track was released as a single several weaks ago including some nice remixes of this track along with remixes of their classic track "Michelle" and the appearance of "Calling You Out", also available on this album. It's with good reason that this piece was chosen as the single from this disc with it's powerful, electronics-based foundation. This is followed by two more danceable tracks in the form of "Calling You Out" and "She's Dangerous". These moving tracks feature everything from distorted guitar, various synth and electronic loops, but always with a solid beat, a deep steady flowing sound and Ronny's excellent vocals. 
At this point we're dragged down into the drowing depths of the deep emotional ballads that always manage to appear on each release from this band in the form of "Eternally". The lyrics follow suit with previous works, providing a profound look into the inner depths of the artists conscious. Along with the look into the meaningful lyrics these tracks provide, they also provide a break from the driving and sometimes harsher tracks for an excellent variety. This tempo remains through "We Never Learn" with another beautiful ballad that has quickly become another favorite of mine. 
After this short break we dive right back into the upbeat, dynamic sounds of "Be My Friend". The lyrics are interesting on this piece and by the title you wouldn't think this would be another driving club track. As it is, this selection would get my vote as the single for the album with a mix of "O Fortuna" choir samples accenting the solid synths and deep basslines that provide the musical backdrop. While the intensity of the album remains extremely strong, the tempo starts to slow with "Cynara" and marks the decline from the clymax of the previous track. Slowly you think the album begins to wind down with this piece and the instrumental ambient piece "Pandora's Box" featuring some nice samples and dreamy soundscapes. But once again at the conclusion of this piece we're launched back into the fray with the finale two pieces forming the finale of the album with a powerful exit. "Under the Wire" sports some of the most electronic elements in one track with minimal guitar, but then "What's Going On" goes all out with the electronics and synths without even a detectible hint of the guitar driven goth sounds. 
With that the album concludes and the listener can honestly say that this is another memorable album that won't soon be forgotten. It stands out in many ways against today's music, delving back into the gothic rock foundation that so many fans grew up listening to, while it has electronics, it varies from the onslaught of synthpop and EBM bands that have flooded the scene lately with each band sound exactly like every other band, and at the same time the artists haven't jumped onto the indie / emo rock bandwagon like so many others have, trying to make it into the teen-pop scene. They stay true to themselves and true to their fans while they still provide new and excellent music. 
Gothtronic 
The new tracks on the single 'Weak in my knees' created high expectations for the new Clan of Xymodx album on which these songs (title track and 'Calling you out' ) appear, but the other eight tracks on 'Breaking point' fulfil all that could have been expected. I didn't found any weak links on this release, also thanks to the variety of sounds, tempos and styles on the cd. Ronny Moorings managed to create new directions within a sound that remains typical, as we are used to hear from Clan of Xymox. 
Like the opening track 'Weak in my knees', the song 'Be my friend' sticks into your head after you heard it just once. The thrill of passion and mystery is in 'She's dangerous', nostalgia in 'Eternally' and it's almost like you watch a movie while you listen to 'Pandora's box', the soundtrack to a passionate play. 
Like we're used from Clan of Xymox the album shows a perfect mix between electronics and guitars with vocals which match within this sound. The lyrics are all expressive language, especially 'Calling you out' , 'Eternally', 'We never learn' and 'Under the wire'. And sometimes not too many words are necesarry to tell a story. 
'Eternally' is one of the best ballads in the Xymox oeuvre and with songs like 'Weak in my knees', 'What's going on' and 'Calling you out' , which will do very well on the dancefloor, some future classics are mentioned. For those who like the sound of Clan of Xymox, this release is a must have; it's one of the best albums, which shows that it's possible to express a kind of art that's familiar while it is original too. 
Listening to 'Breaking point' is like walking through an old sylish castle, while surrounded by the atmosphere of today's impressions of all that's going on in a life. A kind of reality which doesn't need any fantasy to be marvellous. 
***** 
Refuting the rumour of a possible break-up ( following "Farewell" and "The Best Of" releases ) Goth / Darkwave legends Clan Of Xymox are back with "Breaking Point" : possibly their most perfectly blended album yet. Featuring searing guitar lines, strong bass sounds mixed with atmospheric and powerful synths and Ronny Mooring's deep, sensuous and harmonic voice it delivers all of Xymox's trademark sounds and references offered in their iconic and unique style. This 'classic' sound is no more evident than on album opener and first single "Weak In My Knees" - a club hit par excellence : mighty tunes, powerful chorus line, a perfect sing-a-long melody which catches the listener in an instant. The following track "Calling You Out" shows them from their darker, even more aggressive side with straight guitar lines and no compromises, while "She's Dangerous" is yet another dancefloor hit - complete with infectious synth lines, driving rhythms and a permenant hook. "Eternally", "We Never Learn" and "Cynara" are songs that will capture the hearts of their older fans immediately - quiet, almost introspective, slow, thoughtful and eternal. "Be My Friend" presents another powerful club hit while album closers "Pandora's Box" - forms an interlude into the aggressive song "Under The Wire" ( a track that demonstrates perfectly the rockier side of Clan Of Xymox ) and finally "What's Going On" a melodic masterpiece that demands replaying. 
zillo 
Clan Of Xymox 
"Breaking Point" 
(Pandaimonium Records/Alive) 
Lasst euch nicht vom Titel in die Irre führen. Auch auf "Breaking Point" gibt es die von C:O:X: gewohnte Mischung aus Darkwave-, Electro- und Dancefloorelementen, eine Symbiose aus Gitarren und Synthies. Die Singleauskopplung "Weak In My Knees" eröffnet das neue Album. Ein Clubhit, der sicher bald schon in einem Atemzug mit "This World" und "There´s No Tomorrow" und ihren anderen Dancefloor-Smashern genannt werden wird. Weiter geht es mit "Calling You Out", das auch schon auf der Single zu finden war. Langsamer, düsterer und sehr eingängig wird dieser Song von vielen Fans heiß und innig geliebt werden – etwas zum zu Hause Hören. Und so geht es weiter, tanzbare Stücke wie "She´s Dangerous" wechseln sich ab mit langsameren wie "Eternally". Letzteres ist zweifelsohne eines der absoluten Highlights des Albums. Melancholisch-schön, sehr atmosphärisch und mit einer unwiderstehlichen Hookline zeigt es die Band wieder einmal von ihrer allerbesten Seite. Schwelgerisch, ergreifend – so kennen und lieben wir C:O:X:! Mit "Pandora´s Box" ist auch ein musikalisches Zwischenstück enthalten, quasi eine Überleitung zwischen dem getragen klingenden, langsamen "Cynara", das anfangs fast ein wenig an Cure erinnert und den abschließenden zwei Dancehits, von denen "What´s Going On" der mitreissendere ist. Ein wunderbares, zeitloses Album voller starker Melodien, das insgesamt gesehen langsamer und melancholischer als sein Vorgänger ausgefallen ist. Bei Fans von C:O:X: dürfte "Breaking Point" auf der Liste der besten Alben der Band ganz weit oben rangieren. Perfekt! 
Orkus 
Breaking Point 
CD (Pandaimonium/Al!ve) 
vorauss. 21.04.2006 
Mit den ersten Tönen der neuen Clan Of Xymox-Platte möchte man meinen, dass der Titel Breaking Point nichts Gutes zu verheißen hat. Schluss mit zeitlosen Wave Goth-Perlen, stattdessen belangloses Future Pop-Gedudel? Zum Glück nicht. Denn ein paar verwirrende Beats später hallt einem die wohl bekannte dunkle Stimme Ronny Moorings' entgegen, Gitarren mischen sich dazu, und die vorab ausgekoppelte Single entwickelt sich zu einem mächtigen Song voller Melodie und vor allem Tanzbarkeit. Die perfekte Symbiose aus modernen elektronischen Sounds und einer atmosphärischen Wave-Attitüde. Grundsätzlich trifft dies ebenfalls auf die übrigen neun Stücke zu, auch wenn Weak In My Knees schon das elektronischste Lied bleibt. Zwar befinden sich mit Calling You Out, She's Dangerous und Be My Friend noch weitere Tanznummern auf dem aktuellen Album, doch entfalten diese eine noch dichtere, dunklere und eindringlichere Atmosphäre. Nach dem für meine Begriffe eher einseitigen Vorgänger Farewell haben es Clan Of Xymox mit Breaking Point wieder geschafft, ein sehr ausgefeiltes und abwechslungsreiches Werk zu produzieren. Die Gruppe um Ronny Moorings beweist auch nach 22 Jahren Bandgeschichte, dass sie – ihren eigenen Stil bewahrend – am Puls der Zeit ist und problemlos an ihre besten Tage anknüpfen kann. (9) 
Silvio Wolff 
http://www.re-flexion.de 
Licht aus, Spot an! Ronny Moorings meldet sich mit seinem Clan Of Xymox zurück und präsentiert mit dem neuen Album der Band im wahrsten Sinne des Wortes einen "Breaking Point". 
Waren die letzten Clan Of Xymox Veröffentlichungen "Notes From The Underground" und "Farewell" noch betont clublastig, so eckt das neue Werk nur noch vereinzelnd an eben dieses Aushängeschild an. 
Vielmehr driften die Niederländer bei den Titeln auf "Breaking Point" doch häufig in Richtung älterer Vergangenheit ab und zeigen sich charismatisch düster und phasenweise sogar epochal. 
Obwohl die Vorab-Maxi-CD "Weak In My Knees" fast komplett elektronischer Art war und die ansonsten von Clan Of Xymox favorisierten Gitarrenriffs in den Hintergrund stellte, führt "Breaking Point" die musikalischen Grundwerte der Single, die gleichzeitig auch Opener des neuen Albums ist nicht wirklich fort. 
Ronny Moorings nimmt den Hörer mit auf eine Reise durch dunkle Welten, lässt ihn mit ruhigen sphärischen Sounds in Melancholie eintauchen, um ihm sodann aber auch unverhofft wieder aus dieser mittels flüssiger Beats zu entreißen. 
Es ist bemerkenswert, mit welcher scheinbaren Selbstverständlichkeit Clan Of Xymox die musikalischen Sprünge zwischen den Epochen der Bandgeschichte vollzieht und wie beeindruckend die einzelnen Schwerpunkte dieser zu neuen Songs zusammen wachsen und das Ergebnis in den wunderbaren qualitativ hochwertigen Pool der Zeitlosigkeit eintaucht. 
Neben "Weak In My Knees" gibt es mit "She´s Dangerous" und "Be My Friend" noch weitere sehr tanzbare Stücke auf dem neuen Album. Das sanfte Gegenlicht dazu bescheint das neue Werk in Form von wunderbaren tief unter die Haut gehenden atmosphärischen Titeln wie "Eternity", "We Never Learn" oder auch dem Schlusspunkt des Albums "What´s Going On". 
zurück 
Hardwired 
http://www.hard-wired.org.uk/GothReviews.htm#Xymox150406 
Clan of Xymox are one of those bands that I have been aware of for many years. I've seen them live a couple of times and enjoyed their music when I've heard it, but you could never say I was a devoted fan. Clan of Xymox provide soundtracks for both the dance floor and the boudoir, offering dance beats for the former and introspective atmospheres for the latter. 
I get the strangest urge to wave my hands aloft during "Weak In My Knees". The synthesisers are to the fore, with a touch of Vangelis circa Bladerunner. While much dance music is anonymous, singer Ronny's voice gives the music a human quality. There's some near submerged guitar, which gives the song an edge. "Calling You Out" has the synthetic textures of early Simple Minds. Whether this song is about duels, cricket or something else entirely is not satisfactorily made clear. There's distorted guitar, which keeps things interesting. 
"She's Dangerous" abandons the harsh sound for a more strummed- acoustic guitar-led style. There are still electronics in the background – and occasionally in the foreground – but you no longer feel you're been bludgeoned by dance beats. Monks go 'ahhh' in the background, which is a selling point for me. I do worry about Ronny though. The female protagonist of the song doesn't sound like a healthy influence in his life. Perhaps this song is a salutary tale of the dangers of Internet dating: "I met her on-line. She took a step back. I saw her undress. She's like a goddess..." 
With its soaring synthesisers, cyclical bass and filigreed guitar "We Never Learn" sounds like The Cure circa The Head On The Door. Despite its depressing outlook - this song gives "Sinking" a run for its money in ability to drain all hope from you - this song is thrilling. Elsewhere "Be My Friend" sounds spookily like New Order, crossed with the demonic chants of Carmina Burana. In particular the guitars, Ronny's vocal delivery and the simplicity of the lyrics all conjure images of Barney Sumner and friends. "All the gifts you gave to me, it was plain for me to see, that you leave no stone unturned..." 
Vintage synths usher in "Cynara". Some flourishes of Eastern promise keep things interesting. Meanwhile "Pandora's Box" starts like Dead Can Dance if they'd been regular visitors to Maplins, rather than the World Music Shop on the High Street. With a woman talking seductively and hysterically over the top of the languid synths it's like hearing a French film, though it makes me feel as if I'm missing out on some of the action without the visuals. 
We're dancefloor bound for "Under The Wire". I prefer the slower introspective side of the band – but Ronny's charismatic vocals keep the interest rate high despite the repetitive beats. "What's Going On" is another song for the disciples of the glow stick. There's a Gary Numan-esque feel to this track. Ronny plaintively repeats the title of the song, before asking: "Tell me, what went wrong?" Then we're led into an instrumental break worthy of Depeche Mode. 
Due the Clan of Xymox's consistency of releasing high quality albums recently it can be tempting to take the band for granted, but who could have predicted when the band emerged in 1984 that they would still be a potent force in 2006? 
Legacy 
CLAN OF XYMOX "Breaking Point" 
(Pandaimonium/Alive) 
Nachdem der Vorbote des neuen Albums, die EP "Weak In My Knees", schon für durchweg positive Resonanz sorgte, liegt nun endlich das siebte Studio-Album der Band um Ronny Moorings vor. Eröffnet wird das Album mit eben genanntem Titel, welcher sicher bald zu den CLAN OF XYMOX-Klassikern zählen dürfte und als waschechter Club-Hit bezeichnet werden darf. Es folgt das etwas langsamere, aber nicht weniger eingängige ´Calling You Out´. Dieser Wechsel von tanzbaren und ruhigeren, atmosphärischen Songs zieht sich durch das gesamte Album. ´She's Dangerous´ und ´Be My Friend´ gehören definitiv in erstere Kategorie, wobei beide Stücke atmosphärisch noch dichter sind als der Opener. Das Highlight, wenn man das bei einem Album, bei dem jedes Stück für sich schon eine Single-Auskopplung rechtfertigen würde, überhaupt sagen kann, besteht in dem langsamen, getragenen ´Eternity´, da der Song besser als die anderen die Essenz, die Einzigartigkeit von CLAN OF XYMOX widerspiegelt. Ein wunderschön melancholisches Stück, welches die Hörerschaft von der ersten bis zur letzten Sekunde nicht mehr los lässt und stark dazu verleitet, die Repeat-Taste zu betätigen. Doch auch die übrigen Stücke sind von ähnlich hoher Qualität, es befindet sich nicht eine 'Niete' auf dem Album, welches mit ´What's Going On´ mit einem weiteren eingängigen Tanzflächenfüller endet. Man soll mit Superlativen ja vorsichtig umgehen, aber mit diesem Werk ist Ronny ein zeitloses Album gelungen, welches beweist, dass CLAN OF XYMOX auch nach 22 Jahren Bandgeschichte ihre besten Zeiten noch lange nicht hinter sich haben. Besser geht es kaum! (SP) 
Funprox.com 
Clan of Xymox exists for over twenty years now and has never delivered a really bad album. "Breaking Point" unmistakenly carries the Xymox-signature, without sounding overly dated. On the contrary, the new album is a perfect fusion of all their different elements: the nostalgic wave atmospheres, danceable synthpop, contemporary electro, dark gothic rock and of course the typical voice of Ronny Moorings. 
The tone is directly set with the powerful and energetic opening track 'Weak in my knees', after which The Clan manoeuvres between fine uptempo tracks ('She is dangerous', 'What is going on', 'Under the wire') and haunting electronic goth ballads ('Cynara', 'Pandora's box'). 
"Breaking point" has a tight and clear production and sounds solid as a rock. I have given up hopes that the band will ever experience a large-scale breakthrough in the Netherlands, but if there is one album that has that ability, then it's this one. 
Eol Audio 
Review by Jonny EOL -AUDIO 
With a previous album called 'Farewell' and a 'Best Of' a year later, one might have predicted the closure of the Xymox saga. Yet Ronny Mooring is back once more, and in many respects this album is a continuation of it's predecessor. Synths are once again pushed to the forefront of many of the tracks, although guitars do still make their presence felt elsewhere. The uptempo beat and future-poppy synth lead of album opener 'Weak In My Knees' might again lead one to accuse Ronny of bandwagon-jumping, but some growly guitar and those uber-dreary vox leave the listener in no doubt that there's a proper, bona-fide goth at work here. 
The slower, more meanacing 'Calling You Out' follows, possibly an attack against Ronny's former home town of Amsterdam. It's only after this that we get a taste of the CoX sound of old - the new-wave melancholy of 'She's Dangerous' followed by the serene gloomfest of 'Eternally' and 'We Never Learn', two songs echoing of their 4AD years, all shimmering guitar and funereal synth-texture topped off with resigned vocals from the terminally morose Ronny, the elements from which some of the finest of the Clan's tracks were made. 
Things get a little more upbeat for a while 'O Fortuna' sampling 'Be My Friend', before the synth-led gloom of 'Cynara' (I guess they had to refer to a girl's name at least once) and the pretty instrumental number 'Pandora's Box' before veering back onto club-friendly territory with 'Under The Wire' and finishing on 'What's Going On'. Even if this collection doesn't really represent anything new for Clan of Xymox, it's still an impressive effort that should offer something to all facets of the band's fanbase. They've still got what it takes to cut it in the 21st Century scene, which is more than you can say from some 80s goth survivors. 
Chain DLK 
Still considered one of the pioneers of gothic rock, Clan of Xymox caused a lot of panic with their last two releases among fans. Rumors started flying with the release of Farewell that the band was disbanding and the release of The Best of Clan of Xymox further fueled the rumor mill. Fans will be happy to know that the release of a brand new studio album is upon us. Breaking Point is Clan of Xymoxs eleventh full length CD in 22 years. Exhibiting a more mature sound than on is predecessors, Breaking Point leans more towards dark rock than gothic rock. Subtle keyboards overlaid with guitars and live drum sounds have become the focal points of this album. However not to be outdone by the music alone, Ronny Mooringss deep sensuous vocals accentuate the music and bring forth the deeper meanings of the songs such as in Calling You Out, Eternally and We Never Learn. Its impossible to imagine a way that Clan of Xymox could get any better than they are now. Perhaps they have reached their own Breaking Point? 
TV Tranzmission 
I can't say I have ever been a hardcore fan of Clan of Xymox. I've heard songs here and there and some were pretty cool, some not so much. With their newest release, I have to say, the songs I remember never sounded like this. As soon as the first song starts, Weak In My Knees, bands like Sisters of Mercy, Bauhaus, and even Echo and the Bunnymen came to mind. This entire CD would easily be classified as Goth-rock. The older songs I recall were more eletro-industrial in sound. But I admit, the more I listened to this CD the more I liked it. I really dug the songs Cynara and We never Learn. The latter reminding me of an older Clan song titled Waterfront. (which is totally BADASS) 
All the songs are somber in tone but still manage to have an impact. This is a really good CD and I'm glad I had the chance to review it, or else I may have never given it a chance. Overall, this CD should satisfy everyone from the Hardcore Zombie Goths to the Poser Hot Topic Goths. Enjoy. 
Gothik Radio 
At first listen I was almost disappointed with this release, thinking fondly back to Medusa and even hidden faces , but upon subsequent listens something started to grow on me... 
Perhaps the variety of sounds, tempos and styles on the CD makes it a truly remarkable album. And of course there is the typical Xymox sound with the emotional charged voice of Ronny Moorings; successfully creating new directions within a sound that remains typical, as we are used to from Clan of Xymox. 
'Be my friend' sticks into your head after you heard it just once. The thrill of passion and mystery is in 'She's dangerous', nostalgia in 'Eternally' and it's almost like you watch a movie while you listen to 'Pandora's box', the soundtrack to a passionate play. 
As we're used to from Clan of Xymox the album shows a perfect mix between electronics and guitars with truly great vocals. The lyrics are expressive. For those who like the sound of Clan of Xymox, this release is a must have; it's one of the best albums, which shows that it's possible to express a kind of art that's familiar while it is original too. 
Gothville 
Very good sound, some sngs are very catchy (e.g. Weak in my knees and Be my friend). 
A good variety of old-school sounds and newer electro-influences. 
Also some nice down-tempo tracks. 
Only the last track (What's going on) sounds a bit to poppy for me... 
Great album! 
Gothic Garden 
Clan of Xymox exists for over twenty years now and has never delivered a really bad album. "Breaking Point" unmistakenly carries the Xymox-signature, without sounding overly dated. On the contrary, the new album is a perfect fusion of all their different elements: the nostalgic wave atmospheres, danceable synthpop, contemporary electro, dark […] 
Yesternight pl 
Yesternight pl 
Clan Of Xymox Breaking Point The unquestionable legend of gothic scene is back! 
Dark, mysterious, incredible - as usual...The CD "Breaking point" next on the long list of dark soundscapes features wonderful compositions; the harbinger that the promotes the album in Poland - "Eternally", enigmatic "Cynara or hypnotic "Pandora's Box" are just some of them... 
Ravendark online mag 
Here we have the return of Ronny Moorings and his Clan Of Xymox,three years after 2003's "Farewell.."."Breaking Point" then and the title states it clear.The album kick off with "Weak In My Kness",a club-hit already in goth-clubs around the world while "Calling You Out" reminds me the Xymox era and generally has a 90's feeling...excellent,one of my favorites."She's In Dangerous" has the classic CoX sound,as it should be."Cynara" is surely one of the best tracks of the album...It feels very personal and it is both simplistic in terms of arrangement and viscerally complicated by way of the emphasis on atmosphere.In conclusion its a great comeback by the Dutch pioneers.Two thumbs up! 
Regen Magazine 
"Weak in the Knees" is the obligatory club cut meant to keep their music pumping on the club floors for old and new fans alike. In spite of the decided energy of this track, lyrically it paints a morose craving for unrequited love. "Calling You Out" will become an anthemic battle cry for the underground scene. "What happened to our scene?/The fire must be rekindled/In this cold dying stream/...Maybe I am just too naïve/Maybe it's just you and me." For those who may have noticed, the underground scene has metamorphosed as a strange animal. Once the dark clad club revelers were the ones of note, and now we see little more than Hot Topic knockoffs without any understanding of the underground dark scene that came before them. "Eternally" takes us to that point in life when we come in contact with an old love and find that the feelings of affection remain under the surface but unresolved. "We Never Learn" is the crux of Breaking Point. Essentially we go through this life thinking that there is a sense of completion at the end of an undertaking. Instead, all we are left with are more questions so overwhelming that they can break us apart when we finally wake up and realize that we aren't so in control of our destiny as we would like to think. "Be My Friend" mixes "O Fortuna" into the track, giving it the decided old world marriage towards today's electro beats. 
Breaking Point is a methodic blend of guitar chords around the electronic elements, which punctuate the emotional component inherent with the lyrics. Thematically, this release intentionally encapsulates poignant emotions unlike any others of the past. For some, their breaking point can be unrequited love, either due from an untimely breakup or from a relationship losing the heat of romance to become nothing more than platonic. While there are a number of club friendly tracks here, the crux of the work has a lyrical focus unlike anything the band has done in the past. 
Mike V 
Domain Cleveland.com 
Amsterdam's gifts to the world don't end with legal marijuana usage and ubiquitous prostitution; it also boasts a fluent musical scene laden with different layers of sound. Clan of Xymox is one of The Netherlands' wonderful exports to the world stage. Their latest release, Breaking Point, will surely please lovers of all things dark and gothic. 
Unlike some industrial music artists who elaborate too much with samples and monotone vocals, Clan Of Xymox utilizes different measures and tones to create an unique experience for either the more than 40-year-old fat club kid or the ultra-hip goth child who just woke up from their coffin, put on some white face and dark eyeliner and went gallivanting off to a masquerade. 
Breaking Point's sound is different, to say the least, as it flourishes with different velocities of structures and melodies harmonized by a multitude of synthesizer chords, drum beats and paralyzing instrumentations that create an illusion of a full live band playing in your living room. 
"She's Dangerous" delves into the quirky, old-fashioned techno beat of the late '80s or early '90s with catchy hooks, danceable beats and a more moody vocal range creating a gothic influence. 
"Calling You Out" however, brings back the "new romantic" phase of the early '80s with hints of light pop melodies, a tight rhythm section and a more luminous vocal range reminiscent of early Nick Cave or The Cure. 
Clan Of Xymox doesn't disappoint their adoring fans with Breaking Point; it's a mixture of dance beats and pop hits rolled into a scroll of electronic and industrial tightly tucked into a ball of wax. 
Francis Petruziello 
Musicfolio 
"Featuring searing guitar lines, strong bass sounds mixed with atmospheric and powerful synths and Ronny Mooring's deep, sensuous and harmonic voice 'Breaking Point' delivers all of Xymox's trademark sounds and references offered in their iconic and unique style. This 'classic' sound is no more evident than on album opener and first single Weak In My Knees - a club hit par excellence : mighty tunes, powerful chorus line, a perfect sing-a-long melody which catches the listener in an instant. The following track Calling You Out shows them from their darker, even more aggressive side with straight guitar lines and no compromises, while She's Dangerous is yet another dancefloor hit - complete with infectious synth lines, driving rhythms and a permenant hook. Eternally, We Never Learn and Cynara are songs that will capture the hearts of their older fans immediately - quiet, almost introspective, slow, thoughtful and eternal. Be My Friend presents another powerful club hit while album closers Pandora's Box - forms an interlude into the aggressive song Under The Wire (a track that demonstrates perfectly the rockier side of Clan Of Xymox) and finally What's Going On? a melodic masterpiece that demands replaying." 
Dark Nation Radio 
Listening to Clan of Xymox's new release on Metropolis, Breaking Point (2006), is like slipping into a favorite pair of well-worn blue jeans. Even though the sound has been updated in places, the album is very much in keeping with CoX's return to its electro-goth roots and Moorings' voice and guitar speak to one like old friends. 
The album begins with a bang with "Weak in My Knees," an up-tempo track more reminiscent of Funker Vogt or Front 242 than Clan of Xymox and one sure to find a home on club dancefloors. However, the band migrates easily back into familiar territory with the second track, "Calling You Out" which, in many respects, seems to be the song most representative not only of the album, but of Clan of Xymox's return to its goth roots more generally. The "you" being called out in the title is the goth scene as a whole as Mooring questions, "Where are all the others? / What happened to our scene?" and then asserts, "The fire must be rekindled / In this cold dying stream." 
As on Farewell, Breaking Point features a mix of up-tempo floor-fillers and more meditative atmospheric tracks, many of which are built around themes of hynotic love and loss. The Cure-esque "We Never Learn" laments the perversity of human nature while the spritely "Be My Friend" makes interesting, if perhaps gratuitous, use of sound bites and joins "Weak in My Knees" and "Calling You Out" in having clear dancefloor potential. 
Overall, with Breaking Point Clan of Xymox has released a well-produced, enjoyable album that certainly won't disappoint CoX fans and is likely to win them new ones as well. 
Release Magazine 
Here we are once again with Ronny Moorings and his Clan of Xymox. After the triumph of 2003's "Farewell" I wondered where he could go from such a lofty perch. With the new "Breaking Point", he has stayed where it's safe and comfortable. 
"Weak in My Knees" was unremarkable as a single and it's not really much better on album. It is, however, disturbingly futurepoppy. "Calling You out" sounds a bit more like the Xymox I know and its lyrical content asks some pertinent questions about the scene which, after over 23 years, the Clan still find themselves in. I could tell you what I think but that's another story... 
By the time the third track "She's Dangerous" rolls out it seems, at last, that we are finally listening to Clan of Xymox. Moorings has been hanging about in chatrooms, it would seem. Naughty boy. "Breaking Point" is much more electronically based than previous efforts have been and it works generally; those classic Xymox guitars are right where they need to be. 
"Cynara" I really do think is the stand-out track of the album. It feels very personal and it is both simplistic in terms of arrangement and viscerally complicated by way of the emphasis on atmosphere. You won't find any new tricks with the Clan's new one but as the the sound of this Dutch institution is so unique, that's just fine. 
PETER MARKS 
Schwartzblatt 
CLAN OF XYMOX - Breaking Point (2006)Im Gegensatz zu dem, was eigentlich nach beiden letzten Veröffentlichungen zu erwarten war, scheinen sich CLAN OF XYMOX, zumindest im Ansatz, an ihre Ursprünge zurück zu besinnen. Im Vordergrund steht nicht mehr der Future Pop, sondern ein ausgeglichener Mix aus Electro und den alten Wave-Stücken. 
Besonders gefallen mir hier She's Dangerous und Cynara, zwar rückwärts orientiert, aber das sind CLAN OF XYMOX wie man sie eigentlich erwartet. Bleibt abschließend zu hoffen, das zukünftige Releases in diese Richtung gehen. 
araglin nl 
Clan of Xymox bestaat al ruim twintig jaar en heeft nog nooit een écht slecht album afgeleverd. 'Breaking point' draagt onmiskenbaar het Xymox-stempel, zonder overdreven gedateerd over te komen. Sterker nog, op het nieuwe album komt alles perfect bij elkaar: de wave-sferen van weleer, dansbare synthpop, moderne electro, duistere gothrock en natuurlijk de typische stem van Ronny Moorings. De toon wordt gezet met de krachtige en opzwepende albumopener 'Weak in my knees', waarna de Clan laveert tussen uitstekende uptemo tracks ('She is dangerous', 'What is going on', 'Under the wire') en bezwerende elektronische gothballads ('Cynara', 'Pandora's box'). 'Breaking point' is strak en kraakhelder geproduceerd en staat als een huis. Ik heb de moed al opgegeven dat de groep ooit nog op grote schaal zal doorbreken in Nederland, maar als daar één album voor kan zorgen, is het deze wel. 
Industrial Bible 
For over two decades now Ronny has be producing his own style of electro-influenced goth rock. Breaking Point, the 7th full length from Clan of Xymox, is no different. From the slower, sweeping pieces like Eternally and Pandora's Box to the more upbeat, dance floor orientated tracks such as Weak in My Knees and What's Going On?, Clan of Xymox continue to share their unique brand of music. She's Dangerous, with its acoustic guitars, raw beats, and smooth vocals, was by immediate favorite. Ronny's distinctive crooning flows effortlessly across the more 80's tempo'd goth inspired music. Under the Wire is an up tempo piece with a pulsating rhythm, suave vocals, and a distant beat. Weak in My Knees, which was the first single released from Breaking Point, is by far the most accessible and dance floor friendly track on the CD. Jumpy rhythms, addictive vocals and rumbling synths are joined with Ronny's captivating vocals. Even though it seems to me that only the technical parts of Clan of Xymox's sound has changed over the years, Ronny's unique talent for keeping his music and style original and nearly unchanged since the beginning is the biggest selling point. After all, it is the distinctive brand of music that got him his notoriety. 
From Dusk Till Dawn 
* Clan Of Xymox : Breaking Point **** (Pandaimonium / Avr. 06) 
* Avec ce titre et sa pochette évocateurs, on pourrait penser que Ronny est arrivé au terme de quelque chose, mais de quoi ? D'ailleurs, les paroles du single "Weak in my knees" qui débute l'album vont également dans ce sens. Pourtant, musicalement, c'est une impression toute autre qui se dégage, s'il est un terme abouti, il s'agit alors d'une fin de période d'essai, voire d'une apogée. Le Clan est toujours sur le chemin qu'il avait commencé à tracer avec "Notes From The Underground" : des sonorités modernes, teintées d'electro-dark, signes d'une évolution que Ronny avait désirée progressive pour garder son public en alerte sans le bousculer. Pourtant, l'effet escompté avait raté, du moins en France, et si "Notes From The Underground" reste ici certainement l'album le plus controversé de Clan Of Xymox, le déterminisme de Ronny a su faire la part des choses et c'est avec "Farewell" en 2003 qu'il avait su reconvaincre ses fans échaudés grâce à un mélange cette fois des plus réussis, d'electro, de synth/wave et de guitare. "Breaking Point" arrive en phase avec cette évolution et en est peut-être la part la plus aboutie à ce jour. Ce qui est particulièrement énervant avec cet album, c'est que même en voulant le détruire, on se trouve confronté à des points positifs qui viennent contrecarrer toute critique négative. Exemple concret avec "Be my friend", on ne peut pas faire plus pompeux que ce sample électronisé de "Carmina Burana". Et bien pourtant, ce tube est efficace, le sample ne plombe pas, n'est pas en surdose, et le reste coule à merveille. Rageant ! On écoutera même avec surprise le génial "Pandora's Box" qui n'a rien à voir avec le reste mais qui n'en trouve pas moins sa place, offrant une petite pause originale et particulièrement glauque. Aucun morceau n'est à jeter et depuis "Creatures", on n'a jamais autant ressenti de vie, de sincérité et d'intégrité à s'abreuver de la magique voix de Ronny. Si bien qu'on ne peut même plus dire, quand on l'a pensé, que Clan Of Xymox est un groupe goth de base pour goths de base et qu'en conséquence tout cela baigne dans le médiocre et la facilité. "Breaking Point" positionne le groupe à sa place, qu'elle soit mal vue ou non, c'est du moins la sienne et la bonne ! C'est donc l'album des vérités rétablies, ou des vérités tout court… 
Sideline issue 55 June 2006 
One of the pioneers of gothic rock is back with a new album. Weird? Well, yeah, because I was already getting in panic last time when they released " Farewell" and a best of. Rumours were here and there spreading that the band would call it quits and honestly it was a plausible rumour. 
But that was just bull of part of a well keened out PR stunt so it turned out. Anyhow, they caught my attention with "Breaking Point" as title again as well. 
A breaking point you say?Well , not entirely, the Cox do what they are good at here and that is realising addictive and effective melodic moods gothic music without losing themselves in endless dwelling like so many other goth acts appear to be enjoying. 
No , on "Breaking Point" they bring an even more mature sound that is alienating them more and more from the lesser gods. There is a bigger stress on the guitars which get a darker rock taint, but it stays very much the COX sound we all love and enjoy. Add to that Ronny Moorings's deep vocals and you can only but be perplex of what you hear. The summit of this pot pourri can be heard on " Weak In My Knees" where guitars and synths are 100% balanced out. Another highlight is " She's Dangerous" and there are many others I could name here. Honestly, of the 5 albums I have from the COX this is definitely a band showing itself in its full maturity. They hit and did not miss at all with an interesting balance between upbeat & more moody songs! 
Sonic Seducer 05/2006 
Das beste Clan Of Xymox-Album seit sieben Jahren. Okay, das Fazit einer Rezension vorweg zu nehmen, ist nicht wirklich die feine englische Art, aber in Anbetracht der Qualität des neuen Silberlings von Ronny Moorings und Co. muss man der sichtlichen Freude einfach mal freien Lauf lassen. Und wieso ist das so? Glasklar. "The Breaking Point" knüpft viel eher an Alben wie "Hidden Faces" und "Creatures" denn an "Notes From The Underground" oder "Farewell" an, sprich: Die Balance zwischen den neuzeitlichen Electronummern und den wirklich todtraurigen Düstersongs ist wieder im Lot. "Cynara" könnte dabei glatt ein Überbleibsel aus den "Medusa"-Sessions sein, welches nun anno 2006 soundtechnisch aufpoliert wurde. Aber auch das bereits von der "Weak In My Knees E.P." bekannte "Calling You Out" weiß sichtlich zu begeistern. Mister Moorings ist halt doch immer dann am besten, wenn die Mischung stimmt. Denn obwohl Xymox-Songs schon immer ein elektronisches Grundgerüst hatten, war die Gitarre das Zünglein an der Waage. The small step to greatness, quasi. "Weak In My Knees" ist natürlich auch enthalten, aber das wird man eh schon aus dem Stammclub auswendig kennen. "The Breaking Point" ist ein Album, bei dem einfach alles stimmt. Auch die lieb gewonnene Tradition des Instrumentaltracks wurde mit "Pandora's Box" großartig fortgeführt. Gibt es was zu mosern? Höchstens, dass hier und da manch ein Keyboardsound zu futurepoppig klingt, aber wenn das dann schon wirklich alles ist, an dem man herummeckern könnte, dann bleibt mir nur noch nochmals auf das Fazit zu verweisen. Da oben, der erste Satz. 
Autor: 
Thomas Thyssen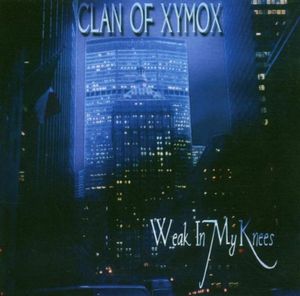 Weak In My Knees E.P. 
Klangdynamik 
Clan Of Xymox ist sicherlich eine Band, die man nicht mehr großartig vorstellen muß. Seit gut 2 Jahrzehnten verwöhnen die aus den Niederlanden stammende Band die Wave- & Gothikgemeinde mit hervorragendem Output. Und knapp 1 1�2 Jahre nach ihrem Best-Of-Album erscheint nun mit der Maxi-CD "Weak In My Knees" ein Vorbote für das im April erscheinende neue Album "Breaking Point". 
Unter dem Titelsong muß man sich einen klassischen COX-Song vorstellen, der sofort in Bein und Kopf übergeht – vor allem Ronny Moorings sehr prägnante Stimme sorgt für ein hohes Erkennungspotential. Auffallend ist, dass der Sound wieder mehr Richtung Elektronik geht. Auch die Remixe von z.B. Grendel und Azoic zeigen diesen Trend auf – wobei die dargebotenen Remixe zwar ganz nett sind, aber sicherlich jetzt nicht zu den Überfliegern gehören. Etwas mehr Abwechslung hätte hier sicherlich nicht geschadet. 
Abgerundet wird die trotzdem sehr empfehlenswerte Maxi mit 2 neuen Versionen des Klassikers "Michelle", der es seinerzeit nicht mit auf die Best-Of-Cd geschafft hat. Und hier zeigt sich, dass ein neues Gewand dem Song in keinstem Falle geschadet hat. Vor allem der Deep In Pain Remix von Destroid aka Daniel Myer (Haujobb) klingt sehr überzeugend. Zu guter Letzt gibt es mit "Calling You Out" einen weiteren neuen Song als Vorgeschmack zum neuen Silberling, sowie das Video zu "Weak In My Knees". 
Autor: thono 
Crush FM 
CLAN OF XYMOX - WEAK IN MY KNEES 
Hetgeen sinds jaren wordt omschreven als het 'typisch Xymox geluid' zou je ook kunnen duiden met het fingerspitzengefühl van Ronny Moorings om als geen ander en zonder schijnbaar veel moeite tot een ideale mix van synthesizers en gitaren te komen. Persoonlijk beschouw ik Clan of Xymox als de 'oersoep der gothische muziek', maar dat komt natuurlijk ook omdat ik vele bands die als grondlegger van wat gothic is gaan heten, niet zozeer kan waarderen. Maar dit even terzijde. 
Toch is enige bewondering op z'n plaats voor wie al ruim twintig jaar middels een zeer bekend geluid met de jaren niet minder vernieuwend voor de dag is gaan komen, zo ook met de meest recente release 'Weak in my knees'. 
Het titelnummer is weer een krachtig staaltje ÑXymox sound', dat het ook op de dansvloer niet verkeerd zal doen. En er kan ook nog eens afgewisseld worden, met dank aan The Azoic, Dimitri en Grendel voor hun remixen van het titelnummer. 
Een nieuwe opname van 'Michelle' (nog node gemist op de Best Of cd uit 2004, hier tevens in een remix van Destroid aanwezig) en de nieuwe song 'Calling you out' completeren deze cd, waarop als extraatje ook nog de videoclip van 'Weak in my knees' is te aanschouwen. 
Subculture Magazine 
Clan Of Xymox - Weak in My Knees (Pandaimonium) 
The Godfathers of Goth techno have released a European-only E.P. And the seven songs (three remixes of "Weak in My Knees", two remixes of "Michelle", and an ominously wonderful song, "Calling You Out") won't disappoint any of their fans and any fan really of EBM and dark electro. The first mix of "Weak in My Knees" is the best and illustrates just how state-of-the-art Xymox's sound is and has been since their return to form in the latter '90s. This Dutch band ripped apart the electro scene in 1984 on the 4AD label with the release of the seminal album Clan of Xymox and now 22 years later sound as vital as ever. The two mixes of the song, "Michelle" are extraordinary contrasts in just what this band is capable of. The first mix is a melancholy funky dance lament to a lover, while the second mix, with the acoustic guitars driving the riff, show Xymox can hold their own with the occasional reference to Cure influences that pop up now and then. Hopefully this E.P. Is a prelude to a full-blown album coming out soon. (Jim Harris) 
Orkus 
Zwei Jahre nach seiner Best Of Veröffentlichung meldet sich RonnyMoorings alias Clan Of Xymox mit der Vorab EP zum kommenden Album zurück. Der Titeltrack Weak In My Knees vereint dabei alles, was ein echter Clubhit braucht.Er ist tanzbar und hat eine einprägsame melodie, alles in gewohnter Clan Of Xymox Qualität.Auch die drei Remixe von Weak In My Knees sind nicht zu verachten,vor allem der Azoic Mix besticht durch seine ganz eigene Interpretation des Titels. Das eher gitarrenlastige Calling You Out sowie eine neue Version des Titels Michelle bohren sich ebenfalls sofort in den Gehörgang und sind von dort nicht so schnell wieder zu vertreiben. Weak In My Knees gehört in jede CD sammlung und weckt die Neugier auf da im Frühjahr erscheinende neue Album, dessen Titel bisher noch nicht feststeht. 
Babett Jahn 
Reflection 
Clan Of Xymox "Weak In My Knees" 
Mit "Weak In My Knees" schlagen Clan Of Xymox knapp 1 1�2 Jahre nach dem Erscheinen ihres "Best Of" Albums die erste Seite eines neuen Kapitels auf. Der Titelsong bündelt sämtliche binnen der letzten Monate gesammelte Energien der Band um Ronny Moorings und wandelt diese in innovative von einer ausgewogenen Mixtur aus Elektro- und Gitarrenklängen bestimmte Sounds um. 
Gewannen bei den letzten Clan Of Xymox Veröffentlichungen noch die Gitarreneinsätze immer mehr an Bedeutung, so verlagert "Weak In My Knees" diesen Schwerpunkt wieder eindeutig in Richtung Elektronik. Der Titel geht im wahrsten Sinne des Wortes "richtig ab" und wird die elektronischen Tanztempel des Kontinents sicherlich binnen kürzester zeit erobern. Ronny Moorings´ Stimme legt sich charismatisch und dunkel über die Sounds und zieht den Hörer unvermittelt in ihren Bann. 
Unter den sieben Tracks der neuen Clan Of Xymox Ep befinden sich neben vier verschiedenen Interpretationen des Titelstücks sodann ebenfalls zwei Remixe von "Michelle", einem Titel, der aus Platzgründen nicht mehr für das seinzeitige "Best Of" Album Berücksichtigung fand sowie der exklusive neue Titel "Calling You Out", ein erster Leckerbissen des für das Frühjahr 2006 angekündigten neuen Clan Of Xymox Albums. 
Und als speziellen Bonus halten Clan Of Xymox dann auch noch das offizielle Promotion Video für den Genuss auf dem PC für die Fans bereit. Alles in allem eine Veröffentlichung, die viel qualitative Musik fürs Geld bietet und nicht zuletzt auch aufgrund der diversen Remixe der Songs von The Azoic, oder auch Grendel die musikalische Maskenvielfalt der Sounds der Niederländer aufzeigt. 
© Ingo Möller 
D-Side Issue 32 
Les dernières "prouesses" du Hollandais Ronny Moorings risquent de diviser leur monde.Weak In My Knees, EP paraissant en prélude au nouvel album de son célèbre Clan Of Xymox. lui fait adopter une posture frontalement dance floor. Le beat ne cherche donc pas de véritable modulation et les volumes rythmiques, lourds, visent bel et bien le boost constant d'un ensemble ne gardant des guitares que de discrètes apparitions ( le single" Weak In My Knees").Le référentiel gothique , prégnant sur des albums tels que les excellents Hidden Faces ou Creatures, tend a s'estomper depuis Notes from the Underground et surtout Farewell. Ronny Moorings poursuit sur cette lancée mais réintroduit cependant des voix relativement sépulcrales. Il génère au milieu du EP quelques titres qui reviennent partiellement a ce Clan Of Xymox que préféreront les adeptes de la "période du retour"; "Calling You Out" et a un moindre niveau le remix de "Michelle" ( par Destroid alais Haujobb)renouent avec une forme plus glaciale et évocatrice,précédées par la petit clou du spectacle, une nouvelle version studio de "Michelle" réalisée en 2006 et qui sans apporter d'importantes nouveautés, donne au EP une respiration nécessaire, face aux multiples et aléatoires tentatives de remix du single. 
Emmanuelle Hennequin 
Darkwavelinks 
Weak In My Knees 
Da die Halbwertszeit des letzten Albums "Farewell" (Herbst 2004) nun überschritten sein dürfte und die zwischenzeitliche Best Of ja nicht wirklich neues Material bot, bieten Clan of Xymox dem geneigten Hörer mit der EP "Weak In My Knees" nun neues Material, das gleichzeitig auch einen Vorgeschmack auf das Mitte April erscheinende neue Studioalbum geben soll. 
Dieser Vorgeschmack ist sicherlich ein guter. Der Titeltrack der EP weiß zu überzeugen. Er schafft es gekonnt, tanzbare elektronische Klänge mit einer sehr riff-freudigen Gitarre zu kombinieren. Das Augenmerk wurde hier gleichermaßen auf Eingängigkeit wie auch auf die Tanzfläche gelegt - so erschaffen Clan of Xymox ein eingängiges, schönes Stück rockig angehauchte elektronische Musik mit melancholisch angefïärbtem Charakter. Um dem Stück noch weitere Facetten abzugewinnen, finden sich zusätzlich drei Remixe auf der EP: The Azoic verstärken den elektronischen Charakter, indem sie die Gitarre unter sonst weitestgehender Beibehaltung der ursprünglichen Arrangements weglassen, der "Dimitri NI Mix" gibt dem Stück einen leicht technoiden Charakter und Grendel geben dem Stück eine leicht eigene Note, ohne dabei aber die Härte ihrer eigenen Musik zu erreichen (was dem Stück vermutlich auch eher geschadet hätte). Zur Vervollständigung findet sich auf der CD auch noch der zugehörige Clip. 
Ein Blick auf die drei weiteren Titel ist ebenso lohnenswert. So gibt "Calling You Out" einen weiteren guten Vorgeschmack auf das kommende Album. Es ist etwas nachdenklicher, dabei aber doch tanzbar und stärker von den elektronischen Klängen geprägt, wenngleich auch hier die verzerrte Gitarre nicht vermisst wird. Zusätzlich gibt es noch zwei Varianten des Klassikers "Michelle": Eine Neuaufnahme unter Beibehaltung der Originalarrangements, die kaum authentischer Xymox sein könnte, dazu ein Remix von Destroid, der daraus ein düsteres Elektronik-Stück macht. Eine interessante Kombination, die aber doch recht logisch erscheint - schließlich ist die Band von Amsterdam nach Leipzig gezogen, womit Daniel Myer sozusagen ein Nachbar geworden ist. Und gute Arbeit hat er alle mal geleistet. 
Zur Abrundung befinden sich in der EP die Texte zum Titelstück und zu "Calling You Out". "I feel weak in my knees" - eine Textzeile, die es nach dieser EP unter Umständen vom einen oder anderen Tanzflächenbesucher häufiger zu hören geben könnte. 
Veröffentlichung: 13.01.2006 
Autor: Marius Meyer 
diese CD kaufen 
Sideline Issue 55 
After the "Best Of"-cd Cox moved to Leipzig( Germany). While we're eagerly awaiting the new full lenght this ep comes and hits us by real surprise.The title song marks an important evolution in sound where the basis of Ronny Moorings became more electronic minded. This is the perfect symbiosis between great wave guitars and electronic power. This new song stands for power and dynamism! 3 remixes have been recorded. First comes a cool remix by the Azoic ( confirming the electronic potential of the original version) next one by Dimitri NI and finally one by Grendel ( which is by the way isn't his best one Grendel ever did). Another new song is entitled " Calling You Out" which comes closer to what COX has always used to.The familiar " Michelle"song has been featured in a Re recorded version while also remixed by Destroid. None of the versionstotally convince me although they're more than simply b-side songs. An interesting evolution for this legendary band!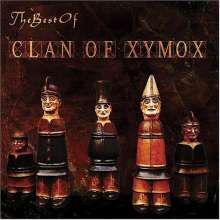 BEST OF CLAN OF XYMOX 
Gothic Paradise 
When you have a history that spans 20 years and includes more than 30 releases (including CD singles and remix albums) under their name as Clan of Xymox and as Xymox, it seems perfectly appropriate to release this "Best Of" album. Their history and the music provided throughout that history is very impressive. This album brings all of that out in the form of 14 strong selections and proves to the world the wonderful talents this group has portrayed over the years. From the very beginning their music has been stunning and they have only built on that one album after another. 
I have to say that when I receive a CD like this and have it in my hands and CD player, it is one of the easiest reviews I have to do. As I look back over the years and pick up each album and flip through it or listen to it in it's entirety, each of these tracks bring back so many memories and thoughts about when I picked up each one over the years. There is no doubt that these are some of the best songs released by this group, and some of the best released in the related electro-goth genres. 
The album contains the original versions of some of the later recordings, but the special treat for long-time fans who probably already have all of this material is the new recordings or alternate mixes. Of the fourteen tracks, half of them are either alternate mixes or new recordings. The songs from the earlier albums have been newly recorded including the very popular "Louise", "Back Door", "A Day", "Muscoviet Mosquito" and "Stranger". These are extremely well done as the moving beats and combination of guitars, solid synth-lines and Ronny's emotional and solid vocals combine for masterpiece after masterpiece. The alternate mixes include "I Want You Now" and "Into Extremes", two of the latest popular tracks from their later works. 
The order on the album provides a nice variety by mixing them up so their not really done in chronological order. The popular bomastic track "There's No Tomorrow" kicks it off and we go from one club hit to another as we go from "Jasmine and Rose", the huge hit that brought them back into the spotlight of the goth scene after a few years and then to "I Want You Now". We jump back several years for "A Day" and the dreamy classic Clan of Xymox track "Louise". It's not all about driving club tracks with their history and thus the appearance of the popular single "Consolation" with it's downtempo style is appropriate. 
This is how it all shapes up and this ends up being a great treat for new and old fans alike. Having these great tracks in one spot for me doesn't mean I'll stop listening to the individual album, but as a DJ makes it easy to have them in one spot. A great addition to any collection. Don't hesitate to pick it up! 
Rating: 5/5 
Gothtronic 
Almost every band will reach the point, if they exit long enough that is, in wich they will make a best of cd. A special thing is that the fans themselves got a saying in which tracks should be chosen to appear on this compilation. Furthermore it is striking that the tracklist of the cd is not chronological, but compiled in a way that songs from every period of Clan of Xymox are placed more 'at random' on the cd. This makes it easier to get used to the new versions of some of the old songs. . 'A Day', 'Louise', 'Muscoviet Musquito', 'Backdoor' and 'Stranger'. Although i miss the sounds and exact atmosphere of the old versions, i really want to state that the new versions are absolutely tasteful, as it are in no way cheap futurepop derivates from the original tracks. Of 'Into Extremes' and 'I Want You Now' there are new mixes present on this compilation. The choice of tracks is always something to complain about, but as it is done now it has resulted in a very nice overview of the discography of Clan of Xymox altogether. Which is exactly the intention of this cd ofcourse. This is a very nice record and a excellent introduction to anyone not (really) familiar with Holland's pride in gothic realms. 
Reflection 
Nach nunmehr 20 Jahren veröffentlichen Clan Of Xymox nun endlich eine "The Best Of" CD. Die 14 Titel sind gezielt ausgewählt und spiegeln das musikalische Schaffen einer der eindrucksvollsten Dark Wave Bands der letzten Jahrzehnte wider. Angefangen hat alles im September 1984 mit der Veröffentlichung des Mini-Albums "Subsequent Pleasures". 
Darauf folgten dann noch zwei weitere CDs, bis Ronny Moorings sich sodann entschloss, sich neu finden zu wollen. Das Resultat dieses Vorhabens erblickte dann mit einer ersten Veröffentlichung im Jahr 1988 unter dem Namen Xymox das Licht der Welt. 
Erst im jahr 1997 besann er sich wieder auf seine Ursprünge und einer Wiederbelebung des Clan Of Xymox stand nichts mehr im Wege. Alben wie "Hidden Faces", "Tales From The Underground" oder auch das letzte Werk "Farewell" machten deutlich, dass die Entscheidung, zu den eigenen Wurzeln und zum alten Bandnamen zurückzukehren die richtige gewesen ist. 
"The Best Of Clan Of Xymox" beinhaltet ausnahmslos Songs der offiziellen Clan Of Xymox Releases. Doch anlässlich dieser Veröffentlichung hat man nicht einfach auf die Originale zurückgegriffen, sondern diverse Titel neu abgemischt und teilweise sogar zusätzlich komplett neu eingespielt. 
Titel wie "Jasmine And Rose", This World", "There´s No Tomorrow" oder auch "Muscoviet Musquito" sind einfach gigantisch und unterstreichen einmal mehr die Einmaligkeit dieser großarteigen Band - Clan Of Xymox sind die besseren Sisters Of Mercy! 
Gothic Net 
After a 20 year career, one of the best known and highly revered electro-goth bands of all time releases its first "best of" collection, simply titled, "The Best of Clan of Xymox". COX has assembled 14 tracks voted on by the fans to best represent this treasured act, and its imaginative, groundbreaking music. "The Best Of" should serve as a great jumping on point for new fans as well as a must have for the initiated, because COX have re-recorded and re-mixed many of the tracks. Featured here as re-recordings are "A Day", "Louis", "Muscoviet Musquito", "Back Door", and "Stranger". Re-mixes include "I Want You Now" and "Into Extremes". Tracks that appear in their original form are, "There's No Tomorrow", "Jasmine & Rose", "Consolation", "This World", "Innocent", "Out of the Rain", and "Farewell". 
Vocalist Ronny Moorings offers his reasons for these changes inside of the extensive accompanying booklet, and reminisces about his memories of the tracks as well. I will say in his defense of some die hard fans out there that the re-recording and mixing of these songs does not hurt their integrity, it only enhances it, as the artists deem them the definitive versions. The production is crisper and the sound much cleaner than previously released versions of the songs, and not much else has changed about them. Overall, this is an in depth look at the career of one of the genre's best and most imitated musical giants and is an essential edition to any fan's collection.Added: Tuesday, September 28, 2004 
Reviewer: Justin Rowland 
Hardwired 
With fourteen classic COX tracks adorning this album, it's hard to see exactly who its aimed at. But to be fair, I feel this album falls into a little bit of each of the following camps – attracting fans of their more recent works to some of COX's older material, and giving long standing fans some well known tracks but with different mixes. It's a good split, and I feel it works well. 
So what do we have on this epic then? Well, the album kicks off with 'There's no tomorrow' from the recent Farewell album. This is a blinding track, and a good introduction to what is to come. 
Moving onto 'Jasmine and Rose', taking us back to the roots of the COX sound – this is dark Goth at it's best! Turn out the lights and Goth your little socks off to this. Classic Goth guitars, dark imposing vocals, this is superb. 
'I want you now' is a new mix, and works well. Still distinctly COX, and a great track to wreck out to. Actually, of all the tracks on here that have been re-mixed for this release, none of them (in my mind) detract from the original versions. This is a relief for die hard COX fans. 
'A Day' follows on from this – this is a new recording and a new mix for this album – powerful and dynamic, this is a dance floor filler if ever there was one. Sleek and imposing, punchy melodies cannot help but get you up and moving. Brilliant stuff! 
'Louise' again is a new recording and mix – more mellow and thoughtful, this track is typically flowery-goth at it's finest. Acoustic guitars and a progressive bassline accompany the laid back vocals. 
'Consolation', 'This World' and 'Innocent' follow on from here, and are all original mixes. What can I say, it's great to hear them again, and it's about at this point that you realise that the music tempo balance on this album has been struck just right. I put this down partly to the fact that the calibre of tracks on this release is so bloody good. 
'Into Extremes' is a new recording and mix – it's dark and foreboding into brings us to the distinctive COX euphoric audio climax as all the instruments come in, to launch the song properly. Nice! 
'Out of the rain' comes crashing in after this, and it's back to the dance floor for all you old school Goths out there. 
'Muscoviet Musquito' and 'Back Door', again are new mixes and recordings, and again do not detract too much from the originals. It's great to hear 'Back Door' again, as for an old Goth like me, this brings back some fond memories. 
'Farewell', and original mix follows this – nice to see the album top and tailed by relatively new tracks – this one demands to be turned up, and allowed to wash over you. 
The album finishes with a new recording of 'Stranger', and this sombre yet melodic number is a fitting end to what is to my mind, a great album. Possibly one of the best 'best of' albums I've heard for a long time. 
What can I say, this album will appeal to new and old COX fans alike, and is not a waste of cash at all. It's a great introduction to the world of COX for new fans, and a complete blast from the past for die hard fans too. 
Buy this now! 
Grenswellen 
Best-Of-Alben haftet mitunter ein Leichengeruch an, der nur zu überdeutlich signalisiert, dass die Band im hier und jetzt nicht mehr wirklich etwas zu sagen hat. 
Dass es dennoch rühmliche Ausnahmen gibt, beweisen Clan Of Xymox mit dem vorliegenden, liebevoll kompilierten Best-Of-Album, das Zäsur und Ausblick zugleich ist. 
Die Geschichte dieser niederländischen Band ist ebenso bewegt wie wechselhaft, schwankend zwischen ihren "Gothic"-Wurzeln und dem Bemühen, sich temporären Trends zu ergeben. 
Clan Of Xymox-Kopf Ronny Moorings hat sich bei der vorliegenden Compilation entschlossen, die Werke, die er unter dem verkürzten Namen "Xymox" veröffentlichte (also Alben wie das zweifellos überzeugende "Twist Of Shadows" und die weniger berauschenden Oeuvres "Phoenix" oder auch "Metamorphosis") komplett zu ignorieren und sich dafür auf die Werke zu konzentrieren, die Clan Of Xymox über die Jahre zu einer historischen Größe erwachsen ließen. 
Ein schlauer Plan. 
Die Grundidee war, jeweils 2 Songs von jedem Clan Of Xymox-Album zu wählen, dabei den Fans ein gewisses Mitspracherecht zu gewähren -sowie die historischen 4AD- Aufnahmen entweder zu remixen oder komplett neu einzuspielen. 
Heraus gekommen ist in der Tat eine Zusammenstellung, die (kaum) einen Wunsch offen lässt: 
Die zeitliche Distanz zwischen der ersten und zweiten Clan Of Xymox-Phase lässt sich auf dieser perfekt kompilierten CD für den Laien lediglich erahnen – nicht zuletzt deshalb, weil Moorings trotz Fan-Voting darauf bedacht war, den roten Faden der Historie deutlich zu machen: 
Clan Of Xymox sind auch im neuen Jahrtausend eine sensible Gothic-Formation, die Historie und temporäre Vibes zu einer Einheit verschmelzen lassen können. 
Gelang ihnen dies auf ihren letzten Alben "Creatures", "Notes From The Underground" oder "Farewell" nicht durchgehend, so warfen diese Alben zumindest zwei überzeugende Songs ab ( beste Beispiele: "Out Of The Rain", This World") die im Rahmen dieser Compilation gegen die wirklichen Klassiker in jeder Beziehung bestehen können. 
Die Klassiker der ersten Phase selbst wurden allesamt bearbeitet, entweder neu eingespielt oder remixed: "A Day", "Louise", "Stranger", "Backdoor" und das extrem seltene "Muscoviet Musquito" (im Original nur auf dem 4 AD-Sampler "Lonely Is An Eyesore" veröffentlicht) sind allesamt stringenter und punktierter als die Originale, ohne auch nur ein Quäntchen der ursprünglichen Atmosphäre und Intensität vermissen zu lassen. 
Clan Of Xymox haben diese Klassiker in den letzten Jahren immer wieder und wieder live mit dem neuen Material präsentiert und sich somit ein untrügliches Gespür für das Gesamtensemble erspielt, das auf dieser Compilation noch homogener transferiert wird, als auf ihrem 2000er "Live"-Album. 
Allen Fans und Novizen sei dieses Album wärmstens ans Herz gelegt. 
Nahezu unverzichtbar. 
(Okay, "Michelle" ist nicht dabei. Aber das ist wirklich der einzige Makel…) 
2004 Rezension von Ecki Stieg 
Sideline 
Although their remix album was quite pleasant, this 14-track "best of" album beats it without too much effort! 14 essential songs sum up in beauty the Dutch band's prolific career from their 4AD debuts ("A Day", "Stranger", Louise" or yet "Muscoviet Mosquito", all having by the way been re-recorded for full impact on your senses!) until their most recent hits including the unavoidable "Jasmine and Rose", "There's No Tomorrow" or yet "Out Of The Rain". We'll also notice new versions of "I Want You Now" and "Into Extremes". CLAN OF XYMOX excel in dynamic darkwave music and we wish them to continue bringing us as many great moments as they have done so far for at least the next 20 years… (TSF:9) TSF. 
Smothernet 
Since forming in Amsterdam in 1984 (prophetic ain't it?), Clan of Xymox have dominated the electro and gothic industrial scenes. Helping to define 4AD along with Dead Can Dance and Cocteau Twins, Clan of Xymox have enjoyed a rich history and look forward to a wonderful future. For those unfamiliar with them, this is the perfect introduction—indeed a greatest "best of" hits album plucked from their past by vocalist/guitarist Ronny Moorings. But for those diehard fans that have enjoyed the lush orchestrations and their depth of programming this is not just a bunch of older tracks already available. In addition are several new remixes and recordings including "Muscoviet Musquito", "Stranger", and "A Day". Also there are the new tunes called "I Want You Now" and "Into Extremes" both of which were just recorded this year. Perfect. 
- J-Sin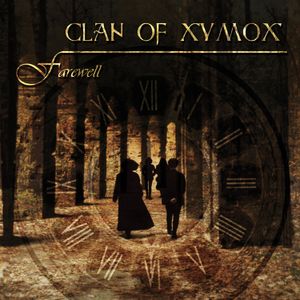 FAREWELL 
Gothic Paradise 
Presenting another chapter in great music from Ronny Moorings and company. This latest work continues on the legacy of a great combination in styles of Gothic and Synthpop music. The two years since the last release have been well spent putting together another set of great tracks in the form of this latest angst-ridden album. 
The first and title track speaks volumes to the entire mood, emotion, message and style of this stellar work. As the words "Farewell affectionate brothers, you won't see me again" resonate through the moody, yet driving music, the stage is set for a masterpiece. The first trio of songs (and others) are driving, hailing back to the earlier years of more synthpop-oriented music, yet combining the trademark guitars and musical styles we've grown to love. The angst is there as usual with titles like "Cold Damp Day" and "There's No Tomorrow", there's no doubt that this is pure Clan of Xymox sound. These three club-friendly tracks that build up the intro to this album are also probably my preferred tracks for their overall solid sound and quality. The experience of this group really shines through in these works. 
After this driving intro the mood is broken down into a slow and oppressive style with the aptly named "Dark Mood". This drifts away through ambient soundscapes that are captivating and mesmerizing as they hold the listener entranced for the next moving track "One More Time". The beautiful mid-tempo sound comes out in this ballad that ebbs through stylish guitars and synth strings. Building up slightly more "It's Not Enough" picks up the pace and leaves us with the modern synthpop sound of "Courageous", one of the more electronic oriented tracks on this album. 
The remainder of the album serves as a real tribute to great music and song writing. "Into Extremes" is even more intense than the previous tracks, but builds up the climax that drifts off for the excellent ballad "Losing My Head". This beautiful slow piece is a timeless icon to the lasting dynamic style from this excellent group. And finally, we're left with "Skindeep", the final masterpiece on this album. This track is presented as another slow track that pulses through the senses with the permeating synth loops and slow rhythms that are accented at times with distortion or mellow vocals that all gradually drift off into nothing. 
Overall an excellent work bringing all of the previous styles that Clan of Xymox has presented us with and melting them together into the excellent Electro Goth mix. With bombastic approaches at times to accent the angst-filled vocals or club-friendly music, the dynamics are perfectly presented to leave the listener with never a boring moment. As one of my favorite releases this year to date, I highly recommend it to old and new fans alike. 
Rating: 4.5/5 
Smother 
After writing for a solid two years, Clan of Xymox presents one of their best albums to date. Obviously the overall theme of the album is leaving things behind most especially in matters of love and relationships. The niche of electro and gothic is one that most bands can't easily skirt and sound genuine but Clan of Xymox accomplishes this effortlessly. "Farewell" is both atmospheric and moody but also lends an ear to the more club-friendly beats of some masters of darkwave. Eventually America will catch up to Europe and more of our clubs will be pumping out this type of music. So be the first on your block to be able to scream poseur at all the kids who went from Blink 182 and nu-metal to Clan of Xymox and other Metropolis Records artists. 
- J-Sin 
* 
reflection 
Clan Of Xymox veröffentlichen mit "Farewell" ihr neues Album auf Pandaimonium Records. Die zehn Titel der CD wurden im Frühjahr 2003 aufgenommen und zeigen die niederländische Band in elektronischer Höchstform. 
"Farewell" ist pure Innovation, musikalische Spannung und das Ergebnis ständig gegenwärtiger Frische auch nach fast 20 Jahren Bandgeschichte. Die einzelnen Titel des Albums sind voller Energie, fesseln den Hörer binnen kürzester Zeit und haben sie diesen erst einmal an die Hand genommen, dann lassen sie ihn auch nicht wieder los. Dieneuen musikalischen Clan Of Xymox Welten sind sehr nachdrücklich, häufig tanzbar und werden durch zielstrebige Basslines bestimmt.Stücke wie "Cold Damp Day" oder auch "There´s No Tomorrow" strotzen nur so vor Energie und zeigen doch stets – obwohl der Grundgedanke der Band bei der Thematik dieses Albums das Abschiednehmen war – die Hoffnung der Zukunft und das in diese Richtung strebende positive Denken der Gegenwart auf. 
Mit "Farewell" haben Clan Of Xymox ein wirklich großartiges Album produziert, das einmal mehr einen neuen Meilenstein in der Bandgeschichte setzen wird. 
© re-flexion.de 2003 / Ingo Möller 
* 
d-side Italy 
Clan of Xymox's "Farewell" is what I'd call a very nice surprise: the band, which seemed to be very persuading in their last artwork "Notes fromthe underground", is now back with a more electronic and involving sound style. Let alone the mere gothic rock style they've used in thelatest two albums, the Clan of Xymox has learnt the lesson by who has collaborated with them in the realization of the brilliant "Remixes fromthe underground" and they have found a very personal and incisive style where Ronny's voice let us enjoy some old emotions, in a perfectmatch with the melancholy and brilliance of the tunes. The album is an expert mix of darkwave, electro and gothic sounds: alchemy alreadyexperienced by others but rarely in a cool way like this! This versatility is the best feature of the "Farewell" LP, because the album isn'ttrapped in a single style but it catches all the scene's nuances in tracks like "One more time" (sort of Mission style) and "Cold damp day"(very electro) or the excellent "Courageous" (in a very Pulcher Femina mood!). Other tracks I must highlight: "Farewell", which gave the nameto the album, has a very catchy sound and you find yourself singing it since the first listening; "Dark mood", a gloom, solemn, cadenced dirge,"There's no tomorrow" an amazing hit, which could shake the Italian dance floors, if only the Italian flabby audience will realize that Clan ofXymox aren't just "A day" and that their present and their future are really worthwhile! "Skindeep" ends the CD between suggestions and softnightmares in the worthiest way for an album, which has really nicely surprised me. 
» Buy absolutely this CD! 
********************* 
Electrogarden 
The question that's most often asked about the title of this latest album is if it refers to the end of The Clan. Mainman Ronny Moorings has been quick to point out that it's more to do with the end of certain chapters in one's life, a relationship that has run it's course, for instance. This will undoubtedly be a massive relief to their huge & loyal fanbase & for those of us who have just discovered exactly what they're capable of as they weigh in with a superb & varied release that will appeal to electro fans as well as goth/darkwavers. 
Following on from the superb "There's No Tomorrow" single (which is, needless to say, included here!) this is a varied offering that, while retaining a dark, sombre mood throughout, thanks in part to his sombre vocal style while encompassing a great many musical bases in a sumptuous & thrilling fashion. 
The electro influences are frequent & unmistakeable, starting with the forthright synth stabs & rhythms that grace the opening duo of "Farewell" & "Cold Damp Day", touches that any electro band would be pleased to call their own although the final touches are added by the gritty guitar work. Moorings' many years of experience is evident here as the fusion is totally perfect & by the time "It's Not Enough" comes around you're almost into EBM territory with accompanying harsher vocals. As always, Moorings adds his own touches to make the music very much his own & it's this that makes the album so instantly memorable from start to finish. This also means that when the band do touch on more traditional goth/darkwave territories, as on "One More Time" which utilises violin, guitar & accoustic drums or the brooding "Dark Mood" where a superb sonic tapestry is built up through massed layers of strings & tympanic flourishes, then the effect is actually to make the album a great deal more 'rounded. Add to this the operatic voices that crop up on "Losing My Head", again accompanied by some wonderful strings or the 80s new-wave bass & guitar combo of "Into Extremes" then the results can be nothing but a great success, although the latter track does remind me of The Sisters Of Mercy & on "Courageous", another fine track, the chorus vocals sound not unlike Phil Oakey!! Still, with music this good, who's complaining? This is a total triumph from start to finish. 
Carl Jenkinson 
* 
club metropolis 
Written by: Brain, 25/10/2003 
The Dutch band Clan Of Xymox is a legend within the Goth/Darkwave genre that started in the beginning of the 80s on the British label 
4AD. They've since then released a score of remarkable albums such as "Medusa", "Twist Of Shadows" and their comeback album 
"Hidden Faces" which was released after they took a break for a prolonged period during the 90s. Their biggest success after the 
comeback was 99's "Creatures" and in 2001 we got the album "Notes From The Underground". Clan Of Xymox have changed labels a 
number of times, but it looks like they've found a place to call home with the German record label Pandaimonium Records. The only 
original member is the founding lead singer Ronny Moorings with the characteristic vocals that have always made Clan Of Xymox 
stand out. 
Farewell features 10 tracks, including the songs "There Is No Tomorrow" and "Courageous" from the MCD released last year.The new 
album offers us the classic Clan Of Xymox sound loaded with synthlines somewhat in the same vein of Creatures and much more 
interesting than their previous album, Notes From The Underground - which was a bit boring in my opinion. 
The album opens with the title track, "Farewell". It's a great song, just as "Cold Damp Day" and "There Is No Tomorrow" are; all 
danceable songs with great club potential. And even the slow songs like "One More Time" and "Losing My Head" are great with full of 
brilliant musical instrumentation. We're also treated with one classic Goth Rock track called "Into Extremes". The best thing about this 
album is really the wide variation from which Clan Of Xymox shows that they've even also mastered the ability to please the 
Industrial/EBM audience with songs like "It Is Not Enough" and "Courageous", the former actually sounding a bit like Assemblage 23 
and VNV Nations, the latter also being very Industrial'ish in its own way. 
Overall, the songs on Farewell are all powerful, varied and very well written. It's a great album that succesfully manages to cover a lot 
of ground, genre-wise, and leaves you wanting more. 
* 
Scrypturasonitra 
Mit "Farewell" haben Clan of Xymox wieder mal eine Meisterleistung vollbracht. Die Scheibe ist fast durchgehend sehr synthielastig und energiegeladen, mit melancholisch-düsteren Melodien, und wirklich eine der besten CD´s, die ich seit langem gehört habe. Gleich das erste Lied, "Farewell", verleitet zum Mitschaukeln. Der Song ist sehr rhythmisch und tanzbar und mit eingängigen Synthiemelodien unterlegt. Beim zweiten Lied, "Cold Damp Day", hämmern dann auch gleich die Rhythmen weiter. Tanzflächenfüller! "There´s No Tomorrow" beginnt dagegen ruhig und leise mit Hintergrundstimmen, um aber dann auch gleich wieder in Synthiebeats überzugehen. Auch dieser Song ist sehr melodisch und tanzbar. "Dark Mood" ist ein ruhiges, düsteres und sehr athmosphärisches Lied, trotz der synthieerzeugten Drums im Hintergrund, die dem Ganzen jedoch das gewisse Etwas verleihen. Das fünfte Stück, "One More Time", ist dann ganz anders als die vorherigen Songs. Es tendiert mehr in Richtung Wave, beinhaltet keine Beats und ist mehr etwas zum träumen. "Into Extremes" ist ein Original, wie man es von Clan Of Xymox kennt: Eher Gothic-Rock, rhythmisch und sehr melodisch. Lied Nummer 7, "Courageous", ist dann wieder synthielaster und im 
EBM-Stil. Ein weiterer absoluter Tanzflächenfüller ist "It's Not Enough", das mit einem gewissen Touch 
von Industrial daherkommt. Der neunte Song, "Losing My Head", ist ein langsames Stück, das wieder 
mehr in Richtung Wave tendiert. Die Synthies treten in den Hintergrund und untermalen nur den 
Refrain. Das letzte Lied, "Skindeep", ist sehr ruhig und melodisch und trotz der Synthieuntermalung, 
durch die der Song teilweise sehr sphärisch wirkt, fast schon eine Ballade. Ein sehr gelungener Abschluß. Alles in allem kann man nur sagen: Leute, hört rein! Das sind wieder "Clan Of Xymox", wie man sie kennt und liebt! 
* 
Nocturnal Movements 
CLAN OF XYMOX delivers the velvet-chocolate vocal tones of Ronny Moorings (vocals, guitar) whose vocals remind me strongly of Johan Edlund (Tiamat and LucyFire), and also of Mojca (Bass & vocals). Musical production and execution on FAREWELL reminds me at times of S.O.M., Project Pitchfork, and The Mission UK. Energy throughout this album shifts from the shallows of reflective grief ("Dark Cloud" and "One More Time") to an apex of EBM momentum in "Courageous". Time and the dark halls of regret are conveyed within the ultra-fantastic cd sleeve artwork provided by Mojca. If anyone has a chance of bringing Dark Gothic Electro into mainstream acceptance, it must be CLAN OF XYMOX! The more electrifying tracks herein carry forth dance-pop sensibilities with dark brooding gothic lyrical concepts, e.g. "the one you love is the one you hurt the most/In My Heart I feel Like a Ghost". Everything we see upon the dance floor, the confidence of the swirly goths, the passion of the dance, the permanence of the beat... FAREWELL delivers all of these elements which must find renewed vigor soon on dance floors worldwide. This could very well be the next best-selling album for CLAN OF XYMOX! Metropolis (releasing this USA version) may have slipped with the track listing order, but they definitely picked a winner with CLAN OF XYMOX! Pandaimonium Records (Europe) is issuing a slightly different version of FAREWELL - click here. The European track listing for FAREWELL appears in the correct song order as compared with the USA version (which confuses tracks 6, 7 and 8). Pandaimonium Records reports that a limited edition Digi-Pak of the FAREWELL album (which also included a CLAN OF XYMOX sticker) has already sold out, though the standard jewel case (european) version remains available for collection. 
as reviewed by Jett Black - NocturnalMovements.net 
* 
Smother 
After restoring their original name (from the shortened 'Xymox') in the lateNineties, Clan of Xymox has found their following grow and have delivered masterful compositions to an adoring fanbase. They took their sweet time 
preparing and refining Farewell, the follow up to 2001's Notes From the 
Underground. What surprised me, having only heard bits and pieces of their output over the 
years, is how clubby this album is. The pounding gallop of the title track (and several others, like "Courageous") is relentless, and the croon of Ronny Moorings brings an anthemic quality to the music of Farewell. A departure from 
the club formula, the slow burn of "Losing My Head" might well be my favorite. 
Also of merit is the complex final song, "Skindeep"—it really ends the album 
on a high note. Yet another chapter in the legend of the Clan of Xymox, Farewell is hopefully not the end of the story, as final as its name might suggest. A fine record. After writing for a solid two years, Clan of Xymox presents one of their best albums to date. Obviously the overall theme of the album is leaving things behind most especially in matters of love and 
relationships. The niche of electro and gothic is one that most bands can't easily skirt and sound genuine 
but Clan of Xymox accomplishes this effortlessly. "Farewell" is both atmospheric and moody but also 
lends an ear to the more club-friendly beats of some masters of darkwave. Eventually America will catch 
up to Europe and more of our clubs will be pumping out this type of music. So be the first on your block 
to be able to scream poseur at all the kids who went from Blink 182 and nu-metal to Clan of Xymox and 
other Metropolis Records artists. 
- J-Sin 
* 
Angelfire 
http://www.angelfire.com/ny2/graveconcerns/coxfarewell.html 
After the much talked about, "Notes from the Underground", Clan of Xymox is back with their next CD release "Farewell". "Notes from the Underground" was really good and definitely a hit, but "Farewell" is so much better! The band is a true leader of dark- electro goth, and they know how to make it work. The sound of the CD keeps their traditional Clan of Xymox sound, but I found this CD had many more upbeat club friendly tracks. What was also good about the mix on the CD was they had five really danceable tracks, and within the danceable tracks the band had more dark gothic songs with less dance beats, that were really enjoyable tracks. I really liked the balance of the CD. It was not an over kill with super danceable tracks. It demonstrated good gothic rock. If you are into the more danceable tracks, I would suggest, "Farewell," Cold Damp Day," "There's No Tomorrow," "Courageous," and "Into Extremes," which seemed to have a harder edge with some industrial sounds. The song, "One More Time," and "It's Not 
Enough," had a more rock feel, and not that they did not have programming, but it was a nice break from the really dance tracks. It took on a more rockish Cure type feel, but in the traditional style of Clan of Xymox. The last two tracks, also had more of rock feel, but "Skindeep had more of a moody atmospheric sound, and brought in more upbeat sounds, as "Losing My Head," did not. "Farewell," a definitely my favorite release by the band. It has club-hits, and had dark themes running though the CD. Where, I felt on some past albums, the less danceable songs have lacked, not a whole lot, but the songs that are not highly danceable are just as powerful, and have great melodies. Ronnie definitely has one of the best male gothic vocals. It is with those vocals, makes the lyrics really felt by the listener. "Farewell," is beautifully balanced, and keeps the darkness within. I am really happen with this release, 
and this is a CD that I will want to listen to a lot. 
* 
Zillo 
Ganz wie gewohnt und doch ganz neu Es gibt wohl nur wenige Bands, die in den letzten Jahren sowohl 
auf europäischen Bühnen als auch in den Plattenläden so präsent gewesen sind wie die in den Niederlanden residierende 
Formation Clan Of Xymox. Kaum wurde vor zwei Jahren das letzte Album "Notes From The Underground" veröffentlicht, tourten Frontmann Ronny Moorings & Co. ausgiebig und brachten das Remix-Doppel-Album "Remixes From The Underground" an den Start. Zwischendurch findet Ronny dann auch noch die Zeit, um sein Label Stichting Xymox Control zu unterhalten, das seine 
Veröffentlichungen für den europäischen Markt in Lizenz an Pandaimonium abtritt, die halbjährlich in Amsterdam stattfindenden Gotham-Festivals zu organisieren und einen Spanisch-Kurs zu besuchen. Da mag man sich schon fragen, wo 
da noch Zeit übrig blieb, um das neue Album "Farewell" einzuspielen. "Für mich sind zwei Jahre ein idealer Zeitraum, um neue Songs zu 
schreiben. In dieser Zeit gab es je zweimal einen Winter und Sommer, Herbst und Frühling. Diese Perioden üben einen 
großen Einfluss auf meinen Gemütszustand aus und sind deshalb wichtig, um Musik machen zu können", erklärt Ronny gleich 
seinen Arbeitsrhythmus mit. "Es ist ein Kreislauf, von dem alle Menschen betroffen sind, ihre Stimmungen verändern sich. Denk 
nur mal daran, was in den letzten zwei Jahren in deinem Leben alles passiert ist! Sicherlich eine Vielzahl von kleinen und großen 
Dingen, die deine Aufmerksamkeit fesselten. Dies sind die Dinge, in die du eintauchen, in denen du nach versteckten Schätzen 
suchen und diese Ereignisse, Gefühle, Gedanken unsterblich machen kannst, indem du sie in Worte formst und aufnimmst. 
Ich schreibe Musik nur dann, wenn ich das Bedürfnis dazu Mitteln nicht auszudrücken vermag als durch Musik. Der Herbst 
und Winter sind für mich die besten Jahreszeiten, weil es die Stimmungen beherbergt, die ich am meisten schätze. Auch das Wetter erleichtert es einem, sich in die Obhut der `TortureChamber´ zu begeben, wie ich mein Studio nenne." 
Dirk Hoffmann 
* 
Darkbeat 
Alle Achtung, so ein Album hätten wir "Clan of Xymox nicht zugetraut. Mit"Farewell" ist Ihnen aller 
gegenteiligen Erwartungen ein Hammer Album gelungen. Auf "Farewell" vereinigen Sie Ihren Gothic Sound mit viel wuchtiger elektronik und weisen den Hörer in die Schranken des neuen Clan of Xymox Sounds, ohne aber Ihren musikalischen Ursprung zu 
verleugnen.Tracks wie z.B "Cold Damp Day" sprühen nur so vor Energie und beanspruchen einen festen Platz in der Hitliste des neuen Albums."Farewell" ist einer der wenigen Alben Neuveröffentlichungen der letzten Zeit bei dem getrost sagen kann, dass es sehr innovativ und musikalisch gelungen ist. 
http://www.darkbeat.net 
* 
Nocturnalhall 
After listening to a few new songs at their live show in May I found on Farewell affirmed what I was suggesting: CLAN OF XYMOX abandoned themselves almost completely from the Gothic/ Wave sound and bring now their music into the legs of their fans. And that with nice Electro/ EBM tunes. The predecessor Notes From The Underground already was much harsher than their 
acclaimed masterpiece Creatures. And the single There's No Tomorrow released in 2002 
already blazed the trail they are following now. But that's no reason for the romantics to coffin themselves six feet under totally horrified. COX are still able to build up this unrivaled dark atmosphere and especially Ronny's vocals give a deeply 
melancholic touch to the songs, despite of their danceable rhythms. But beyond they use everything possible of keys and effects to create fast beats. Guitars move pretty much to the background and set just sporadic accents. As always it's pretty hard to point out 
any special song as COX ranges all the time on a high level. The mentioned There's No Tomorrow is already running every dancefloor. While the first half of Farewell goes into EBM fields (Farewell, Cold Damp Day and There's No Tomorrow), songs like Courageous or It's Not Enough play with Future Pop elements but luckily without getting them out of hands. In between you have a break to 
quieter and familiar Gothic/ Wave fields with Dark Mood and One More Time, although electronic nuances stay all the time present. At the end Farewell dies away with two quiet tracks Loosing My Head and Skindeep. Overall the quieter songs remind me every now and then to old Love Like Blood. With Farewell CLAN OF XYMOX prove once again their ability and proficiency to change and to 
develop themselves, to try something new, to fathom boundaries and to abide themselves though. Maybe they tried to pick up the thread from the early nineties when they started the first trip into more electronic fields, which failed badly. Either COX started this new sashey much smarter and more sophisticated or the musical taste has changed in favor to the band... I don't know, but it works out very well. 
Farewell is once again a fantastic album and should not only sell much better but also extend the band's fan base. 
http://www.nocturnalhall.com 
* 
Technopunkmusic 
http://www.technopunkmusic.com 
Tool once sang, "Mom's gonna fix it all soon/Mom's comin' round to put it back the way it oughta be." Obviously, they were hoping 
for the easiest solution to a world full of strife but then maybe things wouldn't be so interesting if the oracle-esque knowledge "Mom" was there for the solutions. I rather enjoy the pain sometimes and I suspect everyone has their dark side where strife and oppression is remarkably intriguing to them. For as horrible the injustice of pain may be, it's also the springboard for the best things in this life, for truly where would humans be if it were only happiness that they knew? 
Those elusive life answers that haunt and compel us are exactly the strengths that have kept Clan of Xymox relevant for so long. They 
understand the importance of embracing life's miserable moments, empowering their flaws through rich song and I suspect it has a bit more to do than the Clan being a Goth band. Above and beyond many, Xymox are still vital after nearly 20 years because they're able to translate personal melancholic setbacks into gorgeous, triumphant, heartbreaking displays of dark dance art. 
Sure, their new album is called Farewell but there's nothing fleeting from these musicians where talent or their trademark 
characteristics are concerned. Nearly every track drips with an effective atmosphere, some of it vintage Goth and some of it less-easily defined delicious creative. The opening self-titled victory drips with dark encouragement, driving bitter dance beats and ultra-moody vocals to a vintage Goth boil. "It's Not Enough " is the new Goth and industrial foresighted trend where invigorating trance accentuates the band's moody disposition, very much helping to prove that trance is better in this genre's hands than in a million "rave" crates put together. "Courageous" is a vintage showcase of all that is wonderful about Xymox' career and the longevity of the genre as a whole, though through it all "Cold Damp Day" is the emotionally grasping moment that triumphs inside this exceedingly well-made album. It's also that exquisitely sad moment that, in its own way, celebrates the drearier damp sides of a life that gives reason to such wonderful 
suffering. 
by Bill Mahoney 
* 
Gothicparadise 
Kontroverse Künstler sind mir seit jeher die liebsten, dieser reihen sich CLAN OF XYMOX deutlicher denn je unter diese ein, das allerdings eher unfreiwillig durch eine teilweise vollzogene Neubesinnung ihres musikalischen Erscheinungsbildes. "Farewell" eröffnet mit dem gleichnamigen Stück,geradlinig aufgebaut, mit einem durchgehenden, tanzbaren Rhythmus versehen und auf einen eingängigen Refrain zusteuernd, insgesamt elektronischer tendierend als bislang. Eine Linie, die in den nächsten beiden Stücken konsequente Fortsetzung findet, während sich gleichzeitig die ersten drei Höhepunkte des Albums bereits herauskristallisieren. Am ungewohnt modernen Klangbild kann mancher Hörer sich sicherlich stoßen, dieses automatisch mit Substanzverwässerung künstlerischer Inkonsequenz gleichzusetzen, greift schlicht zu kurz. Für sehr viel inkonsequenter hielte ich das krampfhafte Eliminieren neuer externer Einflüsse, die aufdem vorliegenden Werk mit einer Raffinesse in den urtypischen Kosmos der Band verwoben wurden, wie ich das nur selten erlebt habe. Die klassischen Wave-Gitarren nämlich fordern spätestens mit "One More Time" einmal mehr ihr Recht und bescheren quasi nebenbei mit "Losing My Head" noch eines der schönsten XYMOX-Lieder überhaupt, traditionelle stehen gleichberechtigt neben neuen Elementen, und wer ehrlich ist, wird nicht abstreiten können, dass sich selbst zu einem Stück wie "Skindeep" semidirekte Vorfahren etwa auf "Notes From The Underground" finden. Den allerletzten Lufthauch aus den Segeln der Kritik nimmt mit Blick auf die inhaltliche Seite die allgegenwärtige, für Ronny Moorings so typische Melancholie, die diese Platte in noch stärkerem Maße verströmt als ihre Vorgänger, bedingt unter anderem durch die einmal mehr wundervoll die Atmosphäre mittragenden Texte, die diesmal noch tiefer zu gehen scheinen, noch mehr an die Wurzeln rühren, dunkler denn je, dabei von unverbrauchter Frische. 
Man hat anderes erwarten können, "Farewell" indes macht deutlich, dass man mehr nicht verlangen kann. Vielleicht das beste XYMOX-Album. 
http://www.gothicparadise.de 
* 
Hardwired 
It's been two years since the last album outing from the Clan, so this album comes as a welcome relief for followers of all things Xymox. 
The thing I have to say about this album, and in essence about Clan of Xymox themselves, the sound while staying true to the Darkwave ethos, has evolved. It's new, and yet instantly familiar. 
Those who know me will know I've not been a great fan of early Xymox material, but this album is very good. Modern sounds and instruments mix well with the vocals, creating a typically contemporary Darkwave sound, with lyrics that are easy to identify with. 
The sound recording is excellent, with vocals and music balanced superbly. This is a pleasure to listen to! 
The album starts off typically moody, but by the time we hit track three, "There's no tomorrow", the pace picks up – expect to hear this on a dance floor near you soon – it's incredible! Electronic beats and loops aplenty, coupled with electronic guitars. Nice! 
The fourth track, "Dark mood", takes us back to more traditional Darkwave territory, with classical strings, and a dark and sombre mood to boot. 
The rest of the album maintains this balance – modern sounding with distinctly Darkwave/Goth elements. There are enough traditional sounding tracks to keep the die-hards happy, while those who prefer their Darkwave to have a danceable element to will find solace here too. This is a fine line well walked, and deserves our praise. I cannot find a duff track on this album – it's easy to get into, easy to listen to, and difficult to turn off. Buy it and love it. Here's raising a glass to the Clan. Welcome back! 
Keith Elcombe 4/4 
* 
Chaindlk 
To my knowledge, this band has yet to do a bad CD, and are one of my all time fave goth artists. It's like they keep the line between gothic rock and dark new wave melody alive, as well as bring it into the 21st century with almost no effort at all. This group brings me back to those days when it was often me and some old school goth tunes, such as Bauhaus and Joy Division, back to those 
days when goth strangely enough had a pure energy, not the stereotype it is these days. And they were one the first to dare put goth elements into electronic music, making masterpieces like "Medusa", which sounded like what Joy Division would sound like after tutoring under post "Exile" Gary Numan, and "Twist Of Shadows", possibly the most enjoyable and clever dark-wave CDs to come out of the 80's. Always they manage to bring some type of new element to gothic music in ways that almost no others can, and where many of the others who have COX's amount of fame (such as The Cure or The Damned) have failed. On this release, Ronny and his gang of merry men and women bring a combination of what could be "Notes From The Underground" meets Souxie And 
The Banshees' "Superstition", making what could best be described as 80's darkwave for the 21st century, complete with that Clan Of Xymox ambience we've come to know so well and love. And as mentioned before, it's got that old school gothic boogy and melody which is outright addictive, something you could get only from seasoned pros like COX. Dancey goth-pop patterns and 
danceable drum beats are met with chainsaw guitar riffs, making for a very addictive mix, all topped with Ronny's charming and emotive baritone vocals. The patterns are always tricky, and always shifting around, but it does give you that feeling like you're back in a nightclub in the post-Joy Division era, something that I rarely experience in this day of cookie cutter glam-goth bands and 
rehashed Bauhaus clones. My two favorites from this CD have to be "Into Extremes ", with it's bouncey goth-pop guitar work and sharp melody, and "There's No Tomorrow", which is the old Clan Of Xymox feel with a 22nd century dance line attached to it, making it the perfect cross between gothic sensibilities and dance floor ethic of today. Another masterpiece from one of the 
most influencial European bands out there, and one of the few in goth who are always looking forward. Also of high note are "Creatures" and "Notes From The Underground", but anything of COX will not steer you wrong. 
Rating: 10. 
Review by: KlingKlangBedlam 
http://www.chaindlk.org 
* 
Orkus 
Zwei Jahre sind vergangen seit den Notes From The Underground und es 
scheint, als habe Ronnie Moorings jeden einzelnen Tag dieser Zeitspanne 
dazu verwendet an neuen Songs zu arbeiten, denn Farewell ist einfach ein 
geniales Stück musikgewordener Melancholie. Während die Grundzüge des 
xymoxschen Stils - ein Gemisch aus elektronischen Elementen und 
Gitarrensounds - nach wie vor gleichgeblieben sind, so klingt die 
Scheibe dennoch frischer und moderner als vorherige Alben - und damit 
ist nicht kommerzieller, einfacher und massenorientierter gemeint! Ganz 
im Gegenteil vermengen sich hier treibende Beats und jagende Synths mit 
den finsterstes Seelenlagen des Menschen zu einem abgründig-düsteren 
Gemisch. Auch der Wave ersteht in einem schattigen Gewand erneut auf, 
wie bei One More Time oder Into Extremes. Im Gegensatz dazu sind It's 
Not Enough und There's No Tomorrow - das bereits vor einiger Zeit als 
Single ausgekoppelt wurde - wahre Tanzflächenkracher, dennoch mit Seele 
und weit ab irgendwelcher Dünnbrett-Synthie-Dance-Formationen. Jedem 
treibenden elektronischen Klang wird ein Vielfaches an tiefgehender 
Emotionalität entgegengesetzt, ein Gegengewicht aus Düsternis, 
Verzweiflung, Kummer, Schmerz und Sehnsucht. Losing My Head ist dabei 
ein absoluter Höhepunkt des Albums und zugleich ein Sinnbild für einen 
menschlichen, seelischen Tiefpunkt - Liebeskummer in klanglicher Form. 
Clan Of Xymox machen mit Farewell deutlich, wo sie hinwollen: Sie sagen 
der immer breit grinsenden, oberflächlichen und kalten 
Konsumgesellschaft Lebewohl! 
(10) 
Peter Sailer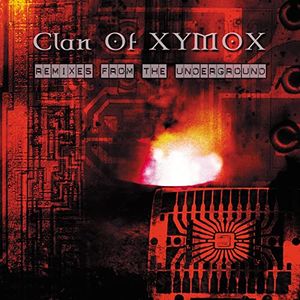 REMIXES FROM THE UNDERGROUND 
Mike Ventrola 
Clan of Xymox Remixes From The Underground Reviewed by Mike Ventarola The anticipation for Notes From The Underground was rather painstaking for all hardcore Clan of Xymox fans who were simply itching for new work from this band. Upon its release, many let out a collective sigh of relief as our copies entered our homes and were promptly given non-stop rotation from our stereos. Just as the smoke cleared and we started to become comfortable with this bevy of new music, word of an official "remix" of this CD was rumored and surfaced across the internet wires. Fans from across the globe scrambled to find truth in this possibility, rousing them from their COX fix with Notes From The Underground. 
Those who have followed the career of this band, also know that Ronny Moorings is not too partial to remixes, and rightly so. After all, when one spends an inordinate amount of time of putting one's emotions, heart and soul to the sound and structure of music, it can be rather daunting to hear it improperly handled, thereby negating the hard effort that went into its creation in the first place. We have subsequently learned that the remix project was not a rumor, and the wait was well worth it. 
This particular 3 CD set is packaged as a gatefold digipack and numbered in a series of 2500. The first 2 discs contain remixes, while the last CD provides fans with a current interview of Ronny and Mojca from Dump TV. In between the interview are snippets from video's and concerts, making this a great testament to the band's global popularity. Rene van Nuland is responsible for the entirety of disc 3 and it was a stellar achievement to bring to life not only the interview, but also some of the Clan of Xymox memories. Be warned however, because this interview will make you thirst for a full DVD of COX videos and footage. Mojca designed the digipack sleeve to give it a technological, quasi-Aztec and cauldron flair. 
To review this project is rather daunting because there is simply so much that needs to be covered and only a limited amount of space to do so. In essence, for those who feel that COX may have become "too techno," be assured that this is a REMIX project, and not a TECHNO project. This is mentioned simply because some goth purists felt that hearing this masterpiece would "break their heart." Truthfully, this will expand on your love for the band and in no way detract from it. Besides, Clan of Xymox have NEVER put out a less than commendable release in their entire career. Certainly there are some tracks that have been boosted in the BPM department, thereby assuring them club floor classic status. However, many of the tracks have gentle percussion and tweakings from the original that are just as at home in your living room or bedroom during your introspective hours. COX still marries the electronic age with Goth sensibility. Hell, they practically invented that style and one simply can't take that away from them, nor should they be so stridently boxed into any one particular corner. Moorings' muse doesn't have a genre limitation, nor should we. Instead, we must continue to be grateful that Moorings et al can continue to create such passionate music that resonates with people from all ages and backgrounds through the decades of time. 
Anguish kicks off the first disc with a mix by Iris that is simply flawless. Since there is so much "disco goth" floating about, this track was crafted to stay within the parameters of the tastes of club patrons. The great thing about this track was the fact that the lyrics and vocals were kept up front, reverberated in just the right places for emphasis. 
Something's Wrong was tweaked by Angels & Agony that provides a bit of a nod toward the electronically darkwave/morose ambience coupled with vocoder effects. Mooring's voice is brought to the front while the percussive house beats accentuate the riveting electronic background. Cut Rate Box brings the song Number 1 to a level of dark industrial electronics. The morose atmosphere is kept intact. The track is quite a hybrid between industrial and techno-goth. Fear not all you purists out there. 
"Innocent" is delivered by Assemblage 23 with a funereal moroseness that also allows for layers of percussive beats. It is certainly goth-club friendly, but some of the gloom will most likely not make it to the mainstream clubs. There is plenty of "oontz" per second on this extremely fast tempo track, but it does not deviate from the initial perception of being a somber song. 
I Want You Now is one of this reviewers favorite tracks on Notes From The Underground. It was particularly interesting to hear how a song that was as near perfect as humanly possible would be restructured for this project. Tri-State took away some of the frenetic energy of the original track, making it a bit more introspective than anxious. The vocals were layered on top of each other, giving Moorings a more decidedly dark essence. 
The Same Dream seemed to have been crafted from the files of A Murder of Angels. Many odd sounds were incorporated, giving a metallic liquid feel. DJ RAM applied futuristic tweakings along with a mid-tempo percussive beat. This track brings Moorings to an almost demonic essence as the vocals are deepened and woven through a chorus of misbegotten souls. 
At Your Mercy opens within the confines of a forlorn chasm. Naturally the beats pick up along with the pre-requisite beeps and blips. Despite the percussive element, the song maintains a mid-tempo feel. In Strict Confidence made sure to maintain the unrequited lovelorn sentiments as Moorings initially crafted this tune. 
Liberty once again demonstrates a marriage of funereal and industrial tones. Damon Fries revamped this track with an up to date percolation, but maintained the level and essence of dark decadence that makes COX such a lovable band. 
Into Her Web was given even further reinterpretation by Sophya/Idan K that also includes additional vocals by Sonja, in this rather somber, slow and pensive track. This track takes us to Goth circa the Lycia era and is simply full of melancholic beauty. 
Internal Darkness was given the work over by The Second Sight. Ironically, the song wasn't tweaked to be a "club" song, as one would have anticipated from this group. Instead, they maintained the flow and essence of the gloomy atmosphere, focusing more on atmosphere and the maintenance of the lyrical content. 
Disc 2 starts with another reworking of Anguish, only this time by Front 242. It is quite different from the first disc in that it starts off with a more percussive and pared down electronic noise effect. Some levels of jungle and drum & bass were thrown in for good measure, keeping this track up to date with many of the crossover style clubs that are a bit more adventurous with their playlist. The percussive element sounds more like a speeding heartbeat, while Moorings vocals seem to be elicited as sub-conscious self talk. 
The Same Dream as remixed by Perfidious Words takes a more trip-hop flavor that is cloaked in the darkest of dark with. Moorings is given quite a showcase for his track that brings us face to face with a relationship on the brink of dissolution. It is quite a universal sentiment when he sings, "I've run out of life to give." Just when you think the track will maintain its essence of murkiness, the BPM's kick up. It is quite likely that the club play for this track may start in the middle to inspire the dancers while the DJ pushes the first portion of the track into the middle as a break for introspection. 
Aboforcen took no prisoners with the remix of Liberty. They found a musical percolation that hasn't been overused by every band out there and utilized it for the intro of this track. In an odd switch, they slow down the track to give Moorings enough time to deliver the lyric, tweak the sentiment, and then launch into an electronic missile cruiser. The electronic element was simply constructed in a wave like fashion. 
Beborn Beton utilized an updated electro-trip hop along with vocoder effects that simply cloak Moorings' vocals into a futuristic chasm. Michael Balch re-created Bitter Sweet to take Moorings to an even darker, almost sinister level with the deep reverberation of his vocals. Odd minor chords and gentle cacophony somehow come together to make this also a club friendly track, but also one worth dissecting in order to figure out the many layers of sounds constructed around it. 
In the final analysis, the most apparent thing with this remix project is the dedication for keeping Ronny Moorings vocals as up front and clearly understood as possible. The styles may vary from industrial club killer tracks to the more pensive and morose, but the dark element is never far behind. The amount of self-reflection that went into crafting these lyrics are certainly not lost on the listener nor on those who remixed these various tracks. 
These remixes certainly do not come across as a cheesy means to have the hardcore fans part with more money. There is a definite quality here, no less brilliant than those of COX themselves. Notes From The Underground certainly is a remarkable work from the band, but this remix project is just as extraordinary, fresh and vibrant, setting it apart from the former CD as an entirely new project. The listener is not accosted with ONLY dance style tracks. We are provided with reinterpretations that are also on the reflective side, which are no less stellar as those tracks meant for club rotation. 
Do seek out this CD, but hurry, as the pressing is limited to 2500! It will be money very well spent. The only thing we can hope for now is a full release of COX videos, as disc 3 will make you thirst for them. 
Disc 1: 1. Anguish: Deep Inside Iris Mix by Iris 2. Something's Wrong: Avatar Mix by Angels & Agony 3. Number 1: Cut Rate Box Remix 4. Innocent: Defiled Remix by Assemblage 23 5. I Want You Now: Tri-State Remix 6. The Same Dream: DJ RAM Nightmare Mix 7. At Your Mercy: In Strict Confidence Remix 8. Liberty: Damon Fries/Boudoir Mix 9. Into Her Web: Remix by Sophya, Idan K., additional vocals by Sonja 10. Internal Darkness: The Second Sight Remix bye Dierk Budde 
Disc 2: 1. Anguish: Remix by Front 242 2. The Same Dream: Perfidious Words remix 3. Liberty: Remix by Aboforcen 4. Something's Wrong: Beborn Beton Remix 5. The Bitter Sweet: Blackland Remix by Michael Balch (ex-Front Line Assembly) 
Disc 3: Video Interview with Ronny Moorings and Mojca for Dump TV, Amsterdam February 2001 (Interviewed, edited, subtitled and mastered by Rene van Nuland) 
* 
Kaleidoscope Issue 12 - Atumn 2002 
Remixes From The Underground review by Jade 
This 15 track remix album of some of Xymox's best known songs kicks of with a version of " Anguish" by Iris which pretty muchsets the tonefor the rest of the album. In some ways it's bizarre hearing the bands's songs rocketing along at a totally different pace anyone expecting Xymox's normally sedated music is going to be in for a shock! 
The remix of "Innocent" by Assemblage 23 is fantastic-they've totally gutted the song and made it their own. I'm sure that some purist will insist that it doesn't sound like Xymox should but isn't that exactly the point of remix albums? 
There's a host of big names working on the tracks including Cut Rate Box, In Strict Confidence,Front 242, Front Line Assembly and Beborn Beton and each act adds a unique element to this album. 
It's obviously not the first album anyone should buy to get into the band but for existing fans it's fantastic. 
Hats off to Clan Of Xymox for allowing other people such a wide remit for remixing the tracks, the only problem with this album is I might never be able to listen to my old Xymox albums in quite the same way again! 
*********************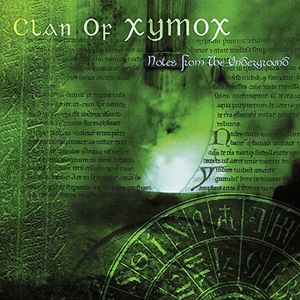 NOTES FROM THE UNDERGROUND 
Side Line 
Notes From the Underground Side Line Nr.37 (Oct/Nov/Dec 2001) 
Clan Of Xymox's new album "Notes From the Underground" couldn't have been more aptly titled than this! The Dutch dark stars have been cherishing their underground success for years now, magically capturing sombre moods and translating them into layers of synths and guitars to which they give life through their unique moving vocals. The new album reflects Clan Of Xymox 's continuous exploration of darker feelings, although we can easily perceive that these notes from the underground are this time mostly taken from Ronny's personal diary...? A self-exploring trip through the sinuous ways leading you to a talented melancholic soul. This new album is to be seen as a milestone in the band's discography towards which their previous efforts all converge , or emerge from..... Clan Of Xymox go one step further into the darkness while keeping with them their underground lights like " I Want You Now" or yet " Number One" ( or even the totally dance floor electro bonus track " The Same Dream". While the vocal range and explorations get intensified, we can also notice that the balance between the electronic arrangements and the acoustic sounds has again evolved, progressively incorporating modernity without radically changing the characteristic sound of the band, because it's not today that Ronny will sell his fragile soul to the evil "Notes From the Underground" is that kind of album with jewels, some of them shine at first listen, while the real diamonds are buried deeper and simply wait to be found, slowly growing on you ( think of " Bitter Sweet", " Something Wrong" or yet the introspective " Innocent"). Clan Of Xymox subtle ability to mix melancholy and melody deserves respect. 
Congratulations! TSF:9) TSF 
* 
Dreams Never End, August 2001 
The big question is of course if I'm the right person to review an album by Clan Of Xymox as since the age of 15 I saw singer Ronny Moorings as my god, the musician who always helped me in bad and good times and since 17 years I need his music like water as I think they aren't that many days I haven't played their music, and if I'm exageratting then it can be but in my life there certainly hasn't been a week without the sounds of Clan Of Xymox. And here after the festivalseason Clan Of Xymox are turning up with a new album. Fans of the band certainly will be aware that this band aren't the same since their comeback as the once perfect synthpopwavesounds from "Medusa" or "Twist of Shadows" have turned into dark gothpop and this new album is a bit like the following up from the darkness that surrounded their latest "Creatures"-album. On some songs like "At your mercy" or "The same dream" Ronny reminds the listener that he's still able to write happy wavepopsongs but in general this must be the most intensive album Ronny Moorings has ever made and let�s beat not about the bush: this is the music of someone who must feel unease with the world he's living in as Ronny's words might be hopeful but the music itself is like the soundtrack of a dark horrormovie, it's even like if Ronny is using the surrounding dark feelings as his inspiration to write his tunes. Just listen to a tune like "The Bitter Sweet" and it's like an explosion of feelings in where Ronny is creating a wonderful cacaphony of hysterical sounding synthsounds but just at the moment it's all too much, Ronny drives you back and comes up with a nicer tune. Hmmmmm, this album is certainly the most difficult the band has ever done but after the second listening it feels like "Notes from the underground" is the highest form of expression as I can't imagine that as an artist you can go any deeper into your soul like this. It's not a surprise to hear it from me but today at the end of August I know the album of 2001 is made. 
* 
Didier Becu 
www.gothicparadise.com 
fter two years of silence from this very popular electro-goth group, we are now treated with their latest album. This latest work sticks more with the dark gothic sounds that really came out in their previous album Creatures and their first self-titled album and the dark Medusa. The entire album fuses powerful rhythms with Ronny's haunting vocals and a monolithic mix of guitars and synths. From the very beginning, mixing simple clich�s with their tried and true sound with "Innocent" to the more downbeat "Internal Darkness". The sounds ebb and swirl, in and out of the proverbial consciousness. The very powerful and captivating, soon to be club hit "I Want You Now" is by far my favorite song on this album. The shear power of all the electro influences and beats with the longing vocals show the listener that after nearly two decades, this group hasn't lost one bit of their talent or ability to make excellent music! "Anguish" captivates the real mood of this entire album with the dark bass and synths that slowly build into a colossal and distorted track. Ronny's vocals express such emotion in so many of these tracks, as if his heart will break if not expressed to the full extent possible. From song to song, the listener is taken through these feelings of agony, pain, love and anguish through tracks like "Into Her Web" and "The Bitter Sweet" to the finale for this wonderful album with "The Same Dream". This final track is another of my favorites as it slowly builds from electronic soundscapes, blending synths, that slowly build into an awesome dancefloor beat and Ronny's vocals. Another noteworthy part of this album is the excellent sleeve design by Mojca. The blend of runic symbols layered on Old English Script and the ever-present Xymox symbol from the old-days show this group is still alive and doing well! 
Jacob Bogedahl 
* 
Starvox 
Clan Of Xymox Notes From The Underground ~reviewed by Matthew 
Clan Of Xymox are a band that has preserved through nearly two decades of trends, ups and downs, and have left a wealth of contributions to the dark music underground. I have always been more partial to the band�s early 4AD days, with albums such as their self-titled debut and �Medusa.� I enjoyed the band�s �come back� album for Tess Records �Hidden Faces� but missed out on their last album �Creatures� that featured the club hit �Jasmine & Rose.� 
So my coherence of the band�s entire career is very sketchy, but having seen them live and having several favourite songs from them, I am familiar enough with the band�s sound to note that this may be one of their best, if not most absorbing album in years. I was excited to hear this latest release for Metropolis Records. 
It took me a few listens to fully comprehend the intensity and the angst-ridden darkness of the entire album, but I have been hooked on the disc for quite a few weeks now. 
The opening track �Innocent� is incredible, kicking the CD off with a stark and very rhythmic blast of emotion. The lyrics are comprised of clich�d phrases that are recited to mock the condolences they are meant to offer the lovesick: �Sticks and stones break my bones but it hurts too much Easy come and easy go in love and war all seems fair, It is better to have loved and lost than to never have loved at all.� 
This thought-provoking track is followed by the peppy �I Want You Now,� which is almost too catchy for its own good. It is definitely a good pop song, but a bit too upbeat for my tastes. However, having these two songs together does establish the refreshing variety the band is capable of early on in the disc. 
�Anguish� is an appropriately titled track clocking in at just under nine minutes, a track that volleys between clanging sludge and mischievous Gothic rock. �Number One� is in the same vein as �I Want You Now,� though it is a bit more relaxed and moody, but still an unmistakable upbeat Goth rock anthem, with some cool guitar riffs and sneaky piano chords. 
�Into Her Web� is a dreary acoustic ballad, full of vivid images and a morose, heartrending atmosphere. Obviously one of my personal favourites! �The Bitter Sweet� starts off as a slower, slinky darkwave track, but after about two minutes a sudden shift occurs when some harsh electronics make their way into the song. It is definitely one of the more unpredictable and interesting songs on the album, exhibiting a great sense of variety. 
Skipping ahead a few tracks, the final song, �The Same Dream� is the heaviest on synth pop friendly elements, with a steady thud bouncing behind a hurricane of electronic blips and pops, serving as a driving and energetic close to a powerful CD. One of the best things about Clan Of Xymox is their ability to balance their musical delivery, as much of the music is centered on electronics, they are not relied on too heavily. They masterfully blend in organic Gothic rock guitar styles, driving bass lines, and Ronny Mooring�s distinctive, fluid male vocals to create a solid and complex musical maze of emotional devastation and cathartic danceabilty. 
Though definitely catchy, perhaps due to some subtle romantic new wave sensibilities, this album is also a dark introspective journey into the insecurities of love or the oppressive realities of life in general. �Notes From The Underground� is a journey into extremely personal experiences, but set to a backdrop that can easily be enjoyed by almost all fans of dark music. This is SURE to be a hit amongst fans of not only recent club and darkwave music, but I think fans of early Goth will also pick up on the emotions that seem to extend all the way back to the band�s mid 1980�s repertoire. 
* 
Blu 
Sometimes it puzzles me why Clan of Xymox is not more readily accepted as goth music *legends* - especially in the US club scene. 
I worship this band. Over 15 years have passed since their debut on the 4AD label with Clan of Xymox (1985) and later Medusa (1987). Before that they had released Subsequent Pleasures on their own label in 1984. They've been on a major label (Wing/PolyGram), played the corporate game, and came back to their roots establishing their own label time and again. 
Stamina, if nothing else, should make them something other bands should aspire to. 
Keeping up with current trends and most importantly, still remaining true to themselves and the scene, CoX has continued to give us incredible, quality releases year after year. No where else has a band fused electronics and organic music like CoX has continued to do. 
In an interview they did with us in February 2001, Ronny commented, "As you know Clan of Xymox always delivered an album with a hybrid combination between keyboards and guitars, only the overall atmosphere this time is much darker than the previous releases. 
As far as I can see this is the line I will follow for the future as I feel this suits me the best and feel the most comfortable with; the dark side of Clan of Xymox! " That being said, personally, I cannot tell you what a comfort this new CD has been for me in the past few weeks - especially regarding the happenings here in the U.S. 
I've drowned myself in this CD, over and over again and nothing has felt so soothing and "right" in a long, long time. It was like a homecoming in a way. Comfort in old familiars. Its classic Xymox in feel and darker tones, but its also current, with updated electronics and club-friendly beats melded with crunchy guitars. 
Its yet another perfect step forward in their progression as well as one of their most "atmospheric" CDs in a long time. The title Notes from the Underground is appropriately descriptive - having never lost touch with goth aesthetics. The production on this CD is incredible. 
Never has CoX sounded more polished and more mature with every note and sound tweaked to perfection. In appearance, its utterly beautiful - the cover in brilliant green and black covered in cryptic symbols and words and contrasting inside the liner notes and on the CD itself - an elegant and graceful spider spread out on a sea of crimson. 
The first track, "Innocent," opens with a scratchy intro that gives way to classic CoX sounding keyboards that set the feel and beat of the song. Slightly reminiscent of their 80's sounding keys, its tempered with a darker, atmospheric minor synth line as Ronny's vocals pour over them like familiar and warm worn-velvet. Guitars scream accents and reinforce a sense of urgency related in the lyrics. 
"I Want You Now" catches the ear immediately with an addictive guitar line and steady drumming. Electronics are used more as appropriately placed accents in this song... lots of noises and twitching going on and off throughout like audio-candy. Ronny croons, "Love.... love me not" with that deep whispery voice and I could just melt to my knees on the dance floor. 
"Internal Darkness" follows at a more laid back beat. Loping along in self-indulged misery, its gloomy goth at its best ending with a plaintive piano line... Sunshine, I wait for dawn's recurrent light , I ponder in my narrow house and warm myself .Moonlight calmly shines through the night , I stare at these old photographs, my heart beats fast .I find no peace to read or write , My soul is lost, my spirits down, There's no one in the dark my little world has lost its light 
Track 4 - "At Your Mercy" opens with a haunting sound scape - desolate and surreal with its echoes and chimes and bird calls. You can almost feel the dark mist before the guitar line swoops in to pick you out of the fog. The guitar is probably my favorite element of this song - at times tickling our ears with a Spanish flair. Incredibly dancy it plays into seductive, hopeless lyrics ... "She said she'd always love me, she said she'd always need me...how could I could break away when she said "please stay today" , she knew I was going, she knew I was going away..." 
"Anguish" is a complex track, changing tempo and mood many times through out - sometimes enjoyably sinister, sometimes contemplative depressive. Although probably not as viable on the dance floor as some of the other tracks, it is a song with alot of musical merit... a journey that changes and morphs right before your ears from steady, driven tempos, to rumbling punk-like bass lines, to near silence interludes full of minimal electronic accents. At the end, it plunges into a stark soundscape and if you listen carefully, you'll hear a keyboard line that will be repeated with more force in the track "Something Wrong". 
"Number One' starts off with some interesting electronic rumblings that rather remind me of Chewy from StarWars (credit to my child-like imagination). Whatever it was intended to be, it adds mysterious texture before the song kicks into this fast paced, up beat song. Smart guitar lines drive it and layers of keys in the background fill it. Reminiscent of classic Xymox, its an easily recognizable as one of their songs no matter if you've heard it before or not. 
Mournful piano lines open the sad ballad-like "Into Her Web." Accented by delicate acoustic guitar and pensive vocals, its easily the most beautiful piece on the CD. However, if I had to chose a favorite track at this point in time, I do believe it would be "The Bitter Sweet" with all its dynamic changes, mysterious tone and perfect fusion of electronics and guitars. 
It opens with chiming darkness and a bubbling synth line infused with very industrial sounding noise. Ronny's voice announces, "I'm not a savior, I'm not a saint, I'm not an angel who's coming in, I dont believe in anything pure like you do" twice while intricate textured noises come to life in the background. The tempo picks up slightly and then fades into an angelic chorus until the song erupts into a new, faster tempo completely out of the blue. This transition is my absolute favorite part of the song. There's nothing like a good anticipated tempo change on the dance floor for added drama. After being electronic-heavy in the beginning, you get a good dose of guitar midway through the song and the beat continues to drive the song home while melody lines that appeared in the beginning are repeated at this new tempo. What a rush! 
"Liberty," the title track to the single we saw previewed last December, is included here as track number 9. At the time of release, Anthony had written: " 'Liberty' is a song that could be interpreted different ways. " I guess it's gonna be, a question of my sanity - I guess it's gonna be against the heart of liberty." The things that lie at the " heart of liberty " are the things that keep us sane. They are our freedoms, however we define them. There is such an erosion of personal freedom throughout our life, that it leads to real desperation, a sickness of the soul. We might very well " warm to the thought of being through." Eternity still remains a veiled promise. " 
"Something Wrong" is a fine example of their excellent and forward evolving synth work opening with some heavenly lines before plunging into a more desperate and sinister melody first heard at the end of "Anguish." The song moves along at a moderate pace, fusing guitar and bass in here and there and still, that keyboard line sings out in the background - akin to mournful strings, its get louder and louder and finally takes over in a furry of emotion. 
Track 11, "Mysterium" was quite an unexpected treat for me and a demonstration of this bands wide ranging talent. Its an dark ambient, instrumental tracks slightly reminiscent of the Murder of Angels project put out on Middle Pillar Presents. Dark and thick in noises and gloomy atmospheres, its primordial ooze, its an industrial wasteland haunted by ghosts from different realities. 
The final listed track, "The Same Dream" starts out with a version of that same synth line used in "Something Wrong" and "Anguish" neatly tying this CD together with its thematic inclusion. Sonja Rozenblum provides airy, heavenly backing vocals contrasting against Ronny's smooth voice. The beat is synth-pop in nature making it a prime candidate for the dance clubs while remaining true to its dark nature without getting too "poppy". 
In conclusion, Notes from the Underground is a solid 12-song release with no bad apples in the bunch demonstrating once again that Clan of Xymox is one of the leading bands in this genre and one that deserves quite a bit more accolades than it gets. This is the standard other bands should aspire to. This is the marker for excellence from thematic approach, to infusion of organic and electronic elements, to production and presentation. This is quite possibly, the best release I'll hear all year. 
This is a must have. 
Kerrang 
by : Catherine Yates 
rating : KKKK 
Uplifting gloom from the Low countries. 
Holland's Clan Of Xymox have been lacing their Gothic forays with dark electronics for the past 17 years. "Notes From The Underground" is a brooding expanse of electro gloom and an excellent return to form. The occasional moments of Cure's Deja Vu - ( 'Anguish' and ' Number One' will have you checking the credits for mention of guest appearances)-can be forgiven, since Robert Smith and his brooding men in black don't make records like that anymore. And though the spectre of black eye liner looms strong, like all good bands they infuse their basic blueprint with an elevating sense of atmosphere and texture- Bitter Sweet' recalls The Crystal method had they spent their day jobs working at The Black Rose. Darkly sensual and hypnotic , this is the perfect soundtrack for candlelit nights in. 
* 
Gothcore 
De Amsterdamse band Clan of Xymox draait al weer mooi wat jaren mee en heeft in al die jaren al een flinke stapel 
albums uitgebracht. En ook ditmaal is de band er weer in geslaagd om een prima elektro/ gothic album uit te brengen. 
'Notes from the underground' begint met het bloedmooie "Innocent", wat een geweldig nummer, vol warme sfeervolle 
muziek en geweldige zang. Een perfecte opener die je direct meeneemt naar de wereld van Clan of Xymox. En hoewel 
de muziek heerlijk is om op een donkere avond bij kaarslicht te draaien krijg je geen moment de kans om bij weg te 
doezelen bij 'Notes from the underground', daarvoor is de muziek gewoon te goed. Neem nou het nummer "At your 
mercy", ook weer zo'n prachtig nummer wat je aandacht bijna zeven minuten lang vasthoudt. En anders zijn er altijd 
nog wel de meer dansbare nummers als "I want you now" en "The same dream". Slechts één nummer valt muzikaal 
bekeken buiten de boot en dat is "Number one", een nummer waar opeens een gitaar in opduikt en daardoor enigszins 
denken doet aan de Gothic Rock sound van de jaren tachtig, het neemt echter niet weg dat ook "Number one" een 
prima nummer is. 
Het moge duidelijk zijn dat Clan of Xymox wederom een prima album heeft samengesteld waar de elektro/ gothic fan 
zeker weten mee uit de voeten kan. Het enige wat ik jammer vindt is dat de band hier in Nederland nooit echt populair 
is geweest, dit in tegenstelling tot enkele andere landen. Het lijkt er echter op dat het tij hier in Nederland aan het keren 
is, en het zou mooi zijn wanneer Clan of Xymox daar het verdiende profijt uit kan halen. 
8,0 
Ate Hoekstra 
24-11-01 
http://www.gothcore.nl/gothcore.htm 
* 
Obscure 
Notes from the Underground 
Le nouvel album de Ronny Moorings est une suite logique à l'excellentissime Darkwave de " Creatures ". Annoncée par le maxi-CD " Liberty ", les lumières vertes de " Notes from the underground " irradient les cascades froides de claviers et de guitares d'un groupe plus habité que jamais. Pendant une heure, le givre sature l'atmosphère et Moorings, au loin, tente de se libérer du malheur. Réverbérations vocales issues du néant, guitares frémissantes derrière l'électronique dantesque, tout confère à cet album l'essence d'un grand classique de la Darkwave. Alors que certains prêtent à l'optique revue et corrigée de Xymox des prétentions à la succession des Sisters, n'importe quel puriste ne peut voir dans l'incarnation nouvelle du Clan qu'un simple prolongement, voire une extrapolation, des idées datées d'Andrew Eldritch. Peut-être " Notes from the underground " rappelle-t-il ci et là quelques ambiances de " Floodland ", peut-être. Mais rien de plus, rien de moins. Ce serait dévoyer à l'auteur tout gage de sincérité et pour la peine, faire montre d'un culot éhonté. Moorings a son propre univers même si, c'est vrai, certains schémas appliqués par Xymox ancrent volontiers le groupe dans la sphère d'un rock gothique revu et corrigé, sauce Electro. " Notes from the underground " est un envoûtement sans fin, s'inscrivant dans la lignée du précédent disque plus que du très ouvert " Hidden faces ". Regorgeant de classiques (les Sisters pointent le bout du chapeau dès les premières envolées rythmiques, comme sur le cultissime " I want you now " ou " Number one "), ce troisième album engendré par la nouvelle formation parachève un sens consommé de la mélodie et des arrangements : l'électronique de Moorings affine ses contours, impose sa puissance. Privilégiant la pesanteur des tempos lents (" Into her web ", " The bitter sweet "), Xymox tisse en pianos et guitares un album ambiant fortement imprégné d'effets électroniques et marqué par la présence forte de nappes synthétiques et de basses typées Simon Gallup (" Internal Darkness ", et la cold somptueuse de " Liberty "). Moorings et ses sbires n'en finissent plus d'enchaîner les perles, à tel point qu'on peut se demander ce qui put maintenir en vie la flamme perdue de Xymox durant les dix longues années succédant la première trilogie du groupe. On est bien loin de " Medusa " désormais, mais pour une seule raison, aussi simple que bonne : Clan Of Xymox, plus fort que jamais, se transcende. Caméléon, il se fond mieux que jamais dans son époque, pour se faire remarquer davantage. Et la maturité lui donne peau neuve. 
Magnifique. 
*********************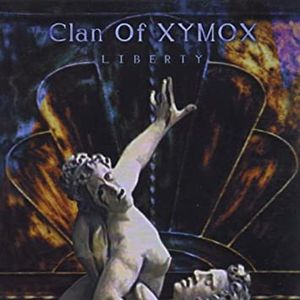 LIBERTY 
Orkus, November 2000 
Fast zeitgleigh zur Live Platte kommt nun, eineinhalb Jahre nach dem Letzten Longplayer Creatures, auch noch eine neue Maxi-CD mit komplett frischem Matrial. Wer jedoch gemeint hat, hier schon den Sound eines wohl f�r 2001 zu erwarten Albums absch�tzen zu k�nnen, sieht sich get�ust, denn Ronny l�sst sich mit vier recht unterschiedlichen Tracks, die jedochfast alle deutlich mehr Gothic- als Electro-Einfl�sse aufweisen, nicht wirklich in die Karten schauen. Liberty repr�sentiert dabei am ehesten den Stil, den Clan Of Xymox erstmals auf Creatures gepr�gt haben : schleppender Rhythmus, schwerer Bass, mehr d�stere Stimmung als melodische Eing�ngigheit und Ronnys tiefer Gesang dazu. Wer St�cke wie Undermined oder Doubts mag , wird Liberty ganz sicher lieben. Der recht elektronische Remix von Greg Rule ist hingegen wohl eher Geschmackssache, abwahl man ihm zugute halten muss, dass diese Neubearbeitung endlich mal Mut zur Ver�nderung beweist. Number 1 wiederum ist Gothic Rock der feinsten Sorte und w�re als titeltrack vielleicht passender gewesen, denn schnelles Tempo, perlende Gitarren, pathetische Keyboards und eine packende Melodie zeichnen den zweiten Song auf dieser Maxi aus. Bei At Your Mercy handelt es sich schlussendich um ein Jewel im klassischen Clan Of Xymox -Stil, wabei die vertr�umte Wave Atmosph�re durch das Wechselspiel zwischen Ronnys tiefer Stimme in der Strophe und seinem hohen , wirklich herzzerreissend melancholischen Gesang im Refrain einen zus�tzlichen Reiz erf�hrt. Auch wenn wohl manch einer an dieser Stelle gern ein paar St�cke mehr von den Holl�nder geh�rt h�tte, sollten drei sehr starke Tracks, mit denen sich Clan Of Xymox so vielschichtig wie selten zuvor pr�sentieren, die Wartezeit auf das n�chste Studioalbum doch erst mal ertr�glich gestalten. (-) 
Dennis Wollnik 
* 
Prospective Music Magazine 2#2000 
Liberty Clan Of Xymox has been one of the greatest acts for one and a half decade now. they've had their ups and downs but it seems now that Xymox is back from where it all started. The songs " Liberty, "Number 1" and "At Your Mercy" are fine Gothic rock songs witha slight poppish feeling. Great guitar playing, a classic electronic gothic soundscape, and deep but elegant male vocals describe the music well. The remix of "Liberty" which ends this CDM is a heavy electronic version that does not do any justice to the original track. In spite of this, Liberty is worth buying while waiting for the next full lenght. Another good purchase would be the new double live-album with the best of Xymox. Why not buy both? 
Henric Nilsson 
********************* 
LIVE 
totenklage: 
Clan of Xymox "Live" Format: DCD/Double live album Review date: Oct 17 2000 Label: Pandaimonium Genr�: goth Rating: 8/10 Clan of Xymox are very close to veteran status with over 15 active years in the music business, including the period when they released material under the name Xymox. Such long time in the business usually results in a best of compilation or a live album and here it is. The material on this double live album simply titled "Live" includes almost all their hit songs from their entire career under the name Clan of Xymox. Some of their best songs included are "Stranger", "A Day, "Louise", "Back Door", "This World", "The Story Ends", "Jasmine & Rose" and my favourite on this album "Consolation". The last one is very good live with its fabulous guitar escapades in the end of the song. Truly great! Things to complain about are that one of my absolute faves are not included, namely "Medusa" but you can't get everything. Another thing is that the songs are very similar to the original versions which partly can be due to the fact that some of the electronic sounds are prerecorded when they perform. I choose to think of "Live" as a combined best of compilation and an ordinary live album. Another reason for this way of viewing it is that the song material are not focused on the latest, or any, particular album. This is simply a best of album by one of the best bands, ever, with the songs in slightly different versions. Recommended! 
ikon 
* 
Reviewed By: BlackOrpheus 
If you're anything like me, you probably shy away from investing in, let alone listening to live albums. This makes it twice the pleasure to declare that Clan of XYMOX's long awaited LIVE album is a triumph. The album material presented here is culled from their recent South and Central American tours. Quality is stamped all over this outstanding album. Congratulations to Ronny Mooring on the remixing, and to the sound crew. Their work is immaculate. It consists of nineteen tracks, and two videos. The songs are taken from perrenial favorites like the debut that started it all - " Clan of Xymox," Hidden Faces, " " Creatures," Medusa," Twist of Shadows," and one from their " B-sides " collection. My great challenge is to choose just a couple from this trove to spotlight. Because the quality is so consistent, it really comes down to personal preference. The following are mine. "Stranger" is an excellent song off the first Clan of Xymox album, and it was the first song on the first disk. It opens with chants of "Xymox." Amidst the furor, the opening strains of " Stranger" begin to filter in and establish the mood. >From here, the song soars and lunges, and soars again. I was moved, as I've always been by the vulnerability displayed in the reluctance of really talking face to face. This was sublime. "The Story Ends" is off the Hidden Faces album. Interestingly enough, it is also a great companion piece to "Stranger." This isn't a story of avoidance, but one of confrontation. It opens with a snowfall of synth, guitars, and bass. When Ronny sings "When silence comes in , and creeps underneath the skin, If the lost word is lost and the spent word is spent, This is the time, this is the place where the story ends," he sings it with such poignant dread, that you cannot help but personalize the experience of rupture. This review wouldn't be complete without mentioning the two QuickTime videos included on disk2. The first is track nine "Jasmine & Rose." It's a video of the band playing a an outdoor show somewhere. It pans out across the crowd, and focuses upon the band, and individual band members. I really enjoyed it, it made the song that much more effective. The second - Well, I'll leave something for you to discover. This is even better. It's troubling to contemplate the experiences that may have escaped me. I've had a general misconception that live albums were less than worthy of my time or investment. The Clan of XYMOX - Live album may be a phenomenon. In my experience of live albums it is. If you've had the opportunity to experience a live show, or wish you could, this is as near the realization of that experience as you can hope for, short of being there. Find, listen, feel and experience it. It is singular. 
* 
Orkus, November 2000 
Es hat tats�chlich noch gefehlt in der nunmehr siebzehnj�hrigen Bandgeschichte, das erste offizielle Live-Album von Clan Of Xymox. Und da die formation um Mastermind Ronny Moorings ihre alten Hits bei Konzerten nie vernachl�ssigt und zudem stets Versionen spielt, die den Albumfassungen sehr nahe kommen, kann man Live getrost auch gleich als erste richtige Best Of-Platte bezeichnen. Wer die Holl�nder in den drei Jahren seit ihrem Comeback auf der B�hne gesehen hat, d�rfte sich das exquitsite Tracklisting schon ausmalen k�nnen, das einen hier auf zwei Silberscheiben erwartet ( Stranger, A Day, Louise, Back Door, Muscoviet Mosquito, This World, Jasmine & Rose) plus zw�lf weiter Songs und zwei Live -Videos), denn mit diesem Set waren Ronny und der Clan bereits mehrmahls auf Tour. Nicht nur die Klangqualit�t ist dabei erstklassig, auch der Aufnahmeort wurde mit Lateinamerika klug gew�hlt, ziehen Clan Of Xymox dort doch mal eben ein paar tausend Zuschauer auf ihre Konzerte ( was unter anderem Eintrittspreise wesentlich billiger sind als die f�r Tontr�ger). So eine Kulisse, die unentweg 'xymox, xymox....' skandiert, macht auf einer Live -CD dann in der Tat auch einiges her, von imposanten Cover Motiv mit der �berdimensionalen B�hne mal ganz zu zweigen. darob bleibt am Ende nur festzustellen : wer die Faszination von Clan Of Xymox bis heute weder erlebt noch verstanden hat, sollte mit dieser Scheibe um eine erfarhrung reicher werden. (-) 
Dennis Wollnik 
********************* 
CONSOLATION 
Clan of Xymox Cd Single-"Consolation" ~reviewed by Admortem Clan of Xymox fans have been waiting fourteen years for a true follow-up to the debut album "Medusa". With the release of "Creatures", the wait is over . After being signed with 4AD, Wing, Zok Records, Tess, and now finally Metropolis, this "label-hopping" band have finally gone back to producing the music that helped defined the beginnings of the electroGothic movement. "Creatures" is a throwback to the days of that good danceable dark rock that made bands like the "Sisters of Mercy" and "Joy Division" so popular in goth clubs. One song that is sure to be on every dj's rotation list is "Consolation". "Consolation" is the first of potentially many songs from this album to be released. The release of this song on a cd single is due out in first week of October worldwide. On this single, there are remix versions of "Consolation" and "Jasmine & Rose" by John Rivers (ex-producer of Love and Rockets), a radio edit version of "Consolation" and a brand new song that isn't released on "Creatures". This song, which is called "Reason", is a very upbeat, dancey song that is reminiscent of material off of "Hidden Faces". Ronny Moorings voice pattern on this song is similar to how David Gahan sounds when he sings "Behind the Wheel". Unfortunately, "Reason" is the only reason to buy this CDS (Hmm� isn't that ironic). The two versions of "Consolation" and the mix of "Jasmine & Rose" do not differ enough from their original mix to warrant this CDS a must buy. If you are a hardcore Clan of Xymox fan, then this CDS is worth the $7.00 that you will probably spend on it just so you can have the song "Reason", otherwise I recommend just buying the full length album "Creatures" because it is clearly the best Clan of Xymox release since "Medusa". 
********************* 
CREATURES 
Eden Salisbury 
Those who are already familiar with Clan of Xymox > will find CREATURES a definite change of pace. 
Without abandoning the sound that for so many years  has defined them, this ever-metamorphosing band has 
re-birthed itself once again. With CREATURES, CoX  pave their way into a new, more modern sound. It 
may have seemed that they already peaked in terms  of darkness with earlier releases such as MEDUSA, but 
CREATURES takes that darkness one step further by  adding a distinctly harder edge to it. Guitar and vocals 
are the main musical foci of this CD. A steady driving dance beat underlies the sound, providing good 
  dance possibilities. They dabble in Sisters of  Mercy-like territory JASMINE AND ROSE and 
UNDERMINED, the latter integrating the traditional CoX  sound to make it a truly superior song. In other pieces, 
like TASTE OF MEDICINE, they drift into Peter  Murphy-esque landscapes. With WATERFRONT, they 
successfully experiment with a slightly harder, more  industrial sound than they've tampered with in the 
past. Although CREATURES is reminiscent of other  artists in places, it everywhere maintains that deep 
irony that only Clan of Xymox can achieve. 
* 
Laure Cornaire 
Elegy June 1999 
"We predicted with the second album of Clan Of Xymox, post Xymox, the 
return to somber atmospheres, but we certainly did not expect such a big 
surprise. At a time when the Sisters of Mercy make us wait eternally and 
have long denied their gothic origins, Clan Of Xymox comes to the rescue 
pouring out a new flood of melancholy and cold melodies. Ronny Moorings' 
voice reaches notes so low that we barely recognize him, and when he 
intones " I've lost faith in humankind " it is not hard to be conforted in 
the idea that " Creatures " is manifest, and according to the words of its 
author, the darkest album of the band. But even if some of its elements 
revive in our memories emanations from " First & last & always " or " 
Pornography " (on " Waterfront "), they do not erase the grip of Clan Of 
Xymox, which wisely directs the production's totality. There is nothing 
nostalgic either in these evocations of the past which actualize 
themselves marvelously in the group's sound. The proof is that after 
rising from their ashes, Ronny and his clan are far from having finished 
surprising us." 
* 
Dennis Wollnik 
Orkus nr.5 Mai 1999 
....die Orkus -Platte des Monats (record of the month) 
Auch mit dem achten Album bleibt Ronny Moorings, kreativer Kopf hinter Clan of Xymox, seinem Grundsatz treu, 
keine seiner Platten wie die andere klinken zu lassen. doch im Gegensatz zu der Zeit, als der Niederl�nder viele fans der 
ersten Stunde mit einer Mixtur aus Techno, Pop und Wave verschreckte, wird es diesmal bei allen Freunden der beiden 
4AD-Werke deswegen mit Sicherheit keinen langen Gesichter geben. 
Dennoch sind die Unterschiede zum Vorg�nger, der vor knapp zwei Jahren stilistisch an die Urspr�nge wieder anschloss, 
geradezu frappierend, Synthetische Popstrukturen gr�ssen auf "Creatures"zwischen kantigerer Elektronik, 
m�chtigeren Keyboards und ausgepr�gteren Gitarren allenfalls aus der Ferne. Das Arrangement ist um L�ngen d�sterer 
und die Produktion um so viel wuchtiger, dass "Hidden Faces" dagegen-trotz seiner Klasse-beinahe schon ein wenig kraftlos wirkt 
. Schade allenfalls, dass sich die meisten der elf St�cke -abgesehen vom Opener "Jasmine and Rose" , der zun�chts mit einer 
"First Last and Always"-Gitarre �berascht und sich anschliessend zu einem an Dynamik kaum zu �berbietenden Monsterhit 
mausert- im Mid -Tempo-Bereich und darunter bewegen. 
So l�uft "Creatures" insbesondere mit elegischen Balladen wie "Consolation" und "All I Have" zu bestechender Hochform auf, 
w�hrend der eine oder andere Titel die melodische Eingangigkeit auch schon mal vermissen lasst, was die ausdrucksstarke Gesamtatmosph�re 
aber geschickt auff�rhrt. Als Musterbeispiel f�r die "neuen" Clan of Xymox mag aber das bombastische "Waterfront" herhalten, 
das mit w�tenden Electro Rhythmen, ekstatischen Gitarrenl�ufen und dem gewohnt leidenschaftlichen Gesang ein absolut authentisches, 
von aufgesetzten Klischees g�nzlich unber�hrtes Gef�hl von Schmertz und Verzweiflung freisetzt. Qualitat, die sich durchsetzen wird... 
* 
Frauke St�ber 
Zillo Nr.5 Mai 1999 
Das nunmehr vierte Album der Niederlander verspricht, wieder ein echter Wave/ Gothic-Knaller zu werden! 
Nach ihrem Comeback 1997 (mit ihrem dritten Album "Hidden Faces") und zwei Jahren voller Auftritte waren Clan of Xymox 
nun in den Woodbine Studios, um mit Produzent John.A.Rivers 'Creatures' aufzunehemen. Den Ausflug in Pop-und Dancebereiche 
haben sie (zum Gl�ck) beendet, und so klingt 'Creatures' wie der wie ganz fr�hrer: melodischer Wave/Gothic zwischen Elektronik und 
Gitarre Vergleiche mit anderen grossen Bands der guten alten Zeit wie z.B.mit den Sisters Of Mercy (bei Opener"Jasmine and Rose") 
oder mit the Cure (bei "Waterfront") sind durchaus gerechtfertigt,schm�lern jedoch keineswegs die Qualit�t der Musik.Mann 
kann Singer und Frontmann Ronny Moorings zu diesem Album einfach nur gratulieren! 
Obscure 
Ca n'est pas pour rien si, dès sa parution, "Creatures" focalisa l'attention. Ce disque entraînait un évident constat : il confirmait le revirement opéré par Clan Of Xymox, mais sans doute de manière plus péremptoire que sur l'album du retour, "Hiddden faces" (1997). Ronny Moorings semblait alors avoir décidé d'abandonner les teintes feutrées de l'ancien style de son groupe, pour se tourner vers une musique toujours électronique mais plus frontale, et dont les atmosphères et les phrasés se tourneraient plus franchement vers le Gothique et la Coldwave. 
"Creatures", et l'année 1999 signèrent à la fois la fin du millénaire pour C.O.X. et peut-être, la perte de certains des premiers fans qui trouvèrent alors le propos de Moorings bien sépulcral. Quel disque que "Creatures", tout de même ! Dès sa sortie, le leader survivant annonça la couleur : cet enregistrement était sûrement ce qu'il avait commis de plus sombre jusqu'ici. Personne ne contesterait cela, et le Clan, d'ailleurs, ne remettrait pas le couvert de sitôt, malgré un excellent "Notes from the underground" en successeur (puis le piètre "Farewell" en 2003). 
"Jasmine and Rose", dès les premières salves, se fondent dans le rock gothique originel même si l'environnement reste électronique. En adoptant des voix si graves sur des tournures rappelant à ce point celles des années 80, Moorings ne doit pas s'étonner aujourd'hui si des commentateurs mal (?) intentionnés comparent à ce moment précis Clan Of Xymox à de "nouveaux Sisters Of Mercy" (Il le fit, pourtant : quel culot, ce gaillard…)! Certes, son nouveau groupe reste, dans le style, d'un niveau très largement supérieur à la cohorte de copieurs d'Eldritch. Mais les réflexes sont là, et les fans de Gothic "new school" formeront le prochain public de Clan Of Xymox, alors que sa signature sur 4AD avait, dans les années 80, accouché de deux disques mélancoliques hésitant entre Pop et Wave, et rassemblant a priori un public plus ouvert. En 1999, un autre décorum est planté : lignes et sons de basse dignes des meilleurs Cure (bravo, Mojca) pour leur hypnose et leur lourdeur, comme sur les abyssaux "Waterfront", (moment fort du disque) ou "Taste of medicine" ; guitares économes mais suffisamment présentes pour créer la tension ("Undermined", noir total et motifs électro-acoustiques) ; batterie implacable. Un disque dantesque, pour un point d'orgue : "Falling down", le titre sur lequel Xymox atteint une apogée stylistique, un petit miracle. 
Dans l'ensemble, "Creatures" est un disque lent et lourd, opaque et chargé en claviers (programmations additionnelles signées Adrian Hates, un maître du genre). L'ensemble est synthétique, profond et évocateur ; et en son creux, la voix de Moorings adopte une pose affectée ("Consolation"). Même si Ronny n'en rajoute pas, il reste que "Creatures" abrite une théâtralité morbide : la lumière est condamnée, seul le seul parcours des ténèbres est organisé et semble ne pouvoir connaître de fin. En cela, l'écoute de "Creatures", malgré des mélodies efficaces et réellement sublimes, peut décourager : il y a là comme une sensation d'étouffement, sans doute pas à la hauteur de ce que "Pornography" provoqua en son temps ; mais une sensation assez forte pour que le disque symbolise une nouvelle étape pour la Coldwave : ses machines peignent le Noir total. 
Clan Of Xymox, nouveaux maîtres. Une prise de pouvoir qui sera de bien courte durée : la suite s'avèrera moins claire dans l'intention, mais… les ténèbres ne perdent rien pour attendre. 
Emmanuël 
* 
BILLBOARD 
Clan Of Xymox Breathes Life Into "Creatures" 
BY DAVID RICHARDS 
click here to go to the Billboard-Page 
SILVER SPRING, Md.-Interest in Clan Of Xymox is once again on the 
rise, so now is the perfect time for the venerable synth-rock group to 
unleash "Creatures," its first album on electro/industrial label Metropolis 
Records, due May 4. 
Xymox has come close to that big pop break several times in its career. It amassed a U.S. 
cult following with two Wing/Polydor sets, 1989's "Twist Of Shadows" and 1991's 
"Phoenix." From there, the band moved to the independent Tess Records for 1997's 
critically touted but little-heard "Hidden Faces." 
Earlier this year, the band's first label, 4AD, reissued the late-'80s 
sets "Clan Of Xymox" and "Medusa" with previously unrelesed cuts. 
Group leader Ronny Morrings says "Creatures" picks up where "Hidden 
Faces" left off. "This album presents a much more unified face of Xymox. 
This time, I concentrated on a more consistent, darker sound. I think this 
album is more intimate." At the same, Moorings says, the set reflects "the 
people that we've met being on tour for the past three years-the creatures, if you will." 
Among the set's highlights are "Jasmine" and "Rose," which are menacing 
but club-friendly tracks that recall one of the band's contemporaries, Sisters 
Of Mercy, in the way it mixes guitars, a drum machine, and stacked choruses. 
Moorings writes all the group's songs and plays all the instruments in the 
studio. He produced "Creatures" with help from engineer John Rivers. "It 
was a very normal album for Xymox in that way," says Moorings. "I 
recorded everything in the studio, then when we play live, the rest of the band joins me." 
Moorings and the rest of the group, Mojca (bass), Rob Vonk (guitar), 
Sharon Soffner (keyboards), and Rui Ramos (drums), start a U.S. tour with 
fellow Metropolis act Project Pitchfork this month, running through May. 
Moorings looks forward to getting Xymox's music back out into the world. 
"I feel we have a very unique sound; we do not sound like any number of 
electronic bands. I think everyone feels like they try to make their own 
music, but I think we succeed in making something that is all our own." 
* 
"Jasmine and Rose" is the first song on "Creatures", the new Clan of Xymox album. You can hear a little impact of Sisters of Mercy in it, just like on the whole album. Dark, electronic with a lot of specific guitars. It's quite big surprise after the previous recordings of Ronny Moorings. In fact "Hidden Faces" was a step into dark climates again but just "Creatures" shows these musical dimension clearer. To write it in short, it is very good and modern record just before the end of the Century. Great realization and production . Because of it they are great, very modern and well- availed d-drumms also very well- sounding guitars. Near to it there is an indescribable mysterious climate cover by night and great emotions. From "Jasmine and Rose" to "Doubts" there are no weak points on the record and you listen to it breathlessly , with your heart going faster and faster. I'm starting to think that it is maybe the best produced record on the gothic scene for the last few years. 
* 
Alex : � venir... Virginie : "Des trois albums du groupe que je connais au jour d'aujourd'hui, cet album est pour moi le plus sombre du groupe. Moins �lectronique que Hidden Faces, cet album n'en reste pas moins tr�s rythm�. Le groupe retrouve ses origines et sa voix, descendue dans les graves les plus profonds et de fa�on radicale, ajoute beaucoup � l'ambiance froide et obscure de l'album. La plupart des m�lodies sont langoureuses , m�lodiques ; le son est lourd (attention , je suis positive l�), parfois oppressant (juste ce qu'il faut pour maintenir cette ambiance) . C'est un album que j'�coute avec plaisir, il est vrai que je ne m'ennuie pas lorsque j'�coute cet album. Cependant, il y a quelques chansons que je pr�f�re � d'autres : - Jasmine & Rose : Cette chanson qui d�bute l'album vous met de suite dans l'ambiance sombre de l'album, et la voix grave de Ronny y est un petit plus. - Consolation : ma pr�f�r�e de l'album. Rythme lent, envo�tant, m�lodie m�lancolique. Bref, j'aime. - Creature : M�lodie lente du d�but qui vous entra�ne puis alternance avec une m�lodie plus bris�e mais tout aussi envo�tante. Encore un album de r�ussi, Ronny a su une fois de plus m'�tonner." 
* 
Creatures Metropolis Records Reviewed by Thomas S. Roche This is Xymox's second "post-comeback" album, a Metropolis follow-up to 1997's Hidden Faces on Tess Records. It's a great return to the fold, being a little more tightly put-together than the excellent Hidden Faces. For the uninitiated, if there are any of you out there, Clan of Xymox was one of the creators of what is now the "Goth" sound, with their synthetic, haunting music from the early 1980s. I still think nothing they've done has matched their 4AD debut Clan of Xymox, Creatures is my favorite of their three most recent albums (including 1989's Twist of Shadows). Overall it's an excellent album. It ranges from soft, romantic introspection to grandiose, stirring constructions of melodic sound. The quality of production is first-rate. There's some lovely songs on Creatures, and while there are no huge surprises to anyone who's heard the classic Xymox albums from the '80s, much of it is quite inventive. The sound is what you would expect from an '80s electronica/Goth act returning to the realm it helped create. And Xymox can still make it happen with the best of 'em. This music is dark, moody, and heartfelt. If you've enjoyed any of Clan of Xymox's albums, including the classic first disk, Creatures is highly recommended. 
* 
Dark Velvet 
Clan of Xymox Creatures Metropolis, MET 128 http://www.darkvelvet.com/issue4/music.html These guys label hop more than any band I know! That tidbit aside, Ronny and the gang are back in the saddle again and I dare say that this is the best Xymox album ever. I'm not discounting their first album (self-titled) for 4ad and I'm in no way pushing aside their last release (and it was the last) release for Tess, Hidden Faces, but this album takes the atmospheric sound found on their first release and gives it a 90s feel similar to select tracks from Hidden Faces. The outcome is just unbelievably awesome. Ronny's main vocal is deeper here than on their last release and it will come as a surprise to those familiar with his usual sound. I've read some reviews recently that even compare his new vocal style with that of Andrew Eldritch. I won't go that far, but I will say that it came as a suprise, albeit a pleasant surprise. Overall, Xymox fans will find this release to have a more consistent style/sound than the hodge-podge on their last effort. All gothic music fans are lost without this release. 'Nuff said. (Say tuned for the forthcoming Xymox interview in the Fall 1999 issue) 
* 
Gothic.Nu 
http://gothik.nu/reviewsc1.shtml#clan The legendary Dutch band Clan of Xymox gives us their best album since "Medusa", or maybe even their best album ever. The opening track "Jasmine & Rose" is a superb opening. A fast, good old Sisters- like song and suddenly you�re back in the eighties again."Creatures" is certainly one of the best achieved albums in the genre this year. Ronny�s emotional voices not far from Robert Smith�s, echoing keys and guitars, and their characteristic drum patterns makes this sublime album even more beautiful. This is the best gothic act since the early days of Sisters of Mercy and "Creatures" is already a classic. Highly Recommended!!Anders Lammela 
"This time, I concentrated on a more consistent, darker sound." -- Ronny Moorings, Clan of Xymox Creatures reveals a gloomy deep-voiced side of Ronny that even long time fans will have a hard time recognizing. Jasmine and Rose fits perfectly on the Sisters of Mercy's "First and Last and Always", Taste of Medicine borrows elements from Peter Murphy's songs, while The Cure meet the Xymox on the track Waterfront... and every other track on this album plunges us deeper into the darkest sounds of Gothism. The Clan have put together a masterpiece, raising the bar of challenge. Favorite tracks: Consolation and All I Have. 
*********************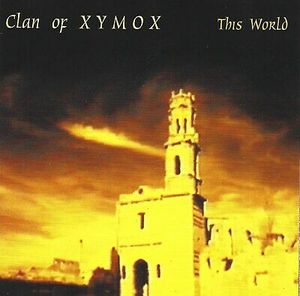 THIS WORLD 
D. Ohrt 
Rebell! magazine 
Last year, the Dutch band around mastermind Ronny Moorings celebrated their 'comeback'. An excellent album ('Hidden faces'), 
which revived the old days and brought new ideas into the sound. Now you can get the second single of this album. 
The song is called 'This world' and is on the maxi in two different versions. The COX is more orientated 
on the recent live version and comes with a strong bassline and atmospheric electronic sounds. There are also some 
bonus tunes on the cd, 'Sing a song' (to sing along) which is already known from'Hidden faces', 
which you soon realize, as it is a strong tune that goes into your own flesh and blood. With 'Not for the money' 
you can find another new song, which is okay and goes a bit more into the electro/industrial section. 
A single that works really well with appealing artwork 
(designed by Mojca, who plays the bass with COX as well), which is a good appetizer for a new album and many more gigs! 
*********************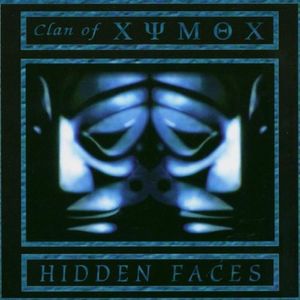 HIDDEN FACES 
Lexicon number 7, 1998 
Lonely is an Eyesore is a classic collection of songs from the then current roster of bands on 4AD. There is hardly 
a bad track among the bunch, but certainly a standout track is 'Muscoviet Mosquito".Flash forward to 1991 and 
'Phoenix of My heart" flashes like a fool's gold admist the dirt that was the radio. I should have known that 
Ronny Moorings was on to something, but instead I wrote them of to alternaobscurity. 
Imagine my surprise when I played 'Hidden Faces' and found that every song on the album was as good 
if not better than the two earlier hits. 'Out Of The Rain' opens the album with a hint of strings and trashing guitars. 
"Troubled Soul' ticks along with a killer drumbeat and killer melody. The songs often have a strong beat, and also often 
feature percolating sequencer patterns, but the album never falls into the trap of one dimensional synth-music. 
'This World' may lift percussion patterns from 'Depeche Mode' but Moorings overlays that with vivid and warm colors. 
Real Life's drum machines may be able to kick anyone else's butts, but Xymox's will certainly leave you sore the next morning. 
At times the album recalls Sister of Mercy or even Bel Canto, but the Xymox have a sound all their own, and they use it to 
great effect here.The polished vocals and full production sound is first class all the way. The fact that Moorings backs it up with 
great songs with intelligent lyrics makes it all the better. Thank God there are still people out there who understand that being 
electronic doesn't mean you have to be electronica. 
Highly recommended-DR 
* 
Caitlin R. Kiernan 
Carpe Noctrem issue #13 
Released twelve years after the bands debut, Ronny Moorings' latest Album, Hidden Faces, takes its title 
from Salvador Dali's only novel. And it's classic Xymox, pure and solid eurogothpop with a definite retro sensibility 
(and if you're as weary as I am of the Chemical Brothers or the Crystal Method, that's a good thing). Backed by an impressive 
line-up of producers, familiar faces like Dave M. Allen and John A. Rivers, Hidden Faces delivers a variety of moods and textures, 
from the darkly danceable "Out of the Rain", "This World", and "Special Friends" to more somber and unexpected tracks like 
"Wailing Wall", "Piano piece" and "November". The band definitely seems to be exploring new territory, without deserting its 
old strengths. My only complaint is that the lyrics aren't included with the disc, an unfortunate oversight 
(or budget requirement) since the lyrics are really the heart of this album. And just in case you're actually trying to keep track 
of the bands ever-shifting line-up, Clan of Xymox currently features Ronny Moorings (well,duh) on vocals and guitar, 
Mojca on bass and vocals, Rob Vonk on guitar and backing vocals, Nina Simic on keyboards, and Rui Ramos on drums. 
Strongly recommended for perky and mopey goffs alike! No, really! 
* 
Girl the Goth 
Sordid Reviews Archive May 1998 
Clan of Xymox are back. After a few years with a shorter name (Xymox) and indie label obscurity, 
one of the original goth bands have returned in time for the current goth revival. Clan of Xymox have been 
around since 1984 and were originally on 4AD at the height of their goth period. But, the question is, 14 years later, 
with Bauhaus and the Fields of the Neph gone and the Sisters a pale shadow of their former selves, do they have anything 
to offer a generation obsessed with Marilyn Manson? The answer is a resounding yes. "Hidden Faces" is a classic goth album, 
with enough contemporary elements to make it relevant. They stick to a basic goth tapestry, with echoes of the Sisters, 
but no blatant rip-offs. They weave in 80s electro synths, mixed with current goth sounds, like the choral singing and 
tribal drums on "Wailing Wall", and a vocal style that is all their own, melodic singing with a really listenable hint of a 
germanic accent (which is something only a few bands like Lacrimosa and the Young Gods can pull off.) "Out of the Rain" 
has all the playfulness and magpie tendencies necessary for great goth stuff, the refrain "No, no, no" could have come from 
the Sister's "No Time to Cry", but it's turned around into something fresh and original. "Sing a Song" is all gothic powerchords 
and techno beats, "Hypocrite" is a driving darkindus. number, while "Piano Piece" is just that. This is varied, eclectic, playful, 
but above all it's goth, at its most interesting. Perfect. 
* 
  
Connie Hartmann 
FLOW 
http://www.flowonline.com/archives98/feb98-articles/CH-xymox.htm 
Wouldn't it be nice to have the power to stop time and then start again once we've 
gotten all our eggs in their rightful baskets. One such person, Ronny Moorings, has 
accomplished that task. Moorings, who is the lead singer and songwriter for Clan of 
Xymox, picked up where the band left off in 1991. Back then, their release, Phoenix, 
tried hard to gain as much popularity as the album before it, Twist of Shadows. Nothing 
has really changed since then, except perhaps their name. Just in case you're wondering, 
the band dropped the "clan" part of the name back in 1989 when it signed on with 
Polydor Records and called themselves simply Xymox. 
Now back with their original name, Clan of Xymox, Hidden Faces is quickly putting 
them back on the charts. The entire album is just magnificent. Out of the Rain, the first 
track on the album, breaks in strong and confident with a moving chorus, which rants on 
about a man who has ruined a relationship and wants to make ammends with his former 
lover, begging her to help him get out of the rain. Track five, Wailing Wall, is a truly 
eloquent and melodic song, complete with a full-bodied, moaning, male voice, 
accompanied by church bells, both at the beginning and toward the end. There is also a 
great piano solo, entitled Piano Piece; very short, but a nice addition to the rest of the 
group. There is a pretty neat twist, the sound of a ping-pong ball going back and forth 
on a table combined with a nice mixture of sleek electronic violins and other cool electronic 
keyboard chords in Your Vice. 
The album was recorded by world-renowned producers John Rivers (Love and Rockets, 
Dead Can Dance) and David Allen (The Cure, Sisters of Mercy). With their help, 
Hidden Faces was built with an abundance of electronic-dance-goth bricks which make a 
structure so elaborate and pleasing I can't imagine not living in it. 
* 
Jason Hullinger 
Propaganda Magazine 
Starting back in 1984, Clan of Xymox have always been on the cutting 
edge of modern gothic music. Their cult- like status in Europe began with the 
release of their self-produced SUBSEQUENT PLEASURES album, and really 
took off when they joined the 4AD line-up and released the legendary CLAN 
OF XYMOX and MEDUSA Lps. Now with their new HIDDEN FACES CD, the 
Clan returns to that 4AD sound we all know and love, only now it has an 
updated '90s feel to it. 
"I started Clan of Xymox in Amsterdam with releasing SUBSEQUENT 
PLEASURES on my own label in 1984," recalls Ronny Moorings, the founder 
and lead singer of the band. Of course, I wanted to tour, so I asked my girlfriend 
at the time, Anke, to play the bass live and sing on one of my tracks of 
SUBSEQUENT PLEASURES, and my former roommate, Pieter, to play the 
keyboards. Looking back, I still have good memories of its 
creation. At the time, I studied and tried to make some music, but most of the time 
didn't have a clue what I was doing. The whole process taught me a lot about the 
workings of music in general. The best thing about SUBSEQUENT PLEASURES was 
that one day, when I was promoting the mini-album in Nijmegen, I met 
Brendan Ferry and Lisa Gerrard of Dead Can Dance in a restaurant. They were having 
dinner at the same table I was sitting at, and they told me they were the support 
act of the Cocteau Twins. After talking for awhile, they invited me to see the 
show, and asked me to come backstage after they played. This was my first real 
life encounter with 4AAD artists. I gave Brendan a copy of SUBSEQUENT PLEASURES, and we kept in contact. 
A few weeks later, he asked me if Clan of Xymox wanted to do a tour 
with them in the U.K. Of course we felt honored and accepted the invitation. 
Soon, Ivo Watts, the label boss of 4AD, offered us a recording contract. As they 
say, the rest is history. Over that history, nothing remained the same for us 
musically. If a band repeats their sound every time, it gets old really fast. A band 
should evolve, and take each album as an opportunity for new ideas. It would be 
very boring to hear 10 of the same albums of a group. It  would be like having 
the same meal to eat over and over again. Then again, there are some people 
who like that." 
Ronny has also changed the name of the band a couple of times as well. It 
started as Clan of Xymoz, went to Xymox for awhile, and now is back to Clan of 
Xymox again. When asked why, Ronny explains, "To confuse you and 
the rack jobbers in the record stores. Actually though, everytime we 
changed the name, it was a sign there was a certain change for us. I feel the new 
CD, HIDDEN FACES, connects better with the 4AD period, so you could say it 
is like the third Clan of Xymox album." 
"In 1991, with the release of the PHOENIX Lp, Xymox was in a real identity 
crisis. At the time, all sorts of people were telling me in what direction the band 
should go. I was living in London then, and I think the worst thing about that 
city is that everyone wants you to be the hippest on the scene. You can't help 
but get caught up in that musical trap. That's why there is on PHOENIX an 
indication of moving towards a sort of dance style, which was 
coming up in the U.K. in the early '90s." (Even the Cure got caught up in it with 
their MIXED UP album.) 
"METAMORPHOSIS and HEADCLOUDS were just followups on that general 
mood everyone was in. On HEADCLOUDS, Xymos tried to combine dance 
grooves with a melancholic sound, plus vocals. It was part of an experiment, 
which we now steer clear of. Personally, I find it always interesting if a band 
tries something different for a change, as it is easy to repeat your same sound 
over and over until people are sick of it. After HEADCLOUDS, I moved back to 
Amsterdam and had a break from making music, and regained my interest by 
meeting different people, going to Industrial/Gothic parties, 
and basically rediscovering myself again. Now, I'm sick of anything related to 
dance, as there is nothing underground about it anymore. In a way, I feel like 
I've come full circle. Now in the new album, HIDDEN FACES, the band has 
returned to its roots." 
HIDDEN FACES is indeed a superb album - maybe their best date. 
There's plenty of different material on it to welcome back any old 
die-hard Clan of Xymox enthusiast. The song "November" has a certain resemblance 
to some Dead Can Dance songs, which is probably due to the fact that 
John A. Rivers produced it, along with several other songs on the album. He has 
produced a couple of Dead Can Dance albums in the past. Some of the songs 
definitely remind one of early Clan of Xymox,  but with an updated twist. 
The album can be divided into four styles of music- hard - edged industrial 
pieces like "Going Round 97" and "Hypocrite"; melancholic ballads like "It's All a 
Lie"; dark rythmic songs like "Out of the Rain" and "Sing a Song"; and 
finally slow "soundtrack" music like "November" and "Wailing Wall." 
"You can find all these ingredients on those 4AD albums - CLAN 
OF XYMOX and MEDUSA," adds Ronny. "I think the music on HIDDEN FACES is 
logical follow-up to what Clan of Xymox made in the early '90s. It's 
something I'm really satisfied with." 
* 
"Not since the early "Medusa" CD has CLAN OF XYMOX sounded this good. The gothic tinge is back, the diverse and amazing melodies have returned. There is also a new sound that blankets your eyes and puts you in an ornately decorated merry-go-round dragon as the sun disappears behind the castle in slow motion". -Fright X 
* 
Hidden Faces (1997) Suite logique des deux premiers albums, Hidden Faces est consid�r� comme le 3i�me album de Clan of Xymox. 
Alex : � venir... Virginie : "Plus �lectronique et plus rythm� que Medusa, Hidden Faces est l'album qui marque la renaissance qu groupe en tant que Clan Of Xymox et lma fin du groupe en tant que Xymox. De nombreux morceaux de cet album passent en soir�e gothique du fait de leurs rythmes dansants et �couter cet album est un peu comme si je me plongeais dans cette ambiance si sp�cifique � ces soir�es. Ronny Moorings a su faire de cet album un album tr�s vari� aussi bien au niveau de la musique qu'au niveau de la voix. On pase de morceaux �lectroniques � des morceaux plus m�lodiques. En effet, si les trois premiers morceaux sont tr�s �lectroniques, les trois suivants correspondent plus au groupe � leurs d�buts et ainsi de suite, les morceaux s'encha�nent et ne se ressemblent gu�re. Bref, le r�sultat est excellent et on ne s'ennuie pas avec cet album. Les deux seuls morceaux avec lesquels j'ai du mal � accrocher sont en fait deux morceaux un peu trop atmosph�riques � mon go�t : Walling Wall et November." 
*********************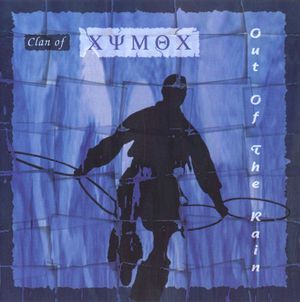 OUT OF THE RAIN 
Dennis Wollnik 
Orkus #7&8 July/August 1997 
Nach den letzten, eher Dancefloor-orientierten Xymox-Ver�ffentlichungen H�tte ich eigentlich nicht erwartert, 
dass Mastermind Ronny Moorings jemals wieder einen song wie "Out of the Rain" schreiben w�rde. 
Obwohl das Songwriting �ber all die Jahre eine gewisse Unverkennbarkeit behalten hat, liegen zwischen der musikalischen 
Umsetzung der 4AD-alben und dem letzten, inzwischen vier Jahre zur�ckliegenden Werk "Headclouds" welten. 
"Out of the Rain" ist eine nostalgische R�ckbesinnung - ohne sich dabei selbst zu kopieren - auf alte St�rken, 
die den Xymox-Sound Mitte der 80er gepr�gt haben und diese Band zu einem der wichtingsten Vertreter der 
Wave-szene gemacht haben. Was jedoch viel entscheidender ist: "Out of the Rain", dem man die Produzentent�- 
tigkeit von Dave M. Allen (Chameleons, Sisters, Cure) deutlich anh�rt, ist einfach ein tolles St�ck, 
das alles beinhaltet, was einen potentiellen Hit ausmacht - eine sagenhafte Melodie, die sich schon beim ersten 
H�ren unausl�schlich in die Geh�rg�nge gr�bt, dynamisches Gittarenspiel, das den Song zwar vorantreibt, 
ihm aber nicht seine vertr�umte Verspielheit nimmt, und Ronnys emotionaler gesang, der die Xymox-typische 
Melancholie verstr�mt. Mit einer neuen ``interpretation das Klassikers "Going Round" findet sich noch weiterer 
h�chstbemerkenswerter Track auf dieser Maxi, der eine ganz erhebliche Tanzfl�chentauglichkeit besitzt, Verspr�hte 
das Original von 1984 den eher spr�den Charme einer Demo-aufnhame, kommt die 97er Version mit einer erstaunlichen 
elektronischen H�rte und leicht verzerrtem Gesang um die Ecke. Das d�stere Instrumental "Flatlands" rundet diesen 
Silberling mit elegischen Pianokl�ngen und schwerm�tigen Violinenparts �ussest gelungen ab. Leider erst im Herbst erscheint 
das neue Album "Hidden Faces", doch ich scheue mich nicht, bereits jetzt vom Comeback des jahres zu sprechen - 
wer sich das entgehen l�sst, ist selber Schuld! 
*********************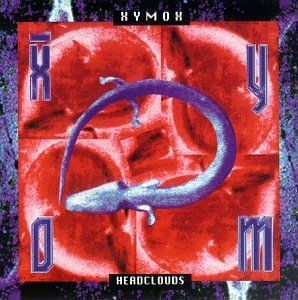 HEADCLOUDS 
Martin Thomas 
1993 Independent Catalogue (Dance Section ) 
Having previously released four albums (six if you include their debut mini album which was only available 
in their native Holland), their latest offering 'Headclouds' is an exploration into inventive groove bound atmospherics. 
'Reaching Out' takes a booming bass drum slitched to clanking percussion, a Japanese kindergarten choir and 
Ronny Moorings's trademark mournful vocals. Elsewhere the album explores anthemic techno overlayered with a luxurious 
wash of melancholy. 'January' floats through ambient territories placing Xymox along side with the Orb et al. The cover of 
'Wild is the Wind' de constructs Bowie's version and relocates it in a passionless, Euro obsessed landscape adding irony where 
once existed only hammed up passion. 'Headclouds is by far the best Xymox offering since their debut 4 AD album Clan of Xymox. 
*********************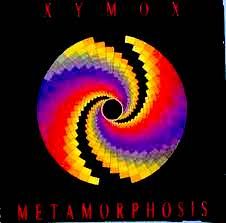 METAMORPHOSIS 
Jon Homer  
Oracle 28/10/92 
For a number of years now on a couple of different labels, Xymox (Clan of Xymox as it was) have been producing 
challenging and dynamic hi-tech music. 
In the process of the band have acquired a small but loyal following. 'Metamorphosis', a debut album on their 
own X-Ult label, could change that. It's their most rounded and complete work yet. 
The sound of Xymox is a multi- faced one ,incorporating as it does elements of modern dance, industrial groove and 
melodic pop structures. 'Metamorphosis' isn't the most instant of albums. 
This is an intense place of work that requires some work on the part of the listener. 
Mind you, having said that it must be printed out that album highlights 'Dream On ' is a gem of a song, 
with it's haunting female backing vocals and unforgettable chorus. 
Killer stuff. 
No empty pop platitudes or directionless dance trance soundscapes for Xymox. Much of 'Metamorphosis' 
is guinuinly experimental and decidedly unsettling. The urban soundscape of 'Revolve' or the epic album 
closer 'High and Low' illustrate this best. 
No, this isn't just another pop record. This is an album with light and shade, passion and some pain. 
'Metamorphosis' should not dismissed lightly 
* 
Peter Parhides 
Melody Maker November 14 1992 
I never thought Xymox would turn into some kind of quasi-Shamen outfit. And that may be part of the problem. 
Everyone thinks of Xymox as an archetypal 4AD band. Probably always will. But even if they were, then this new coat 
suits them beautifully. Resplendent, refreshing and relentless, Xymox's music is infused with a positivism that's for the first time 
made me nostalgic for the days of 'Pacific State' and 'Lightspan' 
When 'Awakening' welds all the aforementioned components onto an ultraconventional pop arrangement, 
I'm faced with the bizarre but plausible notion that this might be in the proper, national Top 10 by spring. 
Not least because it's the best New Order song I've heard since "True Faith". There's something delightfully incongruous 
about a bunch of misarable Dutch people embracing equity culture four years too late : a bit like The Grim Reaper deciding 
to leave Hell in order to be in a band with Bill and Tedd. 
Most excellent. 
*********************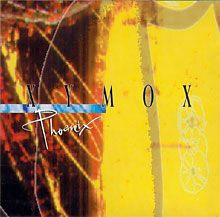 PHOENIX OF MY HEART 
Dave Simpson 
ARTICLE  12 Melody Maker, May 25 1991 
It's two years since we last heard from XYMOX. Since the warm reception we gave their last release, 
the stark, windswept "Twist of Shadows" LP,they've been touring (abroad), writing, recording, writing some more, 
and generally doing wonders for their image as shy, retiring,  angsty types whose disregard for the public 
glare matched the obscure shadowy melodramas of their records. 
Still, two years is a long time in pop and Xymox have reacted most accordingly. If they're not quite gone 
so far as to radically re invent themselves, 
they' ve certainly changed. Their new single, "Phoenix Of My Heart", exhibits all the qualities we'd come to expect from them- 
"Phoenix" marks Xymox's debut as a shiny, radio friendly, dancefloor-primed big pop beast, tailor made for the raving Nineties. 
"Life changes, so does art", explains immaculately coiffured vocalist Ronny Moorings. "It would have been bad to 
be stuck in a rut, so we moved on. Xymox  like very much to dance, so we wanted to make a record that 
we would like to dance to ourselves. Basically, there had to be a good song in there as well as a good beat." 
Any old-time fans of the Amsterdam spawned group reeling in horror at the notion of a (gasp!) baggy 
Xymox will do well note to Ronny Moorings' last observation. 
"Phoenix Of My Heart" is a very good song. In fact, it's probably the best thing they've ever done, and their previous 
European stylishness is still much to the fore. But, extraordinarily enough, considering their past penchant for the 
moody and miserable, there's humour in there too! Halfway through the song, 
Moorings starts singing "Wild Thing"! 
"That just came out, completely spontaneously, as we were recording it. We all fell about laughing at the time, 
but I thought, 'Why not?' and so we kept it." "It should certainly shatter some preconceptions, "comments cropped 
blonde Anke, with discernible relish. 
The title of the single underlines the changes that have taken place in the Xymox camp. 
"Yes, " Moorings agrees. "Phoenix' seemed such an appropriate title, like a resurrection." 
********************* 
PHOENIX 
Brett D. Atwood  
Gavin Report  26/3/1991 
As off-centre as ever, this clan of musicians we call Xymox has returned with a 'Phoenix' and a faultless offering. 
Ethereal and mystical in content, Xymox satisfies the romantic with words of woe and waiting. The single,'Phoenix of my Heart' begins 
with words of innocence and grace and ends unpredictably with a cover of 'Wild Thing'. Fun , funky and fulfilling. The Patti Smith classic, 
Dancing Barefoot gets redone as an up beat dance track. But this is not a cover album, 'The Shore Down Under', 'Crossing The Water' and 
'Wonderland' are examples of the original epic sound that Xymox is known for. From the firey depths of imagination to the chilled 
corners isolation, this 'Phoenix' flies into and out of blind hearts abound. This is one romance dance you dare not refuse 
* 
Everett True 
Melody maker 1991 
Maybe Xymox haven't really been away long enough to justify the title of their fourth album, but it sees their melodies, 
previously the stuff of soft grey soundscapes, now pretty firmly locked into a techno-grid. They haven't entirely abandoned seamless, 
panoramic sweeps that characterized their first couple of releases on 4 AD, and they still have a firm emotional grip, but now they work 
in a less gloomy space. Phoenix is full of surprises, most of them good, with 'Wonderland' breaking fresh ground while 
sounding a little like Yello, Ambient Goth House, anyone? 
"Crossing The Water" is all sampled orchestral lushness, an Enya-like aquatic whisper with hidden power, 
LOUD WITH LIGHTS OFF for this one. 
*********************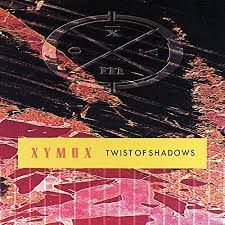 TWIST OF SHADOWS 
Mark Riva 1989 
Xymox were formerly known as Clan of Xymox when on Englands foremost progressive label 4 AD. 
On their new release, they've dispersed of the clan and are now on PolyGram. Flowering from the Gothic seeds of the early eighties, 
they're part of a growing league of visionary musicians such as Peter Murphy, The Cocteau Twins and the Church that have 
blossomed in the desert of mindless commercialism. On this new LP, these inter planetary imagination agents continue to forge new ground, 
creatively casting light on the enigmatic grandeur of the human spirit. On the LP's first release, 'Obsession' they've experienced that crystal moment, 
a minute in time, a pristine reflection when bliss etched the mind: (*...We stay awake at night with visions so ideal, it's got a hold on me*) 
.As shimmering guitar chords echo in a synth mist, melancholic orchestrations melt into haunting choral chants. Techno-tribal 
body beats and pulsating alien bass lines then usher in disillusioned words of life and love revealed in enlighted isolation. 
This and the remaining songs are maps to the gloriously mad labyrinths of life, crafted with vocals of desperate passion that envelope 
you in nocturnal longings of primordial mystery without excessive gloom and doom. Seriously recommended for moderns who dance and 
think simultaneously, this is a direct line that unzips the seams to secret rooms of wisdom, enter if you dare! 
*********************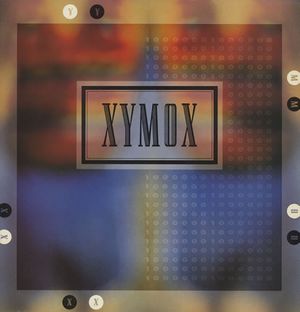 Blind Hearts 
The Stud Brothers 12/12/89 
Melody Maker / Single of the Week 
FANTASTIC. A superbly erudite , brilliantly successful attempt to slide soul into latter day psychedelia and 
make it all seem like a-Ha covering The Cure. It's just so mindbogglingly clever and, more cleverly, void of pedantry. 
A splendidly downbeat lyric is sung like a hymn for a nation and acoustic guitars as hollow and monolithic as 'the Sisters' melt 
gorgeously into a beat that has more to do with Rare Groove than, well, any rare groove. We know it was reviewed only two weeks ago 
and favourably at that but wasn't mentioned that you have to own a copy. It shimmers like Europa should. 
* 
Rockpool, 
  Pamela Hawke, April 1, 1989 
There's something to be said about moving up in the world. At last, the group known as the most underrated band 
on 4 AD emerges from dormancy and achieves major label status. If 'Obsession' is a hint of things to come, we can no longer expect music 
to hang yourself by, but an LP (the upcoming Twist of Shadows) deluged with melancholy dance-accessibility. 
The three versions here are imprinted with a cleaner than usual production quality in which those formidable 
raise-the-hair-on -the-back-of-your-neck Xymox keyboards now compete with stronger guitars and undaunted drum patterns. 
An additional track'In The City', is a moody, lilting hymn a la Sisters of Mercy. And the bonus track ' Hitchhikers Guide' 
a chugging hi- tech instrumental dotted with voice samples, is more in the vein of their Belgium neighbors. A long awaited and 
worthwhile return from the Dutch deliverers of angst. 
*********************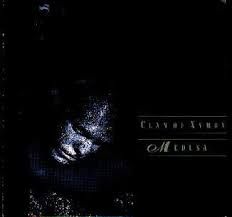 MEDUSA 
Harry Swift 
22/11/86 Sounds 
THE SECOND sincerely striving album from the Amsterdam -based group.'Medusa's overriding achievement is 
that every track sounds like the finale to a brooding epic overture. At their flimsiest they sound like Visage; 
when they're good they blend Kraftwerk with Joy Division; in their prime passages they brush with a sexy breathlessness 
against something that is pure, poignant, unadulterated Xymox. 'Medusa' grows more frightingly strong each time you turn and look at it. 
The best time for this is when you're typing up poetry ten minutes after Weetabix.Around then 'Agonized By Love' 
has more real effect than the whole of Simon Bates 'Golden Hour' put together, and 'Masquerade'could even tackle 
'The Four Tops Story' single handedly. Clan of Xymox bisexual and tormented,swaggering and svelte, distil introspection 
and melancholy while you await the flood. It doesn't come; the music teases with considered and warm restraint. The names, however, 
give the game (game? game??) away-'Michelle',' Louise','Lorrentine','Ater The Call'..... 
If 'Vienna' had been an understated classic it might have been the sections of this which aren't subservient to elegiac 
keyboard rivulets and gently militant percussion. Or if the Cure's Charlotte Sometimes' wasn't so damn easy to like...... 
Of course Xymox, a clan destined for fierce and freezing plateaus know what life's all about. 
Turn up that collar and lubricate your entry with this. 
* 
Paul Mathur 
Melody Maker January 3 '87 
THE second LP from Amsterdam -based Xymox, and one of the best attempts yet to invest the Goth 
sensibility with a little daring. 'Medusa' has all the elements you expect from these affairs-titles like 'Theme 1', Theme 2', 
Lorretine'and 'Michelle' (!) , sleeve by the 23 Envelope bunch, a certain rageless anonymity-but where it differs 
is in its careful harnessing of any indulgence. 
As their contempories busy themselves throwing kitchen sinks into mammoth, lumbering pantomimes, Xymox enchant 
with a wispily disciplined force.The instrumentals resist the temptation to flick every switch on the fairlight and see what happens, 
while the vocal numbers cling like rubber to the singers's romantic growl. 
Not that Xymox inspire the slightest bit of faith in the future of what once upon a candle lit time was called Positive Punk. 
The whole genre appears prone to fuzzy mysticism and unhealthy vagueness, indeed, as Xymox show, 
the only way forward is to tear up the little black book and convince your friends that lush beauty need not wear 200 petticoats. 
Sleek, efficient, even dramatic, Xymox understand the value of a direct understatement. 'Medusa' is a fine record, 
offering a bright flash of hope in these blackout days. 
Funny place, Holland 
* 
GAZ 
Xymox return, gracing us with yet another masterpiece, at last the classic 'Louise' and 'Agonized by Love are out on vinyl 
(not before time!). Ronny Moorings powerful vocal chords hit you at full power on their best track of the album 'Back Door', 
the saddest song of the year (though I can't describe why!) ,and 'Michelle' complete with pseudo '60's feel! 
Ronny Moorings mournful voice on the title track brings back memories of their rendition of 'Stumble and Fall' at 
the Croydon Underground' in '85. Buy it! 1986 album of the year (part 2) ! 
* 
Jon Homer 
jan 86 
For their second 4 AD album, Dutch band Clan of Xymox have taken the most effective and attractive elements 
of their mosaic of sound (as witnessed at intervals on their debut long player) and produced a work which, at times, 
almost achieves the beauty and ambience of label mates The Cocteau Twins.The playing here glistens and shimmers, 
especially on the opener 'Theme 1'. Gone are (most) of the ugly segments of their music which somewhat marred their overall sound 
in the past.'Michelle' on side one, is a good example of the new approach, powerful and melodic, harnessing the aggression and momentum 
that would once have pulled the song into a brutal climax. 
Medusa is a vibrant soundscape that really should see Clan of Xymox reach a larger and more appreciative audience. 
Being released in the run up to Christmas can't have helped. Let's hope it now gets the exposure it deserves. 
Medusa is, quite simply, beautiful listening 
* 
Julie Andrews 
THIS IS the route Goth should have taken. Rather than taking the first tank engine dragsters to heavy metal 
they should have followed the sweet scented lane through glades and opium soaked fields and onto a land of voices from afar. 
A land where pan pipes ripple in the distance. A land of boundless beauty and form, but also a land watched over by some 
threatening menace whose dank squirming rustle through every tree, seeps into every stream. Screams and weak, 
vapid sights plead for help. Last gasps of rushing in air and hidden moans float by. Yet there's also hope. Hope blossoming from every pore, 
whispers of triumph, of elation, a soft purring of confidence. 
Ephemeral, ethereal spectres rush past, softly wafting a warm gush of air as they go. Then suddenly you're left alone. 
You begin to walk, but the land goes on, almost indefinitely. Just so are Clan of Xymox. Their music has travelled through an uncharted land 
, full of the sinister and the mysterious , but also of the enchanting and the melancholic. 
Voices echo back and forth, at times triumphant ( Louise, Medusa), at times mournful, sombre (Masquerade) against 
the sweeping synths in the background. Drum beats punch their way through a blanket of noise, then 
they are swallowed by a dark cape of melodies. 
Fortunately Clan of Xymox chose the right path, they didn't join the Goth ranks at the gates of hell and heavy metal, 
instead they choose to find melody and moods. 
Hopefully the rest of the Goth elite will follow Clan of Xymox and start making inspiring, melodic noises. 
Alex : � venir... Virginie / multimania.com 
"Album aux sonorit�s surtout ambient et amosph�rique, Medusa est moins �lectronique que les albums suivants. D�s le d�but de l'album, on sent une ambiance "planante" avec un morceau instrumental Theme I. La pluaprt des m�lodies sont tr�s douces et la voix de Ronny y est comme venant d'ailleurs. Les sons font tr�s "musique c�leste" avec parfois des sonorit�s qui rapellent les chants religieux. C'est l'album du groupe que j'�coute le moins, le trouvant un peu trop "planant" � mon go�t et manquant un peu de rythme. Cependant, je l'�coute avec plaisir lorsque je veux me d�tendre apr�s une dure journ�e... Les chansons que j'�coute principalement sur cet album sont en fait les plus rythm�es : Michelle, Agonised by Love et Back Door. Cet album refl�te le style du groupe � leurs d�buts et reste tout de m�me un bon album m�me si je l'appr�cie moins que ceux qui suivent." 
*********************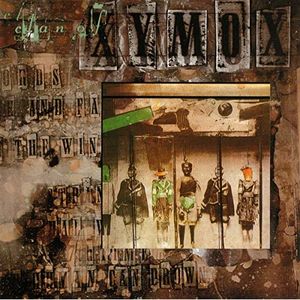 CLAN OF XYMOX 
Chris Roberts 
Melody Maker 1985 
WHAT IS this thing called Xymox? Stops irrational depression instantly. Makes you think something great is going to happen today, 
or even tomorrow.Xymox, in truth, is the joyous and yet hollow lure of the not quite known. Xymox is also a musical trio 
from the Netherlands, 4 AD's first signing for two years. "Clan " via the pertinent Peel medium, will soon be necessarily hip. 
Xymox sound as good as we all pretend those love vigilantes New Order do, because we need to believe in something that is truly, 
evocatively special. The range and depth of this mysterious record do not exclude arrogant electro dance anthems like 
'Stranger' and 'A Day' ; nor do Xymox avoid sentimentality as on 'No Human Can Drown' (if I hear one more helpless, 
forlorn voice crying 'hold me', I'll just skweeem!) But when they provoke melancholy without trying, Xymox are magnificent. 
With the angular introspection of a Fra Lippo Lippi and grandiose surging undercurrents a la X-Mal, 
they convey a mature if not tactile sense of life> And there is hardly anyone who is doing this! 
The Machiavellian pop of 'No Words'is the obvious doorway (track of the year?)but wade blindly, too, into the searing 
guitar-splayed firefields of 'Cry In The Wind' and 'Stumble and Fall',and thrill(!) to the system clearing, bass bloodied '7th Time'. 
Xymox are inspired reflectors; this is a nervous and brilliant record. The frightning thing is, they could be even better. Today the world, tomorrow another one. 
* 
Jon Homer 
Sounds1985 
A strange and wonderful debut from 4 AD's first signing since Dead Can Dance.Xymox, who hail from Amsterdam 
(where every other person is said to be either a junkie, a drug dealer or hippy, or any combination of the three) 
and seem to embrace several major influences. I think Xymox will be played at some of the more intelligent nighteries 
while the lyrics are definitely bedsit stuff. 
What really is so attractive about Xymox is a kind of atmospheric ability to paint landscapes and mental pictures and 
just as you feel safe with these suggested images the rhythm will break or alter and you're lost. There is a definite sense of fear about 
Clan of Xymox, from the 23 Envelope cover to the apparent seizure which grips 'Stranger' at the beginning of the second side. 
My particular favourite is 'A Day' which suggests so many places, colours feelings and despairs that it is totally awe inspiring. 
Soon everyone will be able to pronounce Xymox.